In today's economy, it's easy to work as an independent contractor, especially if you have a vehicle. You can use your car to drive for a ridesharing company, deliver food or plow snow in the winter. If you yearn for the open road, you can pursue a career as a long-haul trucker. With this freedom, though, comes the additional red tape of commercial insurance and licensing requirements, and some unexpected costs. A little research and leg work in advance can save you some big headaches later on. Read on for tips on how to get on the road.
The Surprising Costs of Truck Driving
Trucking can be a lucrative career, but it's not without some hidden costs. Hours on the road can keep truckers away from home for weeks at a time. Truckers are also at much higher risk for health problems such as obesity and heart attacks, and studies show they're more likely to smoke—all of which can add up to increased medical costs. On top of these costs, which can be hard to quantify in dollar amounts, there are also some predictable costs to keep in mind.
1
Fuel
A survey by the American Transportation Research Institute (ATRI) notes that fuel costs are consistently the most significant cost for motor carriers, representing about 30 to 40 percent of a trucker's costs. "Every time you fill the tank, it's at least $1,000," says Norita Taylor of OOIDA. "Depending on the price of fuel, and how much weight you're pulling, it can add up."
2
Equipment
In addition to buying your truck, you'll need to consider maintenance and repairs. The ATRI survey found that motor carriers hold on to their trucks for a little over 10 years on average, and vehicles need more repairs as they get older. "Maintenance is more costly than on cars," notes Dave Osiecki of Scopelitis Transportation Consulting. "Roadside breakdowns can be very costly."
3
Insurance
If you're a leased operator, the trucking company will cover primary and cargo liability insurance, but you'll have to pay for physical damage coverage, in addition to non-trucking liability coverage (to cover you when you are driving your truck for personal use). "The rates vary a lot," according to Walter Stieg, chairman of Stieg and Associates, which writes insurance policies for truckers. "But the average guy with a $100,000 tractor and a $50,000 trailer long-haul could easily be paying $10,000 to $12,000 for the premium."
Other factors that affect insurance rates include the type of cargo you carry; your number of years of experience; the physical locations you drive (some cities and states have higher rates than others); and of course, your driving record and any violations, such as traffic tickets or driving longer hours than allowed.
4
On-the-Road Expenses
In addition to meals, coffee, showers, and an occasional bed, you face potential tickets and fines on the roads and at inspection points.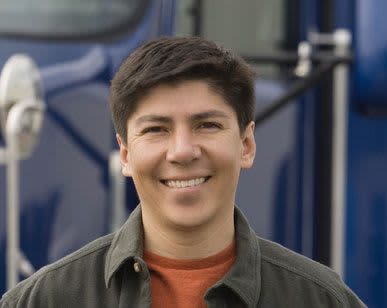 Many of the costs associated with trucking depend on the type of trucker you are:
Company driver (an employee) Leased operator (you own your truck, but you lease on to a larger trucking company that hires you for jobs) Independent driver (you own your truck and arrange your own hauls)
If you're an employee of a trucking company, you most likely won't need to worry about these costs.
Commercial Vehicle Insurance 101
If you're self-employed and use your vehicle for business, chances are you need commercial vehicle insurance. Your auto insurance may not cover you if you have an accident, and even if it does, your liability limits may not be high enough to safeguard your business.
The average cost of insuring a vehicle for personal use in the U.S. was about $840 per year in 2013, but commercial policies may run several hundred dollars more, and they can climb to more than $10,000 for a fully insured tractor-trailer. Fortunately, there are lots of options for "gig" workers who need to supplement their insurance.
Jobs That Require Commercial Vehicle Insurance
It's not surprising that truck drivers and bus drivers need commercial vehicle insurance, but what about landscapers and pizza delivery people? With a boom in the sharing economy, more and more people are using their vehicles to make a living, opening up some gray areas in terms of insurance coverage. Here are some jobs that may require commercial insurance:
Truckers and Bus Drivers
Although truck drivers are required to have commercial insurance coverage, who pays for it can vary. Some trucking companies own all their vehicles and hire drivers as employees. In this case, the company will bear the insurance costs. In many cases, though, trucks are owned and operated by the driver, transferring the insurance responsibility to the driver. Bus drivers typically operate vehicles owned by a bus fleet company, so they're covered through the company.
Uber/Lyft Driver
Your standard personal car insurance policy typically will not cover you while driving for a ridesharing company. From the time you turn on the app to the time you drop off a customer, you need commercial insurance that is written to accommodate higher mileages and includes higher liability limits. As ridesharing becomes more prevalent, many states have passed laws that specify what insurance coverage is needed to operate legally from "app-on to app-off." Ridesharing companies generally pay for some type of commercial insurance, but the policy may not cover damage to your vehicle or other costs a personal policy usually covers.
Some insurance companies, including USAA, Geico, and State Farm. have started to offer ridesharing insurance to their customers, although these policies are not available in all states. Typically, they are hybrid policies that combine personal and commercial coverage. Prices vary but can be as low as an additional $6 to $8 per month (or $40 to $50 for a six months). Bottom line: If you drive for a ridesharing company, understand what insurance responsibilities the company shoulders, and talk to your insurance agent about filling any gaps.
Food Delivery Person
If you are an employee of a restaurant, it's likely the restaurant will pay for commercial insurance, even if you're driving your car. There's a "Pizza Delivery Insurance" policy that businesses can customize to their operation. But if you're an independent contractor, you are responsible for your insurance. In 2015, drivers for the food delivery companies Grubhub and DoorDash sued, claiming that they were employees, not independent contractors, but until these issues are legally decided, drivers should ensure they have the necessary commercial insurance to supplement their insurance.
Snowplow Operator
If you have a snow removal service, you'll need commercial insurance. This will probably be required by law, or at least by your snow removal contract. In addition to liability insurance, you may want to consider extensive collision and comprehensive insurance since driving will occur in hazardous conditions.
Contractor/Landscaper
Using your pickup to haul equipment and supplies for your landscaping, carpentry, or contracting business means you should carry commercial insurance.
Still not sure if you might need commercial auto insurance? If you can answer yes to any of these questions, you likely do:
Do you use your vehicle to transport passengers as a chauffeur, limousine service, or taxi service?
Do you use your vehicle to perform a commercial service, such as delivering food?
Is your vehicle owned or leased by a partnership or corporation?
Do any employees or non-listed drivers drive your vehicle?
Do you lease or rent your vehicle to someone else?
Is your vehicle a pickup, van or utility vehicle with a gross weight exceeding 10,000 pounds, or do any of your vehicles have a rated load capacity over 2,000 pounds?
Is your vehicle equipped with work equipment (such as for snowplowing, house cleaning, or cooking)?
Does your vehicle transport hazardous or flammable material?
Types of Commercial Vehicle Insurance Coverage
Personal and commercial vehicle insurance offer similar types of coverage, but commercial insurance generally provides higher dollar limits and can be customized depending on your type of business, assets, vehicle type, and what cargo you carry. Check with your state's DMV to find out what the minimum coverage requirements are.
It pays to find a company that specializes in commercial insurance for your particular industry or business, and that understands the applicable regulations. Below are some of the types of coverage usually included in a commercial policy:
Bodily Injury/Property Damage Liability

If you're at fault in an accident, your liability insurance will cover the other party's costs. Commercial policies often combine bodily injury and property damage liability, with a single dollar limit that applies to both.

This covers the costs to repair or replace your vehicle in the event of an accident.

Comprehensive insurance pays to repair or replace your vehicle because of damage or loss due to flooding, fire, theft, or other non-driving issues.

This covers medical payments for you and your passengers in an accident, regardless of who was at fault.

Personal Injury Protection

PIP also covers medical payments but offers additional, more comprehensive coverage for things such as rehabilitation or therapy costs, loss of wages, and death benefits. PIP insurance is required by law in some "no-fault" states but is unavailable in others.

Uninsured/Underinsured Motorist Coverage

This protects you in the event you're not at fault in an accident, but the other driver does not carry adequate insurance to cover your costs.

Depending on what you're carrying and who you're carrying it for, you may need cargo insurance to cover your liability for cargo that is lost or damaged due to an accident or other incident like a fire.

Non-Trucking Liability Insurance

This protects your truck when you're not on a job, such as when you use it for personal reasons outside of business hours.
How to Get a Commercial Driver's License
Just because you need commercial vehicle insurance doesn't mean you need a commercial driver's license (CDL), but in some circumstances, you may need both. A CDL is required to drive heavier, more complex vehicles or to carry certain cargo or passengers. Truck drivers and bus drivers, for example, generally need a CDL, but a caterer who uses her minivan to transport food does not.
Federal regulations require you to be at least 21 to drive a commercial vehicle across state lines or to transport hazardous waste, but many states allow you to get an intrastate commercial license at age 18.
Checklist: 7 Steps to Getting Your Commercial Driver's License
1
Read up
Get a copy of your state's Commercial Driver's Licensing Manual to review the regulations governing commercial licenses in your state.
2
Determine which CDL you need
There are three classes of CDLs, which are the same in all 50 states. You can then add special endorsements to your CDL to enable you to carry passengers or certain types of cargo.
3
Get a Commercial Learner's Permit (CLP)
Federal law requires you to have a learner's permit for at least 14 days before taking the CDL skills test. Candidates must show proof of residency in their state, as well as documentation that they are medically qualified, and must have their 10-year driving record checked.
4
Go through the required training
Find out what type of training (if any) your state requires. Some states require specific training courses, but even if your state doesn't, you should practice driving and make sure you know the rules of the road.
5
Take the tests
You must pass both knowledge (written) and skills (driving) tests.
6
Pay your license fees
Each state has a different fee structure, which should be explained in the Department of Motor Vehicles handbook.
7
Get your license!
Your state may issue you a license as soon as you pass the tests, or you may need to wait for it to arrive in the mail.
What are the Different Types of Commercial Driver's Licenses?
There are three classes of CDLs:
Class A
Allows you to drive single or combination vehicles of any size.

Class B
Allows you to drive single vehicles of any size, vehicles towing trailers with a weight rating of 10,000 pounds or less or vehicles listed under Class C, if properly endorsed.

Class C
Allows you to drive vehicles designed to transport 16 or more people or vehicles carrying hazardous materials with a weight rating of 26,001 pounds or less.
Endorsements
Drivers may also add endorsements to their licenses, allowing them to specialize in carrying certain cargo or to drive certain types of vehicles. Endorsements require a separate test (written, behind-the-wheel, or both). Types of endorsements include:
T

Double/ Triples Trailer: Required to tow more than one trailer
P

Passenger/ Transportation: Required for transporting passengers
N

Liquid Bulk/ Tank Cargo: Required to drive a tank vehicle
H

Hazardous Material: Required to transport placarded hazardous materials
X

Hazardous Material and Tank, Combined: Required to transport hazardous materials via tank
S

School Bus: Required to drive a school bus (in addition to the "P" endorsement)
How Much Does a Commercial Driver's License Cost?
The DMV in your state determines the fees to obtain a CDL, but they tend to range between $75 and $200. This includes costs for the application, permit, knowledge and skills tests, and licensing. There are also fees to add endorsements. If a medical exam is required (for interstate CDLs), you'll need to pay for that as well.
What Training is Required for a Commercial Driver's License?
Currently, each state decides the level of training required to be eligible for a CDL, and often there is no training requirement at all. "In most states, you just need to take the test," says Norita Taylor, Director of Public Relations for the Owner-Operator Independent Drivers Association (OOIDA). That may change, however. In 2016, the Federal Motor Carrier Safety Administration (FMCSA) proposed new rules under which all states would require minimum training requirements before granting a CDL.
Because there are no uniform standards, the cost, quality, and length of training programs can vary greatly. According to the Professional Truck Driver Institute (PTDI), the average length of a course is four to six weeks, but some can last over three months. Taylor warns people to stay away from "CDL mills" that offer to get you ready in a couple of days.
As for cost, according to Dave Osiecki, president of Scopelitis Transportation Consulting, "At the low end you could pay $2,000 to $3,000 for a community college program, all the way up to $8,000 to $10,000 for a specialized school."
Some companies will pay for your training if you then work for them for a specified period, and you'll have a guaranteed job to help you gain experience. However, your initial wages may be low, and if you leave the company before the requisite period is over, you may have to pay back the cost of training.
What Are the Special Restrictions that Come with a CDL?
For safety reasons, CDL drivers are subject to much stricter standards than the general driving public. For example, repeat traffic violations, such as speeding, could lead to a suspension of your CDL certification.
The limit for a DUI is lower for commercial motor vehicle drivers as well. The FMCSA has set the DUI limit at 0.04 for commercial drivers with a CDL, instead of the 0.08 limit for regular drivers. Commercial drivers convicted of driving with a 0.04 or above will be disqualified from holding a CDL for one year (three years for those carrying hazardous materials). If it happens again, they're disqualified for life.
Expert Q & A Interview: Tips on Starting a Trucking Career
Dave Osiecki is president of Scopelitis Transportation Consulting and former executive vice president of the American Trucking Associations in Arlington, Virginia. He oversaw all of ATA's advocacy initiatives and often represented ATA and the trucking industry at government hearings and industry events. Dave has testified before Congress on behalf of ATA, and has represented the organization on a number of federal advisory committees, including the National Motor Carrier Safety Advisory Committee. He spent nearly 10 years at the U.S. Department of Transportation's Office of Motor Carriers (OMC).
What tips do you have for people interested in a career in trucking?
Dave Osiecki:
Trucking has multiple sectors and varying types of haul. A lot of trucking is local, some is regional, and a small percentage is long-haul. You should ask yourself: "Do I want to stay in the general area I live in, do I want to expand regionally, or do I want to be the open-road trucker who goes from Maine to California?"
Another question to consider: Do you want to sleep in your truck, or would you like to be home every night? Most long-haul drivers have sleeper berths in their trucks. Some companies put drivers up in hotels, but that's the exception, not the rule.
Also consider what type of truck you want to drive - a flatbed, a van, a tanker- and what you want to haul. Lots of people start with a basic tractor-trailer and then move to more specialized trucks.
Is it better to work for a company or be an independent driver?
Dave Osiecki:
Most people start as an employee driver and get experience. If they like it, and have an entrepreneurial spirit and want to be their own boss, they may want to become an owner-operator. Being an owner-operator is more of an investment because you need more money to own your vehicle. If you like the stability of a paycheck every week, you may be more inclined to stick with a company. Both types are common in the industry.
How is the trucking industry changing?
Dave Osiecki:
Businesses like Amazon or Zappos are changing the way things are done. They want to get the product to the customer very quickly - often the next day - so they are building more distribution centers to get products out quickly. This means the length of haul and the amount of driving is going down, and that can be good for drivers.
The government is regulating the industry much more in the past 30 years than it used to. There's a lot more social and safety regulation. In addition to drug and alcohol testing and medical requirements, technology devices are now tracking driving time and non-driving time, which can improve safety and compliance.
Resources
About Mary Purcell, MA
---
---