Couples life insurance, also known as joint life insurance, is a type of policy that provides financial protection for both partners in a relationship under one policy. Couples can also get individual life insurance policies, which offer separate coverage for each partner.
Couples should consider life insurance to secure their financial future, protect their loved ones in case of an unexpected event and ensure financial stability for mortgage payments, childcare expenses and other shared financial responsibilities.
Life Insurance Options for Couples
From joint life insurance policies that cover both partners under a single policy to individual life insurance policies for each partner, there are various choices for couples to consider. By understanding these life insurance options, you can make an informed decision that aligns with your shared goals and protects your family's financial future.
Joint Life Insurance
Joint life insurance is designed to cover two individuals under one policy. It's sometimes referred to as couples life insurance because it's a common choice for couples. That said, it can also be suitable for business partners, siblings or any two individuals who have a shared financial interest. The exact rules and requirements can vary depending on the specific insurance company and local regulations.
Couples can purchase joint policies for two types of insurance:
Term Life Insurance: This policy provides coverage for a specified period, paying out if death occurs within that time frame. This is an ideal choice for couples seeking cost-effective coverage for a period of time, such as until a mortgage is repaid or children become financially independent.
Permanent Life Insurance: If a couple wants to build cash value over time or ensure lifetime coverage regardless of health changes, a permanent policy is a good option. While more expensive, it offers long-term security and wealth accumulation potential.
Joint life insurance can be further divided into first-to-die and last-to-die insurance.
First-to-Die Insurance: This insurance pays out upon the first partner or spouse's death, offering immediate financial support to the surviving partner. This type of policy is best suited for couples who rely heavily on each other's income.
Survivorship Life Insurance (Last-to-Die): A more appropriate option for couples focused on leaving a substantial inheritance to surviving relatives or covering estate taxes. The payout is triggered upon the death of the last partner, securing a financial legacy for their heirs.
Individual Life Insurance
Individual life insurance policies offer a unique blend of flexibility and customization for partners who would prefer to be covered by separate policies. Unlike joint policies, they allow each partner to tailor coverage to their distinct circumstances, health profiles and financial needs. Individual life insurance is also available as both term and permanent policies.
The choice between joint and separate life insurance will depend on various factors, including your financial goals, health status and personal preferences. Consulting with a qualified insurance advisor can help you make the best decision for your specific circumstances.
Why Should Couples Get Life Insurance?
Deciding to invest in life insurance as a couple is a pivotal step in your financial journey together. It's about more than just policy premiums and potential payouts; it's about securing the lifestyle you've built and the future you've planned.
Life insurance — whether joint or individual — provides a financial safety net for couples, ensuring that if something were to happen to either partner, the surviving partner and other loved ones wouldn't be left grappling with an overwhelming financial burden.
Here are some common reasons couples may choose to get life insurance:
Debt Repayment: Life insurance can help cover any outstanding debts such as mortgages, car loans or credit card bills, ensuring the surviving partner isn't burdened with these liabilities.
Income Replacement: In the event of a partner's death, life insurance can replace lost income, helping the surviving partner maintain their standard of living.
Children's Future: Life insurance can secure your children's financial future, covering their education expenses and other developmental needs.
Funeral Expenses: The death benefit can cover funeral costs, relieving the surviving partner from immediate out-of-pocket expenses.
Estate Taxes: Life insurance can be used to cover any potential estate taxes, ensuring your beneficiaries receive the full extent of your estate.
Peace of Mind: Having life insurance provides a sense of security and peace of mind knowing that your loved ones will be financially protected when you're no longer there to provide for them.
How to Get Couples Life Insurance
The following steps will help you navigate the process of securing a joint life insurance policy with your partner.
1
Assess Your Financial Needs
Start by considering the financial impact that losing one partner would have on the other. Consider factors such as income replacement, mortgage and other debt repayments, future expenses such as children's education and ongoing living costs.
2
Research Different Policies and Providers
With your needs in mind, explore different life insurance companies and the policies they offer. Online life insurance comparison sites can be useful tools, but don't forget to check the providers' websites directly for additional details.
3
Apply for Your Chosen Policy
Once you've chosen a provider and policy, you'll need to submit an application. This typically involves answering questions about your health, lifestyle and financial situation. The insurance company uses this information in their underwriting process to determine your premium rates.
4
Undergo a Medical Examination
Depending on the provider and policy, you may need to undergo a medical examination as part of the underwriting process.
5
Review the Policy Terms
If your application is approved, review the policy terms carefully before signing. Make sure the coverage and terms align with your needs, and don't hesitate to ask questions if there's anything you're unsure about.
6
Pay Your Premiums
Once you've signed for your policy, you'll need to start paying your premiums. Be sure to keep up with these payments to ensure your coverage stays in place.
Life insurance is a long-term commitment, so it's important to choose a policy that will fit your needs both now and in the future.
Where to Get Life Insurance Policy for Couples
Couples looking for a life insurance policy can get life insurance from reliable local or national insurance companies that offer appropriate policies for couples. Online insurance marketplaces and comparison websites are also valuable resources, allowing you to compare multiple insurers' life insurance rates and coverages simultaneously.
Another option is to hire an independent insurance agent or broker who can guide you to the best policies based on their expertise and understanding of your needs. Additionally, some employers offer life insurance as part of their benefits package. Regardless of the avenue you choose, remember to assess the insurer's financial strength and customer service reputation to make the best decision for you.
Frequently Asked Questions
MoneyGeek answered commonly asked questions about getting life insurance for couples to help you learn more about the process.
About Melissa Wylie
---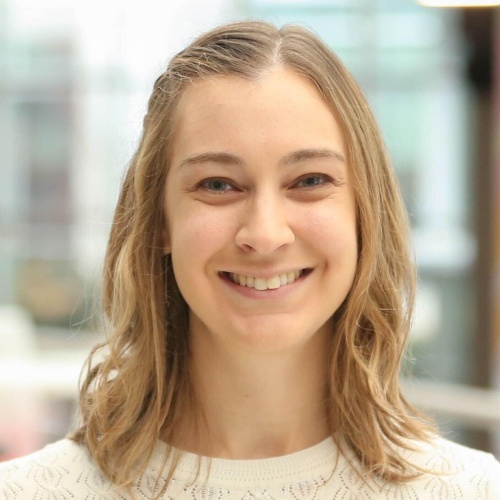 ---