Despite being established more than a century ago, Transamerica is actually what you might call a newcomer in the life insurance landscape. An Italian-American gentleman named Amadeo Giannini formed the business in 1904 in a San Francisco saloon, out of his desire to provide access to financial services to everyone — not just the select few who were wealthy. The company played a major role in helping residents rebuild after the great earthquake of 1906. Transamerica entered the life insurance business in 1930 through its acquisition of Occidental Life Insurance Company, and in the 1950s, the financial and insurance divisions parted ways, with the insurance business taking the Transamerica name. The company became an icon when, in 1972, the Transamerica pyramid building claimed a memorable place in the San Francisco skyline.
In 1999, the company was acquired by the global financial organization Aegon. In the United States, Aegon still operates under the Transamerica brand, and the National Association of Insurance Commissioners ranks it (under the name Aegon U.S. Holding Group) in 8th place on its list of top 10 life insurers for 2015, with a 2.82 percent market share.
Table of Contents
How Does Transamerica Life Insurance Rate?
Financial Strength Rating
A.M. Best's Financial Strength Rating opinion addresses the relative ability of an insurer to meet its ongoing insurance obligations. It is not a warranty of a company's financial strength and ability to meet its obligations to policyholders. View our Important Notice: Best's Credit Ratings for a disclaimer notice and complete details at http://www.ambest.com/ratings/notice.
Financial Strength is rated on a scale of D (poor) to A+ (superior). A rating notch of either a second "+" or a "-" indicates the gradation of financial strength within the category. We can't guarantee that the subsidiary of Transamerica Insurance rated here is the subsidiary that will underwrite your insurance policy. Check with your insurance agent and review A.M. Best's Financial Strength Rating Guide for more information.
Best's Credit Ratings™ are under continuous review and subject to change and/or affirmation. For the latest Best's Credit Ratings™ and Best's Credit Reports which include Best's Credit Ratings™), visit the A.M. Best website at http://www.ambest.com. See Guide to Best's Credit Ratings™ for explanation of use and charges.
Best's Credit Ratings™ reproduced herein appear under license from A.M. Best and do not constitute, either expressly or impliedly, an endorsement of MoneyGeek.com or its recommendations, formulas, criteria or comparisons to any other ratings, rating scales or rating organizations which are published or referenced herein. A.M. Best is not responsible for transcription errors made in presenting Best's Credit Ratings™. Best's Credit Ratings™ are proprietary and may not be reproduced or distributed without the express written permission of A.M. Best Company.
Pros and Cons of Transamerica Life Insurance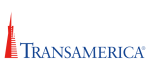 pros
You can receive a quote for and purchase a term policy online.
Transamerica offers a wider range of products than most companies, such as a standalone accidental death policy (this is typically found as a rider on other policies) and final expense life. The term and universal policy categories also include a wide range of products.
Transamerica's online resources make shopping easier for first-time buyers. For instance, it features a page that allows you to compare certain types of policies against others, so you can see the differences more clearly.
Transamerica offers a wide range of insurance products beyond life policies, including dental, long-term care and annuities, not to mention and other financial services such as mutual funds and IRAs.
cons
Transamerica has whole life, but it is essentially a final expense policy, with face amounts that only go up to $50,000.
The company's online offerings aren't terribly robust. For instance, although it is possible to file a claim online, the website provides no contact information or guidance on how to do so. Additionally, you can pay your bill online, but the service is offered through Western Union and involves you paying an extra fee.
The Transamerica mobile app is only for life insurance sales agents, but not for life insurance policyholders.
The company below average scores from J.D. Power for its customers' experiences with billing, payment and interactions with the company.
Transamerica Life Insurance Policy Details
Transamerica has a good selection of products in the term and universal life categories, including a term product that you can get a quote for and purchase online, as well as a larger range of terms to choose from. Transamerica pays lip service to whole life, but won't offer much information about it. The face value tops out at $50,000, and the policies are primarily for final expenses and some cash value.
Term Life Insurance
Transamerica has two term life products available, though within each product, you'll find a nice selection of offerings. The Trendsetter Super comes in terms of 10, 15, 20, 25 and 30 years, in coverages ranging from $25,000 up to more than $2 million. The eligible issue range is from 18 to 80. The Trendsetter Super is a level-premium policy with an option to convert to a universal policy or to renew at a new rate at the end of your term, and it includes an accelerated death benefit at no extra charge. You can receive a quote on a Trendsetter Super policy only and in most states even purchase the policy online as well.
The Trendsetter LB is a term policy with expanded living benefits. This policy provides early access to policy benefits to help cover medical expenses due to serious illnesses. It also comes in terms of 10, 15, 20, 25 and 30 years, with rates that increase annually should you wish to renew the policy at the end of the term. The accelerated death benefit applies in the case of chronic, critical or terminal illness.
Whole Life Insurance
Whole life is the area in which Transamerica falls short. It offers two whole life products: Final Expense Solutions and GWL & Final Expense. Neither product is intended to serve as a retirement plan or boon to your future finances. The Final Expense Solutions products are non-participating level death benefit plans for those ages 0 to 85, with face amounts ranging from $1,000 to $5,000 (varies by state). GWL & Final Expense mirrors the Final Expense products and feature the additional simplified issue guaranteed whole life product, with face amounts ranging from $2,000 to $50,000. Riders on the GWL/Final Expense product are children's insurance and waiver of premium.
Universal Life Insurance
Transamerica offers an index universal life policy offering and a variable UL product. The TransNavigator IUL calls for face amounts ranging from $25,000 in Band 1 to $500,000 in Band 4. It can be issued to those ages 0 to 85 (except in Florida, where it goes to 75). The TransNavigator has two death benefit options (level and increasing), and optional riders available include:
Accidental death benefit
Children's benefit
Disability waiver of monthly deductions
Disability waiver of premium
Guaranteed insurability benefit
Income protection option
Long-term care
Overloan protection
Terminal illness accelerated death benefit.
The Transamerica Journey VUL is offered at face values from $100,000 and up, for those ages 0 to 85. It has three death benefit options (level, increasing and graded). The rider options are the same as the TransNavigator with the addition of a base insured rider and additional insured rider, and it does not include the guaranteed insurability benefit.
How to Make a Life Insurance Claim with Transamerica Insurance
Transamerica's website provides no contact information for making a life insurance claim. If you have a registered Transamerica online account, you can download and print the forms to send by mail or fill out the online First Report of Death Claim. Otherwise, you'll have to call the general questions phone number or contact an agent.
How to Contact Transamerica Life Insurance
CUSTOMER SERVICE PHONE NUMBER

800-797-2643
About MoneyGeek Team
---
---