MoneyGeek's Take: Is Bestow Right for You?
Bestow exclusively provides term life insurance, which covers you for a specified period of time. Term life insurance, unlike permanent life insurance policies, doesn't accumulate cash value, so it can't be borrowed against. It's also generally cheaper than permanent policies.
Term life policies are great for those seeking short-term coverage and who want an affordable life insurance option to protect their loved ones if they suddenly pass away. In addition, Bestow offers fully online applications for life insurance, making it a great option for those looking for a quick and easy way to get coverage.
However, if you're in the market for permanent coverage, Bestow is not the best fit. For whole life insurance, we recommend checking out Northwestern Mutual, while State Farm is MoneyGeek's top choice for universal life insurance. Seniors looking for final expense insurance should check out AARP.
Read our full Bestow life insurance review before selecting a provider to help you determine your most ideal option.
At a Glance: Bestow Life Insurance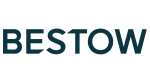 cons
Only offers term life insurance
Not available for those over the age of 60
No additional riders to supplement coverage
COMPANY HIGHLIGHTS
Bestow provides an efficient online application process that can take as little as five minutes and does not require a medical exam. The company only offers term life insurance policies, with terms ranging from 10 to 30 years. It currently issues policies in all states except New York.
Coverage through Bestow ranges from $50,000 to $1.5 million and is available to those aged 18 to 60. Although the application is fully online, you can contact one of the insurer's licensed agents via phone, email or live chat if you have any questions. You can also get an online quote by inputting some basic personal information on the company's website before proceeding with the application.
Bestow's policies are underwritten by North American Company for Life and Health Insurance, which has a lower-than-average complaint index of 0.72, according to the National Association of Insurance Commissioners (NAIC). This means it has received fewer complaints than other companies of its size.
Compare Life Insurance Rates
Ensure you're getting the best rate for your life insurance. Compare quotes from top providers to find the most affordable life insurance coverage for your needs.
Bestow exclusively provides term life insurance, which is only valid for a limited time and is best for people who want additional financial security during specific periods of their lives.
Bestow is fully a digital provider, so you can obtain a quote, apply for coverage and buy insurance online.
You can purchase coverage right away if you are accepted for a Bestow term life insurance plan.
Bestow Policy Options Explained
According to the 2022 Insurance Barometer Study by the Life Insurance Marketing and Research Association (LIMRA), consumers' preference for shopping online for life insurance has increased by 29% over the last six years. Since Bestow is fully digital, you can get a quote, apply and buy your policy online. Learn more about Bestow's term life insurance to help you decide if it's right for you and your loved ones.
Term Life Insurance Options From Bestow
Bestow only provides one policy type: term life insurance. This type of life insurance pays a death benefit if you pass away while the policy is in effect and generally includes fixed premiums. When the policy expires, you may be able to extend or renew it, but the rate is likely to increase.
Bestow offers terms between 10 and 30 years to those aged 18 to 60. Available coverage limits range from $50,000 to $1.5 million. The application process is entirely online and doesn't require a medical exam — you just need to answer a short health questionnaire and will receive a response in minutes.
Term life insurance is best suited to young, healthy families with significant short-term financial needs that must be covered if the family's breadwinner dies. Bestow could be appropriate for people looking for a quick and straightforward way to get term life insurance online without undergoing a medical exam. However, it's only offered to people between the ages of 18 and 60.
Compare Life Insurance Rates
Ensure you're getting the best rate for your life insurance. Compare quotes from top providers to find the most affordable life insurance coverage for your needs.
How to Get Bestow Life Insurance
When you're ready to buy a policy, it's important to understand the necessary steps, as well as what to do if Bestow denies your application. MoneyGeek covers both scenarios to help you through the process.
How to Buy Life Insurance From Bestow
1
Do Your Research
Bestow's official website provides a wide range of resources, such as a buyer's guide, to help you understand term life insurance and its features.
2
Compare Quotes
A lot of factors influence life insurance rates, including age, gender, medical history and lifestyle. Bestow offers online quotes so you can get an idea of the cost. However, even if you think you've found an ideal policy, comparing quotes from different providers is always a good idea to make sure you're getting the cheapest rate.
3
Health Check
The next step is to complete your application and, if necessary, undergo a health assessment. This generally involves a phone call and a medical checkup. Bestow offers online applications with no medical exam required, so you'll only need to fill out an online health questionnaire.
4
Approval
If you are satisfied with the terms Bestow offers, you can apply in minutes and get coverage right away if you're approved. Once you receive your policy, be sure to go over the details and contact a representative with any questions.
What to Do if Bestow Insurance Denies You Coverage
There are numerous life insurance options available to you. If your application with Bestow is denied, follow these steps:
1
Contact Your Broker
Contact a Bestow representative to ask why your application was denied. This will help you understand how to avoid future denials.
2
Lifestyle Changes
If you were denied because of your health, try implementing some lifestyle improvements. You may be able to get coverage — and even a better rate — if you can show that your health has improved.
3
Explore Other Options
If you're not able to get coverage with Bestow, look into other insurance options. It may be best to focus on those that guarantee your acceptance regardless of health. Keep in mind that these policies are generally only available to older adults and may offer limited coverage with higher premiums.
Frequently Asked Questions About Bestow Life Insurance
MoneyGeek addresses some frequently asked questions about Bestow life insurance to help you evaluate your choices.
Life Insurance
Life Insurance