The Best Cheap Homeowners Insurance in Madison, Wisconsin for 2022: Quotes and Reviews
In Madison, Wisconsin, the average cost for homeowners insurance is $1,106 per year or $92 per month. This is an average for the city, and company-specific quotes can significantly vary. The cheapest average homeowners insurance policy in Madison costs $540 from Erie, while the most expensive averages $1,528 per year from Farmers. Therefore, choosing the cheapest insurer can save you around $988. MoneyGeek assists you in finding the cheapest and best homeowners insurance providers in Madison that provide exceptional service at a low cost.
REVIEW HOME INSURANCE RATES
Ensure you're getting the best rate for your home insurance. Compare quotes from the top insurance companies.
Advertising & Editorial Disclosure
Last Updated: 9/26/2022
best
home insurance
Madison
2022
The Cheapest and Best Homeowners Insurance in Madison
The Cheapest Home Insurance Companies in Madison
Most home insurance companies provide similar core coverages. You can obtain the cheapest homeowners insurance in Madison by comparing quotes from multiple insurers. The following are the insurers offering the cheapest homeowners insurance quotes in Madison for a home with $250,000 in dwelling coverage:
Erie: $540 per year
Travelers: $892 per year
These companies, on the other hand, offer the lowest quotes for homes with $2 million worth of dwelling coverage:
Allied: $2,871 per year
Erie: $3,713 per year
Several factors like your policy's dwelling coverage affect how much your homeowners insurance costs. The table below shows how prices vary when the amount of dwelling coverage changes.
The Cheapest Home Insurance in Madison, Ranked
Scroll for more
The study examined insurance plans with a minimum dwelling coverage of $250,000 and a personal property insurance limit of $100,000. Meanwhile, personal property coverage was set at $800,000 for plans with a dwelling coverage of $2 million. All plans had a $100,000 liability limit. Additionally, residents in other parts of Wisconsin may compare homeowners insurance prices on a statewide basis.
The Average Cost of Homeowners Insurance in Madison for 2022
Standard homeowners insurance in Madison costs roughly $1,106 annually or $92 monthly. This is around $151 less than the annual average in Wisconsin, which is $1,257, and slightly more than half of the national average, which is $2,103.
Calculate the Cost of Home Insurance in Madison
In addition to the dwelling coverage limits that you choose, your location, credit score and the policy's personal property limits influence your home insurance policy's premiums. For homeowners in the state of Wisconsin, MoneyGeek's home insurance calculator allows them to compare quotes from multiple insurance providers.
Home Insurance Calculator
These are annual estimates. Get a personalized quote to determine your costs.
The Best Home Insurance Companies in Madison
Homeowners insurance in Madison should be evaluated not only on pricing but also on the customer service experience and financial strength ratings of the companies you're considering. To guarantee that your claim is paid promptly and fairly, you'll want to pick a financially sound insurance carrier.
MoneyGeek has rated the following two as the best home insurance companies in Madison:
Best Overall: Erie
Runner-up: Allied
Our study considered affordability, customer satisfaction and financial strength of the insurers in Madison.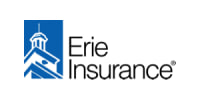 Geek Quick Take
With its excellent affordability score and high AM Best financial stability rating, Erie is MoneyGeek's top-rated provider for Madison homeowners. To protect against the expenses of identity theft or fraud, you may add identity recovery coverage to your Erie policy.
More About Erie
All Erie policies feature guaranteed replacement cost coverage, which means your home's replacement value doesn't reduce due to depreciation, as is the case with other insurers. Water backup and sump overflow protection, as well as service line protection, are available as optional coverages for Erie homeowners, providing coverage for items that aren't typically covered by a conventional home insurance policy.
Read MoneyGeek's Erie home Insurance Review

Geek Quick Take
Allied was ranked second by MoneyGeek due to its high financial stability rating and solid performance in other categories. With its optional better roof replacement coverage, your roof will be replaced with more protective materials if it gets damaged.
More About Allied
Allied, which is part of Nationwide, provides replacement cost coverage for your personal items, which means you'll get a similar quality replacement if you have to file a claim. Most home insurance policies do not cover flood damage but Allied offers it as an add-on. It also offers water backup coverage that covers damages caused by water-related perils.
Cheapest Home Insurance Companies in Madison for Newly Constructed Homes
Insurance premiums for newer homes in Madison are usually lower than premiums for older homes. New homes are assumed to be more damage-resistant by insurers due to their use of up-to-date materials. New materials can also be replaced more easily and cheaply. Also, new homeowners are less likely to file a claim, so insurance companies offer them lower premiums.
In Madison, insurance for newer homes costs on average $829 per year, compared to $1,106 for a home built in the year 2000.
For newly constructed homes with $250,000 in dwelling coverage, the two cheapest insurance providers in Madison are:
Erie: $457 per year
Travelers: $631 per year
The Cheapest Home Insurance in Madison for New Homes, Ranked
Scroll for more
Cheapest Home Insurance Companies in Madison if You Have a Lot of Personal Property
The structure of your home and any personal belongings you choose to insure will be covered by the policy you select. Your price will go up if you insure more of your personal possessions.
In Madison, a policy with a higher personal property limit of $250,000 costs an average of $1,239 a year. A policy with personal property insurance of $100,000 costs a little less at around $1,106 per year.
For homes with $250,000 in dwelling and $250,000 in personal property coverage, the cheapest insurance policies in Madison are from the following two companies:
Erie: $783 per year
Travelers: $973 per year
Cheap Companies in Madison for Extra Personal Property Coverage
Scroll for more
Cheapest Home Insurance Companies in Madison for High Deductibles
You must pay your insurance company a deductible before they start to pay out on your claim. The amount of the deductible on your policy affects your premiums. You will pay lower premiums if you have a higher deductible on your policy and vice versa.
If you have a $2,000-deductible policy in Madison, you can expect to pay around $954 per year to insure it. If you have a $1,000-deductible policy, the premium will be about $1,106 per year.
For a $2,000 deductible on your home insurance policy, the prices of these two Madison insurance providers are the cheapest:
Erie: $333 per year
Travelers: $800 per year
The Cheapest Companies in Madison for High Deductibles, Ranked
Scroll for more
Cheapest Home Insurance Companies in Madison if You Have Poor Credit
Your credit score has an impact on the cost of your homeowners insurance in Madison as well. People with poor credit histories are viewed by insurers as high-risk and therefore more likely to make a claim. As a result, folks with poor credit scores pay more for home insurance than those with good credit scores.
For instance, Madison's homeowners with poor credit scores pay an average of $2,394 a year for home insurance. On average, people with strong credit scores pay less than half the price for an identical insurance plan at $1,106 per year.
If you have a poor credit score, the following two firms will provide you with the most affordable home insurance quotes in Madison:
Auto-Owners: $1,333 per year
Allied: $1,524 per year
The Cheapest Companies in Madison for Poor Credit, Ranked
Scroll for more
Getting Online Homeowners Insurance Quotes in Madison
Obtaining a home insurance quote online in Madison is quite straightforward. To get a more customized quote, you will be asked to provide the following information and more, depending on the insurer:
Home replacement cost: This is the cost of reconstructing your home after damage caused by a covered hazard. Insurers use this estimate to determine the right amount of dwelling coverage for your policy. You may get an estimate for replacement costs by contacting a contractor or construction specialist.
Personal property value: The worth of the personal items that you choose to cover is included as a personal property limit in your insurance policy.
Personal information: In order to provide you with a more personalized quote, insurers will need to know your personal details like age, address, credit score, claims history and Social Security number.
Details about your home: It is crucial to provide information about your house, such as when it was constructed, its size and whether or not you have installed any security devices.
Homeowners Insurance in Madison Analysis: Methodology
MoneyGeek's analysis used data provided by Quadrant to evaluate 10 homeowners insurance companies in Madison. The companies' affordability scores were evaluated using a sample home with varying levels of coverage. In addition, J.D. Power's customer feedback surveys were used to establish each company's level of satisfaction.
An average homeowner with a 2,500-square-foot home constructed in 2000 was the baseline profile. The home was covered for $250,000 in dwelling coverage, $100,000 in personal property coverage and $100,000 in liability coverage. All plans studied had a $1,000 deductible, regardless of the coverage levels.
The study also looked at homeowner profiles with recently built homes, poor credit, higher deductibles and a high number of personal items to insure.
About the Author
---
---