How to Find The Coverage You Need to Protect Yourself and Your Family
Most of us spend precious little time thinking about our car insurance. The renewal notice for our policy comes, and we pay it, often with little thought for whether our coverage needs have changed or if other insurers might now offer a lower premium. With accidents rare, few of us discover how fairly the insurer might handle a claim, either.
The right automotive policy could spare you hundreds of dollars a year in premiums, hours of grief in processing a claim, and thousands in repair costs once the claim is settled.
This guide will help you figure out your auto insurance needs, weigh the different types of coverage and find out how to get the best protection for you and your loved ones.
What Types of Car Insurance Should You Get?
Auto insurance typically comprises a bundle of mini-policies that address distinct driving perils. Insurance companies generally price each component of the policy separately. The most significant component, liability coverage, is mandatory in almost all states. Collision and comprehensive — along with many of the other components — are optional, at least by law, and require you to decide whether they're worth getting, and at what deductible levels.
The major types of coverage include: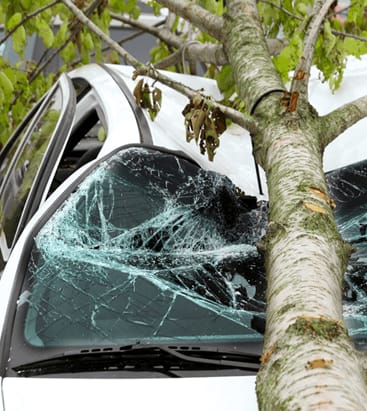 Liability
Most states require drivers to hold liability coverage. It protects you against the damage you may cause while driving to people you hit (known as bodily injury coverage) and their property (known as property damage coverage). In addition to paying medical costs, liability coverage may also cover such expenses as legal fees and wages lost due to injuries. One thing liability insurance doesn't cover is protection to you or your passengers.
Uninsured and underinsured motorist
Uninsured and underinsured coverage protects you if your vehicle is hit by motorists who are not insured or who have insufficient coverage to pay the full extent of the damage they caused. As well as covering repairs to your car or truck, this insurance also reimburses you for medical expenses and other health-related costs. This insurance is required in nearly half of all states, including New York, Illinois, New Jersey, and Michigan, but isn't mandatory in the others, which include California and Florida.
Collision
Collision insurance covers repair or replacement of your vehicle if you are in an accident, whether you collide with another vehicle, hit a telephone pole, or skid off a hill in a rollover crash. If you're buying a new car under a lease or financing, most lenders will require you to have this type of insurance, along with comprehensive coverage — with which collision coverage is often bundled.
Comprehensive
Comprehensive coverage protects against loss or damage to your vehicle caused by something other than a collision. Calamities it covers include theft, fire, storms, hitting an animal, and natural disasters such as floods, earthquakes, and hurricanes. Many insurers bundle comprehensive coverage with collision coverage.
Medical Payments
Medical payments insurance shields you from the cost of medical payments to care for injuries to you or your passengers. This coverage may also include lost wages due to the accident and funeral expenses, should you or a passenger die in it. This coverage is required in some states.
Personal Injury Protection (PIP)
PIP provides similar protection such as medical payments coverage, but is available in so-called "no-fault" states that require it. Medical and related expenses are covered regardless of who may have caused the accident. In cases of severe injuries, you may be able to sue the driver who is at fault, depending on state regulations.
How Much Insurance Do You Need?
While state laws require drivers to carry specific minimum insurance coverage, these requirements may fall short of your actual needs. For these more significant components of your policy,assess whether you should to buy more coverage than the state requires.
Liability: Buy More Than The State Minimum
Liability claims from a typical fender bender may seem reassuring since they're well within the minimums required under state law. In 2017, according to the Insurance Information Institute, the average auto liability claim for bodily injury was $15,270, and for property damage, it was $3,231.
Those averages, though, do not reflect that liability claims for some accidents can run into the hundreds of thousands, or even millions, of dollars — numbers far above the state requirements. If your insurance can't cover a large claim, creditors can come after your home, your car and even your bank account.
The first step to deciding on a policy's liability protection is to understand how it's expressed. Liability coverage is summarized in three numbers, such as 100/300/50. The first number represents the maximum amount the policy will pay for an injury to any one individual; in this example, it's $100,000. The second figure is the maximum amount the policy will pay for all injuries in an accident — or $300,000 here. The final (and usually lowest) figure — in this example, $50,000 — is the maximum payout for property damage.
Most experts recommend getting liability coverage of at least $100,000 per injury and $300,000 total per accident. If those amounts sound high, be aware that the incremental cost of this coverage compared with state minimums is relatively low. A 2017 MoneyGeek analysis of data from Quadrant found the cost of securing an additional $100,000 in liability coverage was typically no more than $30 a month.
If these figures are significantly below the value of your assets, you may want to supplement your liability policy with umbrella coverage. This is a separate policy that protects all your assets, including your home and other property, against liability claims that exceed the maximums in your auto and other insurance policies. As a rule, it's most cost-effective to obtain umbrella coverage from the insurer that also writes your auto or home insurance.
Collision & Comprehensive: Needs Vary By Vehicle Age
While no state laws require it, generous collision and comprehensive coverage can be important, and will be required by a lender or lease company. Even if the car isn't financed, you don't want to risk the impact of crashing the car and incurring a total loss, or the possibility of the car being stolen or damaged in a flood or other "weather event."
On older cars, the logic of carrying collision and comprehensive coverage diminishes. As a vehicle's value depreciates, so does the financial hit you'd suffer were you to lose it; the impact remains painful but not catastrophic. A rule of thumb: Drop additional coverage if your car's value has declined to 10 times or less your annual premium for collision and comprehensive. You can check the value of your car online at websites such as kbb.com.
Other Possible Car Insurance Add-ons
Besides the major types of coverage outlined above, you might want to add additional options to your auto insurance policy. These include:
Emergency Roadside Service
For a small additional monthly fee, emergency roadside service through your insurance company typically covers tire changes, jump-starts, fuel delivery, being locked out of your car and towing or extricating your car. Consider this coverage if you don't already have it from your automaker, credit card company, or automobile club membership.
Mechanical Breakdown
Mechanical breakdown coverage is an alternative to an extended warranty when insuring a new car. The policy may provide broader coverage than a manufacturer's extended warranty, but it won't cover routine maintenance such as oil changes, tune-ups, and replacing brake pads. Complete a price comparison if you are considering this or a manufacturer's extended warranty, and be sure you understand what's included or not in each option.
Modified Car
Like to tinker? People who modify their car or add custom or aftermarket parts may find their car is worth more than its book value. If you take this coverage, be sure to document enhancements to the vehicle with receipts and photographs, to aid in making the case that you've made it more valuable than the norm.
Gap
New cars depreciate rapidly, sometimes shedding 10 percent of their value in the first month and as much as 20 percent over their first year, according to Carfax. If you recently bought your vehicle with a loan, or are leasing it, it's possible the balance you owe may exceed what insurance typically pays in a total loss. That payout is the current value an insurance company assigns to your car at the time of the accident. You might wind up wrecking a car worth $20,000 and have to repay its $22,000 loan balance.
Carriers offer supplemental "gap insurance" to cover the shortfall. You should consider the size of the gap and your risk tolerance of covering it in the event of a total loss prior to adding this to your insurance.
Coverage for Special Cars and Drivers
Whether you own a collectible car or drive for a ridesharing service such as Uber or Lyft, you may need special coverage. Here are some instances for which you may need something beyond the standard options:
Classic Car Insurance
If you own a classic or vintage car (anything older than 25 years), you should shop for specialized coverage. This allows you to insure your antique car for an agreed-upon value with an insurer. Such a policy accommodates the fact that, while most cars depreciate in value, classic vehicles are likely to appreciate. They also tend to be driven differently from other cars and may require special insurance if they are displayed at shows.
Insurance for Ridesharing Drivers
People who earn money driving for ridesharing services may not be covered by their personal auto policy since those generally don't cover commercial use or "driving for hire." While ridesharing services offer some insurance to their drivers, those policies may fall short of providing sufficient protection. Some insurers have begun offering ridesharing insurance, so talk with your agent to see what you need to be fully covered on the job.
Non-Owner Liability Insurance
This type of policy is for people who don't own a car, preferring to rent or use a car-sharing service such as Zipcar. This type of insurance often covers only liability, but that alone could be more cost-effective than paying extra for that coverage each time you rent or share a car.
However, before buying such a policy, check if one or more of your credit cards provide this coverage at no additional cost. Verifying card coverage is also useful if you have regular car insurance. Your car's policy customarily covers some aspects of insuring a rental car, but the right card can fill gaps in that coverage, such as covering the cost of repairs until your own insurance can pay the claim.
Insurance on rental cars
Your car insurance should cover you against at least liability claims when you rent a vehicle for personal use. If you plan to rent for weeks or months, though, check for time restrictions, since a 30-day limit is common. Be aware that if you don't carry collision and/or comprehensive coverage for your own car, you won't have it for the rental car either.
If you do damage the rental car, you'll be responsible for meeting a deductible for the claim, as with your own vehicle. And, especially when renting abroad, you may need to pay a hefty deposit to cover the repair cost until the rental agency receives reimbursement from your own rental company. Certain credit cards cover some or all of these expenses for you, along with other related perks. It pays to research the rental-car features for your cards before you leave home, so you can charge the rental to the one with the best coverage and support.
Insurance for self-driving cars
Entirely driverless cars are still at the testing stage, but Tesla and other carmakers are increasingly adding self-driving settings to regular vehicles, along with features that intervene automatically if the car detects an impending collision or other threat. While these technologies are expected to reduce accidents — and insurance costs — in the long run, you may not yet enjoy reduced premiums for a car equipped with them.
In part, that's because such vehicles are expensive — Teslas cost as much as $124,000, for example — and so can be relatively costly to repair after an accident, data that insurers consider when they set premiums. The cars are also fairly small in number, which limits insurers' ability to determine if they are indeed less accident-prone.
The insurance marketplace for cars that self-drive is likely to improve, perhaps soon. For example, Avinew, a start-up that will specialize in insuring autonomous cars, promises to "reward customers for buying safer cars." If you're paying high rates to insure your Tesla or other self-driving vehicle, you may want to add that company to your list when you next shop around for insurance.
What if You Can't Get Car Insurance?
Although most states require vehicle owners to carry insurance, not everyone can get it, at least not through the regular channels. Some people, because of their past driving records, may be unable to obtain insurance from a private company. Others may simply not be able to afford it. In these cases, there may be state programs available to help.
State-Sponsored Auto Insurance Programs for High-Risk Drivers
While some companies offer individual car insurance policies to high-risk drivers, many prefer not to. Instead, states require all insurance companies participate in a program that pools these kinds of drivers. These pools are created in order to share the possible losses of insuring high-risk drivers; companies participate in proportion to the amount of business they do in the state. If your driving record is spotty, this program may help you obtain coverage. Your premiums are likely to be very high. Check with your state insurance department to learn more.
Low-Cost Insurance Programs
Some states, including California, Hawaii, and New Jersey, provide affordable public insurance to people who can't afford to buy a car insurance policy from a private company. These programs are designed to discourage uninsured motorists from taking to the road, which is a distressingly common occurrence. To qualify, vehicle owners must meet income-eligibility requirements. For further information, check with your state insurance department.
How to Save on Car Insurance
Once you've settled on the coverage types and levels you need from your car insurance, it's time to pare down what you'll pay with these steps.
Shop Around
In 2017, Consumer Reports found more than half of their subscribers remained with the same auto insurer for at least 15 years, and some companies even reward such loyalty with discounts. But those discounts typically comprise only a few percentage points, and numerous studies reveal that rates between companies can vary far more than that.
For example, a recent MoneyGeek survey of premiums from five major insurers and four different kinds of households reveals you could pay nearly double for choosing the most expensive carrier rather than the cheapest (which was GEICO in every case).
It's prudent to get at least three quotes before making a purchase — one from your current carrier plus two others from competitors. Military families should also seek a quote from USAA, which stands out in many surveys for price and service.
Seek out friends and relatives for their experiences with their auto insurer, especially if they've filed a claim. Also, check MoneyGeek's reviews of major auto insurers along with the auto insurance customer satisfaction survey by J.D. Power. Check with your state department of insurance, which may offer price comparisons and track consumer complaints. You can also review social media sites, such as Yelp, for customer comments and ratings.
Consider Changing Your Car
Because your insurance will depend in part on the value of your vehicle, its safety record, and potential cost to repair it, it's a good idea to price insurance before you buy a car to understand what different models might cost to insure.
If you own vehicles such as sports or muscle cars, the savings from switching to a different model and model year might alone prompt you to switch. For example, a 2017 MoneyGeek survey found Texans who own two 2008 Town and Country minivans instead of two 2014 Mustang GTs would save an average of $2,600 a year on their premiums.
Choose a Higher Deductible
A basic rule of thumb is: The higher the deductible, the lower the premium. The deductible is the amount you will pay in the event of a claim before your insurance company puts up any money. This will cut your costs, but be sure you have enough money to pay the deductible if you have to.
Maintain Good Credit
Though your credit history may not seem to have anything to do with your risk behind the wheel, insurance companies think otherwise. The Insurance Information Institute says that data reveals that people with good credit file fewer claims. Make sure your credit information is correct and take steps to improve your credit if you have problems.
Agree to Have Your Driving Monitored
Most major insurance companies now offer so-called telematics programs in which you agree to have your driving monitored, using either a device that's installed in your car or an app you download to your smartphone. The technology typically measures not only how far you drive but how well, including your typical driving speed and how rapidly you brake and accelerate.
The insurance company then uses this data to determine the risk you pose behind the wheel and uses that information to help calculate your premium. For good drivers, the result can be a significant savings in rates. Of course, the opposite can apply if the monitoring finds your driving style to be less than ideal. However, many such programs allow you to set aside an unfavorable verdict and revert to the traditional method of determining your rate.
Discounts That Can Lower Your Car Insurance Premiums
After you've taken the necessary steps to slashing your car insurance premiums, explore various discounts that might further reduce your rates. The available discounts and the savings they produce vary from company to company, and the biggest discounts won't necessarily offer the lowest premiums overall.
Some typical discounts include:
Bundled Coverage
Many insurance companies offer a discount if you bundle your car insurance with your homeowner's policy. You can also get a discount if you insure more than one car in the household. Apart from the potential savings, such bundling can simplify paying premiums and your other interactions with the insurer.
Long-Time Customer
Staying years with the same insurer will earn you a loyalty discount from some companies. However, consumer advocate Bob Hunter warns that insurers may also see repeated renewals as a sign of complacency about your policy, and may be emboldened to raise your rates. Before you renew with your longtime company, be sure to price check rates with at least a few other competitors.
Good Student
Teenage drivers are expensive to insure, so discounts here can deliver substantial savings. A good student discount is available from many insurers; however, your teen will need to meet their definition of a good student, which often means maintaining a grade-point average of 3.0 or better.
College Student
If your policy covers a college student who is away from home, you may be eligible for a discount on the extra cost of including them on your policy. Companies that offer this discount will need to know that the college is at least a certain minimum distance from home. If your college student has a high grade-point average, they may also qualify for a good-student discount.
Seniors
Some companies offer a senior driver discount based on the age of the driver. The age at which this discount kicks in varies from company to company, but some discounts start as early as 50. In many cases, senior drivers have to complete a defensive driving course to qualify for the discount.
Be aware, however, that your insurance rates may rise beginning in your late 60s. That's because, while claims decline overall for drivers in their 50s and 60s, they begin to edge up for drivers in their 70s and beyond. Insurance companies may pass those losses along to their oldest drivers in the form of higher premiums.
Good Driver
If you've gone more than three years without a moving violation or accident, you may qualify for discounts. You may also be eligible for a lower rate if you agree to have the quality of your driving monitored by the insurance company, via an app or a device installed in the vehicle, and the data confirms that you're a low-risk driver.
Drivers' Ed and Defensive Driving Classes
Some insurance companies will provide a discount if you complete an accredited driver's education program or a defensive driving course. Both types of training are evolving in the digital age. While driver's ed courses are mostly still in actual vehicles, the use of simulators to train new drivers is on the upswing. Defensive driving courses are now also offered in online versions that you can complete at home, at your own pace.
Group Insurance
Some companies offer discounts to drivers who get car insurance through a group plan from their employers through professional organizations, alumni groups or other associations such as the AAA.
Low Mileage
If you drive less annually than the average car owner, you may be eligible for a low-mileage discount. The threshold varies greatly with companies. Some require you to drive less than 7,500 miles a year, while others offer discounts even to those who drive up to 15,000 miles a year.
These traditional discounts rely on self-reporting of annual mileage. Some companies have replaced or supplemented such discounts with programs that rely on smartphone apps or devices you install in your car. These monitors tally not only how far you drive, but capture data on your braking, accelerating and cornering to help determine the quality of your driving — all of which can be reflected in the eventual premium you pay.
Anti-Theft Devices
Some insurers still offer discounts for anti-theft devices, such as auto alarm systems and ignition-kill switches. Don't buy these items solely to earn discounts; the reduction in premium may be negligible relative to their cost.
What to Do if Your Insurance Policy is Canceled or Not Renewed
It isn't pleasant, but your insurance company is allowed to cancel your policy under certain circumstances. They can also decline to renew the policy when it's up for renewal. In either scenario, understanding why they made the move will help you move quickly to remedy the situation.
Insurance companies are generally permitted to cancel policies for any reason during a fixed period after initiation — usually 60 days. After that time, and before the policy is up for renewal, there are limited reasons they may do so, according to the National Association of Insurance Commissioners. The allowed factors are generally either the failure to pay a premium or the inclusion of inaccuracies on the insurance application. State laws set a required period of notice prior to a policy being canceled.
If your insurance company decides not to renew your policy, most states require it to provide a reason for doing so. The insurer must also give you advanced warning — typically 30 days — that the policy won't be renewed. Sometimes the failure to renew has nothing to do with the policyholder, according to the Insurance Information Institute. It says a company may simply decide "to drop that particular line of insurance or to write fewer policies where you live."
If the rationale for cancellation or not renewing isn't provided, ask the company for it. If you feel the move was made for the wrong reasons, urge the company to reconsider, using whatever evidence you can assemble to make your case. If you fail, but still think the company acted wrongly, contact your state department of insurance for assistance on continuing to fight the action.
If your policy was canceled for non-payment, you might be able to have it reinstated if you cover the unpaid balance. Your company may also levy other penalties, such as a fee for late payment.
If you lost your policy due to a DUI conviction or other infractions, you can seek coverage elsewhere. But be prepared to shop around extensively and, if you do find a company willing to take you, expect your premium to rise sharply. If you're unable to obtain coverage from a private insurer, you can seek out coverage through your state's high-risk insurance pool; again, contact your state insurance commissioner for details.
What to Do If You're Dissatisfied with Your Insurance Company
If you run into a problem with your insurance company, first try to resolve the problem with your agent or broker, if you have one. If you instead purchased the policy directly from the company or on a website that sells coverage from multiple companies, reach out to the appropriate customer service department.
If a phone or chat conversation doesn't resolve the matter, write a letter that documents the problem in detail. Citing relevant documentation is vital, especially if the problem you are having relates to a claim.
If you still can't resolve the problem to your satisfaction, ask to speak to an ombudsman, a company employee charged with resolving disputes to the mutual satisfaction of both parties. If you're still striking out, the next avenue of recourse is the department of insurance in your state.
Though the state office may merely forward the complaint to the company, the referral may add to pressure on the insurer to resolve the matter promptly and fairly. You could also consider filing a complaint with your state department of consumer affairs or the Better Business Bureau.
If you have exhausted these options, and feel your insurance company is violating the terms of your policy, you can take legal action. If the amount in question is small enough, you can use the small claims court in your jurisdiction. Otherwise, consider hiring a lawyer to handle the matter.
Carole Walker has served since 1998 as executive director of the Rocky Mountain Insurance Information Institute, a nonprofit trade organization that covers Colorado, New Mexico, Utah, and Wyoming. She is also a member of the Colorado Teen Driving Alliance.
Let's start with a really basic question: Why do I need to buy car insurance?
First and foremost, because it's required by law in most states. Also, it protects your assets. If you don't have insurance and cause an accident, that can put you into financial ruin if you are taken to court. Think of it as a small investment to cover a large risk.
How should consumers decide how much coverage they need?
Look at your car insurance policy as six separate policies. Look at what's required by law, what's optional, then discuss what makes sense for you with your agent or other seller.
Consider things like your assets and how much medical coverage you already have. The minimum required by law is usually bare-bones, and is very low if you look at the costs you could potentially face in a claim settlement. You should strongly consider more coverage if you can afford it.
Remember the insurance isn't just for you; it is for your passengers as well. Think about your driving behavior. For example, are you a carpool mom or dad carrying around a lot of kids? You're responsible for them, too.
Often people don't think about their type and level of coverage until they are filing a claim, and that's the last time you should be considering this. By then, it's too late.
Is uninsured motorist coverage worth buying?
Uninsured or underinsured motorist coverage is optional in many states. But [if] you don't buy it, you're trusting that everyone else is carrying enough insurance — and we know that's not the case. If someone who is uninsured causes an accident, they might be responsible for your costs, and if they couldn't afford to buy insurance in the first place, your chances of getting paid are pretty slim.
When should I skip collision and comprehensive insurance?
People consider dropping collision and comprehensive insurance on older vehicles, as they may consider that it's not worth the cost. Consider the risks in the state you live in. For example, do you get a lot of hail storms, car thefts, deer on the road? If you drop comprehensive coverage and a hail storm comes through, you will have to pay for your damages out of pocket. Think about whether you can afford to fix or replace your vehicle if you don't have comprehensive insurance.
Why would I need medical payments coverage if I have health insurance?
First-party medical coverage is additional coverage you can purchase to have your insurance company pay your bills regardless of who caused the accident. It may pay for an ambulance ride, an ER visit, and medical bills, for example.
All too often, people expect their medical insurance to cover their bills after an accident. Of course it's important to have good health insurance for any instance, but it's also important to understand what your own health insurance covers. In a car accident, even if someone else is at fault, it may take a while to get your bills covered by your health insurance. This insurance might cover your initial medical costs.
Besides my age and gender, what do insurers look at when setting my premium?
Obviously, you can't change your age or gender. But how you drive, what type of car you drive, and your credit score are all things you can work on to improve your premium.
Your driving record is always considered by insurers. Moving violations and at-fault accidents will work against you and can lead to higher premiums. These can also cause an insurance company not to renew your policy because you are considered a high risk. A good driving record is ultimately something you have control over. By driving safely, you can keep your premiums down and also make us all safer. Having a car that's safe and crashworthy is also very important and can lead to lower premiums.
If you have a good credit score, you may get a discount. Companies have been using these scores as a factor for many years. The initial reaction was, "what does my credit rating have to do with how I drive?" But study after study shows a strong correlation between how you manage your personal finances and whether you get in an accident.
How else can I keep my premiums down?
There are so many different discounts out there, it's important to ask your insurer which you might be eligible for. For example, combining auto insurance with your homeowners or renters insurance might make sense. Ask for good driver discounts. If you have tickets, some insurance companies will offer a reduced premium if you take a defensive driving course.
When you're looking at ways to save, having a higher out-of-pocket deductible can save you up to 20 percent on premiums. Look at your deductibles on all your different kinds of coverage. Of course, you'll have to pay out of pocket for the deductible if you have an accident.
How are insurers using technology to track our driving habits? Is this a good idea?
In the olden days, insurers asked people about their driving habits and took their word for it. Better drivers have historically subsidized bad drivers because the risk was spread out more, and higher risk drivers were in the mix. Now, knowing how much you drive, how you drive, and when you drive, insurers can measure your individual risk better. You may not be a good candidate for this program if you drive at odd hours or very many hours, but many consumers can reap a discount.
New vehicles all have the technology to do this. Most of the programs, like Progressive's Snapshot, are opt-in. The question for us as drivers is, how are they going to use the information? Even from a marketing standpoint, insurance companies understand that people want certain information to be private.
Is there an easy way for consumers to compare rates?
The positive thing for consumers is the arrival of more ways to buy insurance than ever before. Savvy shoppers can go online and arm themselves with information, then compare rates.
It is important to shop around. Get at least three quotes, but don't just shop for price. Ask about their claims process, make sure that you can buy the kind of insurance you need, and consider a company that has a good rating.
Resources
Consumer Federation of America: This consumer advocacy group lobbies and provides public education on issues including auto insurance, health, food safety, and product safety.
Rocky Mountain Insurance Information Institute: This nonprofit trade association offers consumer information on auto, homeowners, renters and business insurance in the Rocky Mountain region.
An Auto Insurance Primer: Insurance Information Association: This industry trade group offers consumer information on car insurance premiums, and state laws.
Your State Department of Insurance: Locate your state insurance department on the National Association of Insurance Commissioners website. If you have an unresolved complaint with your insurer, contact your department.