Reverse Mortgages
If you have a lot of home equity and are 62 or older, a reverse mortgage can be a practical way to supplement your income. It can also pay for overdue home improvements, get rid of outstanding debt and more. Tapping your home's value with a reverse mortgage is not appropriate for everyone, since it's relative expensive and can affect the legacy that you leave for your heirs. In some situations, though, it's the best option for staying in your home while easing cashflow constraints.
Last Updated: 1/7/2022
Advertising & Editorial Disclosure
Homeowners over 65 have an average home equity of $212,800, and 72 percent of them have no mortgage.
What

can $212,800 of home equity get the average 65-year-old?
---
$130,000 in cash with no monthly payments
$130,000 credit line for emergencies
$1,250 a month for 10 years
REVERSE MORTGAGE CALCULATOR
How much can you borrow with a reverse mortgage? Use MoneyGeek's calculator to determine your options.


How Reverse Mortgages Differ From Traditional Mortgages
Reverse mortgages are highly specialized home equity loans for individuals at least 62 years old. In a traditional mortgage, you accumulate equity in a property over time as monthly mortgage payments decrease the principal balance or the property value increases. This home equity is a significant financial asset, but the only way you can access it is to sell the property or borrow against it. Many homeowners want access to their home equity, but don't want to sell and move or may not have sufficient income to qualify for a second mortgage, such as a traditional home equity loan or line of credit.
That's where the reverse mortgage comes in. Like a second mortgage, a reverse mortgage allows you to convert some of your accumulated equity into cash for short-term use. Unlike traditional home equity loans or home equity lines of credit, however, a reverse mortgage doesn't require you to make monthly payments. Quite the opposite — a homeowner can receive a monthly check from the lender. This reverse flow of money gives the loan its name.
| | Conventional Home Loan | Reverse Mortgage |
| --- | --- | --- |
| Purpose | Purchase a home | Get cash from home equity* |
| At the time of closing | You owe a lot and have little equity in the home | You owe little and have a lot of equity in the home |
| During the loan | You make monthly payments The loan balance decreases Your equity grows | You receive monthly payments (as a lump sum, monthly payment, or line of credit) The loan balance rises Your equity decreases |
| At the end of the loan | You owe nothing You have substantial equity in the home | You may owe a large amount but never more than the value of your home You may have little or no equity in the home |
| Closing costs | Based on the amount of the loan. Can be financed as part of the loan. | Based on appraised value of the home. Can be financed as part of the loan. |
| Summary | Falling debt Rising equity | Rising debt Falling equity |
*It is possible for a senior to purchase a home with a reverse mortgage. See the Reverse Mortgage Requirements page to learn how.
**Source: **U.S. Department of Health & Human Services
With a regular forward mortgage you used to buy a home, a lender advanced a lump sum, which created a large initial balance you had to repay. Over time, you made monthly payments to the lender, which gradually shrank the loan balance.
With a reverse loan, the initial loan balance is zero. You have flexibility in choosing the loan amount and manner in which you receive your proceeds: a lump sum of cash, a line of credit, monthly payments for as long as you live in the home or monthly payments for a specific term, such as five or 10 years. As you draw on your available equity, interest accrues, and the loan balance increases.
MONEYGEEK EXPERT TIP
More than 20 percent of older couples and almost half of single retirees derive at least 90 percent of their income from Social Security.
The illustration below shows how a reverse mortgage balance can accumulate. In this case, the interest rate is 4 percent and the borrower receives $1,000 per month.
How Your Loan Balance Grows Over the Years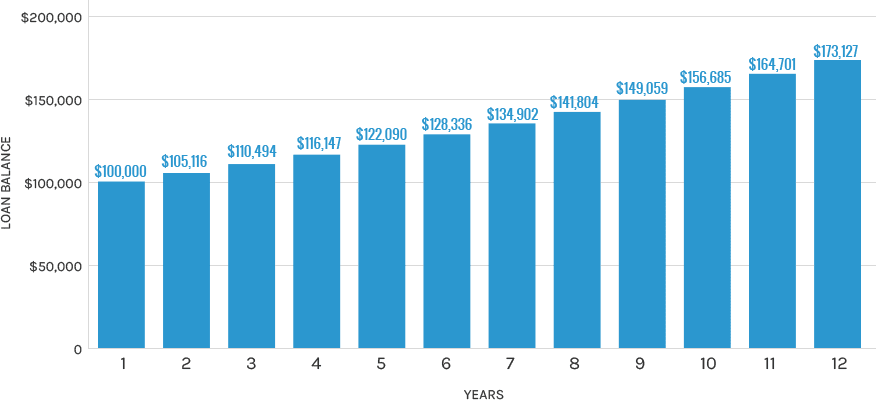 For many, reverse loans are the best solution to cash flow difficulties. However, reverse mortgages are not for everyone, and prospective borrowers should carefully consider the pros and cons of reverse mortgages before taking one on.
Types of Reverse Mortgages
There are different types of reverse mortgages:
Home Equity Conversion Mortgage (HECM)
The Home Equity Conversion Mortgage (HECM, pronounced "heck em") — is by far the most popular reverse mortgage. Backed by the Federal Housing Administration and regulated by the Dept. of Housing and Urban Development (HUD), HECMs represent about 90 percent of all reverse mortgages in the United States.
Single-Purpose Reverse Mortgage
Local governments, housing agencies and charitable organizations offer single-purpose reverse mortgages, which are only available to senior homeowners with low or very low incomes. They come with conditions for their use, such as completing home repairs or paying property taxes. (See the Reverse Mortgage Requirements page to learn more.)
Proprietary or Jumbo Reverse Mortgage
Proprietary or jumbo reverse mortgages allow homeowners with expensive properties to borrow more than HUD allows with HECMs. Standard guidelines do not exist for proprietary reverse mortgages, and HUD does not limit their fees. If you consider one of these reverse mortgages, scrutinize it carefully. (See the Reverse Mortgage Requirements page to learn more.)
How Does a HECM Work?
A HECM reverse mortgage entails a multistep process, which can take 60 to 90 days.
1
Counseling
As a potential applicant, you complete reverse mortgage counseling with a HUD-approved counselor. Reverse mortgage counselors ensure you understand the costs and benefits of a reverse loan, the existence of reverse mortgage alternatives and the effects of reverse mortgages on your heirs and your estate planning. Upon completion, your counselor issues a certificate, which you will use as proof to lenders that you have met the counseling requirement.
2
Application & Financial Assessment
You apply for a loan. The reverse mortgage lender conducts a financial assessment to confirm you can continue to pay homeowners insurance premiums, and property tax installments.
3
Approval With or Without Extra Conditions
A satisfactory financial assessment results in a loan approval. But if you fail the lender's financial assessment, you are not automatically denied a loan. Your lender may approve a HECM, but will withhold some of the equity proceeds to pay tax and insurance costs on your behalf when they come due and are payable.
4
Appraisal
After you receive your HECM loan approval, the lender conducts an appraisal of your house. The appraised value, along with your age and the age of your spouse (if applicable), determines the maximum loan amount.
5
Closing
You sign a final set of documents to close on the loan, and the lender records a mortgage lien on your property.
6
Receive Equity Payouts
As the borrower, you have already decided before closing how to receive the loan proceeds — as a lump sum, line of credit, monthly payments or a combination of the options. During the loan term, you receive equity payouts according to the type of payout you have chosen, and your HECM loan balance and accrued interest accumulate. See the Reverse Mortgage Payout page to learn more.
7
Loan Payoff
After you vacate your property — either through a sale, your death or otherwise — you or your estate must repay the loan. Your heirs can also choose to simply turn over your home to the lender. (This option makes sense when the loan balance exceeds the property value and your heirs don't want the property.)
What Can Disrupt the HECM Process
Your reverse mortgage lender wants your loan experience to be positive. It also wants to make sure your financial stability remains intact during the loan's term. However, a number of conditions can threaten to disrupt a HECM lifecycle.
You have an obligation to maintain the home, pay homeowners insurance premiums and stay current with property taxes. You must also continue to live in the dwelling, which the loan servicer will periodically verify. Failure to meet any of these conditions can lead to foreclosure — the lender can demand immediate repayment of the loan.
MONEYGEEK EXPERT TIP
The average Social Security monthly benefit is only $1,294.
Another interruption to your HECM loan can occur almost immediately after your loan closing. HECM loans are home equity loans. Like other home equity loans, federally mandated protections exist for applicants who change their minds and want to get out of their HECM. You have a three-day right of rescission, which allows a homeowner to cancel a refinance within three days of signing the final documents. If you choose to exercise your right to cancel, you must make your request in writing. Once a loan is in effect, however, a borrower can no longer cancel the transaction but can pay off the balance, including any loan charges that were financed, and close out the loan. No prepayment penalties apply to HECM reverse loans.
HECM Effects on Spouses of Borrower
Any married homeowner applying for a HECM mortgage loan should understand that the loan affects the applicant's spouse. HECM reverse loans have undergone many changes between 2013 and 2015. Most of these changes involve the treatment of married couples and whether loan obligations and benefits apply to a non-applying spouse.
If you are married and the only applicant to a HECM loan, your non-applicant spouse falls into one of the following categories
CO-BORROWING SPOUSES
A co-borrowing spouse must be on the home's title and be legally obligated by the reverse mortgage. If one spouse moves out or dies, the co-borrowing spouse can continue to reside in the home and continue to withdraw funds up to the maximum loan amount.
ELIGIBLE NON-BORROWING SPOUSES
Non-borrowing spouses are considered eligible if they are married to the borrower, live in the home and have been identified in the loan documents. The age of the eligible non-borrowing spouse is a factor in the loan amount calculations. Non-borrowing spouses are required to certify annually that they are still married to the borrowing spouse and that they have continued to treat the mortgaged home as their primary residence. Eligible non-borrowing spouses cannot continue making withdrawals from the loan proceeds in the event the borrower moves out or dies. They can, however, receive the benefit of a deferral period by continuing to reside in the house without paying off the HECM.
INELIGIBLE NON-BORROWING SPOUSES
Ineligible non-borrowing spouses do not receive a deferral period in which they can continue to reside in the home after the death of the borrowing spouse. Ineligible spouses are those who were not identified in the loan documents, not married to the borrower, or whose primary residence was not the home being financed with the HECM at the time the loan closes. Their age is not considered when the lender calculates the maximum loan amount.
HECM Effects on Estate Planning
One of the biggest concerns about reverse mortgages is their effects on a borrower's estate planning. HECM counselors do cover reverse mortgages and estate planning, but you may want to consult additional professional advisors — an estate planning attorney, accountant or investment consultant — about the effects of a reverse mortgage on your specific situation, estate planning and the various alternatives to a reverse mortgage.
Family members who object to the homeowner taking on debt should understand that he may need money to supplement income or retirement benefits. This additional funding must come from somewhere — whether through borrowing, selling off assets or receiving financial support from other family members. Although a lien against the family home diminishes the value of the estate, so will any sort of loan and so will any sort of asset sale. One big advantage of HECM loans is that no matter how many years a homeowner may draw monthly funds, the borrower and his heirs can never owe more than the value of the house.
Qualifying for a HECM Reverse Mortgage
BASIC HECM ELIGIBILITY REQUIREMENTS
The youngest property owner is age 62 or older

You completed HECM counseling with a HUD-approved counselor

The property is your primary residence

You own sufficient equity in the property

You own the property in your name or a living trust

Your property is in acceptable condition

The property is an eligible type, including:

⊠ Single-family home (one to four units)
⊠ Manufactured home built after June 1976
⊠ Condominium
⊠ A property in a planned unit development (PUD)
⊠ Townhouse

Property Standards
Your home must meet minimum safety and livability standards. Your lender may require you to make certain repairs or modifications to your property before it can fund the HECM loan. In some cases, your lender may allow you to close on the HECM before you complete the required repairs, provided the projected cost of the repairs does not exceed 15 percent of the property value or $93,825 (15 percent of $625,500), whichever is less. The lender can withhold 150 percent of the anticipated repair cost, plus an administration fee, from the loan proceeds. You may not withdraw the withheld money until repairs are finished and approved. If the amount earmarked for repairs is insufficient, you must pay for the repairs directly or with a HECM line of credit. You must typically complete repairs within six months of closing. Otherwise, the lender will suspend all loan payments until the repairs are complete.
Borrower Credit and Income Less Important
Because reverse mortgages don't entail monthly payments from borrowers, lenders don't need to assess a borrower's likelihood of repayment. As a result, your credit history and income are less important considerations for a loan approval. In fact, until recently, many lenders did not consider credit or income at all in underwriting HECM applications. Incredibly, however, by 2011, 10 percent of all HECM borrowers were in default on their loans and in danger of foreclosure. Many borrowers failed to keep up with their property taxes and homeowners insurance — a condition of their loans.
MONEYGEEK EXPERT TIP
More than 8 in 10 American retirees will run out of money at some point.
For HECM loans originated on or after April 27, 2015, lenders must perform a financial assessment of all applicants to determine if the homeowner can reliably pay housing-related expenses, such as property taxes, homeowners insurance premiums and regular maintenance costs.
HECM applicants who fail their financial assessments may still be allowed to borrow. If the lender is willing, it can withhold some of the reverse mortgage proceeds to pay the taxes and insurance premiums when they come due.
FIND A REVERSE MORTGAGE LENDER
It's easy to find good reverse mortgage lenders. Use this reverse mortgage ranking tool to find a helpful, well-regarded reverse mortgage lender near you.
How You Can Spend Your Reverse Mortgage Proceeds
Perhaps the most obvious use for the equity you use with a reverse mortgage is to cover the costs of day-to-day living. However, many homeowners use their proceeds for other uses.
Here are some examples of other uses for reverse mortgage proceeds:
Early Bequests
Some homeowners leave money to their heirs while they're still alive. Instead of leaving a house to family members, you could take out a reverse loan, distribute some or all of the proceeds, and continue to live in the property for the rest of your life.
Pay Off Debts
Increasingly, homeowners are approaching retirement still burdened with mortgages and other debts, making living on a fixed income a painful proposition. Using a reverse mortgage to consolidate debt, ridding yourself of higher-interest debts and unaffordable payments may provide welcome peace of mind.
Supplement Social Security Benefits
As the government raises the retirement age in the United States, workers with strenuous or unpleasant jobs may want out early. Retiring at 62 won't get you the maximum Social Security benefit, but with enough home equity, a reverse mortgage can boost that monthly check and get you out of the rat race.
Purchase a Vacation Property
Taking a lump-sum distribution lets you keep your primary home and add a vacation cabin with no mortgage payments.
Pay for In-Home Care
If you're disabled or require extra help at home or skilled nursing care, monthly payments from a reverse mortgage can allow you to age in place and avoid moving to a facility.
Purchase a New Home
You can even use a reverse mortgage to buy a home through the [HECM for purchase program].(link)The program offers significant advantages to those who don't want to stay in their current homes and don't want to use up their savings to purchase a new place to live.
Loan Limits for Reverse Mortgages
Many people don't understand that they are not allowed to borrow 100 percent of their property value. That's because reverse mortgage balances don't decrease over time. They go up. Lenders require an equity cushion to prevent the loan balance from overtaking the property value. If your lender allowed you to borrow against the entire value of your home, your mortgage would be underwater almost immediately.
HECM Loan Limits
The maximum amount you can borrow with a HECM loan depends greatly on the interest rate on the mortgage and the age of the youngest borrower or eligible non-borrowing spouse. Lenders use a table provided by HUD, known as the Principal Limit Factor (PLF table) (Principal Limit Factor) to determine your loan limit. Check out our reverse mortgage calculator for an easier way for you to figure how much you can borrow. In general, the higher the interest rate on your loan, the less you will be able to borrow.
As a result, in 2013 HUD changed its rules to prevent borrowers from damaging their financial stability by using up home equity too rapidly. Under current HUD rules, you can take out up to 60 percent of your initial principal limit in the first year of your HECM loan term, regardless of whether you've opted for a lump sum, line of credit or monthly payments. You can take out more only if your current mortgage balance (which must be paid off before you can access additional equity) already exceeds 60 percent of your initial principal limit. In that case, you can take out enough to pay off your mortgage plus additional cash up to 10 percent of your initial principal limit.
How Interest Rates Affect Your Loan Amount
As your interest rate increases, the amount you can borrow decreases — and vice versa.


The chart above shows the total amount a 70-year-old could borrow on a $600,000 home at various interest rates. Note how as the rates increase, the amount available to the borrower decreases. This is because higher interest rates eat into the available equity. Like almost everything else, it pays to shop for a loan to find the offer with the lowest interest rate and costs because not all reverse mortgage loan offers are alike.
Method of Equity Payout Matters
The amount you can borrow also depends on the way you choose to take your reverse mortgage proceeds. HUD discourages homeowners from taking their proceeds in a single lump sum by limiting the amount you can take out in the first year of the loan term. Why? A significant number of borrowers in the past used up all of their home equity at the outset. When they needed money later, they found no remaining equity in their homes and ended up in foreclosure.
As a result, in 2013 HUD changed its rules to prevent borrowers from damaging their financial stability by using up home equity too rapidly. Under current HUD rules, you can take out up to 60 percent of your initial principal limit in the first year of your HECM loan term, regardless of whether you've opted for a lump sum, line of credit or monthly payments. You can take out more only if your current mortgage balance (which must be paid off before you can access additional equity) already exceeds 60 percent of your initial principal limit. In that case, you can take out enough to pay off your mortgage plus additional cash up to 10 percent of your initial principal limit.
Proprietary & Jumbo Loan Limits
If you hope to borrow more than the maximum loan amount of a HECM loan, consider a proprietary or jumbo reverse mortgage. You may be able to borrow more with these reverse mortgages, because private lenders are not subject to HUD rules. Understand, though, that HUD does not regulate the fees for these loans, and you will probably not have the same protections from foreclosure. Shop carefully, and even though counseling is not required for a nongovernment reverse mortgage, you may want to consult a HUD-approved reverse mortgage counselor before committing to any program. Making a decision about the type of mortgage payout that best fits your needs involves researching all of your available reverse mortgage options. Find out more about your options for taking reverse mortgage proceeds.
Reverse Mortgage Closing Costs
The federal government does not administer jumbo or proprietary reverse mortgages, so it does not limit the closing costs associated with these reverse mortgages. You'll need to carefully compare offers from several lenders and make sure you understand them before committing to a lender.
MONEYGEEK EXPERT TIP
About 31 percent of Americans in 2013 had zero retirement savings.
On the other hand, the federal government does administer HECMs, so it regulates the closing costs of these loans. The government gives you the option to pay the charges out of pocket or finance them by adding them to your loan balance. Some HECM charges, paid to the government, are not negotiable. But you can negotiate some lender fees with the lender.
HECM Closing Costs
HECM costs fall into five categories:
1. Mortgage Insurance Premium (MIP)
Mortgage insurance guarantees that you will receive your loan proceeds regardless of your lender's financial situation. If your lender goes out of business, the government will step in and provide your lump sum payments, monthly payments or credit line draws. MIP also guarantees that you will never owe the lender more than the value of the property, no matter how much cash you draw over time. MIP cost is not negotiable.
You pay MIP in two parts: annually for the term of the loan and upfront at the closing. Your annual MIP is 1.25 percent of the mortgage balance. Your upfront MIP percentage varies and depends on the amount of home equity you tap during the first year of your loan. If you borrow more than 60 percent of your initial principal limit, your upfront insurance is 2.5 percent of your home value or 2.5 percent of $625,500, whichever is less. If you borrow 60 percent or less during your first year, your premium is 0.5 percent of your home value or 0.5 percent of $625,500, whichever is less.
Upfront MIP for HECM Loans
| Amount Borrowed In Year 1 | Upfront MIP |
| --- | --- |
| 60% of initial principal limit | 0.5% of home value or 0.5% of $625,500, whichever is less |
| >60% of initial principal limit | 2.5% of home value or 2.5% of $625,500, whichever is less |
2. Third-Party Charges
Closing costs collected by third parties are similar to those for traditional refinances and may include an appraisal fee, title insurance premium, escrow service fee and recording fees. Depending on the state in which you live, you may be able to shop around for the best rates for title insurance and escrow services.
3. Origination Fee
Your lender may charge an origination fee. This is not a government requirement, and it may be negotiable. Generally, loans with lower interest rates have higher origination fees, and loans with higher interest rates have lower origination fees. By comparing total annual loan cost (TALC) disclosures from various lenders, you can choose the loan with the lowest costs for the expected term length of your loan. HUD limits HECM origination fees, which range from $2,500 to $6,000 depending on the property value.
| Property Value | Maximum Fee |
| --- | --- |
| =$125,000 | $2,500 |
| $125,000.01 to $199,999.99 | 2% of the property value |
| $200,000 to $400,000 | $4,000 + 1% of the amount exceeding $200,000 |
| > $400,000 | $6,000 |
Source: HUD
4. Reverse Mortgage Counseling
For most borrowers, the counseling fee runs about $125, although a waiver is available for low-income borrowers.
5. Servicing Fee
Mortgage lenders often engage loan servicers to manage their loans. Loan servicer duties typically include issuing account statements to borrowers, paying out loan proceeds and ensuring hazard insurance premiums and property taxes remain current. Although not required, lenders can charge borrowers a servicing fee by adding it monthly to the loan balance. The maximum service fee a lender can charge is $30 per month if the interest rate adjusts annually or $35 per month if the rate adjusts monthly.
Minimizing Fees
The only required closing cost is MIP. Lenders do charge origination or servicing fees, but these fees are not required and are negotiable. In addition, although the government limits the origination fees that lenders can charge, it doesn't set the interest rate. To find the best deal on a reverse mortgage, contact several lenders and compare their offers — just as you would for a traditional forward mortgage.
MONEYGEEK EXPERT TIP
The median retirement account balance for couples ages 55 to 64 was only $14,500 in 2013.
Because the majority of reverse mortgage closing costs are negotiable, you can net the best deal by scrutinizing prospective lenders' costs and mortgage payouts. For example, if your goal is to obtain $10,000 to pay for home improvements on your $200,000 home and you take out the first loan you're offered, you could end up paying $4,000 for your origination and $1,000 for your upfront mortgage insurance. That's half of the amount you're borrowing — exactly what experts mean when they say reverse mortgages are expensive. In that case, you'd almost certainly be better off financing your repairs with a credit card, a home equity line or a personal loan.
Reverse Mortgage Question & Answers
Do I need to own my home free and clear before I can get a reverse mortgage?

Can I end up in foreclosure with a reverse mortgage?

Can I get a reverse mortgage if I live in a condo, duplex or manufactured home?

How much can I borrow with a reverse mortgage?

What are the consequences of a reverse mortgage for my heirs?

Can I get a fixed-interest rate on a reverse mortgage?

What happens to my reverse mortgage if I enter assisted living or a hospital?

How much does a reverse mortgage cost?

What is reverse mortgage counseling?

Can I get a reverse mortgage if I have a recent bankruptcy or foreclosure?
Gina Pogol
Personal Finance and Mortgage Specialist
Chia-Li Chien, PhD, CFP®, PMP®, CPBC
Succession Program Director at Value Growth Institute and Associate Provost of Graduate Programs at The American College of Financial Services
About the Author
---
---