Most new and many existing business owners aim to build their business credit scores. They also look for ways to get credit, either to deal with start-up costs or to expand their business. Incidentally, there is a direct link between the two, because how well you manage the credit you receive has a direct bearing on your business' credit score. With a strong business credit history, the path to get financing in the future may well become simpler and more cost-effective.
On This Page:
MONEYGEEK'S TAKEAWAYS
Register your business.
Select vendors who report payments to business credit bureaus.
Get a business credit card or a business line of credit.
Make your payments on time and keep your credit utilization ratio low.
What Is Business Credit and How Does It Work?
Business credit works much in the same way as personal credit. For instance, when you obtain credit for your business, how you handle that credit affects your business's creditworthiness. Much like personal credit, your business's creditworthiness has an impact on your ability to seek business credit.
As a business owner who has good business credit, you may be able to secure better interest rates than business owners with average or poor business credit. You also get more financing alternatives to choose from when you have good business credit.
As a new or existing business owner, it is important that you get on the path to building business credit, even if you don't need access to extra capital at the moment. This is because there is no telling when you might need it, and when you do, your good business credit will help.
What Is a Business Credit Score?
A business credit score indicates the creditworthiness of your business and gives lenders an idea of how likely the business is to repay its debt on time. Unlike a personal FICO score, which can range from 300 to 850, a business credit score is usually between 0 and 100.
Factors that affect your business credit score include:
Payment history
Credit utilization ratio
Existing liens
Unfavorable court judgments
Bankruptcy rulings
Age of the oldest financial account
Credit utilization ratio refers to the percentage of credit you are using compared to the total credit available to you, and you should try to limit it to below 30%.
While business credit card providers tend to consider your personal credit scores during the application process, your business credit score is indicative of just your business accounts.
The three main business credit bureaus in the U.S. include Dun & Bradstreet, Experian and Equifax. You need to pay a fee to access your business credit report through all three.
How to Establish Business Credit
Establishing business credit can be fairly straightforward, provided you know what to do.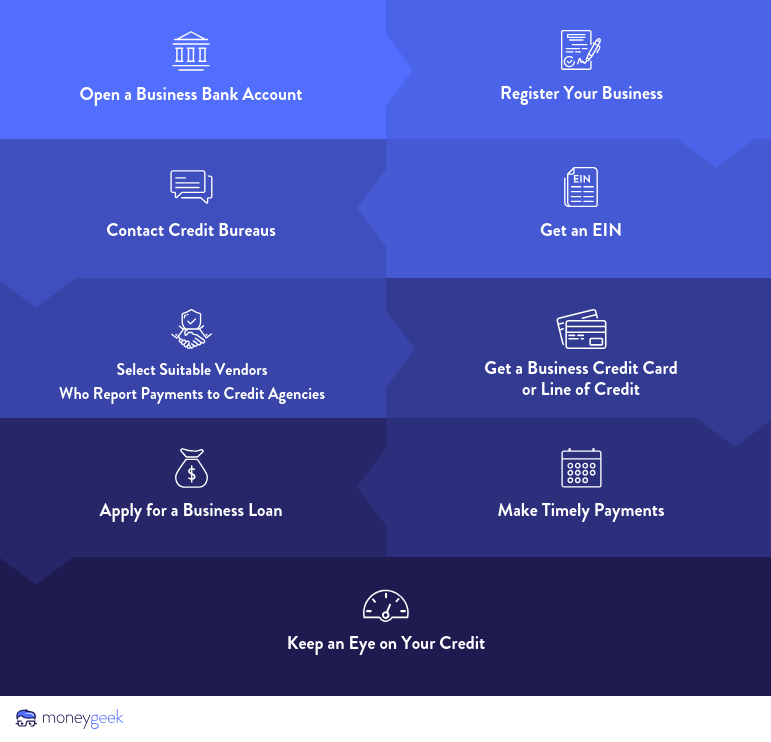 1
Get the ball rolling
Open a business bank account and get a business phone number.
2
Register your business
You may register your business as a sole proprietorship, an S-corporation, a limited liability corporation (LLC) or a partnership. Registering your business as a corporation or an LLC typically makes it easier to establish credit for the business and its employer identification number (EIN). This is because operating as a sole proprietorship comes with the potential of mingling your personal and business credit histories.
3
Get an EIN
Once you receive your EIN, use it to apply for business credit. This helps establish a credit history specific to the EIN and may be of help in the future.
4
Contact credit bureaus
Get in touch with D&B, Experian, Equifax and the Small Business Financial Exchange to establish your business credit file with each.
5
Select suitable vendors
Select vendors who offer net-30 or net-60 credit terms and report your payments to business credit reporting agencies. The net-30 and net-60 terms refer to the number of days you get to pay the invoiced amount in full, which, in these cases, are 30 and 60 days, respectively. If you have existing vendors who don't report your payments to credit reporting bureaus, try and convince them to do so.
6
Get a business credit card or line of credit
Apply for a business credit card or line of credit. If your business is new, you might have to approach local banks. Alternatively, you may consider applying for a secured credit card.
7
Make timely payments
With your credit files in place, make sure you make all your payments on time, as these will affect your business credit score.
8
Apply for a business loan
Once your business has a year of credit reporting under its belt, apply for a small business loan and pay it before its due date.
9
Keep an eye on your credit
As is the case with personal credit reports, errors may creep into your business credit reports. Monitoring them regularly gives you the means to spot any possible errors and get them fixed.
Ways to Build Business Credit
One way to build your business credit history is by obtaining credit for your business and repaying it in a timely manner. What's also important is that you keep your credit utilization ratio in check. While getting a business loan is an option, you may also consider building your business credit by getting a business credit card or a business line of credit. Both come with predetermined credit limits and require that you make at least minimum monthly payments. Both report your payment history to business credit bureaus.
Get a Business Credit Card
You may build your business credit by making your business credit card payments on time, as these would reflect on your business credit reports.
A business credit card gives you interest-free days on purchases. This means that as long as you pay the entire outstanding amount before the end of each billing cycle, you pay no interest. Most business credit card providers let you get additional employee cards at no extra cost. Depending on the card you get, you might benefit from high reward rates for spending across business-oriented categories such as office supplies and travel.
Business credit cards tend to simplify tracking expenses by letting you integrate your accounts with your existing bookkeeping software. Some even offer detailed category-based spending reports.
Some business cards come with no annual fees. Cards that charge annual fees typically offer higher cash back/reward earn rates as well as additional benefits such as trip cancellation/interruption insurance, auto rental collision damage waiver, lost luggage insurance, airport lounge access and priority boarding.
MONEYGEEK EXPERT TIP
Select a business credit card to suit your specific needs by taking advantage of our ranking methodology, through which we have ranked 545 business credit cards to date.
BUSINESS CREDIT CARD TOPICS YOU MAY BE INTERESTED IN:
Get a Business Line of Credit
Issuers of business lines of credit report your payment histories to business credit bureaus, and this gives you the means to build business credit. Business lines of credit may be unsecured or secured, and you may expect higher credit limits when you look for secured alternatives.
A business line of credit comes with a predetermined draw period. During this time, you get to access available funds in your line as often as you want. Like credit cards, the money you repay becomes available for borrowing again.
With most business lines of credit, you may choose to make interest-only payments during the draw period. Once the draw period ends, you are required to repay any outstanding amount through an installment payment plan that usually stretches from three to five years.
A business line of credit comes in handy when you need to pay billers who do not accept card payments. However, business lines of credit do not offer grace periods where interest does not accrue like credit cards do. Additional features and perks are hard to come by as well.
MONEYGEEK EXPERT TIP
If you decide a business line of credit is the best financial solution for you, be sure to prioritize paying back your loan in a responsible manner. Making late payments or defaulting on the loan could destroy your businesses credit score and make lending in the future much more difficult. — Brett Holzhauer
Other Questions You May Have About Business Credit
Expert Advice on How to Build Business Credit
What is a good business credit score?

How often should I check my business credit profile?

How can I improve my business credit profile?

What is your best advice for someone who wants to create a strong business credit profile?
Gladys Jadagu
Assistant Professor of Business
This section answers other commonly asked questions about how business credit works.
Next Steps
Now that you know how to build a business credit score and the importance of doing so, get the type of business credit that you feel works best for you. Whether you choose a business credit card or a business line of credit, take time to compare your options well.
Compare & Review Credit Cards
Experts at MoneyGeek monitor spending trends of businesses based on data provided by the Bureau of Labor Statistics (BLS) closely. They've also analyzed 545 business cards to date with the aim of simplifying the comparison process for MoneyGeek readers.
Learn More About Business Credit Cards
Ongoing research is one of the primary mantras that the MoneyGeek editorial team follows. The team stays as up-to-date as possible about the latest trends surrounding business credit cards so that they can address all your questions quickly and accurately.
About Rajiv Baniwal
---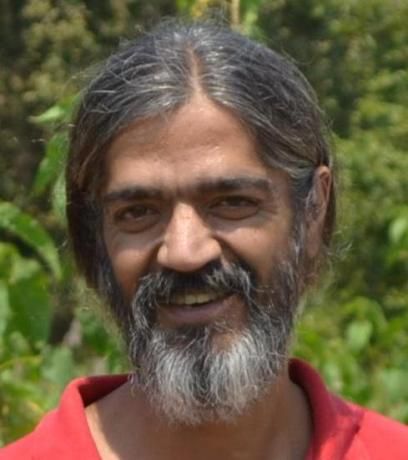 ---