How to Open a Bank Account
Opening a bank account in person or online is a straightforward process requiring specific documents. Unique circumstances, such as being a minor or a non-U.S. resident, may require additional steps and alternate documents.
Advertising & Editorial Disclosure
Last Updated: 9/15/2023
Having a bank account is both a convenience and a necessity these days. Yet according to a 2021 Federal Reserve report, 6% of adults in the United States do not have a bank account. Even more are "underbanked," meaning they have a bank account but often rely on alternative financial sources (like pawn shop loans, payday loans, auto title loans, money orders, check cashing services and tax refund advances). The percentage of unbanked and underbanked people is also higher among Black and Hispanic adults, as well as those with lower income and less education.
Our guide breaks down the process of opening a bank account to help you gain knowledge and confidence while navigating your banking journey. It also addresses common banking challenges faced by those who are minors, non-U.S. citizens or are unhoused.
Loading...
---
Understanding the Basics of Bank Accounts
A bank account is a financial arrangement with a bank that allows you to deposit, store and withdraw money. Its primary purpose is to keep your funds safe and accessible, as well as to earn potential interest.
There are several types of bank accounts tailored to different needs:
Type of Bank Account

Purpose

Key Features

Potential Benefits

Accumulate interest on funds for future needs

Pays interest on deposits
Limited withdrawals (usually up to six per month)

Helps build a savings habit
Some offer tiered interest rates based on your balance

Debit card for purchases and ATM withdrawals
May include paper checks
Can be linked to other bank accounts

Easy access to funds
Overdraft protection options
Mobile banking and bill pay

Combines features of checking and savings

Earns interest
May offer check-writing and debit card access
Typically requires a higher balance

Higher interest rates than regular savings
Flexibility of both checking and savings

Time-bound deposit for a set period

Fixed interest rate for a specified term
Early withdrawals can result in penalties

Guaranteed return on investment
Wide range of terms available, from a few months to several years

Individual Retirement Accounts (IRAs)

Independent retirement savings

Tax-deferred or tax-free growth
Potential for compound interest over time
Helps secure financial future
What Do You Need to Open a Bank Account?
Banks need to verify your identity through a government-issued ID such as a driver's license, passport or state ID. Your ID should have your photo, name, address and date of birth.

Social Security Number (SSN) or Individual Taxpayer Identification Number (ITIN)

This is required for tax purposes and to check your financial history. If you don't have an SSN, an ITIN can often be used (especially for non-U.S. residents).

Whether a recent utility bill or lease agreement, your proof of address confirms your current residence and ensures the bank can send you critical documents.

Some banks require a minimum deposit amount to open an account, often ranging from $25 to $100. This is more common for interest-bearing accounts.
MONEYGEEK TIP: CHOOSING A BANK
Choosing the right bank is all about partnering with an institution that can offer security, tools and resources to help you make informed financial decisions. Factors to consider include:
Fees and Charges: Ensure the bank's fee structure is transparent and aligns with how you plan to use the account.
Accessibility: Consider branch locations, ATM availability and online banking features.
Customer Service: A bank with prompt and helpful service can make all the difference.
Products and Services: Look for a bank that offers a range of products — from savings accounts to loans — tailored to your needs.
How to Open a Bank Account in Person
Opening a bank account in person might seem traditional, but it offers the advantage of personalized service and immediate assistance. If you appreciate face-to-face interactions and hands-on guidance, here's a step-by-step guide to opening a bank account at a physical branch.
1
Research and Choose a Bank
Consider factors like location, banking products and customer reviews to find a bank that aligns with your needs.
2
Gather Necessary Documentation
Ensure you have all required documents, typically a government-issued ID, proof of address and your SSN or ITIN.
3
Visit the Bank Branch
Head to your chosen bank's nearest branch. It's advisable to visit during non-peak hours for quicker service.
4
Speak With a Bank Representative
Upon arrival, approach the service desk and express your intent to open an account. They'll direct you to the right representative.
5
Review Account Options
The bank representative will present various account types. Discuss your financial goals to get recommendations tailored to your needs.
6
Complete the Application
Fill out the bank's application form. Ask the representative to guide you through any unclear sections.
7
Make an Initial Deposit (if Required)
Some accounts may require an initial deposit. You can do this via cash, check or a transfer from another account.
8
Set Up Online or Mobile Banking
Having online access can be beneficial even if you prefer in-person banking. The representative can help set this up and guide you on its usage.
9
Collect Your Banking Tools
Once your account is set up, you'll receive items like a checkbook, debit card and any relevant brochures or information.
10
Confirm All Details
Before leaving, ensure you understand all features of your new account, fees and any other relevant details.
MONEYGEEK TIP: COMMON BANK ACCOUNT FEES
When opening your account, ask your bank representative about potential fees to avoid surprises. Some common ones include:
Monthly Maintenance Fees: Some accounts charge a fee if you don't maintain a minimum balance or meet other criteria.
ATM Fees: Using an ATM outside your bank's network might incur charges.
Overdraft Fees: You could be charged an overdraft fee if your spending exceeds your account balance.
Wire Transfer Fees: Sending or receiving money — especially internationally — might come with a fee.
How to Open a Bank Account Online
Opening a bank account online offers speed, flexibility and the comfort of handling finances from anywhere. If you're considering this approach, here are the steps to take to ensure a smooth online banking setup.
1
Research Banks and Account Types
Explore different banks and the accounts they offer. Look for online reviews, products, fees and any digital features that appeal to you.
2
Visit the Bank's Website or App
Navigate to the official website or mobile app of your chosen bank. Look for "Open an Account" or a similar option.
3
Choose the Desired Account Type
From savings to checking or specialized accounts, select the one that aligns with your financial goals.
4
Fill Out the Application Form
Provide personal details such as your name, address, employment information and SSN or ITIN. Ensure all details are accurate to avoid any hiccups.
5
Upload Necessary Documentation
Scan and upload required documents like your government-issued ID and proof of address. Most banks have secure systems for document submission.
6
Review and Agree to Terms
Carefully read the terms and conditions, fee structure and any other relevant policies. Once you understand and agree, proceed with the application.
7
Make an Initial Deposit (if Required)
Some online accounts require an initial deposit. This can be done via a bank transfer, credit or debit card or a check through mobile deposit.
8
Set Up Online Banking Credentials
Create a username and strong password for your online banking portal. Ensure these details are unique and secure.
9
Activate Additional Features
Set up features like mobile banking, e-statements and account alerts for a tailored banking experience.
10
Await Confirmation
Once you've submitted your application, the bank will review it. You'll typically receive an email confirmation once your account is active.
What to Do When Can't You Open a Bank Account
Although banks aim to serve a broad spectrum of customers, some individuals face challenges in opening a bank account. Understanding the potential roadblocks and your alternatives can help you find the banking solution for your needs.
A low credit score or negative items on a credit report can raise red flags for banks, making them hesitant to open an account with you.


Solution: Consider banks that don't conduct credit checks or specifically cater to those with poor credit.

Many banks record unpaid bank fees, bounced checks or involuntarily closed accounts in reports like ChexSystems to assess risk.


Solution: Seek out banks that don't use ChexSystems or that offer "second chance" accounts designed for those with past banking challenges.

Insufficient Identification

Lacking proper identification documents, such as a government-issued ID or Social Security number, can be a barrier to opening an account.


Solution: Seek banks that accept alternative forms of ID or work with local programs to assist those without standard identification.

Non-residents might face challenges due to a lack of U.S. credit history or unfamiliarity with banking norms.


Solution: Look for banks that cater to international customers and accept foreign identification and documentation.

Banks may deny an account to someone with a record of fraudulent activities related to banking.


Solution: Try to rebuild trust. Starting with a prepaid debit card can be a step towards re-establishing a positive banking relationship.

Outstanding debts with a bank — like unpaid loans or overdrafts — can prevent the opening of a new account.


Solution: Address and clear any outstanding debts. Some banks might also offer debt consolidation or counseling services to assist you.
Opening a Bank Account as a Non-US Resident
Navigating the U.S. banking system as a non-resident can be challenging due to stringent regulations and varied requirements across institutions. Here are some tips:
The USA PATRIOT Act of 2001 made identity verification a legal requirement for opening a bank account. Although U.S. citizens typically use a Social Security number to open bank accounts, non-citizens might use an Individual Taxpayer Identification Number (ITIN). Some banks recognize the challenges non-residents face and accept alternative IDs such as foreign passports, certain consular IDs or foreign driver's licenses.

Prepare your contact details, at least two forms of government-issued ID, a utility bill showing your current address and a cash deposit (usually between $25 and $100). These requirements can differ depending on the bank and state you live in.

Some modern banking platforms — like Wallet by BOSS Money — accept a foreign government ID to simplify the process for non-citizens.

Institutions like US Bank, TD Bank and Bank of America might allow non-residents to set up accounts using an ITIN and other specific documents. However, the requirements may be more stringent than at smaller banks.

If you're setting up a corporate bank account, ensure your business is based in the U.S. You'll need documents like a government-issued ID, proof of address and articles of incorporation.

Some banks provide international wire transfer services, currency exchange or financial advisory services tailored for non-residents.
Bank Account Options for Minors
| Account Type | Description | Age Range | Key Features | Control |
| --- | --- | --- | --- | --- |
| | Shared between a child and an adult | | Shared access, influenced by state laws | |
| | | | Potential for higher interest with online banks and credit unions | Typically joint until a certain age |
| | Suitable for regular transactions | | Designed for everyday use; may come with a debit card | Typically joint until a certain age |
| | Investment-focused accounts | | Designed for long-term savings or investment | Minor gains full control at 18 |
| | Spend only the amount loaded | | Safe environment for learning about spending and budgeting | Controlled by the amount loaded |
Required Documents
Gathering the proper documents is the first step to a smooth account opening process for your child. Here are the things you'll need to prepare:
Adult's identification (e.g., driver's license or passport).
Adult's Social Security number.
Adult's existing bank account details (some banks link the child's account to the adult's).
Minor's identification (e.g., birth certificate or school ID).
Initial deposit, which can range from $0 to $25.
Choosing the Right Account
Select the right account that works for you and your child:
Determine the account's purpose: savings, spending or both.
Consider your banking habits as a parent. If you're comfortable with online banking, an online account for your child may be suitable.
Account Management
Effective account management ensures your child's financial journey is safe and educational. Consider the following:
Some accounts have features allowing parents to oversee transactions, set withdrawal limits and receive alerts.
Be aware of age-specific rules, such as minimum age requirements for account holders and transition points where account control or type may change.
Some accounts transition to traditional savings accounts once the child reaches a certain age.
Stay informed about potential fees like monthly charges or fees for using out-of-network ATMs.
Opening a Bank Account as an Unhoused Person
Having a bank account can be a crucial step towards stability and building one's life. But for individuals experiencing homelessness, accessing basic financial services can be a significant challenge for the following reasons:
Lack of Documentation: Many unhoused individuals may not have the identification documents — such as a driver's license, passport or birth certificate — typically needed to open a bank account.
No Fixed Address: Banks often require proof of address, which someone without a permanent residence may lack.
Banking Fees: Monthly maintenance fees, minimum balance requirements and overdraft fees can be burdensome for those with limited income.
Solutions and Workarounds
Despite the challenges, there are tailored banking solutions that cater to the needs of those experiencing homelessness:
Alternative Identification: Some banks accept alternative forms of ID, such as ID cards issued by shelters or nonprofit organizations.
Second Chance Accounts: For those who have had banking challenges in the past, some institutions offer "second chance" accounts that come with certain restrictions and can be a stepping stone to getting a regular account.
Prepaid Debit Cards: Although not a replacement for a bank account, prepaid cards can facilitate monetary transactions. Be aware of any fees associated with these cards.
Seeking Assistance
Explore supportive organizations and services that actively bridge the gap between banking and the unhoused community:
Local Nonprofits: Organizations like Health Care for the Homeless assist individuals experiencing homelessness in navigating the banking system.
Financial Counseling: Some shelters, agencies and organizations like the National Foundation for Credit Counseling (NFCC) offer financial counseling to help people understand banking and money management.
Frequently Asked Questions About Opening a Bank Account
To help make the process more understandable, MoneyGeek has compiled answers to some of the most frequently asked questions about opening a bank account:
About Nathan Paulus
---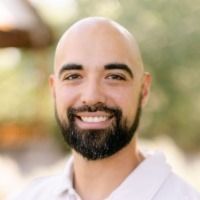 ---