MoneyGeek's Take: Is Cigna Right for You?
Because Cigna has limited policy options available to everyone and low coverage limits, it may be a better fit for buyers who do not need a large amount of life insurance. For example, someone who wants to cover end-of-life expenses. This company may also be ideal for those who value service quality because of its very low complaint ratio.
Cigna is not a good option for individuals looking for robust life insurance policies. Seniors may also be better off considering another company as Cigna only offers whole life insurance, which can be extremely expensive. For this particular age group, MoneyGeek recommends State Farm, our top pick for the best provider overall for seniors.
Still, browse through our review of Cigna to determine if it's the best life insurance provider for you and your family's needs.
At a Glance: Cigna Life Insurance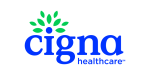 pros
Policy accumulates a cash value
Offers a spousal premium discount
cons
Only has one life insurance product
COMPANY HIGHLIGHTS
Cigna is one of the most popular insurance companies in the U.S., formed in 1982 through the merger of the Insurance Company of North America (INA) and Connecticut General Life Insurance Company.
In 2019, Cigna sold its group life, accident and disability insurance business to New York Life. As a result, the company now only offers one type of individual life insurance — available in most states and the District of Columbia. According to the National Association of Insurance Commissioners (NAIC), Cigna's life insurance receives fewer complaints than average, with a complaint index of 0.
Cigna offers whole life insurance with a maximum death benefit of $25,000 to individuals between 50 and 85 years old. This policy includes guaranteed premiums, a death benefit and cash value savings. You may access the accumulated amount (which starts after the third year) through a policy loan or cash surrender.
With Cigna, you can choose between two riders to customize your policy. You may also qualify for its 5% spousal premium discount if you and your spouse apply for coverage at the same time.
Compare Life Insurance Rates
Ensure you're getting the best rate for your life insurance. Compare quotes from top providers to find the most affordable life insurance coverage for your needs.
Cigna offers a standard whole life insurance policy to individuals aged between 50 and 85 years old.
Cigna's life insurance policy can pay for final expenses and outstanding debts.
Purchasing whole life insurance through Cigna is ideal if you do not need a large death benefit for beneficiaries or if you want to take advantage of the cash value savings.
Cigna Policy Options Explained
Based on the Life Insurance Marketing and Research Association's (LIMRA) 2022 Insurance Barometer Study, 68% of U.S. adults with financial dependents feel more secure after getting life insurance. Cigna can help provide some financial security with its life insurance product, but it is better suited to those who do not need a large death benefit. Explore its available policy option below to determine whether it works for your particular needs and situation.
Whole Life Insurance Options From Cigna
Whole life insurance often comes with a fixed premium, fixed death benefit and cash value. You may borrow against the policy through a loan, but your death benefit will be reduced if you don't pay it back, or take advantage of cash surrender withdrawal options.
Individual Whole Life Insurance

Cigna's whole life policy has a fixed premium and a death benefit from $2,000 to $25,000. You may get it to help cover your final expenses and pay down any outstanding mortgages or other loan balances. It can also make a contribution to your grandchild's education or a donation to charities of your choice.

You may choose between two benefit plans depending on your life insurance needs:

Level Benefit Plan: This pays the full death benefit amount chosen to your beneficiary in the event of your passing. It also includes Cigna's Terminal Illness Accelerated Benefit Rider at no additional cost.
Modified Benefit Plan: If you don't qualify for coverage under the Level Benefit Plan, this has adjusted levels of coverage for the first two years of the life of your policy.
Ultimately, whole life insurance provides lifetime financial protection for your family. It may be your best option if you have long-term dependents or if you want to take advantage of the cash value savings. But, with Cigna, you can only get whole life insurance from age 50 to 85 and with a low death benefit amount. Therefore, it is not the best choice for people with dependents or who need a great amount of coverage when they pass away for their family or outstanding debts.
Final Expense Insurance Options From Cigna
Cigna doesn't offer a specific final expense insurance option, but you can get its whole life policy to cover those costs.
Cigna's whole life policy has a maximum death benefit of $25,000, which is in line with what a final expense insurance policy would offer. The company considers its whole life policy a good choice for those between 50 and 80 who want to get life insurance to cover funeral or cremation expenses, lifting the cost burden from their family.
Compare Life Insurance Rates
Ensure you're getting the best rate for your life insurance. Compare quotes from top providers to find the most affordable life insurance coverage for your needs.
Cigna's Life Insurance Riders
You can customize your Cigna life insurance policy by adding riders at an additional cost. These often fill gaps in your life insurance coverage and enhance your benefits. Cigna has two riders:
Rider

Description

Terminal Illness Accelerated Benefit Rider

If you are diagnosed with a terminal illness, this allows you to request up to 50% of
your policy's death benefit in a lump sum prior to your death. It is included in the
whole life Level Benefit Plan.

Accidental Death Benefit to Age 100 Rider

This offers a death benefit amount between $10,000 and $50,000 if death happens
within 180 days due to an accidental injury.
How to Get Cigna Life Insurance
Purchasing life insurance can be challenging. In the next two sections, we simplified the process by breaking down how to buy a policy and what to do if Cigna denies your application.
How to Buy Life Insurance From Cigna
1
Do Your Research
Before you make any purchase, doing your research is important to arrive at a wise financial decision. Read up on Cigna's life insurance policy terms, coverage and benefits to find out if it's a good fit for your budget and needs.
2
Compare Quotes
Once you've done your research, call (855) 358-8533 to get a free quote from Cigna. Keep in mind that individual factors like your age and medical history can affect your premium. As a rule of thumb, always compare quotes from multiple insurance companies to find the best insurer with the coverage you need at a price you can afford.
3
Health Check
When you apply for Cigna's life insurance policy, you may undergo a health check. This is usually done through a phone interview and an in-person medical exam. Anticipate questions about your medical history, and you may have tests to see if you have any health issues.
4
Approval
Once Cigna approves your application, you will receive your life insurance policy. You may reach out to your licensed insurance agent to go over your policy details.
What to Do if Cigna Insurance Denies You Coverage
1
Contact Your Broker
In some cases, your application for life insurance may be denied. If this happens, it's vital to contact your insurance agent and ask why you weren't approved.
2
Lifestyle Changes
Once you know the reason, consider making some changes in your lifestyle. Improving your health not only increases your chances of getting approved but also getting a better rate.
3
Explore Other Options
Additionally, explore other insurance options, including those that don't require a health check. Keep in mind, however, that they may cost more and have limited coverage.
Frequently Asked Questions About Cigna Life Insurance
Our answers to frequently asked questions about Cigna's life insurance can help you determine if it's the right option for your particular needs.
Life Insurance
Life Insurance