How Much Does Renters Insurance Cost? The Average Cost of Renters Insurance Per Month
After you've settled into a new apartment, renters insurance may not be first on the list of your financial priorities. While renters insurance might not seem urgent, you shouldn't go without it because it can protect your property and save you money in case the unexpected happens.
MoneyGeek analyzed rates across all 50 states and hundreds of cities to determine the average cost for consumers based on varying coverage levels. The best renters insurance providers offer comprehensive coverage at a low price point. Renters insurance is a low-cost way to cover your personal property, with policies available for only a few dollars a month.
Average Monthly Renters Insurance Cost This Year
Cost is an important factor for renters insurance, and a suitable policy might be more affordable than you think. The average cost of renters insurance this year is about $13 per month, or $159 per year, for $20,000 of personal property coverage, $100,000 of liability coverage and a $500 deductible.
However, the cost can vary greatly based on location and the coverage amount and the cheapest renters insurance companies could be dozens of dollars cheaper per year than the average.
Typical Cost of Renters Insurance by Coverage Amount
One of the main factors in the cost of renters insurance is your personal property value, which determines what coverage amount you'll need. Renters insurance increases in price as your coverage amount increases, so you'll likely end up paying more if you have many valuable possessions. On the flip side, if you don't own a ton of stuff, you can often score a low monthly rate with a low coverage amount.
The average annual national rate for renters insurance ranges from $13 per month for $20,000 worth of personal property coverage to $31 for $100,000 of coverage. To determine how much coverage you need, create an inventory of your personal belongings. The best renters insurance policy for you will have a coverage limit approximating the value of your property.
Scroll for more
Personal Property Coverage Limit

Average Monthly Rate
Renters Insurance Average Cost by Company
MoneyGeek undertook a comprehensive analysis to determine which companies have the lowest average costs across all 50 states. For $20,000 worth of personal property coverage, both Allstate and State Farm have extremely competitive annual rates, with a national average of $10 per month for Allstate and $11 for State Farm.
The Average Cost of Renters Insurance by Company
Scroll for more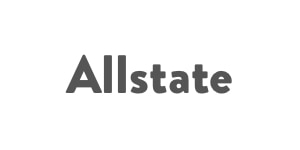 Allstate
Allstate offers affordable insurance for renters looking to protect their personal property. For just a few dollars a month, you can rest assured that your property is protected if something bad happens. Allstate also offers additional coverage options in the form of flood insurance and personal umbrella insurance.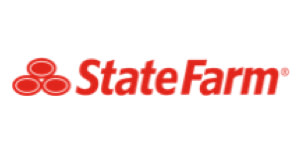 State Farm
Like Allstate, State Farm also offers renters insurance at an inexpensive rate. Allstate policies cover personal property like computers, TVs, electronics, furniture, clothing and more due to burglary, fire, smoke damage and sudden and accidental water damage. You can save on insurance by bundling renters and auto coverage with State Farm.
How Much Is Renters Insurance in Your State?
The cost of renters insurance can vary significantly based on location. For example, California residents pay an average of $20 per month for renters insurance, while North Dakota residents pay a monthly average of only $7.
In general, renters insurance will cost more in areas prone to risk factors like natural disasters or high crime levels. The typical annual nationwide renters insurance cost is $13 per month for $20,000 of personal property coverage, $100,000 liability coverage and a $500 deductible.
The Average Cost of Renters Insurance by State
Scroll for more
State

Average Monthly Quote
How Much Renters Insurance Coverage Do You Need?
Renters typically underestimate the personal property value they need to cover. While it might result in a slightly higher monthly premium, you should be honest with yourself regarding the value of your possessions and what they would cost to replace.
When selecting an insurance policy and deciding on coverage, you should be sure to ask if the personal property coverage is ACV (actual cost value) or RCV (replacement cost value). Actual cash value policies reimburse you for the amount that your property is worth. In contrast, replacement cost value policies reimburse you for the cost of replacing your property, even if that cost is greater than the actual value of your item.
In some cases, you'll need to purchase additional coverage for high-ticket items like expensive jewelry. Most renters insurance policies allow you to add additional coverage if you need it.
Factors That Affect Renters Insurance Cost
Several different factors can affect the cost of your renters insurance, including coverage options and personal factors. Personal factors that may affect your renters insurance rate include where you live, credit score and risk for natural disasters. Coverage options that could increase or decrease your rate include your coverage amounts for personal property and liability insurance, as well as any add-ons you choose to purchase.
MONEYGEEK EXPERT TIP
Since your circumstances are largely out of your control, how much coverage you select will, in large part, determine how much you pay for renters insurance.
Coverage Types That Impact Cost
Different coverage types can impact the cost of your monthly premiums. These include:
Personal property coverage - Your personal property coverage limit is the amount of coverage you have for personal possessions like electronics, clothes and other valuable items. You may have to purchase optional add-on coverage for valuable items like jewelry.
Liability Coverage - Liability coverage covers your legal liability if someone injures themselves or their property is damaged in your apartment. It may also cover the cost of legal defenses if they sue you.
Living Expenses Coverage - If you need to leave your apartment due to damages, living expenses coverage pays for your alternate living arrangements, like a temporary hotel stay.
Personalized Factors That Impact Cost
Location - Location is another significant factor in the cost of renters insurance. Factors like crime, weather and natural disaster risk can result in higher costs.
Credit Score - Credit score may also influence your rate, with a higher credit score resulting in a lower monthly premium. However, not all states allow companies to use credit scores to determine rates for renters insurance.
Fire & Security Devices - With some renters insurance policies, you can lower your monthly premium by installing fire and security devices.
FAQ About the Cost of Renters Insurance
While renters insurance is a simple concept on its face, many different factors determine the cost of a policy. Here are some of the more common questions related to the cost of renters insurance:
Read More About Renters Insurance
Renters Insurance
Renters Insurance
Methodology
MoneyGeek, in partnership with Quadrant Corp, analyzed renters insurance quotes across all 50 states to determine the average cost of renters insurance. Average cost was determined using personal property coverage of $20,000, liability coverage of $100,000 and a deductible of $500.
About the Author
---
---