Nationwide Home Insurance Review: Pros & Cons, Ratings, & More
Last Updated: 7/3/2022
Advertising & Editorial Disclosure
Overview of Nationwide Home Insurance
Established as a mutual auto insurer in 1925, Nationwide began by offering quality coverage at low rates to Ohio farmers. Property insurance was added in 1934, and by 1955, it had grown to have a presence in 32 states, helping it to earn the name Nationwide. Since then, it's grown to become a Fortune 100 company and one of the largest insurance and financial services companies in the world, with an impressive market share of over 3 percent. Its insurance offerings include motorcycle, boat, pet, farm, life, and commercial policies. Some things haven't changed though: It's still owned by its policyholders.
How Does Nationwide Home Insurance Rate?
Financial Strength Rating
Source

Rating

A.M. Best

A+
Effective Date: January 2020
A.M. Best's Financial Strength Rating opinion addresses the relative ability of an insurer to meet its ongoing insurance obligations. It is not a warranty of a company's financial strength and ability to meet its obligations to policyholders. View our Important Notice: Best's Credit Ratings for a disclaimer notice and complete details at http://www.ambest.com/ratings/notice.
Financial Strength is rated on a scale of D (poor) to A+ (superior). A rating notch of either a second "+" or a "-" indicates the gradation of financial strength within the category. We can't guarantee that the subsidiary of Nationwide Insurance rated here is the subsidiary that will underwrite your insurance policy. Check with your insurance agent and review A.M. Best's Financial Strength Rating Guide for more information.
Best's Credit Ratings™ are under continuous review and subject to change and/or affirmation. For the latest Best's Credit Ratings™ and Best's Credit Reports which include Best's Credit Ratings™), visit the A.M. Best website at http://www.ambest.com. See Guide to Best's Credit Ratings™ for explanation of use and charges.
Best's Credit Ratings™ reproduced herein appear under license from A.M. Best and do not constitute, either expressly or impliedly, an endorsement of MoneyGeek.com or its recommendations, formulas, criteria or comparisons to any other ratings, rating scales or rating organizations which are published or referenced herein. A.M. Best is not responsible for transcription errors made in presenting Best's Credit Ratings™. Best's Credit Ratings™ are proprietary and may not be reproduced or distributed without the express written permission of A.M. Best Company.
Pros and Cons of Nationwide Home Insurance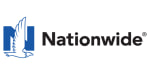 pros
Before you can access the online quote tool, the website informs you that under certain conditions —- for example, if the home you want to insure is under construction or vacant — you need to speak directly with an agent to get a quote. This way you don't waste your time entering data only to find out later you can't get a quote.
If the tool can't pull enough information on your house from public sources, it will ask you questions about the structure, and it gives helpful illustrations to accompany the architectural terms to help you understand the different building styles.
Nationwide is a large company that provides a lot of services, including insurance for a wide range of vehicles (snowmobiles, RVs and more), specialty lines (farm, weddings, pet, travel, etc.), and life. This means bundling your policies is easy.
cons
The mobile app will let you start a home quote or pay your home insurance bill, but most of the app is designed for auto policies.
Nationwide only gets an average rating of two stars for overall customer satisfaction according to the 2019 J.D. Power Homeowners Insurance study - well below the industry average. The study also gave poor marks for pricing, billing processes, and customer interaction.
Nationwide Home Insurance Coverage
As one of the largest home insurance companies in the country, Nationwide's policies offer solid standard homeowners coverage. It also offers its own versions of optional coverage that are similar to what other large insurance companies offer, except under registered Nationwide names.
Nationwide's Standard Coverage Options
Nationwide offers the same standard coverage that you'll find at most home insurance companies. The company also provides brief, informative descriptions of the purpose of each type of coverage.
Nationwide's Additional Coverage Options
Nationwide offers several extra options for your home insurance policy, reflecting the fact that it is a top-ten home insurer with substantial resources behind them. Some of these extras can't be added to the policy online; you will need to call to get them added to your policy.
Available Discounts on Nationwide Home Insurance Coverage
Nationwide has several discounts available on its home insurance and is very open about how much savings each will provide.
Type of Discount

Description

Multi-policy discount

Bundle your home insurance with an auto policy from Nationwide and you could get savings of up to 20 percent on your home insurance policy.

Protective device discount

Burglar and fire alarm systems installed in your home could be worth up to 15 percent in savings.

Claims-free discount

A record of not making claims on your home insurance could get you a significant discount.

Age of insured discount

If you're over 60, you could save money on your premium.

Affinity discount

If you are a member of one of Nationwide's more than 400 partner organizations, you could get even more savings.

Home renovation discount

Upgrading your home's structural elements - i.e. plumbing, heating, electrical - could earn you a further discount.

Roof discount

Issued based on age of roof and surface material.

Home purchase discount

Available to those who have bought a home within the past year.

Prior insurance discount

If you're a new member who switched to Nationwide after a set number of years with a competing insurer, you may be thanked with a slight cost reduction.

Gated community discount

Around the clock security of your home and vehicles may also be rewarded.
How to Make a Home Insurance Claim with Nationwide
To start a home insurance claim at Nationwide, you can call the Claims Service number or go online. You'll need to provide some basic information and then you'll be assigned a claims representative. Depending on the extent of the damage, there might be an onsite inspection before the assessment and estimate are made. When you need repairs, you can choose a contractor from Nationwide's On Your Side repair network, or you can choose your own. Settlement and closing of the claim occur when Nationwide issues the claim payment, which is available in a variety of ways such as direct deposit or as a debit card.
How to Contact Nationwide Home Insurance
CUSTOMER SERVICE PHONE NUMBER

877-ON YOUR SIDE (669-6877)
About the Author
---
---