GEICO Home Insurance Review: Pros & Cons, Ratings, & More
Last Updated: 6/30/2022
Advertising & Editorial Disclosure
Overview of GEICO Home Insurance
GEICO's is a story of the little insurance company that could. Started in the 1930s by a wife-husband team, it had a fairly successful run. So much so that in the mid-1990s, it was acquired by Warren Buffet's Berkshire Hathaway investment firm, thus beginning the era of GEICO advertising featuring such unlikely mascots as a gecko, cavemen and even goggle-eyed stacks of money. But though GEICO has become a powerhouse in the field of auto insurance, its home insurance policies are actually underwritten by third-party insurers. GEICO still services these policies in-house, so the only impact on the policyholder is that the financial backing for claims and the support to handle claims actually comes from a different company.
How Does GEICO Home Insurance Rate?
Financial Strength Rating
Source

Rating

A.M. Best

A++
Effective Date: January 2020
A.M. Best's Financial Strength Rating opinion addresses the relative ability of an insurer to meet its ongoing insurance obligations. It is not a warranty of a company's financial strength and ability to meet its obligations to policyholders. View our Important Notice: Best's Credit Ratings for a disclaimer notice and complete details at http://www.ambest.com/ratings/notice.
Financial Strength is rated on a scale of D (poor) to A+ (superior). A rating notch of either a second "+" or a "-" indicates the gradation of financial strength within the category. We can't guarantee that the subsidiary of Nationwide Insurance rated here is the subsidiary that will underwrite your insurance policy. Check with your insurance agent and review A.M. Best's Financial Strength Rating Guide for more information.
Best's Credit Ratings™ are under continuous review and subject to change and/or affirmation. For the latest Best's Credit Ratings™ and Best's Credit Reports which include Best's Credit Ratings™), visit the A.M. Best website at http://www.ambest.com. See Guide to Best's Credit Ratings™ for explanation of use and charges.
Best's Credit Ratings™ reproduced herein appear under license from A.M. Best and do not constitute, either expressly or impliedly, an endorsement of MoneyGeek.com or its recommendations, formulas, criteria or comparisons to any other ratings, rating scales or rating organizations which are published or referenced herein. A.M. Best is not responsible for transcription errors made in presenting Best's Credit Ratings™. Best's Credit Ratings™ are proprietary and may not be reproduced or distributed without the express written permission of A.M. Best Company.
Pros and Cons of GEICO Home Insurance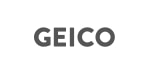 pros
Bundling a home policy through GEICO with your GEICO auto insurance will get you a discount on both.
Although the home policy is underwritten by a third-party insurer, you can still pay your premium through GEICO.
The mobile app gives you access to emergency roadside assistance, a convenient way to pay bills, electronic ID cards, insurance quotes and even a way to chat with GEICO representatives about your policy.
cons
GEICO doesn't underwrite its home insurance policies; it has third-party companies underwrite them. To make a claim, you'll need to contact and work with the third-party insurer that's partnering with GEICO on your policy, not GEICO directly.
They offer fewer discount options relative to other industry leaders.
GEICO Home Insurance Coverage
The home insurance offered through GEICO is pretty standard, with little flexibility and few customization options. The quote is derived from the replacement value calculated by the system software, and if you require any deviation from this set value, you'll need to contact an agent.
GEICO's Standard Coverage Options
The standard options are basic, although you can upgrade some of them by paying a higher premium. When given the option to select limits of coverage, such as with the medical payments, the choices are fairly limited.
GEICO's Additional Coverage Options
The additional coverages that are available on a homeowner policy with GEICO are pretty much the standard options you would expect, although the defamation of character liability option is an interesting addition.
Available Discounts on GEICO Home Insurance Coverage
GEICO does specify a small number of discounts that are available on your home insurance, but for the most part, there's not a lot that you can do to bring your premium down.
Type of Discount

Description

Multi-policy discount

This provides savings if you have both your home and car insured through GEICO.

Home security systems

Installing a burglar alarm in your home provides savings on your home insurance premium.

Smoke alarms or fire extinguishers

These types of safety equipment save you money on home insurance.
How to Make a Home Insurance Claim with GEICO
In order to file a claim, you will need to contact the third-party insurer partnering with GEICO to provide your policy, and then follow the procedure set by that insurance company.
How to Contact GEICO Home Insurance
CUSTOMER SERVICE PHONE NUMBER

800-241-8098

800-841-3000 (may also vary by state)
About the Author
---
---