MoneyGeek's Take: Is Symetra Right for You?
Symetra is an excellent choice for young people seeking a policy they can tailor to their changing needs. Those with pre-existing health issues or those who would prefer not to have a medical checkup upon applying may also find this service to their liking. Term life insurance from the provider is a good option for people who need coverage quickly because they can often be approved on the same day they apply.
One of the main issues with Symetra is the lack of final expense insurance. If you rather prefer to get this type of coverage, you can try looking into Mutual of Omaha or AARP.
At a Glance: Symetra Life Insurance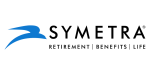 pros
Very few customer complaints
Some policies don't require a medical exam
cons
Doesn't offer whole life insurance
Doesn't offer final expense insurance
COMPANY HIGHLIGHTS
Symetra Life Insurance Company was founded in 1957 and is a subsidiary of Symetra Financial Corporation, which is a wholly-owned subsidiary of Sumitomo Life Insurance Company. As of the end of 2022, Symetra's assets totaled $58.6 billion, and the company's operations extended throughout 49 states. However, when both Sumitomo Life and Symetra are taken into account, their entire assets amount to more than $350 billion.
The National Association of Insurance Commissioners (NAIC) gave Symetra a complaint index of 0.37 in 2022. This suggests that the number of customer complaints filed to state regulators was significantly lower than what's expected for a corporation this big.
Both term life insurance and universal life insurance are available from Symetra. It offers the following products:
Symetra SwiftTerm
Symetra Accumulator Ascent IUL
Symetra Protector IUL
Symetra CAUL
The policy limits can range from $100,000 to $3 million. You can get approved for some insurance policies without submitting to a medical exam. Even if you smoke or have pre-existing health conditions, you may still be eligible for coverage (depending on the exact health issue), but your rates will likely be higher.
Compare Life Insurance Rates
Ensure you're getting the best rate for your life insurance. Compare quotes from top providers to find the most affordable life insurance coverage for your needs.
SwiftTerm is an aptly named policy because it can be purchased online, and a decision on coverage can be provided in as little as 18 minutes.
In addition to providing life insurance cover, Symetra's indexed universal life insurance plans also provide the opportunity to build cash value (policy value) via index strategies.
Symetra life insurance offers many rider options to customize your policy.
Symetra Policy Options Explained
Symetra provides both term and permanent (universal) life insurance. Having life insurance is crucial to your peace of mind. 40% of those surveyed in the 2022 Insurance Barometer Study by the Life Insurance Marketing and Research Association (LIMRA) reported feeling uneasy about having conversations about death and dying. The depth to which such emotions move consumers is something that businesses cannot discount. 68% of policyholders who have financial dependents report feeling secure, compared to only 47% of uninsured people.
Term Life Insurance Options From Symetra
Term insurance gives your beneficiaries a death benefit if you die during the term of your coverage, which is usually between 10 and 30 years.
This term policy lets you obtain fast, economical insurance coverage in as little as 18 minutes. Coverage of up to $3,000,000 is offered to those between the ages of 20 and 60.

Its rate classes are:

Super Preferred Non-Nicotine
Preferred Non-Nicotine
Standard Non-Nicotine
Preferred Nicotine
Standard Nicotine

If permanent insurance is available in your state, you can ask to have your SwiftTerm coverage converted to it. You have until the end of your 10th policy anniversary or the end of the policy anniversary after your 70th birthday to request a conversion.
Term life insurance could be more manageable for people juggling many financial commitments because it is less expensive than other policy types. It's also great if you're a stay-at-home parent who helps out with the kids and the household finances.
Universal Life Insurance Options From Symetra
Universal life insurance, like a whole life policy, can provide lifetime coverage and accumulate cash value free from federal income tax. The difference is that universal life insurance also allows you to adjust your premium payments within certain limits.
Symetra Accumulator Ascent IUL

You can secure your family or your company's assets with the Symetra Accumulator Ascent IUL (indexed universal life), an insurance policy that can also serve as a retirement income supplement.

In the event of your passing, it may give your loved ones a death benefit that is not taxable. The unused portion of your premium can be invested in a fixed account, a variety of index strategies or a combination of both.

The Symetra Protector IUL is an indexed universal life insurance policy that can help you provide for your loved ones with confidence, offer adaptability to life's changes and has the possibility of cash value increase, all while generally avoiding federal income and estate taxes.

Symetra CAUL is a type of flexible premium current assumption universal life insurance that offers lifetime protection. For all rate classes, the minimum policy size is $100,000. Its monthly administration charge is $10 per month, capped at $30.
Buyers who want permanent protection but also expect their coverage needs to change over the years may benefit from universal life insurance. This insurance is also a good way for business owners to simplify the transition of ownership to a family member or business partner.
Compare Life Insurance Rates
Ensure you're getting the best rate for your life insurance. Compare quotes from top providers to find the most affordable life insurance coverage for your needs.
Symetra's Life Insurance Riders
Policy riders are adjustments or additions that can be included in an insurance policy to either limit or expand its benefits. Symetra life insurance offers the following riders.
Rider

Description

If the insured is certified by a licensed health care provider as being unable to perform
two of six everyday tasks for a period of no less than 90 days due to a loss of
functional capacity, the chronic illness rider will allow them to access up to half of the
death benefit early. It also applies if the insured has a serious cognitive impairment
that necessitates extensive supervision for the sake of his or her health and safety.

Accelerated Death Benefit for
Terminal Illness

As part of the policy's terminal illness rider, if a doctor says the insured has less than 12
months to live, the policy will pay out 75% of the death benefit immediately. There are
no penalties for early withdrawal of this benefit, and it is provided in a lump sum.

If the minimum insurance requirements, premium and underwriting are met, this perk
becomes active at issue and ensures that the policy, together with any level term
riders, will stay active for five years.

Chronic Illness Plus Rider

When the Chronic Illness Plus Rider is added to a policy at the time of issuance, the
insured can receive 2% of the death benefit per month (limited at the IRS per diem
rate in effect on any given day) if they are diagnosed with a chronic illness. It kicks in
if the insured has been certified by a doctor as having lost the ability to perform two
of six activities of daily living for a minimum of 90 days because of the loss of
functional capacity or as suffering from a severe cognitive impairment that
necessitates substantial supervision to ensure his or her health and safety and if the
doctor renews that certification every year.

For an additional cost, you can add an "Accidental Death Benefit" rider that pays out an
additional $250,000 (or up to three times the policy's face amount, whichever is less) in
the event of the insured's death due to an accident.

A 20-year level term life insurance rider can be added to the policy whenever the insured
person chooses it for an additional premium.

Charitable Giving Benefit

Upon the death of the insured, the policy's owner can designate an eligible charity of
their choosing to receive an extra benefit equal to 1% of the policy's base face amount
(up to a maximum of $100,000).

Children's Term Life Insurance Rider

It's a rider for term life insurance on children that covers them from the time they are 15
days old up until they become 17 for an additional premium of $1,000 to $10,000. If the
beneficiary passes away before turning 23, the benefit will be paid.

If you become permanently handicapped and are expected to remain so for at least six
months, the Waiver of Premium Rider will prevent you from having to pay any
premiums for your insurance policy.
How to Get Symetra Life Insurance
Once you've familiarized yourself with the market's offerings, it's time to understand how to actually purchase insurance. It is also important to know what to do if Symetra declines your application for life insurance.
How to Buy Life Insurance From Symetra
1
Do Your Research
Some companies let clients make purchases online, while others require that they call an agent. Symetra supports both options. While you can't get a quote online, you can purchase its term life policy online. You can also contact a representative to learn more about your options.
2
Compare Quotes
It's an excellent idea to shop around to find out what else is available, even if you find a policy that seems great. Several variables, including your gender, way of life, age, level of smoking, medical history and state of health, could have an impact on your premiums. You might discover that if you compare quotes, you can acquire the coverage you require for a more affordable price.
3
Health Check
If you choose Symetra after shopping around, you'll have to submit your application and potentially go through a medical examination. This often involves both a phone interview and a physical exam. All pertinent information is needed for a full risk appraisal, and an underwriter could want more from you. Consider the policies that don't require a health check if you are not confident that you will pass it.
4
Approval
If your application gets approved, you will then receive your policy. The coverage starts after you pay your first premium. Depending on the policy chosen and the requirements needed, the approval process could take anywhere from 18 minutes to several weeks. You have the chance to ask any questions you might have regarding your insurance when you meet with your representative in person.
What to Do if Symetra Insurance Denies You Coverage
Sometimes, life insurance policy applications are denied. Don't let this discourage you if it happens to you since there are other options you can look into.
1
Contact Your Broker
The best way to learn more about what transpired is to contact your agent and request details. They will also offer the best steps to take next.
2
Lifestyle Changes
Try adopting some lifestyle adjustments to improve your health. Occasionally, insurance companies will hold off on processing applications until the client can provide proof that their health has improved. The benefit of waiting is that you can get a rate that's even better than when you were less healthy.
3
Explore Other Options
Look into additional insurance options. You can pick the policies with a lower entry barrier because not all policies have the same requirements. Just keep in mind that they may offer less coverage or have higher prices.
Frequently Asked Questions About Symetra Life Insurance
We answered the most frequently asked questions regarding Symetra life insurance to help you assess if this insurer satisfies your needs.
Life Insurance
Life Insurance