MoneyGeek's Take: Is Voya Right for You?
Voya primarily provides financial and insurance products to workplaces, and its life insurance packages work best for employees looking for coverage. The company's life insurance offers are limited to term and whole life insurance, but it provides various riders that enhance the policy's protection. Term life insurance is often a good choice for young and healthy people who need coverage for a set period of time, while whole life insurance is ideal for folks looking to get insurance coverage and investment opportunities in one convenient package.
Applicants are required to get policies through their employers, but they can keep their coverage even after they've changed their employment. Moreover, they can increase their coverage, provided they pass Voya's insurability test.
Voya lacks universal life insurance policies that combine permanent coverage with flexible terms. MoneyGeek ranked the best universal life insurance companies and found State Farm as the highest-scoring provider in that category.
Moreover, older buyers may find Voya's offerings to be limited. If you're looking for final expense policies, we again recommend State Farm as the best life insurance carrier for seniors. We encourage you to read our review of Voya before you consider other providers to ensure that you'll make an informed decision.
At a Glance: Voya Life Insurance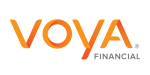 pros
Allows claims filing online
Offers various investment products for employers
cons
No longer offers insurance plans for individuals
Limited life insurance options
COMPANY HIGHLIGHTS
Voya is a health, wealth and investment company that serves over 14.3 million individual and institutional clients. Tracing its origins to the mid-1970s as ING Financial, the company transitioned to its current form in 2014.
In recent years, it has shifted its business strategy and focused on providing workplace solutions, including life insurance. Although Voya has a range of financial products catered for workplaces of all sizes, its insurance offerings are limited to term and whole life policies. Individuals can only get these through their employers, but policyholders can keep their plans even after leaving their companies.
The NAIC gave Voya's individual life insurance products a 3.83 complaint index in 2022, which is above the national average of 1.0. This means the company receives higher complaints than other providers.
Nonetheless, Voya's insurance packages are flexible, and employers can easily add riders depending on their organization's needs. Paying premiums is straightforward since Voya automatically deducts them from each employee's paycheck. The company offers its products across the U.S., but the eligibility of some endorsements may vary per state.
Compare Life Insurance Rates
Ensure you're getting the best rate for your life insurance. Compare quotes from top providers to find the most affordable life insurance coverage for your needs.
Voya offers group term life insurance, allowing employees to get coverage for a set period of time.
Voya's whole life insurance features permanent coverage, fixed premiums and cash value growth.
Voya policyholders may add various riders to their policies to increase and diversify the coverage they receive.
Voya Policy Options Explained
LIMRA's 2022 study revealed that life insurance is essential in providing Americans with a feeling of financial stability. The study found that 68% of individuals who have dependents feel financially secure if they have life insurance compared to only 47% of those who don't. Moreover, individuals with multiple life insurance coverage sources are more likely to feel secure.
Voya offers group term and whole life insurance policies. The company's products are only available as employee benefits, but you may maintain your policy even after you leave your employer.
Term Life Insurance Options From Voya
Voya's group term life insurance offers coverage for a specific time period. In the event of your passing during the policy's term, the company pays out a death benefit to your beneficiaries. This benefit may be used for funeral costs, loan payments or day-to-day expenses.
Although Voya's website doesn't indicate the coverage limits or terms it offers, it says that policyholders are allowed to increase their coverage levels beyond the issue amounts. However, that requires individuals to get evidence of insurability, which involves health questionnaires.

Employers can include various insurance and non-insurance features in their group term life insurance packages. This gives increased protections to policyholders with products such as accidental death insurance, accelerated death benefits and funeral planning services.

Voya automatically deducts premiums from employee paychecks. If an insured person leaves their company, they have the option to continue their term life insurance and pay premiums directly to Voya. Moreover, they may convert their coverage into an individual whole life insurance policy or get coverage for their spouse or children.
Term life insurance is an affordable way to get coverage for a specific period and is ideal for young and healthy individuals. It's especially beneficial for those who need coverage for income replacement or debt payments. If you're starting a family or have significant temporary financial obligations, term life insurance could be a valuable solution to consider.
Whole Life Insurance Options From Voya
Voya's Premier Whole Life Insurance allows employees to get permanent life insurance that generates cash value. Although individuals must purchase this product through their employer, it's a cost-effective option for folks looking to get coverage and grow their money at the same time.
The policy coverage of Voya is not tied to employment, and policyholders can choose a convenient payment plan if they leave their employer or retire. Premiums for the policy are guaranteed to be fixed for the life of the policy as long as the required payments are made. Nonetheless, for most clients, premiums are paid through employee payroll deductions.

Notably, the policy builds guaranteed cash value that policyholders can borrow from in the future. However, the death benefit is reduced by any outstanding loan and unpaid interest. Voya's website doesn't detail the coverage terms or limits for its whole life policies.

Voya also offers various riders that increase the protection of its policies. These include accelerated benefits, accelerated death benefits and waiver of premium benefits.
Whole life insurance is a good choice if you're looking for permanent coverage and additional benefits despite higher premiums. It also works if you're looking to grow your money and have access to your investment for future needs. Furthermore, whole life insurance can be beneficial if you wish to leave an inheritance or legacy for your loved ones.
Compare Life Insurance Rates
Ensure you're getting the best rate for your life insurance. Compare quotes from top providers to find the most affordable life insurance coverage for your needs.
Voya's Life Insurance Riders
Life insurance riders provide added coverage to basic life insurance policies. They are optional and come with additional costs. Voya allows employees to get life insurance riders but requires evidence of insurability that involves a health questionnaire before the coverage takes effect.
Rider

Description

Accidental Death Insurance

Provides beneficiaries with an additional benefit on top of the life insurance payout if
the insured person dies due to a covered accident.

Accelerated Death Benefit

In case the insured is diagnosed with a terminal illness with a limited life expectancy
or requires permanent continuous confinement in an institution due to a medical
condition, they can receive a portion of the death benefit while they are still alive.

If the insured person is totally disabled and unable to work, this rider permits them to
retain coverage for a certain period without paying premiums. Note that this may come
with age limitations.

Continue or Convert Coverage

In case of changes in the employee's status with the company, they may have the
choice to continue coverage by paying premiums directly to Voya. Additionally,
policyholders may opt to convert the coverage into an individual whole life
insurance policy or add coverage for their spouse or children.

Level Term to Age 65 Benefit (LT 65)

This rider offers a term life insurance benefit equal to 50% or 100% of the base policy
amount until the insured person reaches age 65. This is open to eligible employees
and their spouses 18 to 55 years old.

Children's Term Insurance Benefit (CTR)

Offers a set amount of term life insurance coverage for all unmarried, dependent
children between the ages of 15 days and 24 years with a single premium rate.
How to Get Voya Life Insurance
Once you've reviewed Voya's life insurance products, you may have determined which policy best suits your needs. In this section, we outline the steps involved in purchasing a policy and provide advice for managing a potential denial of your application.
How to Buy Life Insurance From Voya
1
Do Your Research
Start by learning about the available options for you. You may visit Voya's website to read about its insurance products or contact your HR representative to inquire about Voya's offerings within your company. Take the time to explore each product and weigh its pros and cons.
2
Compare Quotes
Next, you can consult with your HR representative to obtain an estimate of your employees' life insurance expenses. It's recommended that employers compare quotes from different providers to ensure that you're receiving complete coverage at an affordable rate since several factors can influence employee premiums.
3
Health Check
Once you've identified a policy that meets your employees' needs, the next step is to apply for it. In addition, your underwriter may require you to provide additional information to complete your risk assessment. If an employee leaves the company, Voya may require a medical examination to continue their coverage.
4
Approval
Once your application is approved, your policy will be issued. We advise that you schedule a meeting with your HR representative to review the policy details and clarify any questions you may have.
What to Do if Voya Insurance Denies You Coverage
Life insurance coverage can be denied for various reasons. If your application is denied, take the following steps.
1
Contact Your Broker
To understand the reasons for the denial of your application, it's crucial to reach out to your HR representative. They will help you identify specific issues in your application that need to be addressed to increase your chances of approval.
2
Explore Other Options
If you're having trouble getting coverage from Voya, it may be worth considering other insurance options. Other insurers might have better offers or different types of policies that suit your employees' needs.
Frequently Asked Questions About Voya Life Insurance
MoneyGeek compiled a list of commonly asked questions regarding Voya's life insurance products to assist you in determining which policy is best suited to your requirements.
Life Insurance
Life Insurance