MoneyGeek's Take: Is OneAmerica Right for You?
OneAmerica offers term and whole life insurance with various payment options, allowing you to choose an option that fits your budget. However, customers must work with an agent to obtain product quotes or specifics, which some individuals may find inconvenient.
Customers searching for a more simplified or direct purchasing experience might consider purchasing life insurance from an online provider like Haven Life.
Before choosing a provider, read our OneAmerica Life Insurance analysis to help you pick your best option.
At a Glance: OneAmerica Life Insurance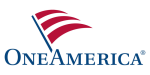 pros
Extensive whole life insurance policies
Very low complaint index vs. industry standard
Guaranteed cash value growth
cons
Limited information on life insurance available on the website
No online applications; must use an agent
COMPANY HIGHLIGHTS
OneAmerica offers term and whole life insurance plans that require a medical exam. Those who seek complete protection can choose from a variety of whole life plans from this insurer. It offers plans with several payment methods, allowing you to pick insurance within your means. Although OneAmerica's website contains many informative tools and resources, details regarding its life insurance plans are scarce. This lack of information makes comparing the provider to others difficult.
OneAmerica's complaint ratio from the National Association of Insurance Commissioners (NAIC) is much lower than the industry average. With four complaints recorded, the company has a complaint index of 0.57 out of 1.00. We used the report for American United Life Ins Co, OneAmerica's parent company, which provides an array of products for individuals, families, and corporations.
OneAmerica provides general product information on its website. You must consult an insurance agent or a financial advisor to learn specifics about available plans and their costs.
Compare Life Insurance Rates
Ensure you're getting the best rate for your life insurance. Compare quotes from top providers to find the most affordable life insurance coverage for your needs.
OneAmerica provides whole and term life policies that require medical exams.
Customers can only purchase OneAmerica life insurance through agents.
OneAmerica provides only general information about its life insurance options and riders on its website, which may be inconvenient for potential customers.
OneAmerica Policy Options Explained
The Life Insurance Marketing and Research Association's (LIMRA) 2022 Insurance Barometer Study reveals that most families have not planned for the loss of a principal wage earner. One in 10 respondents said they would experience financial trouble within one week if their household's primary breadwinner died.
Term Life Insurance Options From OneAmerica
OneAmerica's term life insurance covers you for a fixed period, and your dependents get the policy's death benefit if you die during the specified term. The company offers inexpensive policies for 10, 15, 20 and 30 years with fixed rates and death benefits.
OneAmerica's Term Life Insurance Features

Fixed premiums
Defined terms of 10, 15, 20 or 30 years
Affordable, fixed rates
Fixed death benefit
Tax benefits
OneAmerica's term life insurance is best for persons who want to address short-term financial needs, such as income replacement, debt repayment, child care bills and education funds for children. This choice is especially appealing to those with considerable, short-term financial demands.
Whole Life Insurance Options From OneAmerica
OneAmerica's whole life insurance is generally more costly and has fewer constraints than term life insurance. Whole life insurance is fixed and lasts your entire life, and it can also generate monetary value.
OneAmerica's Whole Life Insurance Features

Fixed rates and death benefits
Annual cash value growth
Customizable whole life insurance
Tax benefits

All whole life insurance options from OneAmerica offer a higher level of personalization than the term life options. Plans have level rates and death benefits. They also grow cash value and, in most situations, are a tax-free means to distribute assets to family members. Because OneAmerica is a mutual insurance corporation, customers receive dividends.
Customers who'll benefit the most from OneAmerica's whole life insurance are those looking for additional tax-free investments, supporting family members and requiring long-term care. Persons with a low risk tolerance or seeking a secure, guaranteed approach to generate cash values fare best with whole life insurance.
Universal Life Insurance Options From OneAmerica
If you want a blend of life insurance protection, customizable rates and the ability to expand your money through investments in the market, OneAmerica's Variable Universal Life (VUL) is a good option.
OneAmerica's Variable Universal Life Features

Comprehensive protection
Cash value growth
Adjustable premium payments and investment options
Tax benefits

Universal life insurance provides protection while also allowing for the accumulation of financial value through stock market investment.
Universal life insurance is suitable for people who require long-term insurance and have the financial means to pay for it. Customers looking for security while also allowing for the growth of financial worth will benefit the most from this type of insurance plan.
Compare Life Insurance Rates
Ensure you're getting the best rate for your life insurance. Compare quotes from top providers to find the most affordable life insurance coverage for your needs.
OneAmerica Life Insurance Riders
Insurance riders can raise your rates but also provide significant advantages or protect your loved ones. Customers can add the following life insurance riders to their OneAmerica life insurance policies:
Rider

Description

Provides a death benefit if one or more of your children dies. This additional coverage provides a security
blanket, letting you concentrate on your household rather than worrying about funeral costs.

Waives payments if the customer gets critically ill, physically disabled or severely injured. Additional
conditions may apply, such as passing specified health and age criteria.
How to Get OneAmerica Life Insurance
MoneyGeek can help you get started with purchasing OneAmerica life insurance. Know how to select from various insurance products and what to do if the company rejects your application.
How to Buy Life Insurance From OneAmerica
1
Do Your Research
While the OneAmerica site contains little information regarding its life insurance, you should still conduct your own analysis. For example, the company suggests contacting customer service or an agent to inquire about prices, coverage and perks.
2
Compare Quotes
Various factors, such as sex, age, health records and lifestyle, influence rates. Therefore, comparing rates can be beneficial. Researching different options allows you to find the ideal coverage for you at the best rate.
3
Health Check
OneAmerica requires that potential customers undergo a health exam. The company may also ask for additional documentation to help its underwriters conduct a risk assessment.
4
Approval
If your application is approved and you agree with the terms offered by OneAmerica, you can enroll and begin getting coverage immediately. To apply for coverage, you must first contact a OneAmerica financial advisor or insurance representative. Once accepted, visit your agent to go through the specifics of your plan.
What to Do if OneAmerica Denies You Coverage
You have a variety of life insurance alternatives available to you. If your application is declined, be patient and follow the appropriate steps.
1
Contact Your Broker
Inform your agent and request detailed information about why you were denied.
2
Lifestyle Changes
Make healthier choices to boost your well-being and health. These changes could even result in application approval at a lower rate.
3
Explore Other Options
You can explore different insurance coverage or concentrate on companies that do not require a medical test. However, keep in mind that some may provide inadequate coverage or charge higher prices.
Frequently Asked Questions About OneAmerica Life Insurance
To assist you in navigating your options, MoneyGeek answers some frequently asked questions about OneAmerica life insurance.
Life Insurance
Life Insurance