MoneyGeek's Take: Is Northwestern Mutual Right for You?
Northwestern Mutual delivers exceptional customer service paired with multiple coverages for almost everyone, including young adults, people with disabilities, seniors and the average buyer.
It can be somewhat challenging to get a quote from Northwestern Mutual without consulting an agent. If you prefer to quickly get a quote online, Haven Life is worth looking into. Sometimes providers deny policies for those with critical illnesses like cancer. However, we found that Nationwide is a solid pick for this demographic.
You can browse the different Northwestern Mutual policies to determine if this provider will be able to meet your needs.
At a Glance: Northwestern Mutual Life Insurance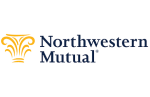 pros
Offers life insurance in all states
Multiple policy types available
Policyholders can generally access an early payment benefit
cons
Limited mentions of riders on the website
Information about coverage caps not available
You need to connect with an advisor to apply for a policy
COMPANY HIGHLIGHTS
Since 1872, Northwestern Mutual has delivered life insurance to its policyholders and expects to pay $6.8 billion in dividends for 2023. Based on data from the National Association of Insurance Commissioners (NAIC), Northwestern Mutual had a 0.05 complaint index in 2022, which is significantly less than most companies. This provider is ideal for individuals who also need support with financial planning and investments.
Northwestern Mutual offers life insurance policies like:
Whole life insurance
Universal life insurance
Variable universal life insurance
Term life insurance
With Northwestern Mutual, you can use your policy to secure dividends or build cash value. Another unique perk is that it's typically possible to get your application approved within the same day. This is only available for those who are eligible for a specific underwriting process. It's unclear whether applicants need to undergo a medical exam to qualify. Northwestern Mutual also offers a calculator and comparison table for life insurance so that you can determine whether it's a good fit for your needs.
Compare Life Insurance Rates
Ensure you're getting the best rate for your life insurance. Compare quotes from top providers to find the most affordable life insurance coverage for your needs.
Northwestern Mutual offers 10- and 20-year term life insurance policies.
Variable universal life insurance is a stellar choice for those who want to craft their investment plan.
Universal life insurance offers the most flexibility but is more expensive than term policies.
Northwestern Mutual Policy Options Explained
A 2022 Insurance Barometer Study by ​​Life Insurance Marketing and Research Association (LIMRA) found that 68% of U.S. adults agree that owning life insurance offers a greater sense of security for their dependents. You can find a Northwestern Mutual policy that caters to the needs of your loved ones.
Term Life Insurance Options From Northwestern Mutual
Term life insurance covers you for a predetermined amount of time. In the event the policyholder passes away during that term, their beneficiaries will get a payout to help fund mortgages, outstanding debts and tuition fees. It does not have cash value like whole or universal life insurance.
Northwestern Mutual provided a sample quote for a healthy 35-year-old male and may charge roughly less than $1 per day. The provider offers two kinds of term life insurance.

This insurer offers 10- and 20-year terms or until you reach age 80. Once those terms end, your coverage terminates.
We recommend term life insurance if you prefer a budget-friendly option or if you only need coverage for a short amount of time. Term life also works well for buyers who are young and healthy.
Whole Life Insurance Options From Northwestern Mutual
With whole life insurance, your coverage remains in effect until you pass away. Policyholders can also get living benefits by maximizing the cash value feature to pay for costs like home renovation, college education or business expansion.
Purchasing a Northwestern Mutual whole life policy ensures that your premiums never go up and your loved ones are financially protected. You don't need to worry about the payout for your beneficiaries since it's usually tax-free.
Buyers with long-term insurance needs may find whole life insurance to be an excellent fit. It can offer support for lifelong dependents or estate planning since cash value and dividends are included.
Universal Life Insurance Options From Northwestern Mutual
Universal life insurance offers permanent coverage with a bit more flexibility compared to whole life insurance. Northwestern Mutual delivers universal life (UL) and variable universal life insurance (VUL).
You can get cash value and adjust your quotes or death benefit as your needs change over time.

Variable Universal Life Insurance

This policy type is similar to universal life insurance but has a key difference of letting you decide how you want to invest your cash value. It's up to the policyholder to decide their investment options, which are then handled by investment firms.
If you think your insurance needs may change in the future, a universal insurance policy might be a great choice. It's a viable option for those who want more control over their cash-value investments.
Compare Life Insurance Rates
Ensure you're getting the best rate for your life insurance. Compare quotes from top providers to find the most affordable life insurance coverage for your needs.
Northwestern Mutual Life Insurance Riders
A rider is one way to customize your life insurance policy, generally at an extra cost. Northwestern Mutual shares the following rider on its website.
Rider

Description

Add this to your whole life insurance if you need long-term care coverage. Otherwise, your beneficiaries
will receive the death benefit.
How to Get Northwestern Mutual Life Insurance
Are you confident about choosing Northwestern Mutual? The next step is understanding how to purchase a policy and what to do if your application is denied.
How to Buy Life Insurance From Northwestern Mutual
1
Do Your Research
Learn the differences between each policy type to determine which one best fits your specific needs. We encourage you to search for any eligibility requirements. Take advantage of Northwestern Mutual's comparison table and insurance calculator.
2
Compare Quotes
Consult a Northwestern Mutual agent to get a quote or use its calculator. Explore other possible providers as well to weigh the different options available to you.
3
Health Check
You may need to undergo an in-person medical test or phone interview to qualify. This will help the carrier conduct an accurate risk assessment.
4
Approval
Carefully read through the fine print. It can be easy to overlook at times. If you have any questions or concerns, ask your agent.
What to Do if Northwestern Mutual Denies You Coverage
If your application is denied, don't lose hope. You still have options.
1
Contact Your Broker
We encourage you to reach out to your agent and ask why your application was rejected. This information can help you take the necessary steps forward.
2
Lifestyle Changes
Working toward improving your health can benefit you in three different ways. You'll generally feel healthier, might be able to secure a lower rate and increase the likelihood of qualifying for life insurance.
3
Explore Other Options
If these steps don't work, there are options available in the market. Companies that don't require a medical exam usually charge higher rates paired with limited coverage.
Frequently Asked Questions About Northwestern Mutual Life Insurance
To guide your decision-making process, we answer the most commonly asked questions about Northwestern Mutual life insurance.
Life Insurance
Life Insurance