New York Life has been in the life insurance business practically since the concept was developed in the 1840s, and although it was founded in New York, the company was quick to expand to states in the West as the frontier opened up. In the final quarter of the 20th century, New York Life diversified and expanded its life insurance offerings, including healthcare — a short-lived endeavor — and financial services. The National Association of Insurance Commissioners ranks New York Life as the third-largest life insurer (and the largest mutual life insurer) in the country, and its market share was 5.54 percent in 2015.
Table of Contents
How Does Life Insurance from New York Life Rate?
Financial Strength Rating
Source

Rating

A.M. Best

A++
A.M. Best's Financial Strength Rating opinion addresses the relative ability of an insurer to meet its ongoing insurance obligations. It is not a warranty of a company's financial strength and ability to meet its obligations to policyholders. View our Important Notice: Best's Credit Ratings for a disclaimer notice and complete details at http://www.ambest.com/ratings/notice.
Financial Strength is rated on a scale of D (poor) to A+ (superior). A rating notch of either a second "+" or a "-" indicates the gradation of financial strength within the category. We can't guarantee that the subsidiary of New York Life Insurance rated here is the subsidiary that will underwrite your insurance policy. Check with your insurance agent and review A.M. Best's Financial Strength Rating Guide for more information.
Best's Credit Ratings™ are under continuous review and subject to change and/or affirmation. For the latest Best's Credit Ratings™ and Best's Credit Reports which include Best's Credit Ratings™), visit the A.M. Best website at http://www.ambest.com. See Guide to Best's Credit Ratings™ for explanation of use and charges.
Best's Credit Ratings™ reproduced herein appear under license from A.M. Best and do not constitute, either expressly or impliedly, an endorsement of MoneyGeek.com or its recommendations, formulas, criteria or comparisons to any other ratings, rating scales or rating organizations which are published or referenced herein. A.M. Best is not responsible for transcription errors made in presenting Best's Credit Ratings™. Best's Credit Ratings™ are proprietary and may not be reproduced or distributed without the express written permission of A.M. Best Company.
Pros and Cons of New York Life Insurance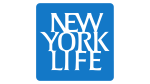 pros
New York Life offers a large array of products, including term, whole, universal and variable universal policies, as well as survivorship and guaranteed acceptance products.
On term policies, the company offers conversion privileges, enabling policyholders to convert to policies that offer cash value, without having to provide evidence of insurability.
New York Life may appeal to a younger demographic, with term policies that can be issued at age 15 and coverage values that start as low as $5,000.
Because of its financial planning and retirement services offerings, New York Life is a one-stop shop for planning your family's financial future.
cons
While you can get rate quotes for some of New York Life's life insurance offerings, the rate calculators aren't on the main New York Life website, but are instead on NYLexpress.com, which lists information about simplified term life policies. Customers may have trouble finding the site and rate calculator.
Term life is available with annual renewal or terms of 10 and 20 years, but there are no 30-year term offerings.
New York Life markets its custom whole life policy as an exclusive and unique product, but it really is just a paid-up whole life policy with extra flexibility.
While the website is optimized for mobile devices, the New York Life mobile app doesn't have any functionality other than providing news articles and marketing pieces.
New York Life Insurance Policy Details
One of the largest life insurers in the country, New York Life offers term, whole and universal products, as well as simplified issue term and whole life, a "custom" whole life policy and a guaranteed acceptance product. The company is serious about life insurance and financial services education and has both an extensive website to provide information and an agent network eager to help build a customized program for you.
Term Life Insurance
Simplified term life insurance is offered through NYLexpress.com agent website, which allows customers to get quotes for and purchase simplified policies online with no medical exam. (Products and online application are not available in all states.) This insurance comes in coverage amounts ranging from $10,000 to $150,000. The premium is based on age at issue and increases as you age, every five years as contracted.
New York Life has a yearly convertible term policy available, with contracted premiums that increase each year but are guaranteed for the first 10 years. This policy can be issued to those ages 15 to 75 for a coverage of $250,000 or higher. A level premium convertible term policy is available for a period ranging from 10 to 20 years. It can be issued to people ages 15 to 65 with a minimum face value of $100,000. All or part of the policy can be converted to a permanent product without needing evidence of insurability, as either an attained-age conversion or original-age conversion, and the policy comes with an extension of conversion privilege option. On both the annual and the 10-to-20-year-term policies, original-age conversions are allowed during the first five years; attained-age conversions are allowed during the first 10 years and are eligible for conversion credits. Available riders for both annual and 10-20-year-term policies include:
Accidental death benefit
Children's insurance
Disability waiver of premium
Living benefits
Policy purchase option
Spouse's paid-up insurance purchase option
Yearly convertible term rider.
The level premium convertible term policies additionally offer a level premium convertible term rider.
Whole Life Insurance
A simplified issue whole life policy is available in a range of $5,000 to $50,000 with no medical exam, but instead, just three health questions. You can quote and buy the policy online and get a guaranteed monthly rate that you pay up to age 95 for lifetime protection.
The guaranteed acceptance policy is also available to quote and purchase online. This is a policy for ages 50 to 80 at an amount between $2,500 and $15,000. You'll face no medical exam nor health questions. The premiums are based on your age at the time of issue, continue to age 95 and are guaranteed never to increase.
New York Life has a nice, solid, standard whole life insurance policy available. You can purchase it up until you reach age 90, and the minimum face value is $50,000 for ages 0 to 17, and $25,000 from 18 to 90 ($100,000 to qualify for the highest underwriting risk classes). All of the riders available on the term life policy also are offered on the whole life insurance product, along with the following additions:
Child's protection benefit
Chronic care
Dividend option term
Insurance exchange
Option to purchase paid-up additions
Payer protection benefit
You also have another option, which is a twist on the standard whole life insurance product. The New York LIfe Custom whole life policy allows you to purchase a whole life policy with a premium payment schedule of as little as five years or as long as until the year that you turn 75.
Universal Life Insurance
Universal life is provided through New York Life Insurance and Annuity Corporation, which is a subsidiary of New York Life. The UL and the Survivorship UL policies include a choice of three benefit options (level, increasing and premium) and a No-Lapse Guarantee rider. They are for those ages 0 to 90, with a minimum coverage level of $25,000. Riders available on the universal products include:
Life extension
Living benefits
Accidental death benefit
Other covered insured
Insurance exchange
Spouse's paid-up insurance purchase option
Children's insurance
Guaranteed insurability
Monthly Deduction Waiver.
New York Life also offers a pair of single premium universal life products, known as the Asset Preserver and the Instant Legacy.
Variable universal life products that are available include the Accumulator Plus and the Survivorship Accumulator. The Accumulator Plus is for ages 0 to 80. The minimum face amount is $50,000, or $100,000 for Select Preferred and Preferred risk classes. For the survivorship product, the issue ages are 20 to 80, with a minimum coverage of $100,000. Both policies offer three death benefit options and similar policy features. Available riders and benefits on the Accumulator plus include:
Accidental death benefit
Children's insurance
Guaranteed insurability
Guaranteed minimum accumulation benefit
Guaranteed minimum death benefit or the Intermediate No-Lapse Guarantee
Insurance exchange
Life extension
Living benefits
Monthly deduction waiver
Overloan protection
Spouse's paid-up insurance purchase option
Term insurance on other covered insured
Waiver of specified premium
On the Survivorship VUL Accumulator, the riders and benefits include estate protection, guaranteed minimum accumulation benefit, guaranteed minimum death benefit, level first-to-die term, life extension benefit, living benefits and overloan protection.
How to Make a Life Insurance Claim with New York Life Insurance
You can file your life insurance claim with New York Life online or you can call the toll-free claims number. A Death Benefit Proceeds form will be sent to the beneficiary listed in the policy, with details regarding further paperwork and documentation. The company also offers quite a few resources to help you deal with the loss of a family member or loved one.
How to Contact New York Life Insurance
CUSTOMER SERVICE PHONE NUMBER

800-225-5695
About MoneyGeek Team
---
---