MoneyGeek's Take: Is National Life Right for You?
National Life offers a wide selection of life insurance plans, including both term and permanent policies, providing many options depending on your needs and goals.
It has high coverage caps of over $10 million for some policies, making it a good fit for those with large insurance needs. The company also offers simplified issue policies — referred to as EZ Underwriting — that don't require medical exams for eligible applications up to age 65.
However, National Life doesn't offer final expense insurance, so AARP is likely a better fit for seniors looking for coverage for end-of-life expenses. In addition, getting a quote and applying for a policy from National Life requires speaking with an agent — if you prefer an online application process, check out Haven Life.
Read our full National Life insurance review to learn more about the company and determine whether you'd like to apply.
At a Glance: National Life Life Insurance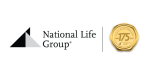 pros
Available in all 50 states plus Washington, D.C.
High customer satisfaction ratings
cons
No online quote tool available
Applications must be submitted through agents
Limited information available on website
COMPANY HIGHLIGHTS
Established in 1848, National Life Group has over a century and a half of experience in the insurance sector. This company is a financially solid life insurance provider that offers a wide range of coverage and riders. Among the life insurance options available from National Life are term, whole, universal, indexed universal and variable universal life policies. It also pays dividends to eligible policyholders.
According to the National Association of Insurance Commissioners (NAIC), National Life has a complaint index of 0.40, indicating that it receives fewer complaints than the national average and that customers are satisfied overall with the company's service.
The company offers high coverage limits of over $10 million, and some applicants may be eligible for up to $3 million in coverage without a medical exam through the company's EZ Underwriting program. However, National Life discloses limited information about its plans on its website and does not provide online quotes. In addition, you must contact an agent to apply.
Compare Life Insurance Rates
Ensure you're getting the best rate for your life insurance. Compare quotes from top providers to find the most affordable life insurance coverage for your needs.
Certain applicants may be eligible for up to $3 million in coverage for whole life policies without a medical checkup.
National Life issues many different policy types, including term and permanent life insurance plans.
Although never guaranteed, National Life pays out dividends annually to eligible policyholders.
National Life Policy Options Explained
According to the Life Insurance Marketing and Research Association's (LIMRA) 2022 Insurance Barometer Study, 43% of those who bought or planned to acquire life insurance online had no in-person interaction during the transaction. However, to obtain quotes and purchase life insurance through National Life, you must consult with an agent.
Term Life Insurance Options From National Life
National Life's term life insurance offers coverage and a guaranteed death benefit for a set period of time. The premiums are fixed for the length of the policy, which does not have any cash value.
National Life offers EZ Underwriting, an abbreviated underwriting process that doesn't require a medical exam, for eligible applicants between the ages of 18 and 65. During the pandemic, the company temporarily raised EZ Underwriting limits for term policies to $2 million for applicants aged 18 to 50. However, it has not provided any updates on its website as to the status of this change, so it's best to contact an agent to confirm current limits.

In addition, term life insurance plans from National Life are convertible, meaning that when the term expires, you can switch your plan to a permanent life insurance policy without a medical exam.
Term life insurance is best suited for consumers with a limited budget and significant short-term financial obligations, such as mortgage or college tuition.
Whole Life Insurance Options From National Life
National Life's whole life insurance is one of several permanent life plans offered by this insurer. Compared to other types of permanent life insurance, whole life policies may offer less cash value growth and flexibility. However, they provide stability and offer a guaranteed death benefit and cash value.
National Life temporarily increased the EZ Underwriting limit for all of its permanent life insurance plans to $3 million for applicants between the ages of 18 and 50. Those aged 51 to 60 have an EZ Underwriting limit of $1 million, while those aged 61 to 65 have a limit of $250,000. However, we recommend contacting an agent to ensure these limits are still in effect.

National Life's permanent life policies have a much higher coverage cap overall, with some offering over $10 million in coverage. However, they require more thorough underwriting — which generally includes a medical exam. For high amounts, they also require financial documentation.

Eligible whole life policyholders may also receive annual dividend payments from National Life, although this is never guaranteed.
Whole life insurance plans offer lifelong coverage and are designed for those who want a stable, reliable policy and don't need much flexibility in their coverage or premiums. As long as you keep up with premium payments, your beneficiaries will receive a life insurance payout when you pass away. Whole life policies are also ideal for those who want a savings component that they can access to cover expenses before they pass.
Universal Life Insurance Options From National Life
Universal life insurance is another type of permanent life insurance, but it differs from whole life in that it offers flexible death benefits and premiums. It has the potential for larger cash value accumulation as growth is based on interest rates.
National Life offers three types of universal life policies: traditional universal life, indexed universal life and variable universal life. Traditional universal life insurance is the most conservative of the three, as the interest rate is set by the company and can never dip below the guaranteed minimum rate.

Indexed universal life and variable universal life policies offer more control over how the policy's cash value is invested and have the potential for more growth. Indexed universal life policies build cash value based on an interest rate that's tied to the performance of a stock market index. They include guaranteed minimums to protect against downturns in the market.

On the other hand, variable universal life insurance policies actually invest the cash value in the market based on the policyholder's selections. As such, they may gain or lose value based on the portfolio's performance.
Universal life insurance is ideal for customers who want lifelong protection but whose needs may change in the future. It's also a good option for people who are looking for death benefit protection but also want to prioritize cash value growth to cover future expenses or add to their retirement income.
Compare Life Insurance Rates
Ensure you're getting the best rate for your life insurance. Compare quotes from top providers to find the most affordable life insurance coverage for your needs.
National Life's Life Insurance Riders
Life insurance riders are extra benefits that you can include on your policy if you're looking for more protection, usually at an additional cost. National Life offers a variety of riders that it refers to as Living Benefits:
Rider

Description

Accelerated Benefit Riders

National Life offers Living Benefits in the form of Accelerated Benefits Riders, which enable
policyholders to access a portion of their death benefit early if they are diagnosed with a
qualifying terminal, critical or chronic illness.
How to Get National Life Life Insurance
If you've decided to apply for a life insurance policy with National Life, the following sections will walk you through the process and will also offer advice on what to do if the provider denies your application.
How to Buy Life Insurance From National Life
1
Do Your Research
The best place to start is by doing some research on different types of policies to determine what best fits your needs. The National Life website offers an overview of the available plans and what they include. For more information, you can request a call with an agent.
2
Compare Quotes
Even if you think you have found an ideal policy, it's wise to compare prices from different providers. Many variables — including age, health status, gender and lifestyle — can impact rates, and every company has its own underwriting process, so you may get a lower quote elsewhere.
3
Health Check
Depending on the policy you're applying for and your age, you may need to undergo a health check. This usually involves a phone call, a physical examination or both. You may need to provide additional documents throughout the process for an underwriter to accurately perform a risk assessment.
4
Approval
If National Life approves your application, you will receive your policy details and be able to make your first payment. Don't hesitate to go over your policy terms with your agent if you have any questions or doubts.
What to Do if National Life Denies You Coverage
If your National Life insurance application is denied, follow these steps:
1
Contact Your Broker
Ask your broker or agent for details about why you were denied so that you can potentially address it.
2
Lifestyle Changes
If the reason was your health, consider adopting lifestyle changes to improve it. If you're successful, you may get your application approved and potentially even a lower premium.
3
Explore Other Options
If all else fails, look into other insurance options, including those that don't consider health when approving applications. Keep in mind, however, that these policies generally cost more and offer lower coverage.
Frequently Asked Questions About National Life Life Insurance
MoneyGeek provides answers to some frequently asked questions about National Life's life insurance to help you sort through your options.
Life Insurance
Life Insurance