Though you might know MetLife best for its commercials featuring Snoopy and the Peanuts gang, the company is considered a powerhouse in the insurance world. The National Association of Insurance Commissioners (NAIC) repeatedly has ranked the Metropolitan Group — MetLife's parent company — number one on its list of top 10 life insurers. The ranking is based on MetLife's number of direct premiums written in 2015 ($13.4 billion), as well as its 2015 cumulative market share of 8.39 percent.
The company has come a long way from its rocky beginnings during the Civil War in the 1860s and '70s, when it was in last place, insuring soldiers and sailors against wartime-related disabilities. By the first decade of the 1900s, MetLife could claim the title of America's largest life insurer. In 2010, MetLife acquired American Life Insurance Company, adding an international scope, not to mention more than 90 million customers in 50 countries. More changes are on the horizon as MetLife prepares to divest itself of its U.S. insurance business, establishing a new entity called Brighthouse Financial. MetLife's CEO Steve Kandarian says the move will allow more focus and flexibility for the life products.
Table of Contents
How Does MetLife Life Insurance Rate?
Financial Strength Rating
A.M. Best's Financial Strength Rating opinion addresses the relative ability of an insurer to meet its ongoing insurance obligations. It is not a warranty of a company's financial strength and ability to meet its obligations to policyholders. View our Important Notice: Best's Credit Ratings for a disclaimer notice and complete details at http://www.ambest.com/ratings/notice.
Financial Strength is rated on a scale of D (poor) to A+ (superior). A rating notch of either a second "+" or a "-" indicates the gradation of financial strength within the category. We can't guarantee that the subsidiary of MetLife Insurance rated here is the subsidiary that will underwrite your insurance policy. Check with your insurance agent and review A.M. Best's Financial Strength Rating Guide for more information.
Best's Credit Ratings™ are under continuous review and subject to change and/or affirmation. For the latest Best's Credit Ratings™ and Best's Credit Reports which include Best's Credit Ratings™), visit the A.M. Best website at http://www.ambest.com. See Guide to Best's Credit Ratings™ for explanation of use and charges.
Best's Credit Ratings™ reproduced herein appear under license from A.M. Best and do not constitute, either expressly or impliedly, an endorsement of MoneyGeek.com or its recommendations, formulas, criteria or comparisons to any other ratings, rating scales or rating organizations which are published or referenced herein. A.M. Best is not responsible for transcription errors made in presenting Best's Credit Ratings™. Best's Credit Ratings™ are proprietary and may not be reproduced or distributed without the express written permission of A.M. Best Company.
Pros and Cons of MetLife Life Insurance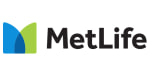 pros
MetLife's product offerings include a guaranteed acceptance whole life, a simplified issue term life and a one-year term life product. The simplified and guaranteed acceptance products can be purchased online.
The online quoting tool provides instant quotes for term life products.
The customer complaint ratio of .13 is much lower than the median score of 1 for all insurers.
MetLife is the largest insurer in the country with a long history of stability and an A+ rating of financial strength from A.M. Best.
cons
The company's online offerings and resources are slim — you can't file a claim or pay a bill online, and the mobile app doesn't apply to life insurance customers.
There's a limited amount of information about MetLife's policy offerings available online, even with the quoting tool, making it hard for first-time customers to make informed decisions.
The life insurance division will soon split off from the parent company and become Brighthouse Financial. It's still unclear what effect this will have on new or existing customers, so its A+ A.M. Best rating is under review.
MetLife Life Insurance Policy Details
MetLife is the nation's largest life insurer, and it offers the entire range of standard life insurance products, including term, whole, guaranteed acceptance, survivor, universal and variable universal policies. And for the simpler products (simplified issue term and guaranteed acceptance), you can even quote and buy a policy online.
Term Life Insurance
MetLife has a simplified issue term policy product with no medical exam (just a couple of health questions) required, and you can get the policy online, in coverages from $10,000 to $100,000. But this product has a few other differences from the standard term policy beyond just the application process. The term runs in five-year increments based on your age. For example, if you purchase the policy when you're 35, your premium will increase at 40. Then it will stay level until you turn 45, at which point it will increase again. As long as you keep paying your monthly premiums, your coverage is guaranteed until you're 90.
MetLife also offers a one-year term policy for those ages 18 to 85. The minimum coverage on this policy is $100,000. The base policy is not renewable or convertible, unless you add the Convertible and Renewable Options rider.
The standard term policy products are available 10-, 15-, 20- and 30-year terms, starting at age 18 and going up to ages 75, 70, 65 and 50, respectively. (Note: The 30-year product is not available in New York.) The policies are available in coverages of $100,000 and higher ($250,000 and higher if you want to qualify for the Elite Nonsmoker underwriting category). These policies are convertible to permanent products, but there is no conversion credit. Available rider options for these term policies are disability waiver of premium, convertible disability waiver of premium and acceleration of death benefit.
Whole Life Insurance
MetLife's whole life insurance series is called the Promise Whole Life line. It includes the options of Whole Life (a basic whole life policy with premium payments to age 100), Whole Life Select (paid-up policies in 10 or 20 years or paid up to age 65) and Whole Life 120 (premium payments to age 120). For a low face amount, you'll want the Promise Whole Life product, which allows for coverage as low as $10,000. The Select series begins at $100,000, and the Whole Life 120 has a minimum face value of $250,000. Riders available on the Whole Life products include:
Enhanced care benefit
Acceleration of death benefit
Disability waiver of premiums benefit
Applicant's waiver of premiums benefit
The Enricher Rider (allows you to purchase additional whole life insurance inside your policy)
Accidental death benefit
Children's term
Flex term
Guaranteed insurability
The guaranteed acceptance policy that MetLife offers is also a whole life product. If you are age 50 to 75, you can't be turned down for health reasons. There's no medical exam and no health questions, and you can purchase this policy online. Coverage is available anywhere from $2,000 to $25,000. Due to the nature of the policy, a death claim within the first two years will be subject to certain restrictions, and it may result in the return of premium paid rather than the face amount of the policy.
Universal Life Insurance
MetLife's lineup of universal products includes the Legacy Advantage Survivorship, Secure Flex, Premier Accumulator, and Provider.
The survivorship product has a minimum face value of $250,000 and is for couples ages 18 to 80. It is designed for couples who are both over 55 and in a position where their joint net worth could lead to estate taxes, or for couples in which one member has a health issue that could pose a hindrance in getting individual coverage. Riders include the joint coverage continuation, policy split option, estate preservation term and waiver of specified premium.
Secure Flex is available to people ages 18 to 70, with a minimum coverage amount of $50,000 and going up to $250,000, depending upon your underwriting risk class. There are two death benefit options (options A and B), and available riders include acceleration of death benefit, coverage continuation benefit, guaranteed survivor income benefit, overloan protection and waiver of specified premium.
The Premier Accumulator and Provider universal life products have a maximum issue age of 85 with a minimum face value of $50,000. The only two rider options for the Premier Accumulator policy are acceleration of death benefits and waiver of specified premium, while the Provider offers those riders plus the coverage continuation benefit and the guaranteed survivor income benefit.
The MetLife variable universal life product is called the Equity Advantage. It has a maximum issue age of 85, a minimum face value of $50,000 and a wide selection of nine riders available:
Acceleration of death benefit
Waiver of monthly deduction
Waiver of specified premium
Accidental death benefit
Children's term insurance
Guaranteed insurability
Guaranteed minimum death benefit
Guaranteed survivor income benefit
Overloan protection.
How to Make a Life Insurance Claim with MetLife Insurance
To make a life insurance claim with MetLife, you can call the claims center or download the claim forms and mail them in, along with other paperwork such as the policy and a certified copy of the death certificate. Once the company has all the necessary information, it should be able to process the claim in five to seven business days and send out the claim payment by check or set up a draft account for you.
How to Contact MetLife Life Insurance
CUSTOMER SERVICE PHONE NUMBER

800-638-5000
About MoneyGeek Team
---
---