MassMutual was founded in 1851, so it has a history of more than 150 years in the business. It is a mutual company, meaning that policyholders have been receiving company dividends since the 1860s. The company has a history of steady growth, prosperity and, when needed, innovation. In the 1950s, the company added retirement services and financial planning to its offerings. And in the 1980s, MassMutual was one of the first companies to offer a new life insurance product known as universal life.
Today, MassMutual Financial Group handles a wide range of products and services, including disability insurance, annuities, long-term care insurance, retirement plans, and asset management, in addition to life insurance. MassMutual is consistently listed among the top 10 largest life insurance companies and has a market share of 3.7 percent.
Table of Contents
How Does MassMutual Life Insurance Rate?
Financial Strength Rating
A.M. Best's Financial Strength Rating opinion addresses the relative ability of an insurer to meet its ongoing insurance obligations. It is not a warranty of a company's financial strength and ability to meet its obligations to policyholders. View our Important Notice: Best's Credit Ratings for a disclaimer notice and complete details at http://www.ambest.com/ratings/notice.
Financial Strength is rated on a scale of D (poor) to A+ (superior). A rating notch of either a second "+" or a "-" indicates the gradation of financial strength within the category. We can't guarantee that the subsidiary of MassMutual Insurance rated here is the subsidiary that will underwrite your insurance policy. Check with your insurance agent and review A.M. Best's Financial Strength Rating Guide for more information.
Best's Credit Ratings™ are under continuous review and subject to change and/or affirmation. For the latest Best's Credit Ratings™ and Best's Credit Reports which include Best's Credit Ratings™), visit the A.M. Best website at http://www.ambest.com. See Guide to Best's Credit Ratings™ for explanation of use and charges.
Best's Credit Ratings™ reproduced herein appear under license from A.M. Best and do not constitute, either expressly or impliedly, an endorsement of MoneyGeek.com or its recommendations, formulas, criteria or comparisons to any other ratings, rating scales or rating organizations which are published or referenced herein. A.M. Best is not responsible for transcription errors made in presenting Best's Credit Ratings™. Best's Credit Ratings™ are proprietary and may not be reproduced or distributed without the express written permission of A.M. Best Company.
Pros and Cons of MassMutual Life Insurance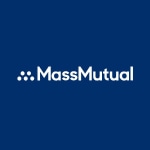 pros
MassMutual has an NAIC customer complaint ratio of .04, which is much lower than the median score of 1.
The company offers a guaranteed acceptance whole life product for those ages 50 to 75.
MassMutual has an A.M. Best financial strength score of A++, meaning it has a high likelihood of paying out on future claims.
Term policies are convertible, and in some cases with conversion credit.
cons
MassMutual has an app for retirement savings services and one that's available if you have MassMutual employee benefits, but nothing specific for your independent life insurance policy.
There isn't an online rate calculator to give you an idea of what your policy will cost.
For the majority of the policies offered, you will need to have a medical exam.
You can't make a claim online, though you can begin the process by requesting the claim packet.
MassMutual Life Insurance Policy Details
MassMutual offers the whole gamut of life insurance products, from term and whole life to universal and variable universal life (VUL) products. It even offers a guaranteed acceptance life insurance product for people ages 50 to 75.
Term Life Insurance
MassMutual's Vantage Term policies come in three options: an annually renewable package for those 18 to 75, and a 10-year or 20-year term for people ages 18 to 65. The minimum face value is $100,000, but these can be issued at values as high as $5 million and above. The Vantage Term products have a guaranteed convertibility option, so you can change all or part of your policy over to any one of MassMutual's permanent life products. Some conversions even come with a full year conversion credit on the new permanent policy. Riders available on the term products are waiver of premium and accelerated death benefit. In some cases, if you choose to convert your term policy, the optional rider coverage can be converted as well.
Whole Life Insurance
Whole life is the core of MassMutual's portfolio of life insurance products. It has five different options in its Legacy whole life series and an additional survivorship product.
The Whole Life Legacy products include the 100 (which pays until age 100), 65 (pays until age 65), 20 Pay (which is fully paid after 20 premium-paying years), 10 Pay (which is fully paid after 10 premium-paying years) and the High Early Cash Value (pays until age 85). The minimum face amounts are $25,000 (except for the High Early Cash Value, where it is $100,000), and all of these products can be written for $1 million and higher. Issue ages are up to 75 years old, except for the 100, which is 90 years of age, and the 65, which is 60 years. The optional riders that are available for these five products include:
Waiver of premium
LTCAccess
Additional life insurance
Life insurance supplement
Guaranteed insurability
Renewable term
Accelerated death benefit
Transfer of insureds
Yearly term purchase.
The sixth whole life product is a survivorship policy. The minimum face value is $100,000. Both insureds must be between the ages of 18 and 90, and there can't be more than a 30-year difference in their ages. Riders available on this product are accelerated death benefit, estate protection, policy split option, supplemental insurance purchase, additional insurance purchase and waiver of premium.
The MassMutual Guaranteed Acceptance Life Insurance product also is a whole life policy offering. Designed for those ages 50 to 75, this policy requires no medical exam nor health questions, and you can't be denied coverage on the grounds of poor health. The coverage can be for amounts ranging from $2,000 to $25,000, and the premiums are guaranteed to remain the same for the life of the policy.
Universal Life Insurance
MassMutual has three products in the universal life category: the Universal Life Guard, Universal Life Navigator and Survivorship UL Guard.
Guard and Survivorship Guard are, understandably, very similar, and their minimum face amounts are $50,000 and $100,000, respectively. The issue age for Guard is 0 to 85 years old, while for the survivorship policy, both insureds must be between 18 and 85. Both policies have the same two death benefit options, as well as the riders for accelerated death benefit and substitute of insured. On the Guard policy, the waiver of specified premium rider is an option, and the Survivorship includes additional riders for estate protection and policy split option.
The Universal Life Navigator can be issued to those ages 0 to 90, for $50,000 and up. Available riders are:
Accelerated death benefit
Disability benefit
Guaranteed insurability
Other insured (spouse or child)
Substitute of insured
Waiver of monthly charges
Waiver of specified premium
There is one variable universal life product, named Variable Universal Life III, and as far as the specifics of the issue ages, amounts and riders available are concerned, they mirror those found in the Navigator product.
How to Make a Life Insurance Claim with MassMutual Insurance
To initiate a life insurance claim, you'll first need the appropriate forms. You can fill out a claim request online and request a packet be sent to you, or call to request a death claim packet. Then you can submit your claim paperwork by mail, fax or email. An examiner will send you a letter specifying the details of the policy and explaining any additional steps needed to complete the claims process.
How to Contact MassMutual Life Insurance
CUSTOMER SERVICE PHONE NUMBER

800-272-2216
About MoneyGeek Team
---
---