MoneyGeek's Take: Is Equitable Right for You?
Equitable Financial Life Insurance Company is a good fit for a wide range of consumers because it offers a variety of life insurance policy types, including term life insurance and universal life insurance. Additionally, the company offers a number of riders for its universal life insurance policyholders. Universal life may provide excellent cash value and investment options, and you may also be able to obtain a loan for a portion of the cash value.
Although Equitable offers a long-term care rider, it does not offer life insurance designed specifically for seniors. If you are looking for insurance to cover final expenses, Haven Life may be your best option.
Our Equitable life insurance review covers the policies the company offers to help you decide whether one could suit your needs.
At a Glance: Equitable Life Insurance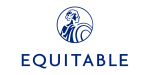 pros
Offers permanent and term life insurance
Available in all states and D.C.
Multiple riders for permanent life insurance policies
Not all policies need a medical examination
cons
Limited riders for term life policies
COMPANY HIGHLIGHTS
Equitable is the brand name of Equitable Holdings, Inc.'s retirement and protection companies, including Equitable Financial Life Insurance Company (NY). According to data from the National Association of Insurance Commissioners (NAIC), Equitable Financial Life Insurance Company has a complaint index of 0.52, which is lower than the industry average. The company also has an excellent rating for financial strength from AM Best, as well as a good rating from Moody's.
The company sells a range of life insurance products, including:
Term Series
Equitable Term-in-10
BrightLife Grow
Equitable Advantage Max
VUL Optimizer
VUL Legacy
VUL Survivorship
Its universal life insurance policies are versatile in terms of premiums, death benefit amounts and cash value, making them appealing to a large number of prospective clients. Borrowing against a portion of the cash value is permitted, and it grows tax-free.
The company also offers a set of riders, only available to certain term and universal life insurance policies. This includes a Long-Term Care Services Rider, which is ideal for those wanting coverage for care later in life, and any unused portion goes to the beneficiary. Its variable universal life insurance policy, VUL Survivorship, is designed for couples to offer tax-free retirement income and a death benefit.
Compare Life Insurance Rates
Ensure you're getting the best rate for your life insurance. Compare quotes from top providers to find the most affordable life insurance coverage for your needs.
Equitable offers several universal life insurance policies and two term life insurance policies.
Term life is convertible to a permanent policy within the first few years of the policy term.
Its universal life insurance policies build cash value and offer greater flexibility.
Equitable Policy Options Explained
The 2022 Insurance Barometer Study by the Life Insurance Marketing and Research Association (LIMRA) reveals that 68% of those with financial dependents feel safer with a life insurance policy, and 44% would have financial problems within six months without life insurance. Read more about the various plans offered by Equitable for life insurance so you can choose the best one for your family.
Term Life Insurance Options From Equitable
Term life insurance is typically the most cost-effective kind of insurance for temporary or short-term situations. It provides coverage for a certain amount of time but does not accumulate cash value. Your premiums may be fixed for 1, 10, 15 or 20 years with Equitable, or they may be renewable and climb annually depending on your age. A term policy is convertible to permanent insurance for lifelong protection without the need for a medical examination. The guaranteed death benefit is generally tax-free.
Equitable offers two types of term life insurance.
This term life insurance from Equitable is available for 1, 10, 15 or 20 years. After the term, the premiums will climb yearly if the policy continues. Policies lasting one year cannot be renewed. You can get riders to tailor your policy based on your current and future financial demands. If you choose this policy and do not renew it, you can meet your short-term needs for life insurance.

It's a sensible option for those who require life insurance protection in no more than 10 minutes and who want a digital, no-exam process. The duration of the insurance is 10, 15 or 20 years. Throughout the first few years of the policy term, there is also the option to change to a permanent policy.
When considering security and cost, term life insurance is hard to beat. Term life insurance might be a suitable option if you need temporary coverage for a year or if you need to safeguard your family while you pay off large debts. These policies are suitable for those that, should they pass away, want to make sure a child's education is funded, funeral expenses are paid or mortgage or debt is covered.
Universal Life Insurance Options From Equitable
Universal life (UL) insurance is permanent life insurance with a savings aspect, flexible premiums and access to loans (through accumulated cash value). Equitable offers three types of variable universal life insurance and one type of indexed universal life insurance.
Indexed Universal Life (IUL)

This is a form of life insurance that protects a single individual and pays a death benefit to the beneficiary of their choosing. Using IUL, you can invest your funds into an indexed-linked option that could increase your cash value in the policy based on how well a certain index performs, up to a certain limit, without having to pay taxes.

BrightLife® Grow is a form of flexible premium universal life insurance that credits interest based on the performance of major market indexes. You can choose from four indexed options or a Guaranteed Interest Account (GIA). Access to your cash value is available after the first policy year and before the policyholder's 121st birthday. It offers two death benefit options and a choice of riders.

Variable Universal Life (VUL)

Variable universal life insurance has the potential to accumulate cash value. A portion of your payments go toward the death benefit payout, while the remainder is invested, of which you can choose where. However, it comes with the risk of losing your investment money. The death benefit payout is tax-free and can replace income or cover expenses.

This life insurance policy can be a key component of your general retirement income plan since it offers tax-deferred growth, prospective tax-free income and a death payout that is not subject to income tax. It offers a range of investment options for you to invest your money in. To be eligible, you must qualify financially and medically; your previous medical records will be examined without the need for a medical exam or lab test.

This is a life insurance policy with the possibility for cash value building through tailored, professionally-managed investment portfolios and a wide range of investment opportunities. Besides tax advantages, it offers flexible premiums, two death benefit options to choose from and a choice of riders.

This life insurance policy is aimed at consumers seeking inexpensive permanent life insurance and market-sensitive investment possibilities for their premium dollars. It has flexible premiums, a flexible face amount, two death benefit options, a choice of riders and a tax-free advantage.

This life insurance policy protects couples who seek insurance as well as the opportunity to supplement their retirement income. Besides the tax benefits, it lets you tailor your investment options to suit your needs as well as customize your policy using optional life insurance riders. It has the potential to generate tax-free retirement income.
If you desire lifelong protection but expect your insurance needs to change over time, universal life insurance may be the best option for you. Investors that place a premium on policy adaptability and substantial growth in cash value may find these products appealing.
Compare Life Insurance Rates
Ensure you're getting the best rate for your life insurance. Compare quotes from top providers to find the most affordable life insurance coverage for your needs.
Equitable's Life Insurance Riders
A life insurance rider is a fee-based or free add-on that you can apply to your policy. For Equitable's life insurance, you get to choose from multiple riders, depending on your policy type. We review some of the options below.
Rider

Description

Long-Term Care Services Rider

This rider is available for a fee and allows you to obtain an accelerated death benefit
that can be used for eligible long-term care expenses. It is available on some universal
life policies.

This add-on rider for universal life policies boosts your cash value by decreasing the
surrender fee if you surrender your policy within the first eight policy years.

The Charitable Legacy Rider is free to add and grants an additional death benefit to as
many as two approved charities. The total death benefit payable under the rider is
equal to 1% of the face amount of the base policy, up to a maximum of $100,000. You
must specify the charity or charities at the time of issuance, although you can modify
them later. Applicable for plans with face values of at least $1,000,000.

Loan Extension Endorsement

If certain criteria are met, it guarantees that the policy won't lapse as a result of a loan
sum that is greater than the larger of the current and initial base policy face amounts.

Disability Premium Waiver Rider

On Term Series policies, it is addable to provide a waiver of premiums due if the insured
becomes totally disabled.

Children's Term Insurance Rider

It is available on Term Series and universal life policies. It provides term life insurance
for the insured's children and is convertible to permanent life insurance without a
medical exam.

Return of Premium Death Benefit Rider

Beneficiaries receive an additional death benefit that may be equal to a percentage
sum of premiums paid.

Living Benefits Rider (Terminal Illness)

Included at no cost on Term Series and universal life policies, the Living Benefits Rider
provides a portion of the death benefit if the insured is terminally ill.
How to Get Equitable Life Insurance
Learning how to get a life insurance policy from Equitable is the next step after becoming familiar with the many insurance choices available. It's prudent to have a plan B in place in case Equitable rejects your application. In this part, we'll talk about both.
How to Buy Life Insurance From Equitable
1
Do Your Research
It is important to be informed about the many options for life insurance. You can use Equitable's online resources or speak with a broker or insurance representative to discover more about your options.
2
Compare Quotes
It's always a good idea to compare quotes for life insurance, even if you think you found what you need. Your premiums will vary widely depending on details, such as your age, gender, health status, lifestyle choices and medical history. For example, if the one you're thinking about with Equitable is prohibitively pricey, you might want to consider looking into alternatives.
3
Health Check
Next, you'll need to submit an application and, if necessary, pass a health screening. In most cases, the doctor will conduct both a physical assessment and a phone interview. An underwriter may request additional information from you in order to better evaluate your profile's risk.
4
Approval
If your insurance application is accepted, Equitable will grant you a policy. If you need to know more, talk to your insurance agent or broker.
What to Do if Equitable Insurance Denies You Coverage
1
Contact Your Broker
Finding out more about what happened can be done by getting in touch with your broker or the company's representative and asking for details.
2
Lifestyle Changes
If you were rejected due to a lifestyle habit, such as smoking or a negative medical examination, make changes to your lifestyle to improve your health and better your chances of getting approved. With the changes, you may even get life insurance at a better rate.
3
Explore Other Options
Finally, you should look into other insurance choices, especially those that do not require a medical exam. You may have to settle for less coverage or a higher premium as a result.
Frequently Asked Questions About Equitable Life Insurance
MoneyGeek discusses the most prevalent questions related to Equitable life insurance products.
Life Insurance
Life Insurance