MoneyGeek's Take: Is American Fidelity Right for You?
AmFi's life insurance is an excellent choice for military members and their families thanks to its military-specific offerings and Servicemembers' Group Life Insurance (SGLI) membership. The company provides policies for civilians as well.
AmFi focuses on simple permanent life insurance policies, including whole life and universal life. Its policies build cash value, which provides an additional layer of financial security for the future. Since permanent life insurance policies combine life insurance with a savings account, those looking for this type of coverage may find that AmFi's plans are a good fit.
However, AmFi does not offer term life insurance or specific final expense options for seniors. Those looking for these policy types may find that Mutual of Omaha is a better fit for both term life and guaranteed acceptance insurance.
Read our comprehensive review of AmFi Life Insurance to learn additional details about the company and its policies and help you to make a well-informed decision.
At a Glance: American Fidelity Life Insurance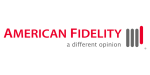 pros
Offers coverage that caters to military personnel
Available in all states except New York and New Jersey
Online portal available for policyholders
cons
Limited policy details available online
Does not support online quotes or applications
Does not offer final expense insurance
COMPANY HIGHLIGHTS
Since its inception in 1956, AmFi has been committed to offering secure and reliable cash accumulation life insurance products. It invests in U.S. Government bonds and highly rated corporate bonds to build cash value for its customers' policies. In addition, AmFi has a strong focus on military members and their families, providing insurance coverage and support to those who serve our country.
AmFi received only two complaints in 2022, but due to the company's small market share, these minimal complaints led to a high complaint index of 21.01, according to the National Association of Insurance Commissioners (NAIC). Nevertheless, the small number of complaints over the past three years highlights the company's commitment to customer satisfaction.
AmFi offers both types of permanent life insurance: whole life and universal life. Both build up cash value, but universal life plans offer more flexibility by enabling policyholders to adjust coverage levels and premiums over time if needed, subject to a medical exam. AmFi also underwrites Servicemembers' Group Life Insurance (SGLI), which is available to eligible military personnel, and allows servicemembers to transfer their SGLI term life policy to a permanent policy when they complete their service.
Compare Life Insurance Rates
Ensure you're getting the best rate for your life insurance. Compare quotes from top providers to find the most affordable life insurance coverage for your needs.
AmFi offers policies that cater to both civilian and military families.
This provider focuses on permanent, cash-value-building life insurance policies.
AmFi does not offer any senior-specific policies such as final expense insurance.
American Fidelity Policy Options Explained
According to a 2022 Insurance Barometer Study by the Life Insurance Marketing and Research Association, 68% of insured American adults with financial dependents feel secure, while only 47% of adults without life insurance feel secure. AmFi Life Insurance recognizes the importance of life insurance and provides permanent policy options to help clients support their families.
Term Life Insurance Options From American Fidelity
Coverage for term life insurance lasts for a predetermined number of years at a lower premium than other life insurance plan types. If the policyholder passes while the term policy is in effect, their beneficiaries can use the policy payout on expenses like rent, mortgages, child care or to cover final costs.
Servicemembers' Group Life Insurance (SGLI)

AmFi is an underwriter of the Servicemembers' Group Life Insurance (SGLI), a group term life insurance policy offered by the U.S. military. SGLI provides life insurance coverage to all active-duty military members, ensuring their families are protected in the event of an unexpected tragedy.

AmFi recommends supplementing SGLI coverage with its individual life insurance policy options — for example, its flexible universal or whole life insurance plans — and building a cash reserve for the future.
While AmFi doesn't provide term life insurance to civilians, it highly recommends that active-duty military members participate in the SGLI program policy as it offers inexpensive premiums during their time in the service.
Whole Life Insurance Options From American Fidelity
AmFi's whole life insurance is a permanent life insurance plan that accumulates cash value over time, providing both a death benefit and a savings account that can be accessed while you're still alive. The premiums for this policy are fixed, guaranteed and remain constant throughout the life of the policy. Interested individuals should consult an AmFi Life Insurance representative to learn more about this policy and determine if it fits their needs.
AmFi's whole life insurance policy is ideal for those who are looking for long-term financial security, protection against premature death and a savings component. Since the premiums are fixed and guaranteed throughout the life of the policy, this policy is suitable for individuals who want predictable and stable payments.
Universal Life Insurance Options From American Fidelity
AmFi's universal life insurance is a flexible policy that offers both a death benefit and a savings account component through its cash value. The cash value component typically earns interest at a money market rate. This policy allows policyholders to change their death benefits if their needs change over time, within limits.

Once funds accumulate in the cash-value account, there is more flexibility around when the premiums are paid, as long as the cash value can cover administrative costs and other fees. Otherwise, you risk the policy lapsing. AmFi includes limited details about coverage limits and costs on their website, but you can contact an agent to learn more.
AmFi's universal life insurance policy is best for those who want more flexibility and control over their death benefits and premiums. This policy may also be suitable for individuals who have changing financial needs or want to have a say in how their policy operates. Since this policy has a savings component, it's ideal for individuals who are looking for long-term cash value growth.
Compare Life Insurance Rates
Ensure you're getting the best rate for your life insurance. Compare quotes from top providers to find the most affordable life insurance coverage for your needs.
American Fidelity Life Insurance Riders
Life insurance riders are additional provisions that can be added to a life insurance policy to enhance or modify its coverage. Some common riders offered by life insurance companies include accelerated death benefit riders, accidental death benefit riders and waiver of premium riders.
Based on the information available on the company's website, it is likely that AmFi Life Insurance offers life insurance riders. Interested individuals may contact an AmFi Life Insurance agent to learn more about their available insurance policies and riders.
How to Get American Fidelity Life Insurance
After reviewing the different types of life insurance plans, the next step is purchasing a policy. This section outlines how to obtain life insurance from AmFi Life Insurance, as well as how to respond if your application is denied.
How to Buy Life Insurance From American Fidelity
1
Do Your Research
Your first step when considering a life insurance policy should be to do some research on the various plans available. You can evaluate your options by browsing AmFi's website or by contacting an AmFi Life Insurance agent.
2
Compare Quotes
Although you may find an insurance policy that meets your requirements, it's always a good idea to compare quotes because factors such as age, gender, smoking habits, medical history and overall health can affect your insurance premiums. Assessing different options may help you get coverage at a more reasonable cost.
3
Health Check
After deciding on a policy, you'll need to complete an application, which may involve a medical exam or health questions depending on the company and plan. The underwriter may require extra information during the process.
4
Approval
Once AmFi Life Insurance approves your life insurance application, you will receive your policy. If you have any questions about policy terms or details, reach out to your agent.
What to Do if American Fidelity Denies You Coverage
1
Contact Your Broker
Start by asking an AmFi agent about the reasons for the denial and explore any potential areas of improvement. This may increase your chances of approval when reapplying in the future.
2
Lifestyle Changes
If your lifestyle or health were the reason for the denial, you may consider making certain changes to improve your health and likelihood of approval, such as quitting smoking, limiting alcohol consumption or managing stress levels.
3
Explore Other Options
Ultimately, it's worthwhile to explore other life insurance policies or to prioritize those that don't require a medical evaluation. However, these policies may have restricted coverage or higher costs.
Frequently Asked Questions About American Fidelity Life Insurance
Discover answers to frequently asked questions about AmFi Life Insurance and determine if it is the best option for you.
Life Insurance
Life Insurance