MoneyGeek's Take: Is Alfa Right for You?
Alfa's simple term policy and flexible universal and whole policy options make it a good fit for younger people who need coverage they can modify or upgrade if their needs change. This provider may also interest those with pre-existing conditions or people who don't want to take a medical exam to apply.
Alfa life insurance may not be ideal for seniors because of its limited senior-specific and final expense policy options. State Farm is MoneyGeek's top choice for seniors.
MoneyGeek's Alfa life insurance review can help you make an informed decision before applying.
At a Glance: Alfa Life Insurance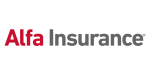 pros
Offers flexible billing options and 24/7 bill pay via phone
cons
Not available in some states
Requires annual membership for Alabama residents
There might be better insurance options for seniors
COMPANY HIGHLIGHTS
Alfa life insurance is a well-known carrier in the United States that offers a variety of policy options to fit the needs of its customers.
With competitive rates and a strong reputation for customer service, Alfa provides valuable protection for families in the event of a death. According to the National Association of Insurance Commissioners (NAIC), Alfa life insurance receives minimal complaints. It has a complaint index score of zero, which falls below the national index. This insurer offers insurance like auto, home, farm and health.
Alfa offers nine life insurance products:
Level Term Plan
30-Year Return of Premium
Rapid Issue Term Life
Whole Life Insurance
Interest Sensitive Plan
Flexible Universal Life
Guaranteed Acceptance Life
Final Expenses Plan
First Step Life
All of these require a medical exam except Guaranteed Acceptance Life, Final Expenses Plan and First Step Life. Term life insurance plans usually require a medical exam, but it depends on the applicant's age.
There are advantages to purchasing permanent life insurance plans from Alfa. One includes building cash value. These policies may include accelerated death benefits to help pay for medical and other expenses if you become terminally ill. Unlike term policies, permanent life policies do not have a term limit.
Compare Life Insurance Rates
Ensure you're getting the best rate for your life insurance. Compare quotes from top providers to find the most affordable life insurance coverage for your needs.
Alfa offers nine life insurance products that applicants can choose from.
There are death benefits for Alfa's permanent life insurance plans.
Life insurance applicants might be required to undergo a medical exam depending on their age.
Alfa Policy Options Explained
According to the Life Insurance Marketing and Research Association's (LIMRA) 2022 Insurance Barometer Study, 68% of respondents reported feeling more financially secure after acquiring life insurance. Learn about Alfa's life insurance policy options to determine which one is the most suitable for your family's circumstances.
Term Life Insurance Options From Alfa
Term life insurance provides coverage for a specified number of years at a more affordable premium than other life insurance policies. If the policyholder passes while the policy is active, their beneficiaries can receive the death benefit payout to cover expenses such as rent, mortgage, child care and final costs.
Level Term Plans provide coverage for a specific period, usually 10 to 30 years. The policy features a level premium, meaning the cost remains the same throughout the policy term. The policyholder can renew their coverage at the end of the term or convert it to a permanent life insurance policy.

30-Year Return of Premium

The 30-Year Return of Premium policy offers level death benefit protection for 30 years. At the end of the policy term, it returns all premiums paid. If you cancel the policy early, you still might get some money back. It is an affordable option for long-term coverage with the added benefit of receiving a premium refund.

Alfa's Rapid Issue Term Life insurance policy is for individuals who need coverage quickly without undergoing a medical exam. It offers coverage worth up to $75,000, and you can receive your policy within minutes of applying online. The policy is available for individuals between the ages of 18 and 70 with a term of 10, 20 or 30 years. The policy's premiums are fixed and will not increase during the policy term.
People at different life stages can benefit from term life insurance. Younger buyers, new families or people who have recently taken out a mortgage may find it ideal. Term life insurance is more affordable than other policies, making it manageable for those balancing other financial obligations.
Whole Life Insurance Options From Alfa
You can get long-term coverage through a whole life insurance policy by paying a set premium over time. These policies come with a cash value component that accumulates. You can borrow the accrued value against expenses like school fees or a home down payment while the policyholder is still alive.
Alfa offers Whole Life Insurance with different payment options tailored to diverse financial situations. The policies, including Single Pay, Ten Pay and Life Pay, provide guaranteed premiums, death benefits starting at $15,000 and a guaranteed cash value component.

While Single Pay requires a lump-sum payment, Ten Pay allows payments over 10 years. Life Pay involves payments throughout the insured's lifetime. The plan offers coverage to individuals up to 80 years of age and an interest-sensitive cash value feature.

With a death benefit starting at $15,000, Alfa's Interest Sensitive Plan is ideal for people up to age 75. This policy provides cash accumulation that earns interest. The earnings can be used to pay your premiums.

Guaranteed Acceptance Life

Alfa's Guaranteed Acceptance Life insurance can protect your family's financial future by paying for things like credit card debt, medical bills and funeral costs. It is an affordable policy for people between the ages of 40 and 80. It doesn't require a medical exam, and you won't be turned down for medical reasons.

This plan is available for kids up to age 14 and offers a death benefit amount of $15,000 or more. It is an interest-sensitive policy with flexible payments.
A whole life insurance policy provides you and your child lifelong protection. This policy benefits buyers with long-term dependents or those planning their estate. The cash value component makes it a good choice for buyers with health conditions that may require long-term care.
Universal Life Insurance Options From Alfa
Universal life insurance is a type of permanent life insurance that offers lifelong coverage like whole life insurance. However, unlike whole life insurance, universal life insurance provides more flexibility since you can adjust your coverage levels to match your current needs.
Flexible Universal Life Insurance

Alfa's Flexible Universal Life Insurance policy is a permanent life insurance plan that offers flexible death benefits and premium payments that policyholders can change as needed. It also allows for temporary suspension of payments. This plan is suitable for individuals seeking flexibility in their coverage and payments. The death benefit amount is at least $25,000, and this policy is available for people up to age 80.
Universal life insurance can provide permanent coverage while allowing buyers to adjust their coverage levels based on their changing needs. This flexibility can be appealing if you want long-term protection with the ability to only pay for the coverage you need at the time.
Final Expense Insurance Options From Alfa
Final expense insurance is a type of life insurance designed for seniors or individuals nearing the end of their life. Its benefits can help alleviate the financial burden on loved ones for any funeral or end-of-life expenses that may arise.
This permanent life insurance policy covers final medical, burial or other expenses for people between the ages of 15 and 80. Coverage ranges from $5,000 to $15,000 and can be issued quickly without a medical exam. It's ideal if you are planning for end-of-life costs and want to provide financial protection for your loved ones.
Final expense insurance is permanent insurance that helps cover funeral or end-of-life expenses. It can be a valuable option for those who want to protect their loved ones from financial burdens after their passing.
Compare Life Insurance Rates
Ensure you're getting the best rate for your life insurance. Compare quotes from top providers to find the most affordable life insurance coverage for your needs.
Alfa's Life Insurance Riders
Adding a rider to your life insurance policy allows you to customize your coverage at an additional cost. Alfa offers several riders for policyholders to tailor their coverage to fit their individual needs.
Rider

Description

Pays out if the insured dies accidentally.

Children's Term Insurance

Provides a level death benefit for each insured child up to age 25. If the insured dies during
the term, you must pay the policy until the child reaches age 25.

Guaranteed Purchase Option

Allows buying additional coverage at certain times even if the insured has become
uninsurable due to a terminal illness.

Guaranteed Renewability Benefit

Lets you renew a Level Premium Term policy at the end of the level premium period or a
Return of Premium policy at the policy expiration, regardless of health.

Prevents the cancellation of a policy on the insured's child's life until age 25 if the premium
payer dies or becomes disabled. This rider is available for children up to age 14.

Provides level term coverage for a spouse up to age 65. It can be converted to a permanent
plan of insurance before the expiration of the rider.

Waiver-of-Premium Benefit

Keeps the insurance policy in effect without payment of premiums while the insured is
disabled.
How to Get Alfa Life Insurance
If you are ready to purchase a life insurance policy from Alfa, these are some steps to follow, as well as strategies to handle a denied application.
How to Buy Life Insurance From Alfa
1
Do Your Research
Figure out which life insurance plan meets your needs. Alfa's website allows you to compare policies and prices, ensuring you get the right coverage at a rate that fits your budget and needs.
2
Compare Quotes
By comparing quotes, you can ensure you get the best plan at the most affordable price.
3
Health Check
Medical exams can be essential when buying life insurance because they help determine your health status, which is a critical factor in determining your premium rates. Insurance providers use your health check to assess the risk they are taking by insuring you. You might be able to skip this step if you opt for a policy that doesn't require an exam.
4
Approval
After submitting your application, the underwriting team at Alfa will review your information to assess the risk of insuring you. They may request additional information or medical exams to evaluate your health status better. Once they have gathered all the necessary information, they will determine whether to approve your application and provide a rate for your policy.
What to Do if Alfa Insurance Denies You Coverage
If Alfa denies you coverage, it's important to remember that many other options are available for life insurance. First, contact your broker and ask why your application got denied. You can also consider making lifestyle changes to improve your health. These changes might even help you access lower premiums.
Another option is exploring other life insurance options, such as final expense insurance. However, remember these policies could be expensive and more limited.
Frequently Asked Questions About Alfa Life Insurance
We responded to the most asked questions about Alfa life insurance.
Life Insurance
Life Insurance