What Is Weekend Car Insurance and How Can You Get It?
You may find yourself in situations where you only need car insurance for a weekend. Insurers don't offer temporary car insurance policies, but you can consider rental insurance instead. A traditional auto insurance policy requires paying at least a month's premium. You can then potentially refund the unused amount.
Compare Auto Insurance Rates
Ensure you're getting the best rate for your auto insurance. Compare quotes from the top insurance companies.
Advertising & Editorial Disclosure
Last Updated: 11/4/2022
You might find insurers that offer car insurance for one or two days. MoneyGeek cautions you against them. Usually, the shortest car insurance policy you can purchase lasts six months, so those offering brief coverage may be insurance scams.
Car insurance follows the car, not the driver. If you're using your friend's car, their policy may cover you as long as you have your friend's permission to use the vehicle.
For other situations, you may need to purchase coverage. Although insurers don't offer weekend car insurance, you have several options for temporary coverage. One is buying a policy and canceling it early. Another is purchasing rental car insurance instead of a standard policy.
Table of Contents
Methodology
Why Trust MoneyGeek? MoneyGeek conducted an in-depth study and gathered data from the state insurance departments and Quadrant Information Services to determine the average cost of car insurance. Our guide will help you determine how much short-term coverage typically costs and the steps you need to take when buying a policy.
Can You Insure a Car For Weekends Only?
The short answer is no — the briefest policies available through most insurers last six months to a year. Be wary of carriers that offer car insurance for a day or a week. Likely, these aren't legitimate offers. There are other ways to secure temporary car insurance coverage.
MONEYGEEK EXPERT TIP
If you only need car insurance for 30 days (or fewer), there are several creative ways to obtain it. One popular option is purchasing a traditional policy and canceling it early, but you can also consider buying rental car insurance instead. Non-owner car insurance is a good alternative if your main objective is to have proof of insurance. Other options include pay-per-mile or rideshare coverages.
How Much Is Short-Term Car Insurance?
The cost of short-term car insurance varies depending on what kind of coverage you purchase. Drivers often opt for a standard policy and then cancel it after a few days, weeks or months. The table below can give you an idea of how much this might cost.
Average Cost of Short-Term Insurance
Scroll for more
State

Average Driver: 3 Months

Average Driver: 1 Month
Compare Insurance Rates
Ensure you are getting the best rate for your insurance. Compare quotes from the top insurance companies.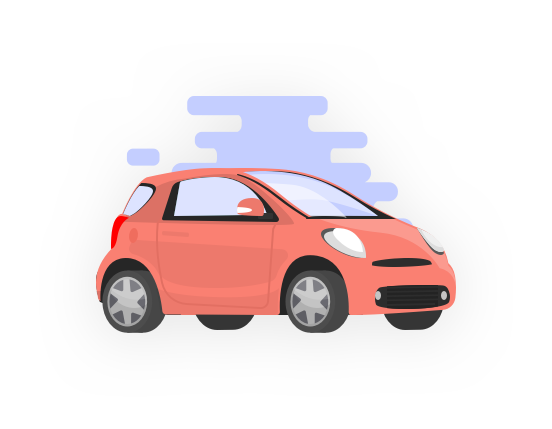 How to Buy Temporary Car Insurance
Comparing estimates from multiple providers is an effective way to find which insurer offers the cheapest temporary car insurance. You'll need several documents to complete your application. These may include your driver's license, social security number, bank account details and information about the car you want to insure.
Once you've gathered this information, there are several routes you can take to purchase temporary car insurance; MoneyGeek outlined some of the most common of these below.
Buy and cancel is a popular option among drivers. This method involves purchasing a typical car insurance policy and terminating it early. Remember that you'll have to pay at least a month's premium to do this.

When you don't need coverage anymore, you can terminate your policy by calling your insurer, mailing your cancellation request or visiting your insurer. The downside to this approach is your provider may apply penalty fees. If you want to avoid extra costs, look for a carrier that doesn't charge a cancellation fee.

Add a Driver to Your Insurance

You can add a driver to your insurance policy by calling your car insurance company. You must provide the other driver's information so they can process your request. The necessary information includes:

The driver's complete name, gender and date of birth

Social Security Number
Occupation
Driving history (how long they've had a license and whether there are recent violations on their record)

Purchasing a car insurance policy when you don't own a car may seem illogical, but you still need coverage to drive. Non-owner insurance is a way to obtain coverage if you regularly borrow or rent a vehicle. If you want to inquire about this option, contact your insurer directly. Most car insurance companies don't offer quotes for this type of coverage.

Usage-Based Car Insurance

As the term implies, how often you drive determines your rates. Metromile is one of the most popular usage-based car insurance companies, but other carriers offer similar options. It's wise to ask your insurer about this coverage type. You'll also want to determine if this option is available in your state before deciding on it.

Rental insurance is an option that fits drivers who don't own a car. Rental insurance is appropriate if you need coverage for shorter periods, such as during a vacation or business trip. You can purchase it from the car rental agent, but find out if your insurer offers this option to see if you can save on your next trip. If you have a credit card, check with your credit provider as well. Many credit card companies offer rental car insurance, but you may need to pay for your rental through the card to qualify for it.

Uber and Lyft maintain car insurance coverage for their drivers. If you work for a different rideshare company, you may have to arrange this type of coverage yourself. One way to do this is to call your insurer and ask if they offer a rideshare coverage option. If they don't, don't hesitate to explore other car insurance companies.
Why Buy Weekend Car Insurance?
There are several reasons why someone would need car insurance for a weekend. Short-term coverage may be beneficial in the following situations:
You're on a short vacation and want to rent a car.
You have errands to run but need to borrow a vehicle.
You borrowed someone else's car for a road trip.
You live with someone who regularly borrows your car.
You work for a rideshare company.
Temporary car insurance provides you the necessary protection for any or all of these scenarios.
About the Author
---
---