Individuals who often travel via United Airlines can enjoy the United Club℠ Infinite Card's benefits. Cardholders can earn miles by making eligible purchases and access travel perks like United Club membership, free checked bags and preferential treatment. This card may be ideal for international travelers, as it has no foreign transaction fees. Its $525 annual fee, however, may be too much for some.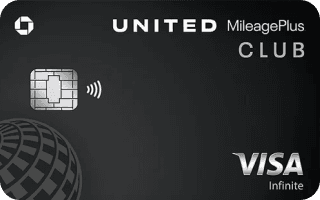 United Club℠ Infinite Card at a Glance
While the United Club℠ Infinite Card offers many benefits, it may not be the right option for everyone. Consider what the card offers for your specific needs.
Individuals can benefit by using this credit card to pay for eligible purchases with United Airlines, taxis, ride-sharing apps, local transit, cruise lines and delivery services. Cardholders can make purchases at restaurants, hotels, resorts and car rental companies to accumulate miles and redeem them for rewards. You can also use it for international purchases without incurring foreign transaction fees.
United Club℠ Infinite Card

An excellent card for earning United's MileagePlus miles

---

Excellent

Recommended Credit

$525

Annual Fee

1–4 Miles per $1*

Rewards Rate

4x

Rewards Rate on Air Travel

2x

Rewards Rate at Hotels

---
Pros & Cons Explained
Interested cardholders should consider the United Club℠ Infinite Card's benefits and limitations to receive a full picture of its features.
Pros
Benefits

Description

No Foreign Transaction Fee

Without foreign transaction fees, you can freely make purchases abroad without worrying about additional costs.

Travel Benefits

Cardholders enjoy various perks, including free first and second checked bags. This applies to the primary cardholder and one companion on the same reservation. That means you can save up to $35 each person for the first checked bag and up to $45 each for the second checked bag or up to $320 per round trip. Each individual also receives a United Club membership, which provides lounge access, along with priority check-in, boarding, baggage handling and security screening. Cardholders can also earn up to 25% back as statement credit for in-flight purchases.

Good Miles-Earning Rates

Redeem rewards faster by earning more miles. Cardholders can get 4x miles per $1 for United Airlines purchases and 2x miles on car rentals, ride-sharing services, tolls, hotels, restaurants and eligible delivery services.

Welcome Bonus

New cardholders can earn up to 100,000 bonus miles if they spend $5,000 on eligible purchases within the first three months.
Cons
Drawbacks

Description

Expensive Annual Fee

The United Club℠ Infinite Card credit card applies a $525 annual fee — significantly higher than other similar credit cards.

High APR

There is no intro APR. The regular APR for purchases, balance transfers and Chase loans is 20.74% – 27.74%. APR is 29.24% for cash advances and up to 29.99% for penalties.
LOOKING FOR THE BEST CREDIT CARDS OF 2022?
For frequent travelers, the United Club℠ Infinite Card's benefits can be appealing. However, other readers may want to continue their search for the ideal card. If you want to compare this credit card with other possible options, check out MoneyGeek's selection of the best travel credit cards for 2022.
Bonuses & Rewards Explained
The United Club℠ Infinite Card offers bonuses and rewards beyond its travel perks and lack of foreign transaction fees, including unlimited miles.
1
Up to 25% Savings
Using the credit card for in-flight United Airlines purchases allows cardholders to save up to 25%, which Chase returns as a statement credit.
2
Earn Miles
Cardholders can earn 4x miles per every dollar spent on United Airlines purchases, 2x miles on other travel purchases and at restaurants and 1x mile on other eligible purchases.
3
Welcome Bonus
Earn up to 100,000 bonus miles by spending $5,000 on eligible purchases in the first three months.
4
United Club Membership
Cardholders receive access to United Club locations and participating Star Alliance-affiliated lounges worldwide. Primary cardholders and eligible companions can enjoy complimentary snacks and beverages.
5
Up to $100 Statement Credit
Cardholders with either a Global Entry or TSA PreCheck can receive application fee reimbursements as a statement credit every four years for up to $100.
Other Features Explained
When looking for the best credit card, consider your personal needs, along with your current financial situation. Next, compare different features among various credit cards. For instance, aside from United Club℠ Infinite Card's benefits, the card also features strong security and protection measures. Chase's customer service support also garners positive satisfaction ratings.
Card Feature

Description

Exclusive Offers

Cardholders can receive complimentary Visa Infinite Concierge Service 24 hours a day. Use this feature to look for tickets to events, make dinner reservations or send gifts.

Additional Protection

United Club℠ Infinite Cardholders automatically receive certain security coverage. These features include trip cancellation/interruption insurance, baggage delay insurance, lost luggage reimbursement, auto rental collision damage waiver and purchase protection.

Customer Satisfaction

Chase customers can receive support service over the phone, along with their online accounts, mobile apps, social media platforms. Additionally, the company ranked second in J.D. Power's 2020 National Banking Satisfaction Study.
MONEYGEEK EXPERT TIP
United Club℠ Infinite Cardholders can earn up to 100,000 bonus miles per year by referring friends. Each referral earns you 10,000 bonus miles upon their approval for any United MileagePlus Cards.
Understanding the Fine Print
If you are considering applying for a Chase United Club Infinite Card, familiarize yourself with its features, fees and rates. Prospective cardholders should research the APR, rewards rates, annual fee, transaction fees and late fees for a complete picture of the card.
Card Feature

Amount or Rate

APR

20.74% – 27.74% Variable

Annual Fee

$525

Cash Back Rewards

Rewards Rate

1–4 Miles per $1*

Airline Benefits
The APR for purchases, loans and balance transfers is a high 20.74% – 27.74%. The cash advance rate is 29.24%, while the penalty APR for failure to make minimum payments by the due date or returned payments reaches up to 29.99%.

This card applies a high annual fee of $525.

You can earn 4x miles for every dollar you spend on United purchases, double the miles on other travel purchases, at restaurants and on eligible delivery services, and 1x on other eligible purchases.

Penalty fees for late and return payments may reach up to $40.

There is no foreign transaction fee, but cardholders have to pay either $5 or 5% for each balance transfer. Individuals must pay either $10 or 5% for every cash advance transaction, as well.
FINDING YOUR CARD'S RATES AND FEES
Interested applicants can easily research information to determine their ideal card. Visit the credit card issuers' websites or check out the Consumer Financial Protection Bureau's credit card agreement database. If you already have a credit card, check your latest billing statement, online account or mobile application for terms and conditions.
Who Should & Shouldn't Consider United Club℠ Infinite Card?
Loading...
Loading...
Other Considerations for United Club℠ Infinite Card
To help with your decision, consider how you plan on using the credit card. Requirements differ depending on whether you use the card as your sole credit card or as a complementary card.
Things to Consider if This Will Be Your First or Only Credit Card
You can opt to use the United Club℠ Infinite Card as your first or only credit card. However, its high APR may cause cardholders to incur high interest costs. To make up for the $525 annual fee, aim to maximize the card by focusing on eligible purchases.
Things to Consider if This Will Be an Additional Card in Your Wallet
Check your current credit card's features to make an accurate comparison. For instance, if you travel often and you want to enjoy exclusive perks, using the United Club℠ Infinite Card for your flight purchases may be a great idea. You can also take this credit card abroad, as it does not charge transaction fees for international purchases.
However, if you plan to make big purchases and cannot pay your monthly bills in full, consider a credit card with a lower APR or long introductory APR.
WHY TRUST OUR REVIEWS
MoneyGeek's methodology and process for this United Club℠ Infinite Card review uses information collected from credit card companies and the Consumer Finance Protection Bureau's database. We applied standardized data points based on fees, bonuses, rewards and estimated average spending profiles. MoneyGeek conducts a regular review to reflect changes in credit card details and offers.
How United Club℠ Infinite Card Compares to Other Cards
If you are looking for a credit card that earns miles, offers travel rewards and has no foreign transaction fee, then United Club℠ Infinite Card may be a good option. However, it has a high APR and an expensive annual fee. Consider checking other credit cards that offer similar features but have cheaper fees.
In-Depth Credit Card Comparisons:
Quick Comparison of United Club℠ Infinite Card
---
United Club℠ Infinite Card
Annual Fee: $525
APR for Purchases: 20.74% – 27.74% variable
Foreign Transaction Fees: 0%
Rewards Rates: 4x miles on United purchases, 2x at restaurants and on other travel purchases, and 1x on other eligible purchases
Best For: Frequent United travelers looking for a miles-earning card with significant travel rewards and no foreign transactions
American Express® Gold Card
Annual Fee: $250
APR for Purchases: 0% intro APR for 6 months, then 20.24% – 27.24% thereafter
Foreign Transaction Fees: 0%
Rewards Rates: 4x rewards points for eligible purchases at restaurants and U.S. supermarkets, 3x rewards points for flights booked directly, and 1x on other eligible purchases
Best For: Frequent fliers and diners looking for rewards cards
Other Helpful Decision-Making Q&As
MoneyGeek covers commonly asked questions about the United Club℠ Infinite Card. Use these responses to determine if you would proceed with a United Club℠ Infinite Card
Learn more about credit cards in general