The IHG® Rewards Traveler Credit Card is a viable option for applicants who want a more dynamic co-branded hotel credit that provides perks for staying at IHG hotels. While it only offers you one point for each dollar you spend on your daily purchases, you can use it at other IHG properties, gas stations, grocery stores and restaurants. Using this card can help you earn Gold Elite status, with which you can earn a 10% bonus on hotel stays. The card has a regular variable APR of 20.49% – 27.49% with no foreign transaction fees.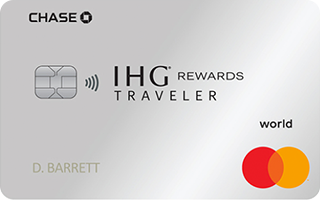 IHG® Rewards Traveler Credit Card at a Glance
Whether or not this credit card is right for you depends on your spending patterns. It can significantly help reduce the travel cost if you're a frequent user of IHG properties and combine it with another cash-back option.
IHG® Rewards Traveler Credit Card

Great card for earning points fast for IHG loyalists

---

Good–Excellent

Recommended Credit

$0

Annual Fee

1–2 Points per $1

Rewards Rate

15x

Rewards Rate at Hotels

2x

Rewards Rate on Gas

---
Pros & Cons Explained
While the IHG® Rewards Traveler Credit Card has many perks for IHG loyalists, it is also important to evaluate the downsides to determine if the card is right for you.
Pros
Benefits

Description

No annual fee

With no annual fee, this can be a great rewards card that doesn't require a minimum spend to recover a fee.

No foreign transaction fees

The card is worth considering if you're planning to travel abroad.

Points don't expire

Points don't expire as long as there is activity on the credit card at least once every 12 months.

High reward rate

Cardholders can earn high IHG rewards points when spending money. You'll get five IHG points for every dollar upon paying for your stay with an additional 10 points for each dollar as an IHG Rewards Club Member, which is free to join.

Fourth Reward Night Free

You'll earn a reward night if you redeem points with IHG® Rewards Traveler Credit Card for a stay of four or more nights in any eligible IHG Hotels and Resorts worldwide with no blackout dates.
Cons
Drawbacks

Description

Gold Elite status requires high annual spending

You'll only get the Gold Elite Status once you spend $10,000 on purchases using the IHG® Rewards Traveler Credit Card in each calendar year.

High APR

The APR varies and it can be high depending on your IHG® Rewards Traveler Credit Card.

No luxury benefits or perks

The card's points aren't as valuable as points from other hotel cards, making the rewards limited.

Transferring IHG rewards points will cost you

With a IHG® Rewards Traveler Credit Card, you'll pay $5 per 1,000 points transferred.
Bonuses & Rewards Explained
Besides IHG® Rewards Traveler Credit Card benefits, you can earn 0.5% on all purchases and 1% on gas stations, restaurants and grocery stores. Also, you can earn up to 17X total points at IHG hotels if you combine this card with existing IHG Rewards member benefits.
You can keep your points active by extending the expiration date once you use your IHG® Rewards Traveler Credit Card, transfer IHG points or make a reservation at any IHG properties around the globe exceeding 5,800 points.
The best way to earn points with Chase IHG Rewards Club Traveler is to pay for hotel stays with the card. You'll get even more value by booking four nights or more since the fourth night is free.
1
Points
Earn one to 17 points per dollar based on your spending and rewards membership.
2
No expiration
Your points won't expire as long as your account is active.
3
Redemption options
You can convert your card's points into different gift cards, airline rewards or shopping benefits. It's also possible to redeem your points into eBooks, games and other digital products.
4
Fourth reward night free
Get one night free when you redeem points for a stay of four nights or more.
5
Authorized users
You can add authorized users to your account. Having additional users means increased spending that enables you to accumulate points faster.
Other Features Explained
The IHG® Rewards Traveler Credit Card doesn't offer a ton of luxury perks. However, it has other features and benefits that are beneficial.
Card Feature

Description

20% discount on IHG rewards club point purchases

This perk comes in handy when you need more points to redeem your rewards.

Purchase protection

The IHG® Rewards Traveler Credit Card protects all your new purchases for up to 120 days against damage or theft with up to $500 for every claim and $50,000 per account.

Cell phone insurance

If you're using your card to pay for your monthly phone cell bill, the card protects your phone against theft or damage with up to $600 per claim and $1,000 per year.
MONEYGEEK EXPERT TIP
Keep an eye out for extra perks such as discounted room rates that you can get by making reservations directly through the hotel. In addition, you may have access to a $30 in-room spa credit at participating hotels.
Understanding the Fine Print
Card Feature

Amount or Rate

APR

20.99% – 27.99% Variable

Annual Fee

$0

Cash Back Rewards

Rewards Rate

1–2 Points per $1

Airline Benefits
The IHG® Rewards Traveler Credit Card has a high variable APR rate of between 20.49% – 27.49% on purchases and bank transfers. Your card starts accruing interest when you start making purchases, and the percentage may differ depending on the current prime rate.

The IHG® Rewards Traveler Credit Card charges a relatively high fee of up to 5% on the total amount you transfer. The percentage is equivalent to a fee of up to $10. For instance, if you make a $2,000 transfer, you'll pay $100 as your balance transfer fee.

This card charges no annual fee.
FINDING YOUR CARD'S RATES AND FEES
When comparing the IHG® Rewards Traveler Credit Card with other travel cards, consider the card's APR, balance transfer fees and any other associated fees. You may also compare this card with a card you already have. Check through your last billing statement to find the APR fees and other fees for comparison. You can also find the information through the credit card agreement database maintained by the Consumer Financial Protection Bureau.
Who Should & Shouldn't Consider IHG® Rewards Traveler Credit Card?
Loading...
Loading...
Other Considerations for IHG® Rewards Traveler Credit Card
Before deciding whether or not you should fill out the IHG® Rewards Traveler Credit Card application, you should determine how you need to use the card. Pairing the IHG® Rewards Traveler Credit Card with other cards may help you maximize the value of this card.
Things to Consider if This Will Be Your First or Only Credit Card
If you're looking to make this your first or only credit card, it would be best if you consider the high APR when making purchases or transferring balances. Because of the card's high APR, you'll have to pay high interest rates during the monthly balance rollovers. Also, it does not offer cashback. Therefore, it is not a good option if you're planning on earning a given percentage on all your spendings.
Things to Consider if This Will Be an Additional Card in Your Wallet
If you plan to use it as an additional card, there are plenty of IHG® Rewards Traveler Credit Card benefits. You won't need to pay international transaction fees, making it ideal for traveling outside the United States. Additionally, it has no annual fee, so it's a great option if you're looking for a low-maintenance card.
However, the card doesn't have a cash back option and has low-value points. It also has a high APR, which can be a problem if you don't pay off your balance each month.
You can use this card by pairing it with other cards, such as those offering cash back rewards on your daily purchases. By doing so, you'll be eligible to earn up to 2% back on all your other purchases.
WHY TRUST OUR REVIEWS
MoneyGeek uses a thorough and up-to-standard methodology and review process to determine the best credit cards for our readers based on factors such as credit fees, rewards, benefits and more. The process involves gathering data from the Consumer Finance Protection Bureau's database, getting up-to-date data points for easy ranking calculations, projecting the annual average spend profile, determining annual and introductory bonuses, determining the long-term value of holding the card and conducting a regular review and re-ranking processes.
How IHG® Rewards Traveler Credit Card Compares to Other Cards
The IHG® Rewards Traveler Credit Card rivals other cards as it does not have annual fee and foreign transaction fees. However, comparing it with other travel cards will depend on what you want from the card.
In-Depth Credit Card Comparisons:
Quick Comparison of IHG® Rewards Traveler Credit Card
---
IHG® Rewards Traveler Credit Card
Annual fee: $0
Purchase APR: 20.49% – 27.49%
Cash back: N/A
Best For: Cardholders who plan to use reward points for travel stay without paying an annual or foreign transaction fee
Chase Freedom Unlimited®
Annual fee: $0
Purchase APR: 0% intro APR for 15 months, then a variable APR of 19.49%–28.24%
Cash back: 1.5% on general purchases
Best For: Cardholders looking to get valuable cash backs on travel purchases
Other Helpful Decision-Making Q&As
Is the IHG® Rewards Traveler Credit Card a good card for you? These frequently asked questions might help you as you figure out which credit card is right for you.
Still not sure about this card? Consider these options.
If you're unsure whether this card is the right option for you, you might want to consider other travel cards and compare what they have to offer. If you're not looking for travel credit cards, cash back credit cards may be a better option.
Learn more about credit cards in general