A study abroad program offers you an immersive experience in a different culture where you can explore international academics, learn a new language and make lifelong friendships. However, living in a new country often comes with challenges including how to wisely spend your money.
For many, credit cards are the best option for managing expenses abroad, especially when it comes to unforeseen emergencies or last minute travel adventures. Using credit cards can help with currency conversions, incidents of fraud and build your credit, but it's important you keep your spending on budget. Otherwise, you may be returning to the U.S. with unplanned debt.
Loading...
---
Should You Use a Credit Card While Studying Abroad?
When it comes to creating your study abroad budget, you need to think of the overall picture of living in another country for several weeks or months, maybe even a year! How much should you estimate for food, clothing, necessities and splurges? Will you travel on the weekends? How often will you go to cafes? Even more important: what form of payment will you bring with you — cash, debit or credit cards?
While it's common to use cash or debit cards for purchases in the U.S., it can be riskier abroad. For example, cash can be spent more easily without considering your overall budget, leading you to be short for other expenses in the month. It can also be more easily stolen. Conversely, your debit card may not be accepted everywhere and your bank may charge foreign transaction fees which can add up quickly if you're not strategic with your spending. Using credit cards abroad is another popular option because most cards are accepted worldwide, many without transaction fees, and provide fraud protection.
How Do Credit Cards Work Abroad?
Generally, how credit cards work abroad is similar to the U.S. When you use your credit card for purchases, you will still receive a monthly statement and a monthly due date for your payment. You can also still pay via your bank account. This often helps keep students abroad up to date with their spending, helps them build credit and can improve their credit score.
With that said, it's important you're aware of not only the benefits, but also the potential drawbacks, including accumulating debt. The following benefits and drawbacks can help you determine if using a credit card for your study abroad expenses is the right option for you.
Benefits of Using a Credit Card for International Students
As an international student, not only will you need to focus intensely on your academics abroad, you'll need to keep a close eye on your spending and expenses. A credit card is a convenient and safe way to help you manage your finances. Learn more about the benefits of using a credit card abroad as an international student.
Using a credit card can be easier than using and carrying cash, especially if it's widely accepted. It doesn't require you to change currencies or find ATMs for withdrawals.

Living abroad has its own challenges and adjustments, but your finances don't need to be one of those. For instance, if your cash is stolen or lost or your debit card is compromised, you will be in a stressful situation. Once your money is gone, it's not an easy feat to replace it and can take weeks for banks to refund your funds. On the other hand, if your credit card is compromised or stolen, your money is not impacted and the issuer's fraud protection will reverse the potential charges.

There are various rewards available to credit card users. Depending on the type of credit card and issuer, you can get reward points and cash back that you can use for future purchases.

Fewer foreign transaction fees

Debit cards typically have foreign transaction fees for use abroad, either at points of sale (POS) or ATMs. These can be pricey and add up quickly. However, you can find credit cards with no foreign transaction fees and this can save a lot of money.

Using your credit card and consistently paying on time can improve your creditworthiness. This can help you get better rates, higher credit limits and better loan terms in the future.
Potential Drawbacks of Using a Credit Cards Overseas
While students may find it beneficial to use credit cards during their study abroad, there are some potential drawbacks to be aware of. Knowing what these are can help you avoid making spending mistakes that can have a negative impact on your finances.
Failure to pay your monthly balance in full each month can lead to high interest rates. The rate varies depending on your credit card issuer, type of credit card and type of transaction. It's important to note this information when you choose a credit card.

While credit cards can help build credit, not using them responsibly can harm your report. Keep in mind, missed repayments and ongoing debts are noted on your credit report.

Depending on the credit card you choose, you may need to pay annual fees. These can range from tens to hundreds of dollars per year. It's important to keep this in mind when planning your study abroad budget.

Some fraud schemes target credit cards. While you technically don't lose money, and it is possible to get compensation, dealing with a fraud case can be stressful and time-consuming.
What International Students Need to Look for in a Credit Card
Finding the best student credit card can be overwhelming, especially if you are selecting your first card. There are various factors to consider when choosing a credit card. The features and benefits that matter most depend on how you plan on using it. For international students, these may include foreign transaction fees, annual fees, travel protection, rewards and bonuses. Having a clear understanding of how student credit cards work can also help you get started.
Foreign Transaction Fees
Foreign transaction fees, also known as international transaction fees, refer to the charges cardholders are charged for overseas purchases or when using a foreign bank to process a transaction. Depending on the card, this can be costly.
Even a low foreign transaction fee can add up over time and lead to a large expense. To save money, you can look for credit cards with no foreign transaction fees.
Annual Fees
Comparing annual fees when choosing your study abroad credit card can help. Annual fees refer to the amount credit card issuers charge to keep their cards active and the cost of fees may vary. Consider the benefits and features that a card offers to determine whether paying for the annual fees is worth it. You can also find no annual fee credit cards.
Travel Protection
As a study abroad student, you should also consider issuers' customer service and emergency assistance options. This is important if you lose your card or it's stolen. You may want to review fraud protection services, too. It's valuable to know your options in the event of hacking or unauthorized use of your card. Some credit cards also include additional travel protection features, such as account lock, car rental coverage, accident insurance, luggage insurance and travel delay.
Rewards and Bonuses
It's definitely worth comparing the rewards and bonuses of cards you're interested in. Some credit cards offer cash back, miles or rewards points. You can earn points when making certain eligible purchases and you can use your points as cash back, to offset payments or get additional benefits. Note that earning rates typically vary per card.
GET A SECURED CREDIT CARD
If you are looking for your first credit card and are just starting to build your credit, a secured credit card may be right for you. It is a great option for individuals with limited or no credit history. However, this type of credit card requires an up-front deposit.
Qualifying for a Credit Card While Living Overseas
Getting a U.S. credit card while you are living overseas can be challenging, but it is not impossible. While many credit card issuers may consider you a risky customer, there are banks offering specific credit cards for Americans studying abroad. In the steps below, learn how you can obtain a credit card while living abroad.
1
Be an authorized user
One way of getting a credit card is to be an authorized user on another person's credit card account. This means you will have your own card, but it will be tied to the primary account. Your account number will also be the same as that of the primary cardholder. Additionally, if the credit card issuer is reporting the activities made by authorized users to major credit bureaus, your credit score may benefit.
2
Get a co-signer
Students who are younger than 21 years old may not have access to an independent income. In this instance, they may research issuers that allow co-signers. If a close family member or spouse provides their income and credit history to the issuer, they can be a co-signer and help a student obtain a credit card.
3
Apply for a student credit card
Student credit cards were created to help students build credit. Typically, these cards have more reasonable requirements for credit scores and histories. However, many student credit cards have high annual percentage rates and lower credit limits because issuers are taking a risk providing them credit.
Navigating Your Finances and Credit Cards Overseas
Using a credit card can help you manage your finances while living abroad. However, you need to use your card responsibly and ensure you're aware of your spending. There are also some key factors to watch for when you get your monthly statement, such as reviewing foreign currencies and transactions and verifying your transactions are legitimate.
7 Tips to Maximize Your Credit Cards Overseas
While studying abroad, it's important to ensure your finances are on track. This applies to consistently maintaining your budget, planning travel and outings within your means and keeping your credit in good standing. It can be easy to lose sight of your daily credit card spending once you're abroad, especially as you're adjusting to a new culture, lifestyle and home, but there are some ways you can easily manage your credit card usage overseas.
1
Keep your account active
While studying abroad, keeping your credit card account active by using it and paying the monthly dues will help you build your credit and keep it in good standing.
2
Be informed about various fees
Using a credit card abroad may have corresponding fees. Among those you should be aware of are foreign transaction fees, exchange rate markups, interest charges and annual fees.
3
Use it to withdraw cash
There likely will be instances when you will need extra cash while abroad. In such cases, you can make a cash withdrawal using your credit card. However, it's important to be aware of withdrawal fees to avoid accruing unnecessary costs.
4
Plan your expenses
Maintaining a budget can help you manage your finances. It's a good idea to estimate your credit card purchases and be mindful of when you shouldn't use your credit card. This can help you avoid accumulating debt.
5
Opt for e-statements
For your protection and to ensure you have the most current account information, it's advisable to switch your credit card statements from mail to email while you're overseas. This will ensure your information isn't accessible to anyone while you're out of the country and you can quickly assess your spending and readjust your budget as needed.
6
Check rewards and discount opportunities
Make sure you understand your credit card's reward programs, such as cashback for certain purchases. You may also find student discounts available at merchants and retailers that can help you cut costs.
7
Consider the Dynamic Currency Conversion (DCC)
DCC refers to the transaction conversion from the local currency into U.S. dollars. While this may seem like a smart choice, it may lead to higher expenses. Paying in the local currency is based on what rate American Express, Mastercard or Visa has set. This is typically closer to the regular exchange rate.
Preparing Credit Cards Before You Travel
Before leaving the country for your study program abroad, it's essential you are financially prepared and understand your credit cards' limitations and features. The following steps can help you get started if you're planning on using your credit card overseas.
Ensure your credit card has the right features. It is important to verify whether your credit card can be used overseas. Some features you should look for include EMV capability. If you plan on using your credit card frequently, it may be wise to use a card that doesn't have foreign transaction fees.
Research your host country's accepted forms of payment. You need to be aware of what cards are accepted in your study abroad city and country. Some countries have limited or no credit card networks. Generally, Visa and Mastercard are the most widely accepted.
Bring more than one credit card. If you have multiple credit cards, it's advisable to consider bringing more than one card with you. This will provide you with a backup card if your primary credit card gets compromised, lost or stolen. You may also bring a debit card for emergency cash withdrawals.
Inform your credit card provider about your trip. You should let your credit card issuer know that you will be studying overseas. This way, they can watch for any suspicious and fraudulent transactions and notify you immediately if there are any issues.
Managing Finances and Budgeting While Abroad
While there are several factors to consider when deciding to study abroad, your finances are one of the most important things you need to prepare. It's crucial you budget and manage your finances well while studying abroad to avoid any financial issues during your program. Fortunately, there are multiple ways students can fund their study abroad and save money.
1
Apply for scholarships
Studying abroad can be expensive. However, there are a variety of scholarships available to help make it more affordable. There are three popular undergraduate scholarships who want to finish their education overseas to start with: the Fulbright Scholar Program, Gates Cambridge Scholarships and Marshall Scholarship.
2
Examine program costs
It is important to have a study abroad plan in place before applying. You'll want to research various study abroad providers, program locations, costs and fees and anticipated travel expenses. This will help you understand and estimate how much you need to spend and save for your study abroad.
3
Look for foreign study loans
You can also research student loans available for study abroad. You can start with U.S. Federal loans like Montgomery GI Bill, PLUS Loans and Stafford Loans. There are also private lenders that offer student loans. Your school's financial aid office and study abroad office are also a good place to start.
4
Find affordable accommodation options
One of the largest expenses you need to prepare for is your study abroad accommodations. While many programs offer shared and solo apartments, dormitories or homestays with local families, there may be other accommodation options within your host city that are available. Determining where you're going to live and the associated costs are necessary to your budget planning.
5
Learn to budget
Budgeting your money is one of the best ways to manage your expenses. You can assess your necessities and your "nice to haves" in order to prioritize where your money will be spent. By limiting your allowance and tracking your expenses, you can avoid unnecessary purchases.
Expert Insight on Using Credit Cards While Studying Abroad
Studying abroad is a life-changing, exciting and often intimidating experience. MoneyGeek reached out to several industry experts for their insights and advice to help you prepare financially for your study abroad program.
What is the most important thing individuals need to know when looking for a credit card they could use while studying abroad?

Do you have any tips to help students manage finances while studying overseas?
Ari Shpanya
Co-founder and CEO of LoanBase
Melanie Hanson
Editor in Chief at EDI Refinance
Marco Sison
Retirement Coach at Nomadic FIRE
Resources
Planning to study abroad requires thorough research on a wide variety of topics, such as the host country, program academics, accommodations, funding options and more. Additionally, you have to ensure you're well-prepared financially and have time to apply for scholarships, grants, aid and loans. Learn more about study abroad funding opportunities, tips and considerations in the following resources.
About Nathan Paulus
---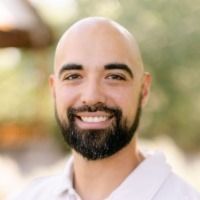 ---