Navigating the financial landscape can feel daunting, especially when unexpected expenses come knocking at your door. Maybe you're paying for home repairs or consolidating high-interest debt from credit cards — situations like these often require more cash than what's in your bank account. That's where personal loans come into play.
It's easy to be overwhelmed with the many loan options available. To help streamline your decision-making process, MoneyGeek identified the best personal loans in California. LightStream is our top pick for the best overall personal loan lender. Upstart is ideal for borrowers with bad credit, while SoFi is preferable for good credit. Upgrade and Best Egg are excellent choices for debt consolidation and home improvements, respectively.
Best Overall

---

7.49% to 25.49%

APR Range

Undisclosed

Minimum Credit Score

$5,000 to $100,000

Loan Amount Range

24 to 144 months

Repayment Terms

Same day funding possible

Time to Receive Funds

---
Best for Bad Credit

---

6.4% to 35.99%

APR Range

300

Minimum Credit Score

$1,000 to $50,000

Loan Amount Range

3 or 5 years

Repayment Terms

1 business day

Time to Receive Funds

---
Best for Good Credit

---

8.99% to 25.81% (with all discounts)

APR Range

680

Minimum Credit Score

$5,000 to $100,000

Loan Amount Range

12 to 60 months

Repayment Terms

2 Days

Time to Receive Funds

---
Best for Debt Consolidation

---

8.49% to 35.99%

APR Range

Undisclosed

Minimum Credit Score

$1,000 to $50,000

Loan Amount Range

24 to 84 months

Repayment Terms

Within a day

Time to Receive Funds

---
Best for Home Improvement

---

8.99% to 35.99%

APR Range

Undisclosed

Minimum Credit Score

$2,000 to $50,000

Loan Amount Range

36 to 60 months

Repayment Terms

Next Day

Time to Receive Funds

---
Understanding Personal Loans
Personal loans are more than just a financial transaction; they're a versatile tool designed to help you achieve various life goals or navigate unexpected challenges. You can use them to consolidate high-interest debt, fund a dream vacation or even cover medical expenses. The common thread here is the freedom to use the funds as you see fit, making personal loans a go-to solution for many financial needs.
Once approved, you receive a lump sum amount you agree to pay back over a specified period, usually one to seven years. The lender usually fixes your interest rate, meaning it won't change over the life of the loan. This predictability is a significant advantage, allowing you to budget your monthly payments confidently.
However, it's crucial to understand that the interest rate you receive isn't just a random number; your lender will tailor it to your financial profile. Factors like your credit score, income and debt-to-income ratio play a pivotal role in determining both your eligibility and the rate you'll receive.
Types of Personal Loans Available in California
When it comes to personal loans, one size does not fit all. The market offers a variety of types, each tailored to meet specific financial needs or situations. We explore the details of different loans below.
Understanding these different loan categories can help you make an informed decision that aligns with your unique circumstances.
Pros and Cons of Personal Loans
While personal loans offer the flexibility to cover a range of expenses and often come with more favorable terms than credit cards, they also carry risks like any other form of credit. Understanding the pros and cons of personal loans can help you make an informed decision that aligns with your financial goals and situation.
| Pros | Cons |
| --- | --- |
| Lower interest rates: Personal loans often have lower interest rates compared to credit cards for qualified borrowers. | Origination fees: Origination fees can add to the overall cost of your personal loan. |
| Debt consolidation: Personal loans allow the consolidating of high-interest debt into a single payment. | Penalty for early repayment: Some lenders may charge prepayment penalties if you pay off the loan early. |
| Quick access to funds: Personal loans often feature fast approval and funding processes for urgent needs. | Asset risk: There's a collateral risk in secured personal loans, which means potentially losing valuable assets if you fail to pay. |
| Co-signer advantage: You can have a co-signer with stronger creditworthiness to help secure better terms. | Restrictions on fund usage: Some lenders may impose some restrictions on how to use your personal loan. |
Where to Get Personal Loans in California
When you're in the market for a personal loan, you'll encounter a variety of lenders, each with their own set of offerings, terms and qualifications. Knowing the unique attributes of each can help you find the loan that aligns with your financial needs and lifestyle.
Traditional banks: These are the financial institutions you're probably most familiar with. They often offer competitive interest rates to existing customers as a loyalty perk, but their approval process can be stringent, requiring higher credit scores and more extensive documentation.
Credit unions: These are member-owned, not-for-profit organizations that typically offer lower interest rates and more flexible terms than traditional banks. To apply for a loan, you'll need to become a member, which usually involves living, working or studying in a particular area or being associated with a specific group or employer.
Online lenders: These digital-first platforms have revolutionized the personal loan space by offering quick approvals and funding, often within a day. While they can be more lenient with credit requirements, they may charge higher interest rates or origination fees, especially if your credit is less than stellar.
Ultimately, your choice of lender will depend on what aspects are most important to you — whether it's speed, lower interest rates or more accessible qualification criteria.
How to Get Your Best Personal Loan in California
In California, the average personal loan debt is $18,896, a figure that reflects both the high cost of living and the diverse financial needs of its residents. From covering emergency medical bills to financing home renovations or even launching a small business, Californians turn to personal loans for many reasons.
If you're considering personal loans for your situation, knowing how to find and apply for the right one will benefit you.
1
Assess your financial situation
Before diving into loan options, take a comprehensive look at your financial health. Check your credit score, as it will significantly impact your interest rate. Also, evaluate your monthly budget to determine how much you can afford in loan repayments.
2
Identify the loan purpose
Knowing why you need the loan will help you narrow down the type of loan that's best for you. Whether it's debt consolidation, a medical emergency or a home improvement project, the purpose will guide you in choosing the best loan terms and lenders.
3
Research lenders
As a rule of thumb, don't settle for the first lender you come across. Compare traditional banks, credit unions and online lenders, focusing on interest rates, fees and loan terms. Look for customer reviews and any red flags that might indicate less-than-stellar service.
4
Check eligibility requirements
Before applying, make sure you meet the lender's eligibility criteria. These often include a minimum credit score, stable income and sometimes even specific employment conditions. Knowing these requirements upfront will save you time and the disappointment of a potential rejection.
5
Gather necessary documentation
Prepare all the necessary documentation to streamline the application process. Most lenders will ask for proof of income, employment verification and possibly a list of your current debts and assets. Having these documents at hand will expedite the application and approval process.
6
Apply for pre-approval
Many lenders offer a pre-approval process that involves a soft credit check, allowing you to gauge your eligibility without hurting your credit score. This step is invaluable for comparing different loan offers and terms. It also gives you a clearer picture of what you can expect in terms of loan amount and interest rate.
7
Review offers and terms
After receiving pre-approval offers, take the time to review the loan terms carefully. Pay attention to the APR, monthly payments and any additional fees or charges. Understanding these details will help you grasp the total cost of the loan and avoid any unpleasant surprises down the line.
8
Submit a formal application
Complete the formal loan application once you've chosen the most suitable offer. This process usually involves a hard credit check, which can temporarily lower your credit score. Ensure all the information you provide is accurate and complete to avoid delays or potential denial of the application.
Alternatives to Personal Loans
While personal loans offer a versatile solution for various financial needs, they're not the only option. Other alternatives might be more suitable and cost-effective depending on your specific circumstances. These include:
Credit cards: Credit cards are a quick way to cover expenses, especially if you already have an account open. However, they often come with higher interest rates than personal loans, making them a more expensive option for long-term borrowing.
Home equity loans: If you're a homeowner, you can tap into your home's equity to secure a loan. While a home equity loan often comes with lower interest rates, it puts your home at risk if you default on the payments.
401(k) loans: Borrowing from your retirement account is another possibility. While this option doesn't require a credit check, it can jeopardize your long-term retirement savings and may come with penalties if not repaid on time.
Peer-to-peer lending: These platforms connect individual borrowers with individual investors. While they can offer more lenient approval criteria and personalized terms, the interest rates can vary widely, and there's often an origination fee.
Before choosing a personal loan, consider the other financial products available, selecting the option that best suits your needs and goals.
Frequently Asked Questions About California Personal Loans
The best personal loan lender for you depends on individual needs and various credit and income factors. We answered some of the most common questions about personal loans in California to help you find the best option for you.
METHODOLOGY
We reviewed more than 30 personal loan lenders using 35+ individual data points across six key categories: loan affordability, accessibility, consumer friendliness, customer service, flexibility and lender transparency.
Within each ranking criteria category, we considered several individual data points that we feel carry the most weight when choosing a personal loan lender. These factors include APR ranges, available loan amounts, minimum credit scores, minimum income amounts, application fees and disbursement time.
Here at MoneyGeek, we value you, the consumer, so we also factor in each lender's customer support, business ratings and additional features that could make your experience easier and more accessible — like prequalification, payment options and mobile apps.
After careful consideration and calculation, our picks are decided and chosen with your best interest in mind. Our personal loan recommendations and expert tips are meant to help you make the best decision when choosing a lender that meets your needs.
Personal Loans
Personal Loans
About Christopher Boston
---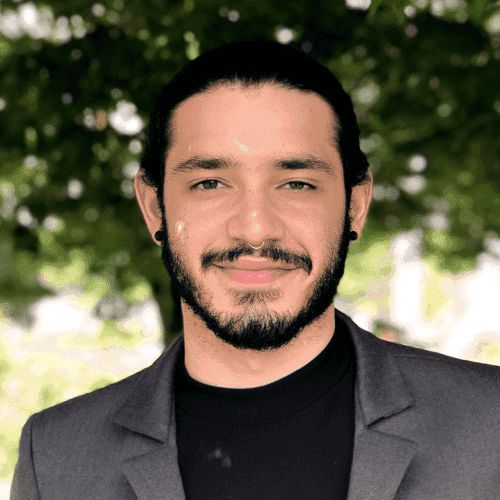 ---