MoneyGeek's Take: Is Ladder Right for You?
Ladder offers a range of term life insurance policies that can be modified based on your changing financial needs and situation. This kind of flexibility is ideal for individuals who are unsure about how much coverage they need or those in a position where their family's needs may change in the future.
However, a Ladder policy would not be a good fit for those looking for lifetime coverage. Northwestern Mutual is worth checking out if you're looking for whole life insurance, while State Farm is a great option for universal life policies.
Our full review of Ladder Life Insurance will help you get an idea of whether this provider's offerings could work for you and your family.
At a Glance: Ladder Life Insurance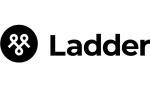 pros
No medical exam required for most applicants
Offers fully online application process
cons
Doesn't offer permanent life insurance
No final expense insurance options
COMPANY HIGHLIGHTS
Ladder is a fully digital life insurance provider that offers a straightforward online application with no medical exam required for up to $3 million in coverage. It issues life insurance policies across the country and has received zero customer complaints over the last three years, according to the National Association of Insurance Commissioners (NAIC).
However, Ladder only offers one type of policy: term life insurance. This type of insurance covers you for a specified period of time, usually 10 to 30 years, and can be renewed. It's a good option for those who want to protect their family in the event of an untimely death or who want short-term coverage. If you're looking for more than $3 million in coverage, you may be required to do a free at-home health check.
Ladder offers a unique system called "Laddering," which allows you to adjust your coverage — and, in turn, increase or decrease your premiums — if your circumstances change over time. This flexibility helps you ensure that your premiums stay at an affordable level and that you maintain adequate coverage against the risk of death over time. The company also has a money-back guarantee, so if you're unhappy with your coverage, you can cancel for a full refund within 30 days.
Compare Life Insurance Rates
Ensure you're getting the best rate for your life insurance. Compare quotes from top providers to find the most affordable life insurance coverage for your needs.
Ladder's 100% digital application process is easy and doesn't require you to undergo a medical exam for coverage amounts up to $3M.
Ladder only offers term life insurance, which may mean it's not the best option for those who want lifetime coverage.
Ladder's flexible Laddering system allows you to adjust your term life insurance policy over time, which is an uncommon offering.
Ladder Policy Options Explained
Although Ladder only offers term life insurance, it's a good option for many and is better than no coverage at all. In fact, 68% of respondents with financial dependents in LIMRA's 2022 Insurance Barometer Study indicated that owning life insurance makes them feel more secure.
Term Life Insurance Options From Ladder
Term life policies from Ladder are designed to cover you for a set period of time, typically 10, 20 or 30 years. If you pass away during this period, your beneficiaries will receive the death benefit amount specified on the policy. Ladder offers coverage amounts from $100,000 to $8 million and only requires a health questionnaire for amounts up to $3 million. For coverage over $3 million, you may need to do a quick at-home health check.

Ladder also offers a tool called "Laddering," which provides flexibility not usually available on term life policies. Laddering allows you to adjust your coverage depending on your needs. You can either "ladder up" to increase your coverage (your premium will also increase accordingly) or "ladder down" to decrease your coverage and premium. Laddering can be used as often as you like or not at all.
Term life insurance may be appropriate for people who can't afford permanent coverage or are unsure about how long they will need coverage. For example, if you're in your 30s and don't have children, it might not make sense to buy a whole life or universal life policy as these options cost more. A term policy can also be a good option if you plan on taking out another type of permanent insurance later on.
Compare Life Insurance Rates
Ensure you're getting the best rate for your life insurance. Compare quotes from top providers to find the most affordable life insurance coverage for your needs.
How to Get Ladder Life Insurance
When purchasing life insurance, it's important to understand the various options available to you. Here's what's involved in the application process, as well as what to do if your application is denied.
How to Buy Life Insurance From Ladder
1
Do Your Research
The first step in buying a policy is to do some research. It's essential that you understand the product you're buying and what it covers. Use an online tool, such as Ladder's calculator, to determine how much coverage you may need.
2
Compare Quotes
Once you've found an insurance policy that meets your needs, it's time to compare quotes from different companies to make sure you're getting a fair deal. You can easily get a quote from Ladder online.
3
Health Check
After you have settled on an insurance company, make sure that all of your health records are up to date prior to applying for coverage. Depending on the plan, you may need to undergo a medical exam. With Ladder, no exams are required as long as your coverage amount is under $3 million.
4
Approval
Once you've finalized and submitted an application, it's time to wait for its approval. Some insurers will provide instant approval, while others might require more time. If there are concerns with your application, they might ask you to fill out additional forms or provide additional information before they can approve your request.
What to Do if Ladder Insurance Denies You Coverage
If your life insurance application is denied, you can take steps to improve your chances of getting approved the next time around:
1
Contact Your Broker
The first course of action is to contact your agent or reach out to the company if you submitted an application online. They'll be able to explain what went wrong and help you address it, such as by offering advice on how to improve your application or help you find alternative coverage.
2
Lifestyle Changes
If your life insurance application was denied because of a specific health condition, you may be able to get coverage if you make lifestyle changes and can show an improvement in your health.
3
Explore Other Options
You may still be able to get other types of insurance coverage if you're denied traditional life insurance. For example, guaranteed acceptance policies will offer you coverage regardless of your health conditions. However, they generally cost more and provide lower coverage limits.
Frequently Asked Questions About Ladder Life Insurance
Here are answers to the most frequently asked questions about Ladder life insurance.
Life Insurance
Life Insurance