Travelers Home Insurance Review: Pros & Cons, Ratings, & More
Last Updated: 6/30/2022
Advertising & Editorial Disclosure
Overview of Travelers Home Insurance
In 1864, the first customer of Travelers Insurance paid a 2-cent premium to insure his four-block walk home. Since then, the company has added auto, workers' compensation, aircraft liability, and life insurance policies to its offerings, even opening an insurance school in 1903 and establishing a weather research center in 1956. In its century and a half, Travelers has gone on to become the 6th largest property casualty insurer in the country with a market share of over 3.8 percent.
How Does Travelers Home Insurance Rate?
Financial Strength Rating
Source

Rating

A.M. Best

A++
Effective Date: January 2020
A.M. Best's Financial Strength Rating opinion addresses the relative ability of an insurer to meet its ongoing insurance obligations. It is not a warranty of a company's financial strength and ability to meet its obligations to policyholders. View our Important Notice: Best's Credit Ratings for a disclaimer notice and complete details at http://www.ambest.com/ratings/notice.
Financial Strength is rated on a scale of D (poor) to A+ (superior). A rating notch of either a second "+" or a "-" indicates the gradation of financial strength within the category. We can't guarantee that the subsidiary of Nationwide Insurance rated here is the subsidiary that will underwrite your insurance policy. Check with your insurance agent and review A.M. Best's Financial Strength Rating Guide for more information.
Best's Credit Ratings™ are under continuous review and subject to change and/or affirmation. For the latest Best's Credit Ratings™ and Best's Credit Reports which include Best's Credit Ratings™), visit the A.M. Best website at http://www.ambest.com. See Guide to Best's Credit Ratings™ for explanation of use and charges.
Best's Credit Ratings™ reproduced herein appear under license from A.M. Best and do not constitute, either expressly or impliedly, an endorsement of MoneyGeek.com or its recommendations, formulas, criteria or comparisons to any other ratings, rating scales or rating organizations which are published or referenced herein. A.M. Best is not responsible for transcription errors made in presenting Best's Credit Ratings™. Best's Credit Ratings™ are proprietary and may not be reproduced or distributed without the express written permission of A.M. Best Company.
Pros and Cons of Travelers Home Insurance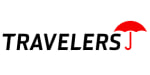 pros
If you bundle with a Travelers auto policy, the multi-policy discount is substantial.
The online quoting system is more thorough than some other companies and can automatically research not only a physical description of your house but also the purchase date and how many mortgages, if any, are on the home.
Travelers has catastrophe response teams and self-contained mobile claim offices for handling homeowner claims during disasters.
cons
There is not a replacement cost buffer built into the policy — rather, you may purchase this additional coverage for an extra cost.
Though windstorms are considered covered perils, there is no additional wind damage coverage available.
You may be directed to call in to complete your policy purchase.
Travelers Home Insurance Coverage
Travelers offers limited flexibility in terms of limits you can choose for your coverages. Additionally, some optional coverages require you to call in and speak with an agent if you're interested in adding them to your policy.
Travelers' Standard Coverage Options
Your home quote from Travelers will cover many of the industry basics with adjustable quote limits and deductibles.
Travelers' Additional Coverage Options
When you search for home insurance details on the Travelers website, you'll be directed to these extra options for coverage beyond the basic package.
Available Discounts on Travelers' Home Insurance Coverage
Travelers has a number of discounts available for home insurance customers. Some are what you would expect, such as the multi-policy discount, while some are a nice surprise, such as the green home discount.
Type of Discount

Description

Multi-policy discount

Bundle your home insurance with another policy from Travelers (such as auto) and you will be eligible for up to 15 percent in savings.

Home buyer discount

If you bought your house in the last 12 months, you may be eligible for extra savings.

Loss-free discount

If you have a claims-free record, you are eligible for this discount.

Green home discount

If your house is certified by the Leadership Energy & Environmental Design organization, you could save up to 5 percent.

Protective device discount

Smoke detectors, sprinkler systems, and security systems are worth a discount, and so are smart home technology systems that alert customers to potential dangers.
How to Make a Home Insurance Claim with Travelers
To report a home insurance claim, you can call the Travelers' claim center 24 hours a day or report it online. To file online, it's not necessary to log in to your account, but things will move more quickly if you do. It's best to file the claim as early as possible rather than wait for all of the details — Travelers will document the loss, get a claim number assigned and get a claims professional to work on it right away. Then you can monitor the progress online or call to get updates.
How to Contact Travelers Home Insurance
CUSTOMER SERVICE PHONE NUMBER

800-842-5075

800-Claim33 (800-252-4633)
About the Author
---
---