The Hartford Home Insurance Review: Pros & Cons, Ratings & More
Last Updated: 7/3/2022
Advertising & Editorial Disclosure
Overview of The Hartford Home Insurance
Founded more than 200 years ago, The Hartford's history includes insuring Abraham Lincoln's home, offering the first policy to an institution of higher learning (Yale University), covering Babe Ruth in 1920 in a policy protecting him against disability, insuring such construction projects as the Golden Gate Bridge and the Hoover Dam and acting as a founding partner of the U.S. Paralympics. The Hartford has also been the AARP's direct property and casualty insurer for both auto and home since 1984. Its longstanding reputation and breadth of experience have certainly helped it to become the 14th top-ranked home insurers in the country, according to JD Power.
How Does The Hartford Home Insurance Rate?
Financial Strength Rating
Source

Rating

A.M. Best

A+
Effective Date: January 2020
A.M. Best's Financial Strength Rating opinion addresses the relative ability of an insurer to meet its ongoing insurance obligations. It is not a warranty of a company's financial strength and ability to meet its obligations to policyholders. View our Important Notice: Best's Credit Ratings for a disclaimer notice and complete details at http://www.ambest.com/ratings/notice.
Financial Strength is rated on a scale of D (poor) to A+ (superior). A rating notch of either a second "+" or a "-" indicates the gradation of financial strength within the category. We can't guarantee that the subsidiary of Nationwide Insurance rated here is the subsidiary that will underwrite your insurance policy. Check with your insurance agent and review A.M. Best's Financial Strength Rating Guide for more information.
Best's Credit Ratings™ are under continuous review and subject to change and/or affirmation. For the latest Best's Credit Ratings™ and Best's Credit Reports which include Best's Credit Ratings™), visit the A.M. Best website at http://www.ambest.com. See Guide to Best's Credit Ratings™ for explanation of use and charges.
Best's Credit Ratings™ reproduced herein appear under license from A.M. Best and do not constitute, either expressly or impliedly, an endorsement of MoneyGeek.com or its recommendations, formulas, criteria or comparisons to any other ratings, rating scales or rating organizations which are published or referenced herein. A.M. Best is not responsible for transcription errors made in presenting Best's Credit Ratings™. Best's Credit Ratings™ are proprietary and may not be reproduced or distributed without the express written permission of A.M. Best Company.
Pros and Cons of The Hartford Home Insurance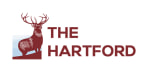 pros
The online quote tool pulls much of the physical information about your home for your quote from online data, including square footage, foundation shape and type, and roof shape and materials.
Many of the extra coverages that you want on a policy are already packaged together into The Hartford's Homeowner Advantage and Advantage Plus programs.
The Hartford provides tools to help prepare against catastrophe, as well as useful resources such as mobile response vehicles to aid policyholders in the event of disaster.
cons
The Hartford has previously received higher customer complaint ratios than many of its industry counterparts.
The loss-of-use coverage may have a monetary cap (rather than covering all reasonable costs).
The Hartford doesn't allow for a separate deductible amount related to wind-damage losses.
Online quotes are not available in all states where The Hartford writes home policies.
The Hartford Home Insurance Coverage
The Hartford's clientele base is largely made up of homeowners of retirement age, many of whom have built up assets that need to be protected. The homeowner insurance options reflect this, with high-liability options and packages designed to help protect a more comfortable standard of living.
The Hartford's Standard Coverage Options
The base coverage covers the typical homeowner essentials and provides a solid foundation for the two main coverage bundles.
The Hartford's Additional Coverage Options
The two primary optional coverages offered by The Hartford are Advantage and Advantage Plus. Along with the further add-oo options, these packages provide assistance in situations of genuine need (rather than simply trying to up-sell you).
Available Discounts on The Hartford Home Insurance Coverage
The number of discounts available for The Hartford's home insurance is limited. But if you're able to stack a few of them together, they can add up to nice savings.
Type of Discount

Description

Bundle discount

If you insure both your car and your home with The Hartford, you can save up to 20 percent on your home insurance policy.

Home security or protective devices credits

Having burglar alarms, sprinkler systems or even something as simple as a deadbolt lock or smoke detector can earn you a discount.

Fire protection

Simply installing precautions such as smoke detectors, fire alarms, and functional sprinklers can earn you a further price reduction.

Retiree credit

Reflective of the target market, this is a discount for policyholders who are retired or who work less than 24 hours each week.

AARP membership

Having an AARP membership can lower your homeowner insurance rates.

Claims free discount

After a year of not filing a claim, you receive benefits as that streak continues to grow.

New home discount

Only available for qualifying residents of California and New York, this discount helps out recent homebuyers.
How to Make a Home Insurance Claim with The Hartford
To file your home insurance claim, you can anytime, 24/7, or report the claim online. During the process, you can call or log in online or on your mobile app to check the status of the claim. Depending on the severity of the claim, you might need help building an inventory of lost or damaged property—The Hartford will help with this and will contact repair and cleaning services.
How to Contact The Hartford Home Insurance
CUSTOMER SERVICE PHONE NUMBER

800-624-5578
About the Author
---
---