State Farm Home Insurance Review
Last Updated: 7/3/2022
Advertising & Editorial Disclosure
Overview of State Farm Home Insurance
State Farm has come a long way since a retired farmer named George Jacob "G.J." Mecherle started the company by offering a single line of auto insurance in 1922. The company who markets itself as your "good neighbor" now offers around 100 products and services. It ranks 33rd on the Fortune 500 list of largest companies and holds an impressive homeowners insurance market share of over 18 percent, making it the largest home insurance company in the nation — more than twice that of its closest competitor. But some things don't change: State Farm still is a mutual company, owned by its member policyholders.
How Does State Farm Home Insurance Rate?
Financial Strength Rating
Source

Rating

A.M. Best

A++
Effective Date: January 2020
A.M. Best's Financial Strength Rating opinion addresses the relative ability of an insurer to meet its ongoing insurance obligations. It is not a warranty of a company's financial strength and ability to meet its obligations to policyholders. View our Important Notice: Best's Credit Ratings for a disclaimer notice and complete details at http://www.ambest.com/ratings/notice.
Financial Strength is rated on a scale of D (poor) to A+ (superior). A rating notch of either a second "+" or a "-" indicates the gradation of financial strength within the category. We can't guarantee that the subsidiary of Nationwide Insurance rated here is the subsidiary that will underwrite your insurance policy. Check with your insurance agent and review A.M. Best's Financial Strength Rating Guide for more information.
Best's Credit Ratings™ are under continuous review and subject to change and/or affirmation. For the latest Best's Credit Ratings™ and Best's Credit Reports which include Best's Credit Ratings™), visit the A.M. Best website at http://www.ambest.com. See Guide to Best's Credit Ratings™ for explanation of use and charges.
Best's Credit Ratings™ reproduced herein appear under license from A.M. Best and do not constitute, either expressly or impliedly, an endorsement of MoneyGeek.com or its recommendations, formulas, criteria or comparisons to any other ratings, rating scales or rating organizations which are published or referenced herein. A.M. Best is not responsible for transcription errors made in presenting Best's Credit Ratings™. Best's Credit Ratings™ are proprietary and may not be reproduced or distributed without the express written permission of A.M. Best Company.
Pros and Cons of State Farm Home Insurance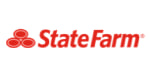 pros
State Farm offers a wide range of property insurance policies, including some types that other carriers decline to write, including those for manufactured homes, small businesses, farms, and ranches.
The State Farm online quoting system includes both a tool for quoting scheduled property and access to a replacement cost estimator.
State Farm determines liability risk for dogs based on individual bite history, rather than on the breed of the dog, which owners of oft-maligned breeds like pit bulls will appreciate.
State Farm shows a commitment to customer convenience with its mobile app, which has features for paying bills, checking on claims, finding agents, and more.
cons
The online quoting system assigns a local agent to assist with your policy but not necessarily the one located closest to your property address.
Options for home policy deductibles may be more limited than that of other insurers.
The online quoting system may not be available for mobile or manufactured homes.
State Farm Home Insurance Coverage
State Farm offers home insurance coverage at a level one would expect from one of the largest and most successful carriers in the country, with the standard items automatically included and all of the optional extras explained and made available. It also has online tools to help homeowners organize and insure their property, such as their Home Insurance Resource center and moving checklist.
Homeowners Insurance Standard Coverage Options
As the nation's insurance carrier with the most home insurance policies in force and the largest number of premiums collected, it could be said that State Farm sets the standard for what a typical home insurance policy looks like. There aren't many surprises to be found in the property and liability coverages that are offered, other than, perhaps, the fact that it doesn't have a restricted breeds list for dogs. Instead, risk assessments are based on the bite histories of the individual animals, which means you won't be denied coverage or have to pay a surcharge solely because of the type of dog you have.
Additional Coverage Options from State Farm
State Farm's status as the nation's largest home insurance company puts it in the position of establishing industry standards for add-on coverages. State Farm did, however, remove itself from participating in the National Flood Insurance Program a number of years ago, requiring policyholders who want flood insurance to seek that coverage from the federal government through different insurance companies.
Available Discounts on State Farm Home Insurance Coverage
There are a number of ways to reduce your home insurance premium with State Farm, although most of them are via standard discounts that can be found at any major insurance carrier.
Type of Discount

Description

Multiple line discount

A significant savings can be had by bundling State Farm home and auto policies together to receive a multi-policy discount.

Roofing discount

Using certain impact-reducing materials on your roof can save you money on your State Farm premium. But only certain materials apply and there are restrictions; the website provides a list of qualifying products, or you can check with your agent about this discount.

Home Alert Protection discount

Discounts are available for safe home features such as automatic sprinklers, a reporting burglar alarm, fire extinguishers, and deadbolt locks.
How to Make a Home Insurance Claim with State Farm
State Farm employs a multi-channel approach to filing a claim in order to make it as convenient as possible for the policyholder. Claims can be reported online, called in to the toll-free claims number, or reported directly to the policyholder's local agent. The Pocket Agent mobile app also has the ability to let you file a claim. The State Farm website has a list of steps to take throughout the process to help the entire experience run smoothly. State Farm also provides an online tool to help you check the status of a claim that has already been filed.
How to Contact State Farm Home Insurance
CUSTOMER SERVICE PHONE NUMBER

800-STATE FARM (440-0998)

800-STATE FARM (782-8332)
About the Author
---
---