COUNTRY Financial Home Insurance Review: Pros & Cons, Ratings, & More
Last Updated: 7/1/2022
Advertising & Editorial Disclosure
Overview of COUNTRY Financial Insurance
As its name suggests COUNTRY Financial's roots are in agriculture. In 1925, it began as a mutual insurance company in Illinois, selling policies for fire and lightning insurance. Within its first year, the company had expanded to include coverage for crop-hail and farm equipment, with auto and life insurance joining the mix by 1929. It remained an Illinois-based company until the 1960s, when it began adding states to its coverage area over the next several decades. Today, COUNTRY Financial ranks on the National Association of Insurance Commissioners' list of top 25 home insurance companies in the nation, with over .70 percent share of the market.
How Does COUNTRY Financial Home Insurance Rate?
Financial Strength Rating
Source

Rating

A.M. Best

A+
Effective Date: January 2020
A.M. Best's Financial Strength Rating opinion addresses the relative ability of an insurer to meet its ongoing insurance obligations. It is not a warranty of a company's financial strength and ability to meet its obligations to policyholders. View our Important Notice: Best's Credit Ratings for a disclaimer notice and complete details at http://www.ambest.com/ratings/notice.
Financial Strength is rated on a scale of D (poor) to A+ (superior). A rating notch of either a second "+" or a "-" indicates the gradation of financial strength within the category. We can't guarantee that the subsidiary of Nationwide Insurance rated here is the subsidiary that will underwrite your insurance policy. Check with your insurance agent and review A.M. Best's Financial Strength Rating Guide for more information.
Best's Credit Ratings™ are under continuous review and subject to change and/or affirmation. For the latest Best's Credit Ratings™ and Best's Credit Reports which include Best's Credit Ratings™), visit the A.M. Best website at http://www.ambest.com. See Guide to Best's Credit Ratings™ for explanation of use and charges.
Best's Credit Ratings™ reproduced herein appear under license from A.M. Best and do not constitute, either expressly or impliedly, an endorsement of MoneyGeek.com or its recommendations, formulas, criteria or comparisons to any other ratings, rating scales or rating organizations which are published or referenced herein. A.M. Best is not responsible for transcription errors made in presenting Best's Credit Ratings™. Best's Credit Ratings™ are proprietary and may not be reproduced or distributed without the express written permission of A.M. Best Company.
Pros and Cons of COUNTRY Financial Home Insurance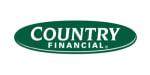 pros
COUNTRY Financial offers a full complement of insurance options, plus additional financial services, so you can address several needs under one company umbrella.
The home insurance policy starts with very basic coverages and lets you add on and upgrade to suit your needs.
COUNTRY Financial has consistently received a low customer complaint ratio from NAIC, indicating good customer satisfaction.
cons
Relative to other home insurers, COUNTRY Financial serves considerably fewer U.S. states.
COUNTRY Financial has a mobile option for its auto insurance and financial services, but not for home insurance.
COUNTRY Financial Home Insurance Coverage
The basic coverage that COUNTRY Financial offers actually does not include the standard coverages most consumers will want from their home insurance. That said, that may appeal to customers searching for only baseline coverage and the lower premiums that come with that. You do have the option to upgrade your policy to bring it up to the level that most policies offer, but be sure to check the policy closely to see exactly what is covered and ensure that it's sufficient for your needs.
COUNTRY Financial's Standard Coverage Options
COUNTRY Financial offers home insurance in three packages. The first offers standard coverage for a set number of events, such as fire damage, theft, or glass breakage. At the next level, the Premier package expands the list of covered events; these are typically catastrophic but still be pricey to remediate, such as power surges or paint spills. An option for combination coverage allows customers to choose expanded coverage for their homes while staying at a basic level for personal property.
COUNTRY Financial's Additional Coverage Options
COUNTRY Financial offers a range of additional coverage options that are standard among the industry's larger companies. While they're not included in a basic policy, clients can pick and choose among them to build a policy that best suits their circumstances.
Available Discounts on COUNTRY Financial Home Insurance Coverage
Although the types and amounts of discounts vary by state, COUNTRY Financial does offer a reasonably varied selection of discounts, so that most customers should qualify for some savings.
Type of Discount

Description

Multi-policy discount

Simply put, the more policies you hold, the more money you will save.

Age of wiring discount

If your home has newer wiring that adheres to current safety standards, you could see a discount of up to 28 percent, depending on your state.

Dwelling age discount

Newer homes statistically have fewer claims, so they can qualify for home insurance savings; with COUNTRY Financial, those savings can even reach 40 percent.

Alarm credit

Installing certain theft and fire alarm systems can make you eligible for this discount of up to 20 percent.

Safe heat discount

Insurance companies frown on certain heating systems, such as wood-burning stoves. If your house has safer systems for heating, you could get a discount (up to 15 percent).

Roof discount

If your roof is fortified with hail-resistant materials, it might bring your costs down (up to 20 percent).
How to Make a Home Insurance Claim with COUNTRY Financial
You can call or go online to file a claim. You may log in to your account on the company website, or you can submit a claim as a guest. A claims representative will collect the necessary information and then get back to you by the end of the next business day to get the claims process going. Once the claim is reviewed, the company will set up an inspection, and you will get an estimate of repair costs. You can log in online to monitor the status of your claim.
How to Contact Country Financial Home Insurance
CUSTOMER SERVICE PHONE NUMBER

866-COUNTRY (268-6879)
About the Author
---
---