The Chase Freedom® Student Card is an excellent first credit card for modest-spending college, university or trade school students. Its perks are limited, but it can guarantee you minimum cash back of 1% for all purchases made. MoneyGeek's Chase Freedom® Student Card review examines the card's features, perks and other features to help you determine if it's appropriate for you.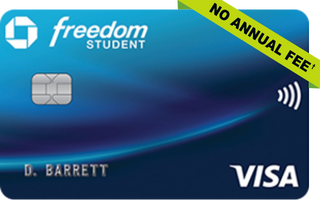 Chase Freedom® Student Credit Card at a Glance
Students will love the simple rewards structure of the Chase Freedom® Student Credit Card. You earn 1% cash back on all purchases made and a $50 sign-up bonus on the first purchase made within the first three months. You also don't need to worry about a minimum spend or annual fee. Additionally, by keeping your account active and in good standing, you will receive a $20 bonus on your first five account anniversaries. Make sure to pay your bills on time to avoid paying accruing interest and watch your purchases abroad because there's a 3% foreign transaction fee.
Chase Freedom® Student credit card

A solid card with rewards students are sure to appreciate

---

1% Cash Back

Rewards Rate

$0

Annual Fee

19.99% Variable

APR

Good–Excellent

Recommended Credit

---
Pros & Cons Explained
While assessing Chase Freedom® Student Card's benefits, you should also consider the drawbacks as well. Here are some benefits and drawbacks that may impact your decision on whether or not to apply for the card.
Pros
Benefits

Description

Simple rewards program

Every purchase you make with the Chase Freedom® Student credit card earns you 1% cash back. This means that you don't need to remember spending limits or bonus categories. Just your card to get the cash back and bonuses.

No annual fee

In addition to the simple rewards program, you may find the card highly appealing thanks to its lack of an annual fee.

Rewards for good standing

You will receive 2,000 points for every year that your account is in good standing. This is equivalent to $20. This benefit is available for up to five years, which means that paying responsibly could earn you $100. This is an exceptional offer for a student card.

Significantly low APR

The variable APR of this card is lower than the rate on most student cards, and everyone receives the same rate. Student cards that charge higher rates may quote an APR well over 20%, making this card extremely appealing if you need to carry a balance.

Automatic credit limit increase

After making five on-time monthly payments within 10 months of using the card, Chase will consider you eligible for an automatic credit limit increase.
Cons
Drawbacks

Description

Foreign transaction fee

The Chase Freedom® Student credit card charges a 3% fee each time you use it abroad or while shopping online in a foreign currency. These fees can add up to hundreds of dollars, especially for those who are studying abroad or doing an internship in a foreign country.

No introductory APR

There is no introductory 0% APR offer for purchases or balance transfers with the Chase Freedom® Student credit card. This can be a downside, especially when you have bigger expenses like buying a laptop, furniture or domestic appliances.

Not all students qualify

Young students like sophomores or freshmen may not qualify for this card. In order for a student to obtain this card, they need to prove that they're employed full-time or part-time with a steady income.
LOOKING FOR THE BEST CREDIT CARDS OF 2022?
The Chase Freedom® Student Credit Card has been rated one of the best student credit cards of 2022 by MoneyGeek. Compare this card to the others on the list to see which one is best for you.
Bonuses & Rewards Explained
In addition to cash back benefits and a low APR, Chase's Freedom Student Credit Card boasts a few other noteworthy advantages.
1
New Cardholder Bonus
Most credit cards require a large amount of spending to qualify for a bonus. However, the Chase Freedom® Student credit card is an exception. If you make your first purchase within three months of starting your account, you'll receive a $50 bonus. You can earn the reward regardless of how big or small your transaction is.
2
Reward Earnings
The card's cash back rewards program is very simple. All transactions except balance transfers, cash advances and other cash-like transactions, lottery tickets, casino gaming chips, race track wagers or similar betting transactions, any checks that access your account, interest, unauthorized or fraudulent charges and fees of any kind are eligible for a 1% cash back.
3
Rewards Redemption
You can redeem your reward points for cash, gift cards, travel and products or services offered by the program or directly from third-party merchants. The redemption values can be different for each program. The points don't expire until your account status changes or your account is canceled due to program misuse, fraudulent activities, payment failure or other reasons.
Other Features Explained
You may also be interested in the Chase Freedom® Student Credit Card's other features, some of which may assist you in making an informed decision on whether the card is the right option for you.
Card Feature

Description

Account alerts

You may sign up to receive alerts in the form of SMS, email or push notifications for payment due dates or suspicious activities.

Chase Mobile app

The app is designed for both iPhone and Android users. You can use it to pay bills, lock or unlock your card, see historical transactions, set up notifications and more.

Contactless pay technology

This technology uses Near Field Communication (NFC) to check out your transactions by just tapping your credit card on a credit card terminal.
MONEYGEEK EXPERT TIP
"Automate your payments from the get-go so your credit is nice and high by the time you graduate. You'll can qualify for the Chase Freedom® Student credit card limit increase, which occurs automatically after you make five on-time payments within 10 months of opening the account." - Alene Laney, Credit Card Journalist
Understanding the Fine Print
Aside from knowing your credit card user rights, if you are aware of the reward rates, fees and interest rates of the Chase Freedom Student Credit Card, you may be able to make an informed decision about whether this card is good for you.
Card Feature

Amount or Rate

APR

19.99% Variable

Annual Fee

$0

Cash Back Rewards

Rewards Rate

1% Cash Back

Airline Benefits
These terms and more can be found in MoneyGeek's credit card glossary.
There is no annual fee for this card.

The Chase Freedom Unlimited Credit Card offers a high purchase and balance APR of 19.99%, which is subject to change. The interest rate for cash advances is 29.99 percent.

Every purchase you make with this card will earn at least 1% cash back.

Balance Transfer and Cash Advance Fee

Those who make balance transfers will be charged $5 or 5% of the transfer amount per transaction, whichever is greater. If you take cash advances or withdraw cash from your credit account, you can expect to pay a fee of $10 or 5% of the transaction amount, whichever is greater. To avoid paying exorbitant transaction fees, limit your balance transfers and cash advances to less than $100 and $300, respectively.

A 3% fee will be applied on all foreign transactions made with the card.
WHERE TO FIND THIS INFORMATION?
You can find a card suitable for your needs only if you assess several cards and compare their annual fee, APR, rewards, benefits and drawbacks. Check your latest monthly credit card bills or the website or mobile app of your credit card provider if you compare Chase Freedom® Student Credit Card with another of your cards. In addition, you may review this information via the Consumer Financial Protection Bureau's (CFPB) credit card agreement database.
Who Should & Shouldn't Consider Chase Freedom® Student Credit Card?
Loading...
Loading...
Other Considerations for Chase Freedom® Student Credit Card
It is critical to understand the benefits and drawbacks, fees and interest rates of each credit card you're comparing. Before applying for a Chase Freedom® Student Credit Card, consider the following factors of how the card will work for you if it's your only card or one of the additional cards you're thinking about adding to your wallet.
Things to Consider if This Will Be Your First or Only Credit Card
As your first or only credit card, the card's high APR can be daunting. If you don't pay off your card in full each month, you'll end up paying a lot in interest. By paying off your credit balances before the end of each payment cycle, this card's unlimited cash back might be beneficial for you.
With no spending cap for earning rewards, you can make the best use of the card to build good credit and be eligible for a better card upgrade. Additionally, paying responsibility will make you eligible for the Good Standing rewards.
Things to Consider if This Will Be an Additional Card in Your Wallet
Because of its unlimited cash back advantages and no annual fee, the Chase Freedom® Student Credit Card could be beneficial as an additional card in your wallet. MoneyGeek suggests pairing it with another highly rewarding card, such as Discover it Student Cash Back, which has no annual or international transaction fees, a 0% initial purchase APR for six months, rewards for outstanding grades and a significantly lower credit score requirement. Journey Student Rewards from Capital One Credit Card is another one you can consider pairing it with.
Alternatively, you may combine it with a travel card with no annual charge and no foreign transaction fee, such as the US Bank Altitude Go Visa Signature Credit Card.
WHY TRUST OUR REVIEWS
MoneyGeek follows a methodology and review process that involves collecting credit card information, standardizing data points, considering annual and introductory bonuses, potential cardholder profiles and establishing the card values. We also review data monthly to ensure our ratings are up to date and accurate.
How Chase Freedom® Student Credit Card Compares to Other Cards
The Chase Freedom® Student credit card has several key advantages, like unlimited rewards, attractive bonuses and no annual fees. Here's how it compares to the Journey Student Rewards from Capital One card so you can pick the best one for your needs.
In-Depth Credit Card Comparisons:
Quick Comparison of Chase Freedom® Student credit card
---
Chase Freedom® Student credit card
Annual Fee: None
Regular APR: 19.99% variable
Rewards Rate: 1%
Foreign Transaction Fee: 3%
Best For: Students who want a simple card for earning unlimited rewards.
Journey Student Rewards from Capital One
Annual Fee: None
Regular APR: 29.99% Variable
Rewards Rate: 1.25%
Foreign Transaction Fee: 0%
Best For: Students who intend to travel abroad.
Other Helpful Decision-Making Q&As
If you still have doubts about the Chase Freedom® Student card, we have answered some of the most commonly asked questions about the card.
Learn more about credit cards in general