The escalating costs of higher education in Wyoming are more than just alarming figures; they're a real obstacle that can hinder your pursuit of a degree. Fortunately, the best student loans in Wyoming can serve as a financial bridge, helping you reach your educational aspirations.
MoneyGeek discovered that Ascent provides the best overall student loans in Wyoming. Those looking for the lowest interest rates may get them from Sallie Mae, while students with bad credit may fare best with Earnest. International students may get the best deal from Prodigy Finance, while those needing a co-signer may consider College Ave their best option. Keep in mind that the best lender for you may differ depending on your needs.
Understanding Student Loans
Student loans are financial agreements that empower you to pursue higher education without the immediate burden of tuition and other associated costs. They provide the capital needed to invest in your future, making college a viable option for many who otherwise couldn't afford it.
A student loan works on the principle of borrowing and repayment. You receive a lump sum or disbursements to cover educational costs, and this amount accrues interest over time. Once your educational journey is complete or you fall below a certain enrollment level, you're expected to start repaying the loan, along with any interest that has accumulated.
The landscape of student loans is primarily divided into two categories:
Federal student loans: Federal student loans are government-funded and come with a host of benefits, including lower interest rates and the possibility of loan forgiveness under certain conditions.
Private student loans: Private student loans are offered by banks or other financial entities and are generally more expensive in terms of interest and less flexible when it comes to repayment.
Why is it important to know the difference between federal and private loans? Because the choice you make can significantly impact your financial future. From the total amount you'll repay to the flexibility you'll have in adjusting your repayment terms, understanding these differences is key to making an informed decision.
Best Private Student Loans in Wyoming
Private student loans are educational loans that come from private lenders, such as banks or financial institutions. They are separate from federal student loans, which are funded by the government, and they often have different terms and eligibility requirements.
Private student loans can be a good fit in specific situations. For example, if you're enrolled in a part-time educational program that doesn't qualify for federal aid, a private loan can provide the necessary funds. They can also be useful for covering the costs of professional certifications or continuing education courses.
However, it's essential to weigh the pros and cons before opting for a private student loan. While they can offer the advantage of quick approval and disbursement, they often come with higher interest rates and less flexible repayment options. Unlike federal loans, private loans also don't offer income-based repayment plans or loan forgiveness programs.
Best Overall

---

4.36%–14.08%

Fixed APR Range

1.47%–11.31%

Variable APR Range

$2,001–$200,000

Loan Amount Range

Non-U.S. citizens and temporary residents

Co-signer

---
Best With Lowest Interest Rates

---

3.50%–13.83%

Fixed APR Range

1.37%–11.76%

Variable APR Range

$1,000 minimum, no maximum

Loan Amount Range

Allowed but not required

Co-signer

---
Best for Those With Bad Credit

---

4.43% - 14.90%

Fixed APR Range

5.32% - 16.20%

Variable APR Range

$1,000 up

Loan Amount Range

Allowed

Co-signer

---
Best for Parents

---

3.22%–11.16%

Fixed APR Range

1.10%–11.68%

Variable APR Range

$5,000 minimum, no maximum

Loan Amount Range

Optional

Co-signer

---
Best for International Students

---

Starts at 4.98%

Fixed APR Range

Starts at 4.66%

Variable APR Range

Minimum $15,000, no maximum

Loan Amount Range

Not required

Co-signer

---
Best for Those Who Need a Co-Signer

---

4.44% - 15.99%

Fixed APR Range

5.09% - 15.99%

Variable APR Range

$1,000 minimum, no maximum

Loan Amount Range

Not required

Co-signer

---
lowInterestAPRWyoming
Federal student loans are a type of financial aid that is backed by the U.S. government. They are designed to make higher education more accessible and come with a variety of borrower benefits, such as:
The interest rates on federal student loans are often lower than those on private loans, and they are usually fixed for the life of the loan. This stability can make it easier to plan your finances and can result in lower overall repayment costs.

Federal loans offer a range of repayment plans, including graduated and extended repayment options. These plans can be adjusted based on your income, making it easier to manage your debt over time.

Federal student loans may qualify for loan forgiveness programs, which can wipe out your remaining debt under certain conditions, offering a light at the end of the tunnel for long-term borrowers.

Federal loans are generally more accessible than private loans, often requiring no credit history or co-signer. This inclusivity enables more students to pursue higher education, regardless of their financial background.

Grace periods and deferment

Federal loans typically offer a six-month grace period after you leave school. You may also be eligible for deferment or forbearance during tough financial times. These features can provide temporary relief when you're unable to make payments.
How to Apply for Federal Student Loans in Wyoming
Applying for federal student loans is an essential part of financing your higher education. The process is designed to be straightforward but does require some preparation and document gathering. Here's a guide to help you through each step of the application process.
1
Create a Federal Student Aid ID
Your Federal Student Aid ID (FSA ID) is your personal identifier for all federal student aid activities, including the Free Application for Federal Student Aid (FAFSA). You can create one on the Federal Student Aid website. Keep this ID and password in a secure place, as you'll need it for various steps in the loan application process.
2
Prepare your financial documents
Before you start the FAFSA, you'll need to have several financial documents on hand. This includes tax returns, W-2s and information about any other income or assets. Having these documents ready will streamline the FAFSA process and help ensure that you provide accurate information.
3
Fill out the FAFSA
The FAFSA is the foundational application for all federal student loans. It's available online and should be completed as soon as possible to take full advantage of available financial aid. The form will ask for details about your financial situation to determine your eligibility for different types of aid.
4
Check your Student Aid Report
Once your FAFSA is submitted, you'll receive a Student Aid Report that includes your Expected Family Contribution (EFC). Review this report carefully for any inaccuracies, as it will be used to calculate your financial aid package. If all the information is correct, save this report for your records.
5
Evaluate your financial aid options
After being accepted into a college or university, you'll receive a financial aid offer. This will outline the federal student loans you're eligible for, as well as any grants or work-study opportunities. Take your time to understand the terms and conditions of each loan offer, as this will have long-term implications for your financial health.
6
Complete entrance counseling and sign your Master Promissory Note
Before your federal student loans can be disbursed, you'll need to complete entrance counseling to ensure you understand the responsibilities of taking out a loan. Following this, you'll sign a Master Promissory Note, which is your legal commitment to repay the loan. Both of these steps are often completed online and are essential for securing your federal student loans.
The Types of Federal Student Loans Available in Wyoming
Federal student loans offer various options to help you finance your education, each with its own set of terms and conditions. Understanding these can help you make an educated choice about which loan best suits your needs. Here are the four main types of federal student loans:
Direct Subsidized Loans: These loans are designed for undergraduates with financial need. One of their standout features is that the government pays the interest while you're in school, during the grace period and during deferment. This can result in substantial savings, making them a preferred choice for financially strapped students.
Direct Unsubsidized Loans: These loans are available to both undergraduate and graduate students and do not require proof of financial need. However, you are responsible for all interest payments, which start accruing as soon as the loan is disbursed.
Direct PLUS Loans: These are targeted at graduate students and parents of dependent undergraduates. They allow you to borrow up to the full cost of attendance but come with a credit check and higher interest rates. They can be a useful tool for covering costs that other federal loans can't, but they should be your last resort due to their higher interest rates.
Direct Consolidation Loans: If you have multiple federal loans, consolidating them can simplify your repayment process. The new loan will have a fixed interest rate based on the weighted average of the loans you're consolidating. However, be aware that consolidating can extend your repayment period, which could make your loan more expensive in the long run.
Student Loan Forgiveness in Wyoming
Student loan forgiveness is a financial program that allows eligible borrowers to have a portion or even all of their student loan debt erased. This usually occurs in exchange for fulfilling certain employment or service commitments.
In Wyoming, there are state-specific programs designed to offer student loan forgiveness, particularly for professionals like health care and public service workers. These programs aim to incentivize skilled individuals to serve in areas where they are most needed, thereby benefiting the community at large.
1
Wyoming State Loan Repayment Program (SLRP)
The Wyoming State Loan Repayment Program (SLRP) is aimed at recruiting and retaining health care professionals in federally designated Health Professional Shortage Areas (HPSAs). Depending on the practice, qualified participants can receive up to $50,000 in loan repayment assistance for a two-year service commitment at an approved National Health Service Corps (NHSC) site.
To qualify, you need to be licensed to practice in one of the eligible health care professions, which include primary care physicians, dentists, nurse practitioners and mental health professionals. You must also secure full-time employment at an eligible health care facility within a designated HPSA in Wyoming. To apply, you must submit an application form to the Wyoming Department of Health.
2
Public Service Loan Forgiveness (PSLF) Program
Although a federal program, the Public Service Loan Forgiveness (PSLF) Program is highly relevant for public service workers in Wyoming. It offers complete loan forgiveness on federal student loan balances after 120 qualifying monthly payments.
To be eligible for PSLF, you must work full-time for a qualifying employer, which includes government organizations at any level and non-profit organizations. You must also have Direct Loans and be on an income-driven repayment plan. Once you've reached the 120 payment milestone, you can submit the PSLF application form to the U.S. Department of Education's Federal Student Aid office to receive loan forgiveness.
Tips for Managing Student Loans
Student loan management is a critical aspect of your financial journey, and how you handle it can set the tone for your financial stability after college. Effective loan management can be the difference between a debt-free life and financial hardship.
Borrow only what you need

Student loans come with the obligation of not just repaying the principal but also the accruing interest. Being prudent about how much you borrow can make your repayment journey far less daunting.

Understand the grace period

Most student loans come with a grace period post-graduation, during which no payments are due. This is your chance to secure a stable income and strategize your repayment plan.

Making payments during your educational period or the grace period can substantially reduce the lifetime cost of your loan. This is because any payment made early directly chips away at the principal, reducing the interest that accrues later.

Keep track of loan information

Keeping track of all your loan documents and having a well-organized payment schedule can prevent unnecessary stress and late fees. Consider using financial management software to keep everything streamlined and in one place.
Scholarships and Grants as Alternatives to Student Loans
Scholarships and grants are financial awards that serve to reduce the financial burden of higher education. While scholarships are often merit-based and recognize various forms of excellence, grants are usually allocated based on financial need. In contrast to loans, which are borrowed funds that accrue interest and must be repaid, scholarships and grants are financial gifts that don't require repayment.
The beauty of scholarships and grants is that they offer a form of financial empowerment. They allow you to take control of your educational journey without the strings attached that come with loans. For instance, without the worry of future loan repayments, you might be more inclined to take courses that genuinely interest you rather than those that you perceive as leading to higher-paying jobs.
The quest for scholarships and grants is a complex but rewarding process. Below, we outlined steps that can help you find and secure these financial awards.
1
Begin with a strategy
Before diving in, develop a strategy that includes a timeline, a list of potential scholarships and a set of your own qualifications.
2
Conduct a self-assessment
Take stock of your academic achievements, extracurricular activities and any other attributes that could make you a strong candidate for scholarships and grants.
3
Use a multipronged approach
In addition to online databases, consider other avenues for grants and scholarships like local businesses, civic organizations and industry-specific scholarships related to your field of study.
4
Create a master list
Make a list of all the scholarships and grants you're interested in, along with their requirements. This will help you stay organized and ensure you meet all deadlines.
5
Individualize your applications
Each scholarship and grant has its own focus and criteria. Make sure your application speaks directly to what the awarding organization values.
6
Stay engaged
After you've submitted your applications, follow up to confirm they've been received and ask if there are any additional steps you can take. This proactive approach can make you stand out in a sea of applicants.
The Impact of Student Loans on Credit
Student loans can serve as a stepping stone to building a solid credit history, but they can also be a stumbling block if not managed wisely. Your credit score, which is a numerical representation of your creditworthiness, can be positively or negatively affected by how you handle your student loans.
Punctual loan payments are not just a contractual requirement; they're a cornerstone of a healthy financial life. A single late payment can have a ripple effect, lowering your credit score and making future financial endeavors, like getting a car loan or a mortgage, more challenging and costly.
The consequences of defaulting on your student loans can be long-lasting. Not only will your credit score take a severe hit, but you could also face legal consequences, including the garnishment of your wages or tax refunds. This financial blunder can stay on your credit report for years, making it exceedingly difficult to secure any form of credit or even pass a routine credit check for renting an apartment.
Frequently Asked Questions (FAQs)
We addressed some of the most frequently asked questions about student loans in Wyoming to provide you with the knowledge you need to invest wisely in your education.
About Christopher Boston
---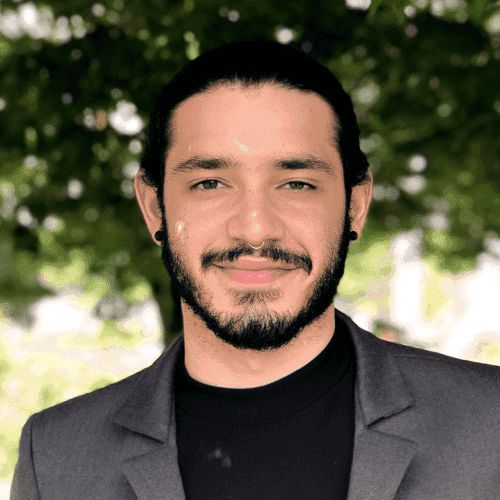 ---