In Virginia, it's increasingly becoming a challenge for students to pursue higher education due to skyrocketing tuition fees. Fortunately, one effective way to manage these costs is by getting student loans.
MoneyGeek discovered that Ascent offers the best student loans in Virginia. If you're looking for the lowest interest rates, you should consider Sallie Mae. If you have bad credit, Earnest may be an excellent choice. Prodigy Finance provides the best deals for international students, while College Ave is ideal if you need a co-signer.
Understanding Student Loans
Student loans are financial tools specifically designed to help you afford the costs associated with higher education. They can be a vital resource, covering everything from tuition to living expenses and enabling you to pursue your academic ambitions.
When you secure a student loan, you're borrowing money that you'll need to repay, usually with interest. The loan starts accruing interest once it's disbursed and you'll begin repayments after a grace period, which is often after you graduate or drop below full-time student status.
Student loans are divided into two main categories:
Federal student loans: Federal student loans are funded by the federal government and usually offer lower interest rates. They also often feature more flexible repayment plans and are generally need-based.

Private student loans: Private student loans are loans from private financial institutions. They typically have higher interest rates and may require a credit check or co-signer. Repayment options are usually less flexible.
Knowing the difference between federal and private student loans is crucial for making an informed decision. Federal loans often come with benefits like income-driven repayment plans or loan forgiveness options, which are rarely available with private loans. This knowledge can help you select a loan that aligns with both your educational and financial goals.
Best Private Student Loans in Virginia
Private student loans are loans for educational purposes that are offered by private financial entities like banks or credit unions. These loans are different from federal student loans, which are funded by the government and usually have more lenient terms.
Private student loans can be a good option under specific circumstances. If you've utilized all your federal aid options and still need more money to cover your educational expenses, a private loan might be the answer. They're also useful for covering costs not typically included in federal loan packages, such as specialized training programs or internships.
While private student loans can be a helpful resource, they come with advantages and drawbacks. They often allow you to borrow more money and may have a more straightforward application process. However, they also usually feature higher interest rates and stricter repayment terms.
Best Overall
---

4.36%–14.08%

Fixed APR Range

1.47%–11.31%

Variable APR Range

$2,001–$200,000

Loan Amount Range

Non-U.S. citizens and temporary residents

Co-signer

---
Best With Lowest Interest Rates
---

3.50%–13.83%

Fixed APR Range

1.37%–11.76%

Variable APR Range

$1,000 minimum, no maximum

Loan Amount Range

Allowed but not required

Co-signer

---
Best for Borrowers With Bad Credit
---

4.43% - 14.90%

Fixed APR Range

5.32% - 16.20%

Variable APR Range

$1,000 up

Loan Amount Range

Allowed

Co-signer

---
Best for Parents
---

Starts at 7.54%

Fixed APR Range

Not Specified

Variable APR Range

Up to the total cost of attendance

Loan Amount Range

Optional

Co-signer

---
Best for International Students
---

Starts at 4.98%

Fixed APR Range

Starts at 4.66%

Variable APR Range

Minimum $15,000, no maximum

Loan Amount Range

Not required

Co-signer

---
Best for Borrowers Needing a Co-Signer
---

4.44% - 15.99%

Fixed APR Range

5.09% - 15.99%

Variable APR Range

$1,000 minimum, no maximum

Loan Amount Range

Not required

Co-signer

---
Federal Student Loans in Virginia
Federal student loans are a type of financial aid that is funded by the U.S. government to help students pay for college or university. These loans often come with lower interest rates and more flexible repayment options compared to private loans. As a result, they are a preferred choice for many students. Federal student loans include the following advantages:
Lower interest rates: Federal loans typically have interest rates that are set and regulated by the government, making them lower than those of private loans. This can make a significant difference in the total amount you'll repay.

Flexible repayment plans: With federal loans, you often have the option to choose from various repayment plans, including those that take into account your income. This can make your financial planning more adaptable to your circumstances.

Loan forgiveness programs: Some federal student loans are eligible for programs that forgive a portion of the loan if you work in certain fields. This can be a major advantage for those who qualify.

No credit check required: The majority of federal student loans don't require a credit check. This makes them more accessible, especially for students who are just starting to build their credit.

Grace periods: Federal student loans often include a grace period, usually six months, after you graduate or leave school. This allows you some breathing room before you have to start making repayments.
How to Apply for Federal Student Loans in Virginia
The journey to securing federal student loans involves several key steps, from initial application to final acceptance. Each step is designed to ensure that you're both eligible for aid and aware of your responsibilities as a borrower. Here's a comprehensive guide to walk you through the process.
1
Prepare your financial information
Before diving into the application, gather all your financial documents. This includes your Social Security number, tax records and details about your income and financial assets. Having this information readily available will simplify the application process and help you complete it more quickly.
2
Complete the Free Application for Federal Student Aid form
The Free Application for Federal Student Aid (FAFSA) is your starting point for federal financial aid. This form will assess your financial needs and determine your eligibility for federal student loans, among other types of aid. Fill out the FAFSA accurately and completely to ensure you receive the aid you're eligible for.
3
Examine your Student Aid Report
After submitting the FAFSA, you'll receive a Student Aid Report (SAR) summarizing your financial information. Take the time to review this report carefully for any errors or inconsistencies. If you find any issues, you can make corrections to ensure your aid is calculated correctly.
4
Assess your financial aid packages
Following the processing of your FAFSA, you'll receive financial aid offers from the schools you've been accepted to. These offers will outline the types of federal student loans you're eligible for. Carefully review each offer, paying close attention to the loan amounts and terms, before making your decision.
5
Formally accept the loan
Once you've chosen the loan that best suits your needs, you'll need to formally accept it. This typically involves signing a Master Promissory Note (MPN), which is a legally binding document that outlines the terms and conditions of your loan. Make sure to read the MPN thoroughly before signing.
6
Undergo entrance counseling
The final step before receiving your loan funds is to complete entrance counseling. This educational session is designed to ensure you understand your obligations as a borrower. Pay close attention during this session, as it will provide valuable information for managing your loan responsibly.
The Types of Federal Student Loans Available in Virginia
Navigating the world of federal student loans can be complex, but understanding the different types available can help you make the best choice for your situation. Each loan type has its own set of rules, eligibility criteria and benefits. Here are the four main types of federal student loans.
Direct Subsidized Loans: These are available to undergraduate students who can prove financial hardship. The government pays the interest on the loan while you're enrolled at least half-time, during the grace period and during deferment. The borrowing limits are set by your school and depend on your academic year.

Direct Unsubsidized Loans: These loans are open to both undergraduate and graduate students and do not require demonstration of financial need. Interest starts accruing from the day the loan is disbursed, and you're responsible for paying it. The amount you can borrow is usually higher than for subsidized loans and varies based on your educational level and dependency status.

Direct PLUS Loans: Aimed at graduate students and parents of dependent undergraduates, these loans require a credit check and have higher interest rates. They allow you to borrow up to the full cost of attendance, minus any other financial aid you may receive. You're responsible for all interest payments, even while you're in school.

Direct Consolidation Loans: This option allows you to combine all your federal student loans into a single loan with one monthly payment. While this can simplify your repayment process, it may result in a longer repayment period and more interest paid over the life of the loan. Additionally, you may lose some borrower benefits, such as interest rate discounts.
Student Loan Forgiveness in Virginia
Student loan forgiveness is a financial program that offers a pathway to eliminate a portion or the entirety of your student loan debt. These programs are often strategically designed to incentivize individuals to work in sectors that are either underserved or of high public interest, such as health care, education and public service.
Virginia has several specialized student loan forgiveness programs tailored to various professions and community needs. These include:
Virginia State Loan Repayment Program (SLRP)
The Virginia State Loan Repayment Program (SLRP) is designed to address health care disparities across the state, particularly in Health Professional Shortage Areas (HPSAs). Qualified participants can receive up to $140,000 for a four-year service commitment in an eligible practice site.
To qualify, you must hold a valid health care license in Virginia. The program is open to a wide range of health care professionals, including physicians, dentists and mental health providers. Additionally, you must be employed full-time in an eligible health care role in a designated HPSA within the state. To apply, you must submit an application form to the Virginia Department of Health, along with other supporting documents.
Public Service Loan Forgiveness (PSLF) Program
The Public Service Loan Forgiveness (PSLF) Program is a federal initiative that offers significant financial relief to individuals who dedicate their careers to public service, including those residing in Virginia. It forgives the remaining balance on federal student loans after 120 qualifying payments.
To be eligible, you must be employed full-time by a government or not-for-profit organization. You must also have a Direct Loan and be enrolled in an income-driven repayment plan. After making 120 qualifying payments, you can submit the PSLF application to the U.S. Department of Education to receive loan forgiveness.
Tips for Managing Student Loans
Student loan management is a critical life skill that many overlook until it's too late. How you handle your student loans can affect your ability to make major life purchases and even your stress levels. Here are some essential tips to help you navigate the complexities of student loan management.
Borrow only what you need

Borrowing more funds than necessary can feel like a windfall now but can become a financial nightmare later. Interest rates can inflate your loan amount significantly over time. Be mindful of this and only borrow what you absolutely need for your educational expenses.

Understand the grace period

After graduation, you're usually given a grace period of about six months before you have to start repaying your loans. While it's a respite, it's also a preparatory phase for the financial responsibility that lies ahead. Use this time wisely to secure a stable income and plan your budget.

Making payments toward your loan while you're still in school or during the grace period can be a financial boon. This can help you reduce the capital, which in turn reduces the interest that accrues, ultimately lowering the total cost of the loan. It's a simple yet effective way to save money in the long run.

Keep track of loan documents and due dates

Keeping track of loan documents and payment schedules is just as important as making the payments themselves. Consider using a financial tracking tool or app to keep all this information in one place. Being organized can help you avoid late fees and give you a clearer understanding of your financial landscape.
Scholarships and Grants as Alternatives
Scholarships and grants are financial gifts awarded to students to help cover educational expenses. In contrast, loans are sums of money that you borrow and must eventually repay, often with added interest.
The benefits of scholarships and grants go beyond the immediate financial relief. They offer a unique form of financial autonomy that allows you to make educational and career choices without the constraint of future debt. For instance, you might choose a field of study or a specific college based on your true interests rather than opting for a more "practical" choice due to financial limitations.
From state-sponsored programs to private scholarships, Virginia provides a rich tapestry of financial aid opportunities. Here's a tailored guide to help you find and apply for these valuable resources in the Old Dominion State.
1
Begin with the State Council of Higher Education for Virginia
The State Council of Higher Education for Virginia (SCHEV) is your gateway to understanding state-funded scholarships and grants in Virginia. Visit their website to explore programs like the Virginia Commonwealth Award and the Virginia Guaranteed Assistance Program. This is your foundational step for grasping what state-level financial aid is open to you as a Virginia resident.
2
Consult with your school's financial aid office
Your school's financial aid office is a goldmine for scholarship and grant opportunities that are specific to your institution. Arrange a meeting with a financial aid counselor to discuss awards that are unique to your academic program or field of study. They can offer you personalized guidance, including how to strengthen your application for each award.
3
Prepare a strong application
Once you've shortlisted the scholarships and grants you want to apply for, the next step is to create a compelling application. Customize your application to emphasize how you meet the unique criteria for each award. Use a blend of academic records, personal essays and strong references to make your application resonate with the selection committee.
4
Keep track of deadlines
Each scholarship and grant comes with its own set of deadlines, which can vary widely. Use a digital calendar or a dedicated organizational tool to keep track of these important dates. Timely submission is non-negotiable, as missing a deadline can mean forfeiting a valuable financial aid opportunity.
5
Follow up
After submitting your applications, follow up with the organizations or committees responsible for the awards. A polite email or phone call can confirm that your application is under review and give you a chance to re-emphasize your enthusiasm and qualifications for the scholarship or grant.
The Impact of Student Loans on Credit
When you take out a student loan, you're not just borrowing money for education; you're also entering into a financial arrangement that will impact your credit score. Credit bureaus like Equifax, Experian and TransUnion track your payment behavior, including how you handle your student loans. This information is integral to the calculation of your credit score, which lenders use to evaluate your credit risk.
Making your student loan payments on time is critical for building a strong credit history. A positive payment history can boost your credit score, making you a more attractive candidate for other types of loans or credit. It can also pave the way for financial opportunities like lower interest rates on future loans or credit cards.
On the other hand, defaulting on your student loan can wreak havoc on your credit score. A default is a serious delinquency that can result in your loan being sent to collections, additional fees and even legal action. The negative impact of a default can linger on your credit report for years, making it difficult to recover and move forward financially.
Frequently Asked Questions
Whether you're eyeing a spot at the University of Virginia or considering a specialized program at a community college, you probably have a host of questions about how student loans work. We compiled a list of frequently asked questions below.
About Christopher Boston
---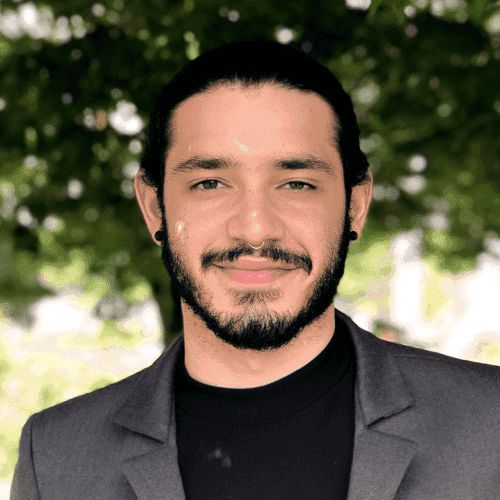 ---