Skyrocketing tuition fees have turned the dream of higher education in Rhode Island into a financial puzzle for many. If you're a student — or a parent of one — you're likely feeling the weight of this financial burden. But here's the silver lining: finding the best student loans in Rhode Island can be your ticket to a brighter future without breaking the bank.
MoneyGeek discovered that Risla is the best overall lender for student loans in Rhode Island. College Ave is ideal for the lowest interest rates, while Funding U is excellent for those with bad credit. Discover provides the best deal for international students, whereas PNC is preferable for students who need a co-signer.
Understanding Student Loans
Student loans are financial lifelines that can make the dream of higher education a reality. They provide the necessary funds to cover a range of educational expenses, from tuition and books to room and board. In essence, they bridge the gap between your aspirations and your financial means.
The basic mechanics of a student loan involve borrowing a specific amount of money to fund your education. This loan isn't a gift; it accrues interest over time, which means you'll end up paying back more than you initially borrowed. Repayment typically begins after you've completed your studies, and the terms can vary depending on the loan type and lender.
There are two main types of student loans:
Federal student loans: Federal student loans are government-funded. They usually have lower interest rates and offer flexible repayment options. Financial need often determines eligibility.
Private student loans: Private student loans are provided by private institutions like banks. They generally have higher interest rates and less flexible repayment terms. Creditworthiness is a significant factor for eligibility.
Understanding the differences between federal and private student loans is vital. Your choice can significantly impact your financial well-being long after you've graduated, affecting everything from your credit score to your home-buying capabilities.
Best Private Student Loans in Rhode Island
Private student loans are financial agreements made with private lenders like banks, credit unions, or other financial institutions to help cover the costs of higher education. These loans can be a good option when federal aid doesn't cover all your educational expenses.
For example, if you're attending a private university with high tuition fees or you're pursuing postgraduate studies that exceed federal loan limits, a private loan can help bridge the financial gap.
With private student loans, there's the possibility of higher loan limits and quick access to funds. If you have an excellent credit score, you might even secure a loan with a competitive interest rate. However, they often come with higher interest rates for those with less-than-stellar credit and offer fewer repayment options. Plus, they usually lack the borrower protections that federal loans offer, such as income-driven repayment plans.
Best Overall

---

2.99%–4.74%

Fixed APR Range

Not available

Variable APR Range

$1,500–$150,000

Loan Amount Range

Not required if borrower meets qualifications

Co-signer

---
Best With Lowest Interest Rates

---

4.44% - 15.99%

Fixed APR Range

5.09% - 15.99%

Variable APR Range

$1,000 minimum, no maximum

Loan Amount Range

Not required

Co-signer

---
Best for Those With Bad Credit

---

6.99% – 12.49%

Fixed APR Range

7.49% – 12.99%

Variable APR Range

$3,001 up to $20,000

Loan Amount Range

Not required

Co-signer

---
Best for Parents

Education Loan Finance (ELFI)

---

From 3.20%

Fixed APR Range

From 1.20%

Variable APR Range

Minimum of $1,000

Loan Amount Range

U.S. citizen or permanent resident

Co-signer

---

Education Loan Finance (ELFI)
Best for International Students

---

3.99%–11.59%

Fixed APR Range

1.79%–11.09%

Variable APR Range

$1,000 up to 100% of college expenses

Loan Amount Range

Optional

Co-signer

---
Best for Those That Need a Co-signer

---

2.99%–9.89%

Fixed APR Range

1.09%–8.19%

Variable APR Range

$1,000–$50,000

Loan Amount Range

Allowed

Co-signer

---
Federal Student Loans in Rhode Island
Federal student loans are financial aids provided by the U.S. government to help students pay for higher education. These loans are often the first choice for many students due to their favorable terms and conditions, such as:
Lower interest rates: Federal loans typically offer lower interest rates compared to private loans. This means you'll end up paying back less money over the life of the loan.
Flexible repayment plans: These loans offer various repayment options, including income-driven plans. This flexibility can make it easier to manage your debt after graduation.
Deferment and forbearance options: Federal loans allow you to temporarily pause payments in certain situations. This can be a lifesaver if you encounter financial hardship.
No credit check required: Most federal student loans don't require a credit check. This makes them accessible to students who haven't had the chance to build a credit history.
Loan forgiveness programs: Some federal loans are eligible for loan forgiveness programs for those who work in public service. This can significantly reduce your long-term financial burden.
How to Apply for Federal Student Loans in Rhode Island
The application process for federal student loans is a multi-step endeavor that can significantly impact your financial future. From gathering essential documents to understanding the terms of your loan, each step is crucial. We broke down the process to help you navigate the complexities of applying for federal student loans.
1
Gather necessary information
Before you start on your application, gather all required documents. This includes your Social Security card, federal tax returns and information about your income and assets. Having these documents organized will make the subsequent steps smoother and more efficient.
2
Complete the Free Application for Federal Student Aid
The Free Application for Federal Student Aid (FAFSA) is your gateway to federal student loans. This online form will require you to input a range of financial details. The information you provide will be crucial in determining your eligibility for different types of federal aid.
3
Review the Student Aid Report
After submitting the FAFSA, you'll receive a Student Aid Report (SAR). This report summarizes your financial information and calculates your Expected Family Contribution (EFC). Make sure to review this document carefully, as any inaccuracies can affect your loan eligibility.
4
Assess financial aid offers
Once your SAR is reviewed, your school will send you a financial aid offer. This offer will outline the federal loans you qualify for. Take your time to understand the terms, interest rates and repayment options associated with each loan type.
5
Accept the loan offer
After you've assessed your options, you'll need to formally accept the loan offer. This usually involves signing a Master Promissory Note (MPN), a legal document that outlines your commitment to repay the loan. Make sure you read and understand all the terms before signing.
6
Complete entrance counseling
Many schools require first-time federal loan borrowers to complete entrance counseling. This session educates you on your rights and responsibilities as a borrower. It's a crucial step to ensure you understand the implications of taking out a federal student loan.
7
Confirm disbursement details
Finally, confirm the disbursement details with your school's financial aid office. Federal student loans are usually disbursed directly to the school to cover tuition and fees. Any remaining funds will then be provided to you for other educational expenses.
The Types of Federal Student Loans Available in Rhode Island
Understanding the different types of federal student loans is the first step in making an informed decision about financing your education. Each loan type has unique features tailored to meet various needs. Here's a quick guide to help you differentiate between them:
Direct Subsidized Loans: These loans are available for undergraduate students who can prove financial need. The government takes on the responsibility of paying the interest while you're enrolled at least half-time and during grace periods. This feature makes them one of the most cost-effective borrowing options for eligible students.
Direct Unsubsidized Loans: Open to both undergraduates and graduate students, these loans don't require proof of financial need. However, the interest starts accruing from day one, even if you're still in school. If you don't make interest payments while studying, you'll face a higher loan balance upon graduation.
Direct PLUS Loans: These are primarily targeted at graduate students and parents of dependent undergraduate students. A credit check is mandatory, and the interest rates are generally higher. However, they offer the flexibility of borrowing up to the full cost of your education, including living expenses.
Direct Consolidation Loans: If juggling multiple federal loans becomes cumbersome, this loan type allows you to combine them into one. While this simplifies your repayment schedule, it could potentially extend the loan term, increasing the total interest paid.
Student Loan Forgiveness in Rhode Island
Student loan forgiveness is a financial relief program that allows borrowers to have all or part of their student loans forgiven, meaning they are no longer required to make payments on the forgiven amount. These programs are often designed to incentivize certain career paths or public service roles. In Rhode Island, specific programs offer loan forgiveness for certain professions, such as teaching and public service.
Teacher Loan Forgiveness Program The Teacher Loan Forgiveness Program is designed to attract and retain qualified teachers in Rhode Island's low-income schools or educational service agencies. Qualified participants can receive a maximum of $5,000 or $17,500 in loan forgiveness, depending on the subject area taught.

To qualify, you must be a certified teacher employed full-time in a Rhode Island low-income school or educational service agency. The application process involves submitting a Teacher Loan Forgiveness application to your loan servicer after completing five consecutive academic years of qualifying teaching.

Public Service Loan Forgiveness (PSLF) Program Although the Public Service Loan Forgiveness (PSLF) Program is a federal program, Rhode Island residents working in public service roles, including government and nonprofit organizations, may qualify. It offers loan forgiveness for federal student loans after making 120 qualifying payments under an approved repayment plan.
To qualify, you must be employed full-time by a federal, state or local government agency or a nonprofit organization. You must also be enrolled in an income-driven repayment plan. You may submit the PSLF application to the U.S. Department of Education's Federal Student Aid office after making the 120 qualifying payments.
Tips for Managing Student Loans
Managing student loans can be a complex task, but it's essential for your financial future. To help you navigate this, here are some essential tips:
Borrow only what you need: Be mindful of how much you borrow; only take out what you absolutely need for your education. Each dollar you borrow will accumulate interest, increasing your repayment amount. Limiting your borrowing can save you from a debt burden that's hard to manage later on.
Understand the grace period: Most student loans offer a grace period after graduation, usually lasting about six months. This is a crucial time to prepare for the financial responsibility of loan repayment. Use this period to budget and plan for your upcoming monthly payments.
Consider early payments: Making payments on your loans while you're still in school or during the grace period can be beneficial. This can reduce the total amount you owe in the long run. It's a proactive way to manage your debt by preventing interest from capitalizing on your loan balance.
Keep track of loan documents and due dates: Keep your loan documents in an organized manner and know your payment schedules. Being organized can save you from late fees and added interest. It also helps you budget effectively and keeps you in good standing with your lender.
Scholarships and Grants as Alternatives
Scholarships and grants are financial awards given to students to help cover the cost of their education. Unlike loans, which need to be repaid with interest, scholarships and grants are essentially free money.
Because they don't require repayment, scholarships and grants, allow you to focus on your studies and future career without the looming stress of accumulating debt. Not having to repay these funds also gives you more financial freedom upon graduation, allowing you to make choices based on your career goals rather than immediate financial obligations.
For students in Rhode Island, there are various strategies to find and apply for these types of financial aid. Below, we broke down each step.
1
Consult your school's financial aid office
Your school's financial aid office is a valuable resource for scholarship and grant opportunities specific to Rhode Island. They can provide you with a list of options and offer guidance on the application process.
2
Use online search tools
Websites like Fastweb and Scholarships.com allow you to filter scholarship and grant opportunities by state. Utilize these platforms to find awards that are specific to Rhode Island residents.
3
Review eligibility criteria
Before applying, make sure you meet all the eligibility requirements for each scholarship or grant. This ensures that you're not wasting time on opportunities that aren't applicable to you.
4
Gather required documents
Most scholarships and grants require documents like transcripts, letters of recommendation and personal statements. Make sure you have all these documents ready before you start the application process.
5
Craft a strong personal statement
A well-written personal statement can set you apart from other applicants. Take your time to craft a compelling narrative that highlights your strengths and aspirations.
6
Submit your application
Once you have all your documents and your personal statement ready, you can go ahead and apply. Make sure to follow all instructions carefully and double-check your application for errors before submitting.
7
Follow up
After submitting your applications, it's a good idea to follow up to ensure that they have been received and are under review. This shows your continued interest and can keep your application at the forefront.
The Impact of Student Loans on Credit
Student loans play a significant role in shaping your credit score, which is a numerical representation of your creditworthiness. Just like any other form of credit, timely payments on your student loans can positively impact your credit score, making it easier for you to qualify for other types of credit like car loans or mortgages in the future.
On the flip side, failing to make payments on time can lead to a lower credit score, making it more challenging to secure credit at favorable terms. And if you default on your student loans, the consequences can be long-lasting. It can lead to a significant drop in your credit score, making it difficult to secure any form of credit in the future. Moreover, a default stays on your credit report for up to seven years, affecting your financial stability and opportunities.
Frequently Asked Questions (FAQs)
Navigating the world of student loans can be a complex endeavor, filled with a myriad of questions about eligibility, interest and repayment options. To help you navigate this landscape, we answered some commonly asked questions about student loans in Rhode Island.
About Christopher Boston
---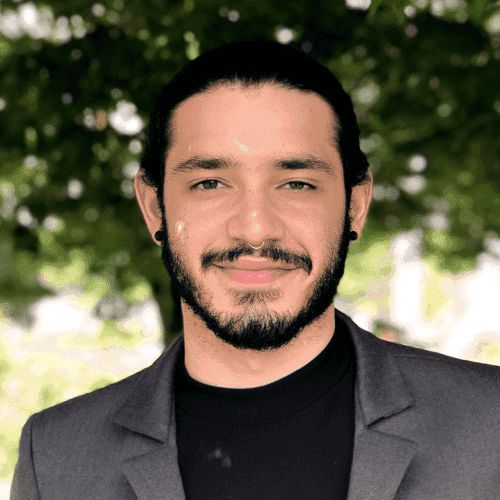 ---