With tuition fees soaring in Pennsylvania, many students are grappling with how to fund their academic dreams. Fortunately, finding the best student loans in Pennsylvania can help navigate this financial obstacle course.
MoneyGeek's top pick for the best overall student loans in the Keystone State is Ascent. Borrowers looking for the lowest interest rates may find Sallie Mae as the best option, while students with bad credit should consider Earnest. International students may get the best deal from Prodigy Finance, whereas those who need a co-signer may get the best deal from College Ave.
Understanding Student Loans
Student loans are financial aids that make higher education more accessible. They offer a way to cover the costs of tuition, books and other educational expenses, allowing you to focus on your academic goals rather than your immediate financial constraints.
Generally, a student loan is a sum of money you borrow to finance your education. The loan will accrue interest over time, and once you've graduated or left school, you'll need to start repaying both the principal amount and the accumulated interest. Some loans offer a grace period, giving you some time before you need to start making payments.
Before taking out a student loan, it's vital to understand its two main types:
Federal student loans: Federal student loans are loans the federal government provides, usually featuring lower interest rates and more flexible repayment plans.

Private student loans: Private student loans are loans offered by private financial institutions like banks, often with higher interest rates and stricter repayment terms.
It's critical to understand the differences between federal and private student loans. Federal loans typically come with added benefits like income-sensitive repayment plans and options for deferment, which are not available with private loans. Being well-informed about these differences can help you make the best financial decisions for your educational path.
Best Private Student Loans in Pennsylvania
Private student loans are financial agreements between a student and a lender that is not the federal government, such as a bank or a credit union. These loans are not subject to federal guidelines, making them a unique option for funding education.
Private student loans can serve as a financial supplement for students who find that federal aid only covers part of their educational costs. They can also be a resource for students pursuing specialized or international programs that federal loans don't typically cover.
The pros and cons of private student loans are worth careful consideration. On the one hand, they can offer larger loan amounts and may have a faster approval process. On the other hand, they often come with higher interest rates that can change over time, and their repayment terms are generally less flexible. Additionally, they lack federal protections like income-based repayment or loan forgiveness programs.
Best Overall

---

4.36%–14.08%

Fixed APR Range

1.47%–11.31%

Variable APR Range

$2,001–$200,000

Loan Amount Range

Non-U.S. citizens and temporary residents

Co-Signer

---
Best With Lowest Interest Rates

---

3.50%–13.83%

Fixed APR Range

1.37%–11.76%

Variable APR Range

$1,000 minimum, no maximum

Loan Amount Range

Allowed but not required

Co-Signer

---
Best for Borrowers With Bad Credit

---

4.43% - 14.90%

Fixed APR Range

5.32% - 16.20%

Variable APR Range

$1,000 up

Loan Amount Range

Allowed

Co-Signer

---
Best for Parents

---

3.22%–11.16%

Fixed APR Range

1.10%–11.68%

Variable APR Range

$5,000 minimum, no maximum

Loan Amount Range

Optional

Co-Signer

---
Best for International Students

---

Starts at 4.98%

Fixed APR Range

Starts at 4.66%

Variable APR Range

Minimum $15,000, no maximum

Loan Amount Range

Not required

Co-Signer

---
Best for Borrowers Needing A Co-Signer

---

4.44% - 15.99%

Fixed APR Range

5.09% - 15.99%

Variable APR Range

$1,000 minimum, no maximum

Loan Amount Range

Not required

Co-Signer

---
Federal Student Loans in Pennsylvania
Federal student loans are financial resources the U.S. government provides to help students pay for their education. They are often the go-to option for students seeking financial aid for the following reasons:
Lower interest rates: The government often sets interest rates for federal loans at a lower, fixed rate, making financial planning more straightforward. Over the life of the loan, this can translate into significant savings, reducing your financial stress post-graduation.

Customizable repayment plans: Federal loans offer a range of repayment plans, including options based on your income and family size. This allows you greater control over your financial future, making managing debt and other life expenses easier.

Potential for loan forgiveness: If you work in specific sectors like public service or healthcare, you may be eligible for federal loan forgiveness programs. This can be a game-changer in your financial planning, potentially erasing a large chunk of your educational debt.

Pause payments when needed: Federal loans offer the option to defer or forbear payments in case of financial hardship or other qualifying circumstances. This provides a valuable cushion, allowing you to focus on resolving your financial issues without the added pressure of loan repayments.

Broad accessibility: Many federal loans do not require a credit check, making them more accessible to students new to credit. This ensures that you can focus on your education rather than worrying about whether your credit history will hold you back.
These loans are subject to federal regulations and typically offer more advantageous terms than private loans.
How to Apply for Federal Student Loans in Pennsylvania
Securing federal student loans involves well-defined stages to ensure you get the financial support you need for your education. Here's a breakdown of the steps to help you through each stage of the application process.
Prepare financial documents: Start by collecting all necessary financial papers, such as your Social Security card, federal tax returns and W-2 forms. These are the building blocks of your application and will be used to assess your financial need. Having these documents ready will make the application process smoother and more efficient.

Fill out the Free Application for Federal Student Aid: The Free Application for Federal Student Aid (FAFSA) is the cornerstone of your federal aid application. It's available online and requires you to input a range of financial details, so make sure to refer to the documents you prepared earlier. An accurate FAFSA is essential for determining your eligibility for various types of federal aid, including loans.

Review your Student Aid Report: After submitting the FAFSA, you'll receive a Student Aid Report summarizing your financial information. This report also includes your Expected Family Contribution, which schools use to calculate your financial aid package. Verify all the information for accuracy, as mistakes can affect your aid eligibility.

Evaluate financial aid offers: Once a school admits you, you'll receive an offer outlining the federal loans you're eligible for. This is your opportunity to compare the terms and conditions of each loan, including interest rates and repayment plans. Make an informed decision based on your financial situation and future earning potential.

Confirm your financial aid: After reviewing your options, the next step is to formally accept your financial aid package. This usually involves logging into a portal provided by your school and following specific instructions for accepting or declining each type of aid. Be mindful to only accept the aid you actually need, as you'll have to repay any loans with interest.

Complete loan entrance counseling: Many educational institutions require first-time borrowers to undergo entrance counseling. This online module educates you on the basics of federal student loans and your responsibilities as a borrower. Completion is often mandatory before your loan fund disbursal.

Sign the Master Promissory Note: The last step involves signing a Master Promissory Note, a legal contract that spells out the terms and conditions of your loan. This document is crucial, as it outlines your obligations and the repercussions of failing to meet them. Read it carefully before signing; once you do, the government will release the loan funds to your school.
Each of the above actions aims to assess your financial needs and educate you on the responsibilities of taking out a loan.
The Types of Federal Student Loans Available in Pennsylvania
Federal student loans offer a range of options to help you finance your education, each with its own set of advantages and disadvantages. Knowing the specifics can help you choose the loan that best suits your needs. Here's a rundown of the four main types of federal student loans.
Direct Subsidized Loans: These loans are designed for undergraduates with demonstrated financial need. The government pays the interest on these loans under specific conditions, such as while you're in school or during deferment periods. This benefit can significantly lower the long-term cost of your loan.

Direct Unsubsidized Loans: Available to both undergraduates and graduate students, these loans start accruing interest immediately upon disbursement. You're responsible for all interest payments, even while you're still in school. If you don't pay the interest during this period, it will be capitalized, increasing your overall debt.

Direct PLUS Loans: These loans aim to support parents and graduate students. They typically require a credit check and offer larger loan amounts. However, they also have higher interest rates and an origination fee. They can be a viable option for covering more significant educational expenses but require careful financial planning due to the higher costs.

Direct Consolidation Loans: This loan type offers the convenience of combining multiple federal student loans into one loan with a single monthly payment. While this can make managing repayments easier, it can also extend the length of your loan, potentially leading to higher total interest payments.
Depending on your circumstances, you may end up applying for multiple types of federal student loans throughout your academic career.
Student Loan Forgiveness in Pennsylvania
Student loan forgiveness is a financial arrangement that allows borrowers to have some or all of their student loans canceled, typically in exchange for work in specific sectors or under certain conditions.
For residents of Pennsylvania, there are several state-specific programs aimed at providing student loan forgiveness, particularly for individuals in fields like health care and teaching.
Pennsylvania Primary Care Loan Repayment Program
The Pennsylvania Primary Care Loan Repayment Program is designed to attract healthcare professionals to underserved communities within the state. This program offers up to $80,000 in loan repayment assistance for a two-year service commitment in a Health Professional Shortage Area (HPSA).
To be eligible, you must be a licensed health care provider in an eligible discipline, which includes family medicine, internal medicine, pediatrics and psychiatry. You must also commit to a two-year full-time service or a four-year half-time service in a designated HPSA within Pennsylvania. The application process involves submitting an online application along with various supporting documents.
Teacher Loan Forgiveness Program
The Teacher Loan Forgiveness Program aims to incentivize Pennsylvania teachers to work in low-income schools or educational service agencies. The program offers up to $17,500 in loan forgiveness for teachers who commit to teaching for at least five years in a designated low-income school.
Eligibility requirements include having a bachelor's degree, full state certification and not having an outstanding balance on Direct Loans or Federal Family Education Loans. The application process involves submitting the Teacher Loan Forgiveness Application after completing the five-year teaching requirement.
Tips for Managing Student Loans
The art of effectively managing student loans can set the stage for a financially secure future. Here are some tips you can put into action to help you master it.
Only borrow what you need

Be discerning about the amount you choose to borrow. The money you take out as a loan will need to be repaid and it will grow with interest over time. Borrowing excessively can saddle you with a debt load that becomes a long-term financial hardship.

Understand the grace period

Most student loans offer a grace period post-graduation, usually around six months. This is a transitional phase meant to help you find your financial footing as you enter the workforce. But remember, interest often doesn't take a break during this period, so plan accordingly.

Making payments on your student loan while you're still in school or during the grace period can be a savvy financial move. This not only reduces the principal but also lessens the amount of interest that will accumulate over the life of the loan. It's a proactive way to save money in the long term.

Keep track of loan documents and due dates

Keeping a meticulous record of your loan documents and payment schedules is non-negotiable. This will help you stay on top of your obligations and avoid any late fees or additional interest charges. Digital platforms and apps specifically designed for loan management can be invaluable tools in this endeavor.
Scholarships and Grants as Alternatives
Scholarships and grants are not just funds; they're opportunities for a debt-free future. Unlike loans, which are essentially financial obligations you'll need to repay, scholarships are often merit-based, celebrating your academic or extracurricular achievements. Grants usually focus on financial need, aiming to level the educational playing field.
For Pennsylvanians looking to secure these opportunities, the following are specific strategies and resources that can make the quest for scholarships and grants more fruitful.
Utilize Pennsylvania-specific platforms: Begin your search by focusing on resources that cater specifically to Pennsylvania residents. Websites like the Pennsylvania Higher Education Assistance Agency (PHEAA) offer a curated list of scholarships and grants that are exclusive to students in the state.

Analyze eligibility requirements: Scholarships and grants often come with specific criteria, such as academic achievements, intended major or community service. Review these requirements meticulously to ensure you're applying for opportunities that align with your unique set of skills and circumstances.

Compile essential documents: Prepare to gather all the necessary documentation, which often includes academic transcripts, financial statements and letters of recommendation. Having these documents ready streamlines the application process and ensures you're prepared to meet any deadlines.

Write a captivating personal statement: If the application requires a personal essay, take the time to craft a compelling narrative that highlights your aspirations, achievements and suitability for the financial award. This is your chance to make a memorable impression on the scholarship committee.

Track deadlines and requirements: Maintain a detailed record of all application deadlines and submission guidelines. Utilize digital organizational tools like calendar apps to set reminders, ensuring you never miss a deadline or submit an incomplete application.

Submit and confirm applications: After you've filled out your applications, go ahead and submit them. It's a good practice to follow up with a confirmation email to the scholarship or grant committee, as this not only verifies receipt but also emphasizes your enthusiasm for the opportunity.
The standout feature of both scholarships and grants is that they don't come with the baggage of repayment and interest. This means you can start your post-graduate life on a clean financial slate, unencumbered by the need to allocate a portion of your income to loan repayments, allowing for a smoother transition into your career or further studies.
The Impact of Student Loans on Credit
Student loans are a financial tool that can either build or demolish your credit score. Making payments on time is like adding building blocks to a strong credit foundation. This positive financial behavior can lead to benefits like lower interest rates on future loans and the ability to qualify for higher credit limits.
Conversely, late or missed payments act like wrecking balls to your credit structure. They not only result in late fees but also lower your credit score, making future financial endeavors more challenging and expensive.
The most catastrophic event in the life of a student loan is a default. Defaulting on a student loan is the financial equivalent of a seismic event for your credit score, causing it to plummet dramatically. This can lead to long-lasting consequences, such as being denied credit altogether or facing exorbitant interest rates, affecting your financial stability for years to come.
Frequently Asked Questions
We answered some frequently asked questions about student loans in Pennsylvania to guide you as you navigate the financial aspects of your education.
About Christopher Boston
---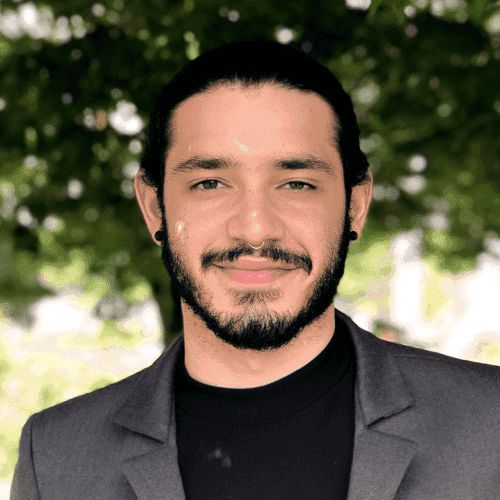 ---