The sticker shock of higher education in Ohio is real, and it's not just the price of textbooks making students wince. Tuition fees have steadily climbed, leaving many wondering how to foot the bill for their dream degree. The good news is that finding the best student loans in Ohio can make this significant investment more manageable.
Based on MoneyGeek's study, Risla offers the best overall student loans in the state. College Ave is an excellent choice for the lowest interest rates, while Funding U is ideal for students with bad credit. Discover is the best option for international students, whereas PNC provides the best deal for those who need a co-signer.
Understanding Student Loans
Student loans are financial tools that enable you to pursue higher education without the immediate burden of tuition fees. They bridge the gap between your educational aspirations and financial reality, allowing you to focus on your studies rather than how to pay for them.
When you take out a student loan, you're borrowing money that will need to be paid back. The loan accrues interest over time, and once you're out of school, a repayment plan kicks in. Depending on the terms, you may have a grace period before repayments start, but the interest usually starts accumulating from day one.
There are two types of student loans:
Federal student loans: Federal student loans are funded by the federal government and often come with lower interest rates and more flexible repayment plans.

Private student loans: Private student loans are offered by private lenders like banks or credit unions and usually have higher interest rates and less flexible repayment terms.
Understanding the differences between federal and private student loans is crucial for making an informed decision. Federal loans often offer benefits like income-driven repayment plans and the possibility of loan forgiveness, which private loans typically don't provide. These differences can significantly impact your financial well-being during and after your academic journey.
Best Private Student Loans in Ohio
Private student loans are financial products offered by non-governmental entities like banks, credit unions or specialized education lenders. If you've maxed out your federal student aid or find that it doesn't cover all your educational expenses, these loans can fill the gap. They're also useful for covering costs that federal loans don't, such as study-abroad programs or specialized training courses.
However, private loans come with their own set of advantages and disadvantages. On the plus side, they often offer larger loan amounts and may have a quicker approval process. However, the downside can be significant. Interest rates are generally higher and can fluctuate, and repayment terms are less flexible. In addition, they don't include federal protections like income-driven repayment plans or loan forgiveness.
Best Overall
---

2.99%–4.74%

Fixed APR Range

Not available

Variable APR Range

$1,500–$150,000

Loan Amount Range

Not required if borrower meets qualifications

Co-signer

---
Best With Lowest Interest Rates
---

4.44% - 15.99%

Fixed APR Range

5.09% - 15.99%

Variable APR Range

$1,000 minimum, no maximum

Loan Amount Range

Not required

Co-signer

---
Best for Those With Bad Credit
---

6.99% – 12.49%

Fixed APR Range

7.49% – 12.99%

Variable APR Range

$3,001 up to $20,000

Loan Amount Range

Not required

Co-signer

---
Best for Parents
Education Loan Finance (ELFI)

---

From 3.20%

Fixed APR Range

From 1.20%

Variable APR Range

Minimum of $1,000

Loan Amount Range

U.S. citizen or permanent resident

Co-signer

---
Best for International Students
---

3.99%–11.59%

Fixed APR Range

1.79%–11.09%

Variable APR Range

$1,000 up to 100% of college expenses

Loan Amount Range

Optional

Co-signer

---
Best for Those That Need a Cosigner
---

3.22%–11.16%

Fixed APR Range

1.10%–11.68%

Variable APR Range

$5,000 minimum, no maximum

Loan Amount Range

Optional

Co-signer

---
Federal Student Loans in Ohio
Federal student loans are financial aid provided by the U.S. government to help students afford higher education. Unlike private loans, they come with federally regulated terms and conditions. These loans are often the first choice for students due to their numerous benefits, such as:
Lower interest rates: Federal student loans typically offer lower interest rates than private loans. This can result in significant savings over the life of the loan, making your post-graduation financial burden more manageable.

Flexible repayment plans: Federal loans offer various repayment options, including income-driven plans that adjust your monthly payments based on your earnings. This flexibility can be a lifeline if you encounter financial difficulties after graduation.

Loan forgiveness programs: Some federal loans are eligible for forgiveness programs, which can effectively erase a portion of your debt, provided you meet certain criteria.

Deferment and forbearance options: Federal loans allow you to temporarily pause payments through deferment or forbearance if you face financial hardship, which can provide you with the breathing room you need to get back on your feet.

No credit check: Many federal student loans do not require a credit check, making them accessible to students who haven't yet built a credit history. This allows more people to pursue higher education without worrying about creditworthiness.
How to Apply for Federal Student Loans in Ohio
Applying for federal student loans is a straightforward process if you know what steps to take. Below, we outlined the steps to help you navigate the application process for federal student loans.
1
Gather necessary documents
Before you even sit down to fill out the application, ensure you have all the necessary documents on hand. This includes your Social Security number, federal tax returns and information about your income and assets. Having these documents ready streamlines the application process and reduces the chances of making errors.
2
Complete the Free Application for Federal Student Aid
The Free Application for Federal Student Aid (FAFSA) is the cornerstone of any federal loan application. It's available online and requires the documents you gathered. The FAFSA determines your eligibility for federal student loans, grants and work-study programs, so it's crucial to fill it out accurately.
3
Review your Student Aid Report
After submitting the FAFSA, you'll receive a Student Aid Report (SAR) summarizing the information you provided. This report will also indicate your Expected Family Contribution (EFC), which schools use to calculate your financial aid package. Review the SAR carefully for any errors and make corrections if necessary.
4
Evaluate financial aid offers
Once you've been accepted to a school, you'll receive a financial aid offer outlining the types of federal loans you're eligible for. This is the time to compare offers and understand the terms of each loan type. Consider interest rates, repayment options and any additional charges or fees.
5
Accept your financial aid
After reviewing your options, the next step is to formally accept the financial aid package. This usually involves logging into your school's financial aid portal and following the instructions to accept or decline each part of your aid package. Make sure to only accept the aid you need, as you'll have to pay back any loans with interest.
6
Complete entrance counseling
Many schools require first-time federal loan borrowers to complete entrance counseling. This online session helps you understand your rights and responsibilities as a borrower. It's a mandatory step and ensures you're aware of the commitment you're making.
7
Sign the Master Promissory Note
The final step is signing the Master Promissory Note, a legally binding document that outlines the terms and conditions of your loan. This document is crucial as it spells out your obligations regarding repayment and what happens if you default. Read it carefully before signing; once you do, the loan funds will be disbursed to your school.
The Types of Federal Student Loans Available in Ohio
Knowing the types of federal student loans available can simplify your journey. Here's a breakdown of the four primary types of federal student loans to help you make an educated choice.
Direct Subsidized Loans: These loans are available for undergraduate students who can demonstrate financial need. The government shoulders the responsibility of paying the interest while you're enrolled at least half-time, during your grace period and if you defer the loan. This feature can be a financial lifesaver, reducing your debt load over time.

Direct Unsubsidized Loans: Open to both undergraduate and graduate students, these loans don't hinge on financial need. The catch is that interest starts accruing from day one, even if you're still in school. If you don't pay off the interest while studying, it will capitalize, increasing the total amount you owe.

Direct PLUS Loans: Aimed at graduate students and parents of undergraduates, these loans require a credit check and offer more substantial loan amounts. However, they come with higher interest rates and an origination fee. They're a good option to bridge a significant financial gap, but be cautious about the long-term costs.

Direct Consolidation Loans: This loan type allows you to combine multiple federal student loans into a single loan with a fixed interest rate. While this simplifies repayment, it can extend your loan term, potentially increasing the total interest paid.
Student Loan Forgiveness in Ohio
Student loan forgiveness is a financial relief program that allows borrowers to have some or all of their federal student loan debt erased under certain conditions, such as working in specific professions or sectors for a set period.
In Ohio, there are several state-specific programs aimed at providing student loan forgiveness for individuals in various fields, including health care and teaching.
1
Nurse Education Assistance Loan Program
The Nurse Education Assistance Loan Program is tailored for Ohio students enrolled for at least half-time study in a state-approved nurse education program. It awards $1,650 annually in exchange for working full-time as a registered nurse or licensed practical nurse within the state for at least five years after graduation.
To apply, you must complete the FAFSA and create a NEALP account through the Ohio Department of Higher Education (ODHE).
2
Ohio Teacher Loan Forgiveness Program
The Teacher Loan Forgiveness Program is designed to incentivize highly qualified teachers to work in low-income schools or educational service agencies. Benefits include up to $17,500 in loan forgiveness on Direct Loans for teachers who commit to teaching for five consecutive academic years.
Eligibility requirements include being employed as a full-time, highly qualified teacher for five consecutive academic years and not having an outstanding balance on Direct Loans or Federal Family Education Loans. To apply, you must submit the Teacher Loan Forgiveness Application to your loan servicer after completing the five-year teaching requirement.
Tips for Managing Student Loans
Effective student loan management can make all the difference in your financial future. Understanding the nuances can help you avoid pitfalls and make informed decisions. Here are some tips to guide you.
Borrow only what you need

It's crucial to borrow only what you absolutely need for your education. Remember, every dollar you borrow today is a dollar plus interest you'll have to repay tomorrow. Overborrowing can lead to a debt spiral that could take years to escape from.

Understand the grace period

Most student loans come with a grace period after you graduate, usually lasting six months. This is not a "free pass" but rather a window for you to secure employment and prepare for repayment. Ignoring this period can result in missed payments and accrued interest.

Consider making small payments while you're still in school or during the grace period. Even a modest monthly payment can reduce the principal amount, which in turn decreases the interest that accrues over time. This proactive approach can save you a significant amount in the long run.

Keep track of loan documents and payment schedules

Knowing when each payment is due and how much is owed can help you avoid late fees and additional interest. Utilize digital tools like loan tracking apps to stay organized and on top of your repayment plan.
Scholarships and Grants as Alternatives
Scholarships and grants are financial awards designed to help students cover the cost of their education, but unlike loans, they come with no strings attached in terms of repayment. Think of scholarships as merit-based gifts, often awarded for academic excellence, athletic achievements or unique talents. Grants, on the other hand, are typically need-based and may be given to students who demonstrate financial hardship.
The beauty of both scholarships and grants is that they're essentially free money for your education. Avoiding years, sometimes decades, of accumulating interest can make a monumental difference in your financial well-being as you transition from student life to the working world.
Ohio residents can find and apply for these opportunities by following these strategies:
1
Research Ohio-specific scholarships and grants
Start by exploring scholarships and grants that are exclusive to Ohio residents. Websites like the Ohio Department of Higher Education and your school's financial aid office can provide a curated list of state-specific financial aid opportunities.
2
Consider your eligibility criteria
Each scholarship and grant has its own set of requirements, such as academic achievements, specific fields of study or financial need. Carefully read the eligibility criteria to ensure you're applying for opportunities that match your profile.
3
Gather necessary documentation
Prepare essential documents like academic transcripts, financial records and letters of recommendation ahead of time. Having these documents ready will help you complete applications more efficiently and meet any deadlines.
4
Craft a personal statement or essay
If the application requires an essay or personal statement, invest time in crafting a compelling narrative. This is your opportunity to differentiate yourself from other applicants and showcase your qualifications.
5
Submit applications and follow up
After submitting your applications, confirm their receipt with the scholarship or grant committee. A simple follow-up email can not only provide peace of mind but also demonstrate your continued interest in the opportunity.
The Impact of Student Loans on Credit
Student loans can negatively or positively impact your credit score. When you take out a student loan, it's reported to credit bureaus, and your repayment behavior becomes a part of your financial history. Making timely payments on your student loans can be a powerful way to build a strong credit profile.
However, the opposite is also true. Missing payments or making late payments can have a detrimental impact on your credit score. Even a single late payment can drop your score by several points, making it harder to secure other forms of credit or even pass a routine credit check for renting an apartment.
Defaulting on your student loans is even more severe and can stay on your credit report for up to seven years. This can limit your ability to take out any future loans, secure housing or even pass employment background checks that include a credit review.
Frequently Asked Questions
Below, we compiled a list of frequently asked questions to help you make informed decisions about financing your education in the Buckeye State.
About Christopher Boston
---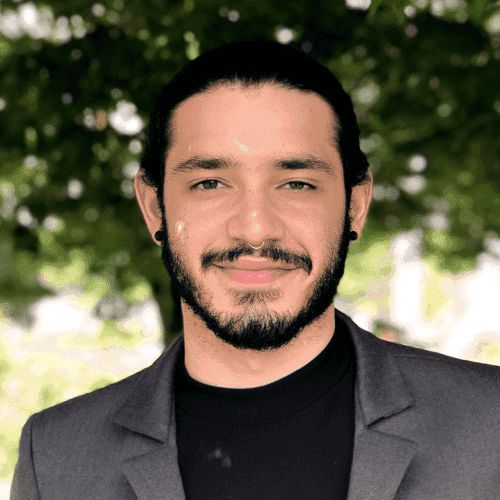 ---