In New Mexico, tuition fees for higher education have soared, leaving many students and their families grappling with how to cover costs, with many utilizing student loans. Whether you're a student with bad credit or an international student, understanding your loan options is crucial. MoneyGeek found that Risla offers the best student loans in New Mexico overall. College Ave is ideal for students who want the lowest interest rates, while Funding U is excellent for those with bad credit. Discover provides the best deals for international students, while PNC is preferable for students who need a co-signer.
Understanding Student Loans
Student loans are essentially financial lifelines that enable you to pursue higher education without the immediate burden of tuition fees and other related costs. Think of them as a form of "educational mortgage" where you borrow money now to invest in your future earning potential.
The basic mechanics of student loans involve borrowing a sum of money that will need to be paid back with interest. Repayment usually begins after you've completed your education, and the terms can vary widely, including options for deferment or income-driven repayment plans.
Student loans are divided into two different categories:
Federal student loans: Federal student loans are funded by the federal government and often come with lower interest rates and more flexible repayment options than private loans. Eligibility is usually determined by financial need.

Private student loans: Private student loans are offered by private lenders like banks or credit unions. They often have higher interest rates and less flexible repayment terms. Creditworthiness is a significant factor in eligibility and interest rates.
Understanding the differences between federal and private student loans is crucial because it directly impacts your financial future. Federal loans often offer more protections and are generally more forgiving in terms of repayment options. Private loans can fill the gap when federal loans fall short but come with their own risks and responsibilities.
Best Private Student Loans in New Mexico
Private student loans are financial instruments offered by private lenders such as banks and credit unions. They can be a viable option if federal aid covers only some of your educational expenses or you're attending a specialized program that doesn't qualify for federal aid.
While private loans can offer higher borrowing limits and may even cover costs that federal loans don't, such as textbooks and living expenses, their flexibility comes at a price. They often have higher interest rates and less forgiving repayment terms. Additionally, private loans are based on your creditworthiness and often require a co-signer. As such, it's crucial to read the fine print and understand the terms before you borrow.
Best Overall

---

2.99%–4.74%

Fixed APR Range

Not available

Variable APR Range

$1,500–$150,000

Loan Amount Range

Not required if borrower meets qualifications

Co-signer

---
Best With Lowest Interest Rates

---

4.44% - 15.99%

Fixed APR Range

5.09% - 15.99%

Variable APR Range

$1,000 minimum, no maximum

Loan Amount Range

Not required

Co-signer

---
Best for Those With Bad Credit

---

6.99% – 12.49%

Fixed APR Range

7.49% – 12.99%

Variable APR Range

$3,001 up to $20,000

Loan Amount Range

Not required

Co-signer

---
Best for Parents

Education Loan Finance (ELFI)

---

From 3.20%

Fixed APR Range

From 1.20%

Variable APR Range

Minimum of $1,000

Loan Amount Range

U.S. citizen or permanent resident

Co-signer

---

Education Loan Finance (ELFI)
Best for International Students

---

3.99%–11.59%

Fixed APR Range

1.79%–11.09%

Variable APR Range

$1,000 up to 100% of college expenses

Loan Amount Range

Optional

Co-signer

---
Best for Those Who Need a Co-Signer

---

2.99%–9.89%

Fixed APR Range

1.09%–8.19%

Variable APR Range

$1,000–$50,000

Loan Amount Range

Allowed

Co-signer

---
Federal Student Loans in New Mexico
Federal student loans are financial aid options backed by the U.S. government, designed to help students afford the cost of higher education. These loans often come with terms that are generally more favorable than those of private loans, including:
Federal student loans usually offer interest rates that are significantly lower than those of private loans. This can translate into substantial savings over the life of the loan, making your post-graduation financial burden more manageable.

Federal loans offer a variety of repayment options, including income-driven plans that adjust your monthly payments based on your earnings. This flexibility can be a lifesaver, especially if you find yourself in a lower-paying job or facing financial hardship after graduation.

Loan forgiveness programs

Some federal loans offer forgiveness programs for those who work in public service or specific professions. These programs can erase a portion or even all of your loan balance, providing significant financial relief.

Deferment and forbearance options

Federal loans allow you to temporarily pause payments in certain situations, such as unemployment or financial hardship. This gives you breathing room to get back on your feet without accruing extra penalties.
How to Apply for Federal Student Loans in New Mexico
Securing federal student loans is a pivotal part of your educational journey. While the application process might seem complex, it's actually quite straightforward when you break it down into individual steps.
1
Gather necessary documents
Before you start filling out the Free Application for Federal Student Aid (FAFSA), gather all the required documents. This includes your social security number, tax records and information about your family's income and assets. Having these documents ready will make the application process smoother and more accurate.
2
Complete the FAFSA
The FAFSA is the cornerstone of your federal student loan application. It's available online and is used to determine your eligibility for federal aid. Make sure to fill it out accurately and completely to maximize your chances of receiving financial aid.
3
Review your Student Aid Report
After submitting the FAFSA, you'll receive a Student Aid Report (SAR). This report provides a summary of the information you included on the FAFSA and should be reviewed for errors. The SAR will also contain your Expected Family Contribution (EFC), which schools use to calculate your financial aid package.
4
Evaluate financial aid offers
Once you've been accepted to a college, you'll receive a financial aid offer. This offer will outline the types of federal loans you're eligible for. Take the time to understand the terms and conditions of each loan type, as this will impact your financial future.
5
Accept or decline offers
After reviewing your financial aid package, you'll need to accept or decline loan offers. Make sure to only accept the amount you need, as you'll have to pay back these loans with interest. You can usually accept and decline offers online through your school's financial aid portal.
6
Complete loan counseling
Before you can receive your federal student loan, you'll need to complete entrance loan counseling. This online session is designed to help you understand your responsibilities as a borrower. It's a mandatory step to ensure you're fully aware of the terms of your loan.
7
Sign the Master Promissory Note
The final step is to sign a Master Promissory Note (MPN), a legal document in which you promise to repay your loan and any accrued interest and fees. Make sure to read this document carefully before signing, as it outlines your obligations and the terms of your loan. Once the MPN is signed, your loan funds will be disbursed to your school.
The Types of Federal Student Loans Available in New Mexico
Federal student loans offer a variety of options to help you finance your education, each with its own set of terms and conditions. Understanding these different loan types can help you make a more informed decision about which best suits your needs.
Direct Subsidized Loans: These loans are specifically for undergraduate students who have demonstrated financial need. One of their standout features is that the federal government pays the interest while the student is in an in-school, grace or deferment period. This can significantly reduce the overall cost of borrowing for higher education.

Direct Unsubsidized Loans: Direct Unsubsidized Loans are available to both undergraduate and graduate students without requiring demonstrated financial need. The key difference from subsidized loans is that you're responsible for all the interest that accrues, starting from the day the loan is disbursed. This means the loan can end up costing you more over time if you don't make interest payments while in school.

Direct PLUS Loans: These loans are designed for graduate students or parents of undergraduate students. They require a credit check and have higher interest rates compared to other federal student loans. However, they allow you to borrow up to the full cost of attendance, minus any other financial aid received, making them useful for covering gaps in funding.

Direct Consolidation Loans: Direct Consolidation Loans allow you to combine multiple federal student loans into a single loan with a fixed interest rate based on the average of the loans being consolidated. Combining your loans can simplify your monthly payments and offer access to alternative repayment plans. However, keep in mind that consolidating your loans may result in the loss of borrower benefits, like interest rate discounts or loan cancellation options.
Student Loan Forgiveness in New Mexico
Student loan forgiveness is a financial relief program that allows eligible borrowers to have some or all of their federal student loans canceled, usually in exchange for certain types of employment or community service.
In New Mexico, there are specific programs aimed at teachers and public service workers that offer this kind of debt relief. Understanding these programs can be a game changer for those looking to make a meaningful impact in their communities while also managing their student loan debt.
1. Teacher Loan Repayment Program The Teacher Loan Repayment Program is designed to attract and retain teachers in high-need school districts or shortage areas. Teachers can receive up to $6,000 per year in loan forgiveness for a maximum of five years to repay their student loans.
To be eligible, you must have a teaching license from the New Mexico Public Education Department, have taught at least three years in the state and currently be teaching in a high-need position. The application process involves submitting an application form, proof of employment and loan statements, usually by a specific deadline each year.
2. Public Service Loan Forgiveness Program (PSLF) The Public Service Loan Forgiveness (PSLF) Program (PSLF) is particularly beneficial for those working in government or nonprofit sectors in New Mexico. After making 120 qualifying monthly payments under an income-driven repayment plan, the remaining balance of your Direct Loan is forgiven.
Eligibility requires that you work full-time for a qualifying employer, which includes government organizations at any level and certain nonprofit organizations. The application process for PSLF involves submitting the Employment Certification Form annually or when you change employers to ensure you're on track for forgiveness.
Tips for Managing Student Loans
Managing student loans is a critical aspect of financial well-being, and effective loan management can set the stage for a more secure financial future. Here are some actionable tips to help you navigate the complexities of student loans.
Borrow only what you need

Borrowing more than you need can be tempting, especially when faced with immediate expenses. However, remember that every dollar borrowed will accrue interest over time, making your loan more expensive in the long run. Always aim to borrow only what's essential for your education.

Understand the grace period

After you graduate, there's usually a grace period — often six months — before you have to start repaying your loans. This time can be a financial breather, but it's also a crucial period for planning your repayment strategy. Use this time wisely to budget and explore different repayment options.

Making payments on your student loans while still in school or during the grace period can significantly reduce the overall cost of your loan. Even small, regular payments can help offset the interest that accrues, making your future financial burden lighter.

Keep track of loan documents and due dates

Keeping track of loan documents and payment schedules can be a lifesaver in the long run. Utilize digital tools or apps specifically designed for loan management to keep all your information in one place. Regularly updating this information can help you avoid late fees.
Scholarships and Grants as Alternatives to Loans
Scholarships and grants are financial aid options that, unlike loans, don't require repayment. While both are essentially "free money" for education, scholarships are usually merit-based, awarded for academic or extracurricular achievements. Grants, on the other hand, are need-based, often allocated based on financial circumstances.
The benefits of scholarships and grants extend beyond the obvious perk of not having to repay them. They offer a form of financial liberation, allowing you to focus on your studies without the looming stress of future debt. Both options can be pivotal in reducing your reliance on loans, which come with the added burden of interest rates and strict repayment schedules.
In New Mexico, finding and applying for scholarships and grants is a crucial step in securing a financially stable educational journey. Here are some steps you can take to navigate this process.
2
Consult your school's financial aid office
Schedule a meeting with your school's financial aid office to discuss scholarships and grants that align with your academic profile. They can provide you with a curated list of opportunities and offer tips on how to make your application stand out.
3
Check local organizations
Reach out to local community groups, religious organizations and businesses that offer scholarships. These local scholarships often have less competition and can be easier to win, making them a valuable addition to your financial aid portfolio.
4
Prepare application materials
Gather all required documents, such as transcripts, financial statements and letters of recommendation. Each scholarship or grant will have its own set of requirements, so make sure to read the guidelines carefully.
5
Submit applications
Once all materials are prepared, proceed to submit your applications before the deadlines. Keep track of each submission, and consider setting reminders for upcoming deadlines to ensure you don't miss any opportunities.
The Impact of Student Loans on Credit
Student loans have a more profound impact on your credit score than you might initially realize. They're installment loans, which means they stay on your credit report for a long time and can significantly influence your creditworthiness. Your payment history, which accounts for about 35% of your FICO score, is heavily affected by how punctual you are at making student loan payments.
Keep in mind that making your loan payments on time is not just a good habit; it's a necessity for maintaining a healthy credit score. Late payments can result in a lower credit score, which can affect your ability to qualify for other forms of credit, such as a mortgage or car loan.
Additionally, defaulting on your student loans can have severe repercussions on your credit profile. A default is recorded on your credit report and can stay there for up to seven years, making it difficult to secure any form of credit or even open a new bank account. Additionally, defaulting can lead to wage garnishment, where a portion of your salary is automatically used to pay off the loan, further straining your financial situation.
Frequently Asked Questions
With tuition rates climbing at schools like the University of New Mexico, it's natural to have questions about how to finance your education. Below, we answered some of your most pressing queries about student loans in New Mexico.
About Christopher Boston
---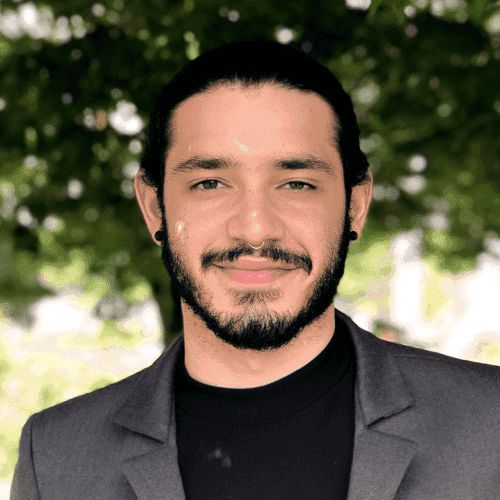 ---