The rising costs of higher education in New Jersey have become a real challenge that many students and their families are facing. The best student loans in New Jersey can help make college more accessible as the financial burden of pursuing a degree grows.
Your particular needs and circumstances will dictate your best option. Ascent is MoneyGeek's top pick for the best overall student loans in New Jersey. Sallie Mae is ideal for the lowest interest rates, while Earnest is preferable for those with bad credit. International students may fare best with Prodigy Finance, while students who need a co-signer may consider College Ave.
Understanding Student Loans
Student loans are financial instruments that play a crucial role in making higher education attainable. They offer the funds needed to cover educational expenses, allowing you to focus on your studies rather than financial stress.
A student loan involves borrowing money that will be paid back with interest. The interest is a continual charge for the privilege of borrowing, and it is added to the total amount that must be repaid. Various repayment plans are available, often beginning after graduation, to accommodate different financial situations.
There are two main types of student loans:
Federal student loans: Backed by the government, federal student loans typically come with advantages like lower interest rates and deferment options, making them a preferred choice for many students.

Private student loans: Private student loans are offered by banks and other financial institutions. They typically have more stringent requirements and less favorable terms, underscoring the need to carefully consider this option before borrowing.
Understanding the differences between federal and private student loans allows you to make a choice that reflects your immediate educational needs and your long-term financial health. It's about finding the right balance between accessibility, cost and flexibility, ensuring you fund your academic journey in the most advantageous way possible.
Best Private Student Loans in New Jersey
Private student loans are educational loans from commercial lenders such as banks and credit unions. They operate outside the federal loan system and have their own set of rules and requirements.
In cases where federal loans, grants and scholarships are not enough to cover the total cost of education, private student loans can be a practical alternative. They offer the additional financial support to complete a degree or certification without undue financial strain.
The benefits and drawbacks of private student loans are multifaceted. On the one hand, they may offer more flexibility in borrowing amounts and, if the borrower has excellent credit, the possibility of obtaining a loan without a co-signer. On the other hand, they often come with higher and, sometimes, variable interest rates, less lenient repayment plans and no option for loan forgiveness.
Best Overall

---

4.36%–14.08%

Fixed APR Range

1.47%–11.31%

Variable APR Range

$2,001–$200,000

Loan Amount Range

Non-U.S. citizens and temporary residents

Co-Signer

---
Best With Lowest Interest Rates

---

3.50%–13.83%

Fixed APR Range

1.37%–11.76%

Variable APR Range

$1,000 minimum, no maximum

Loan Amount Range

Allowed but not required

Co-Signer

---
Best For Those With Bad Credit

---

4.43% - 14.90%

Fixed APR Range

5.32% - 16.20%

Variable APR Range

$1,000 up

Loan Amount Range

Allowed

Co-Signer

---
Best for Parents

---

3.22%–11.16%

Fixed APR Range

1.10%–11.68%

Variable APR Range

$5,000 minimum, no maximum

Loan Amount Range

Optional

Co-Signer

---
Best for International Students

---

Starts at 4.98%

Fixed APR Range

Starts at 4.66%

Variable APR Range

Minimum $15,000, no maximum

Loan Amount Range

Not required

Co-Signer

---
Best for Those That Need a Co-Signer

---

4.44% - 15.99%

Fixed APR Range

5.09% - 15.99%

Variable APR Range

$1,000 minimum, no maximum

Loan Amount Range

Not required

Co-Signer

---
Federal Student Loans in New Jersey
Federal student loans are a form of financial aid the U.S. government provides to help students afford college. They come with several advantages that can make them an attractive option, such as:
Federal loans often feature interest rates that are not only lower but also fixed. This ensures stability in monthly payments and can result in substantial savings over the life of the loan.

Income-driven repayment plans

These loans offer repayment plans that can be tied to the borrower's income, making monthly payments more manageable. This adaptability can be beneficial for those in fluctuating or entry-level income positions.

Potential for loan forgiveness

Federal student loans may be eligible for forgiveness programs, rewarding those in public service roles. This can translate to significant financial relief for those who meet the specific requirements of the programs.

Accessibility without credit checks

Many federal loans are available without a credit check, removing a common barrier for younger students without a credit history. This ensures that more students have access to the funds they need for education.

Federal loans often allow borrowers to temporarily defer payments in certain situations, such as returning to school or facing unemployment. This flexibility can be a lifeline during transitional or challenging financial periods.
How to Apply for Federal Student Loans in New Jersey
Applying for federal student loans is essential for many students seeking to finance their education. Here's a detailed guide to help you navigate the application process.
1
Prepare necessary documents
Collect all required financial documents, such as tax information and income statements. Ensure you also have personal identification details prepared, including your Social Security number. If you're a dependent, you'll also need similar information from your parents.
2
Fill out the Free Application for Federal Student Aid
The Free Application for Federal Student Aid (FAFSA) form is available online and is the gateway to all federal financial aid. Complete this accurately, as it determines your eligibility for loans and other forms of financial aid.
3
Review your Student Aid Report
The Student Aid Report (SAR) will be sent to you after the FAFSA is processed, summarizing your financial aid eligibility. It includes your Expected Family Contribution (EFC), which schools use to calculate your aid package. Review the SAR for any mistakes, as inaccuracies can affect your financial aid.
4
Accept the loan offer
Your school will provide a financial aid offer detailing the federal loans you're eligible for. Assess the offer, understanding the loan types, interest rates and repayment terms. Accept the loan that aligns with your financial needs, keeping in mind that you can borrow less than the offered amount.
5
Complete the Master Promissory Note and entrance counseling
The Master Promissory Note is your legal commitment to repay the loan, and entrance counseling educates you about your loan responsibilities. Both are essential steps in the loan process that you can usually complete online.
6
Wait for funds to be disbursed
The loan funds will be sent directly to your school to cover educational costs. You will receive any excess funds for other educational-related expenses. Maintain communication with your financial aid office to confirm the disbursement schedule and to resolve any issues.
The Types of Federal Student Loans Available in New Jersey
Federal student loans offer various options to support students in financing their education. Each type serves a specific purpose and has distinct characteristics.
Direct Subsidized Loans: Aimed at undergraduate students with financial need, Direct Subsidized Loans feature interest payments covered by the government under certain conditions. This can significantly reduce the overall loan cost, making education more affordable for eligible students.

Direct Unsubsidized Loans: Direct Unsubsidized Loans are open to a broader range of students, including undergraduates, graduates and professionals, without the requirement to prove financial need. The borrower is responsible for all interest, which begins accruing upon disbursement.

Direct PLUS Loans: Designed for graduate and professional students, as well as parents of dependent undergraduates, Direct PLUS Loans can provide substantial funding. The loan amount can cover the full cost of attendance, less other aid, but this option involves a credit check.

Direct Consolidation Loans: Direct Consolidation Loans offer the opportunity to combine multiple federal loans into a single loan, potentially making repayment more manageable. They can also lead to new repayment possibilities. However, they may change the benefits and terms of the original loans.
Student Loan Forgiveness in New Jersey
Student loan forgiveness is when a portion or the entirety of a borrower's student loan amount is canceled. This relief often comes in return for the borrower meeting specific obligations, such as working in a particular profession or underserved area. It's a vital tool that can significantly ease the financial burden of student loans for those who qualify.
In New Jersey, there are unique programs that provide student loan forgiveness to individuals in certain professions or public service roles, such as:
1. Primary Care Practitioner Loan Redemption Program
The Primary Care Practitioner Loan Redemption Program aims to attract primary care practitioners to areas within New Jersey that are underserved or have a health professional shortage. Those eligible can receive loan redemption of up to $200,00 in exchange for service as a primary care provider for two to four years.
Applicants must have a license to practice as a primary care practitioner in New Jersey and agree to practice primary care medicine, dentistry or another eligible primary care profession in a designated underserved area. You must submit a detailed application through the New Jersey Department of Health to apply.
2. New Jersey Teacher Loan Redemption Program
The New Jersey Teacher Loan Redemption Program is designed to attract teachers to work in designated low-income or high-need school districts within New Jersey. Teachers who commit to working in these areas for a specified period may receive loan redemption amounting to 25% of their student loans' principal and interest for up to four years.
Applicants must be certified by the New Jersey Department of Education to teach in the state and work in a high-need field in an eligible school to qualify. The application process involves completing the necessary forms from the New Jersey Department of Education and submitting them by the deadline.
Tips for Managing Student Loans
Navigating student loans is a fundamental aspect of many students' college experience. Effective management of these loans is essential for financial success during school and after graduation. Here are some key tips for managing student loans:
Borrow only what you need

Student loans are a financial obligation that includes repaying the borrowed amount plus interest. As such, carefully assess your actual educational costs and borrow only what's required to meet those expenses. Doing so helps prevent over-borrowing and sets the stage for a more achievable repayment plan.

Understand the grace period

After completing your education, most student loans offer a grace period when repayments are temporarily paused. This period helps graduates adjust financially before repaying the loan. Being informed about the grace period's length and conditions allows for proper planning and a smooth transition into repayment.

Paying towards student loans during school or the grace period can be a strategic way to reduce the total loan cost. Even small payments can chip away at the interest, leading to overall savings. This practice also builds financial discipline and can make the full repayment process less daunting.

Keep track of loan documents and payment schedules

Keeping track of all loan-related documents and payment schedules is essential for maintaining control over your financial obligations. Develop an organized system, set up payment reminders to manage this information and ensure that you're always aware of upcoming due dates.
Scholarships and Grants as Alternatives
Navigating the financial aspects of higher education often leads students to explore scholarships and grants, two forms of aid that are fundamentally different from student loans. While loans must be repaid, often with interest, scholarships and grants are financial awards that do not require repayment.
This feature allows students to invest in their education without worrying about future debt, creating a more liberated academic experience. By removing the financial barriers often associated with loans, scholarships and grants empower students to pursue their educational dreams with confidence and freedom.
To take the following steps to find and apply for scholarships and grants in New Jersey:
1
Engage with your college's financial aid office
If you're attending a college or university in New Jersey, your financial aid office can be a valuable resource. They can guide you to scholarships and grants specific to your institution, academic program or personal circumstances, offering insights tailored to your needs.
2
Explore New Jersey state-specific opportunities
3
Utilize online scholarship search engines
Platforms like Fastweb and Chegg Scholarships allow you to search for scholarships and grants, including those specific to New Jersey. By creating a profile and entering specific information, you can access a curated list of opportunities that align with your qualifications.
4
Complete the FAFSA for federal grants
The FAFSA is essential for accessing federal grants. Completing this application can qualify you for federal financial aid, including grants that don't require repayment, applicable to students in New Jersey.
5
Submit thoughtful applications
Each scholarship or grant will have its unique application requirements. Follow the instructions meticulously, providing all necessary documents, essays or references. Customize your application to the particular opportunity, highlighting how you meet the criteria and submit it by the specified deadline.
The Impact of Student Loans on Credit
When a student takes out a loan, it's not just a way to pay for education; it's also a financial commitment that becomes part of your credit history. How you manage that loan, especially the timeliness of payments, can have a profound effect on your credit score. Making payments on time is more than just a good habit; it's a way to build a strong credit profile, which can lead to better financial opportunities in the future.
However, the failure to make timely payments can lead to loan default. Defaulting on a student loan is a financial misstep that can negatively affect your credit score. A significant credit score reduction can make it difficult to obtain future credit or even affect housing opportunities. Additionally, a default can remain on your credit report for years, continually affecting financial opportunities.
Frequently Asked Questions (FAQs)
Understanding student loans allows you to make informed and responsible financial decisions. We answered some frequently asked questions about student loans in New Jersey to offer clarity and guidance specific to the educational landscape in the Garden State.
About Christopher Boston
---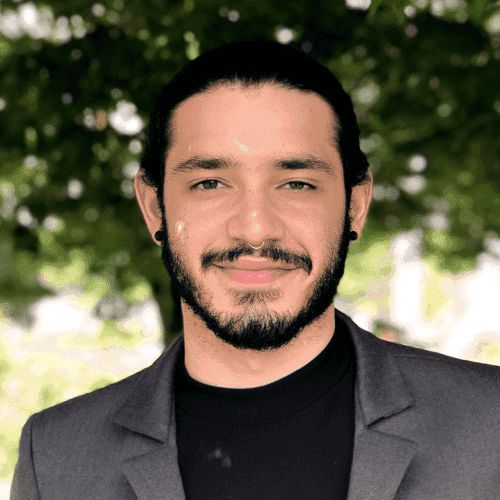 ---