The rising costs of higher education in Alabama are a growing concern for many students and families. With tuition fees soaring, the dream of attending college can seem out of reach for some. However, finding the best student loans in Alabama can make this dream a reality.
Based on MoneyGeek's research, College Ave offers the best overall student loans in Alabama. Earnest is an excellent option for low-interest rates, while Ascent is ideal for borrowers with bad credit. We also found that MPower Financing is preferable for international students, whereas Discover is best for students who need a co-signer.
Understanding Student Loans
Student loans are financial tools designed to help individuals finance their higher education. They play a crucial role in enabling access to college or university, especially for those who may not have the immediate funds to cover tuition, books and living expenses.
The basic mechanics of a student loan include borrowing a specific amount of money, often at an interest rate that accrues over time. Repayment typically begins after graduation or when the borrower drops below a certain enrollment status, with the option to spread the payments over several years.
There are two main types of student loans:
Federal student loans: Federal student loans are funded by the U.S. government and often come with lower interest rates and more flexible repayment options. Your financial need determines your eligibility, and qualified borrowers may benefit from various protections and forgiveness programs.
Private student loans: Offered by banks, credit unions and other financial institutions, private student loans often have higher interest rates and less flexible repayment terms. They may require a credit check, and the interest rates can be fixed or variable.
While federal student loans are generally more accessible and offer better terms, private student loans might be an option for borrowers needing additional funding or not qualifying for federal aid. Understanding these differences is essential for making the best choice for your educational and financial future.
Best Private Student Loans in Alabama
Private student loans are financial products offered by banks, credit unions and other lending institutions to help students pay for their education. They may be suitable for various situations, such as when federal aid, scholarships and grants aren't enough to cover the full cost of education.
Private student loans are also ideal for students attending private or out-of-state institutions where tuition may be higher or those looking for specific loan features or benefits that aren't available through federal loans.
With private student loans, you may access funds when federal aid falls short, as well as higher loan amounts. However, they often have higher interest rates than federal loans and require a decent credit score. As such, it's vital to carefully review the terms and conditions before borrowing to make an informed decision that aligns with your financial goals and educational needs.
Best Overall
---

4.44% - 15.99%

Fixed APR Range

5.09% - 15.99%

Variable APR Range

$1,000 minimum, no maximum

Loan Amount Range

Not required

Co-Signer

---
Best With Lowest Interest Rates
---

4.43% - 14.90%

Fixed APR Range

5.32% - 16.20%

Variable APR Range

$1,000 up

Loan Amount Range

Allowed

Co-Signer

---
Best for Those With Bad Credit
---

4.36%–14.08%

Fixed APR Range

1.47%–11.31%

Variable APR Range

$2,001–$200,000

Loan Amount Range

Non-U.S. citizens and temporary residents

Co-Signer

---
Best for Parents
---

Starts at 7.54%

Fixed APR Range

Not Specified

Variable APR Range

Up to the total cost of attendance

Loan Amount Range

Optional

Co-Signer

---
Best for International Students
---

13.72% – 15.01%

Fixed APR Range

Not Specified

Variable APR Range

$2,001 up to $100,000

Loan Amount Range

Not required

Co-Signer

---
Best for Those That Need A Co-Signer
---

3.99%–11.59%

Fixed APR Range

1.79%–11.09%

Variable APR Range

$1,000 up to 100% of college expenses

Loan Amount Range

Optional

Co-Signer

---
Federal Student Loans in Alabama
Federal student loans are a form of financial aid the U.S. government provides to help students pay for their higher education. This type of student loan offers several advantages to Alabama students, including the following:
Lower interest rates: Federal loans typically have lower, fixed interest rates than private loans.
Flexible repayment plans: Options like income-driven repayment plans can make managing loan payments more manageable.
Grace periods: Many federal loans offer a grace period after graduation before repayment begins.
Loan forgiveness programs: Certain federal loans may qualify for forgiveness programs, depending on the borrower's career and other factors.
Federal student loans are often considered the most favorable option for students due to their lower interest rates and flexible repayment plans.
How to Apply for Federal Student Loans in Alabama
Applying for federal student loans in Alabama involves the following steps:
1
Determine your eligibility
Before applying, ensure that you meet the eligibility criteria for federal student loans. You need to be a U.S. citizen or eligible non-citizen, enrolled at least half-time in an eligible degree or certificate program and meet other general requirements.
2
Complete the Free Application for Federal Student Aid
The Free Application for Federal Student Aid (FAFSA) is the starting point for accessing federal financial aid. You'll need to provide information about your financial situation, including income, assets and tax information. It's essential to complete the FAFSA accurately and by the specified deadlines for your school and state.
3
Review your Student Aid Report
After submitting the FAFSA, you'll receive a Student Aid Report (SAR) summarizing your provided information. Carefully review the SAR for accuracy, as it determines your eligibility for federal aid, including loans.
4
Evaluate your financial aid offer
Your chosen school will send you a financial aid offer detailing the types and amounts of aid available to you, including federal student loans. Review this offer carefully to understand your award and the terms associated with each loan.
5
Accept the aid you need
If you decide to take out federal student loans, you'll need to accept the aid through your school's financial aid office. Be mindful only to borrow what's necessary, as you'll need to repay these loans with interest.
6
Complete entrance counseling
If you're a first-time borrower, you'll need to complete entrance counseling to ensure you understand the responsibilities and obligations of taking out a federal student loan.
7
Sign the Master Promissory Note
The Master Promissory Note (MPN) is a legal document in which you agree to the loan terms. It outlines your rights and responsibilities as a borrower, so reading and understanding this document before signing is crucial.
8
Receive the funds
Once you complete the above steps, the loan funds will be disbursed to your school. Typically, the funds are applied to tuition, fees and other school charges first, with any remaining balance paid to you for other educational expenses.
The Types of Federal Student Loans Available in Alabama
Alabama students have access to various federal student loans, including:
Direct subsidized loans: Available to undergraduate students with financial need, these loans have interest subsidized by the government while the student is in an in-school, grace or deferment period.
Direct unsubsidized loans: Available to undergraduate, graduate and professional students, these loans accrue interest while the student is in school, regardless of financial need.
Direct PLUS loans: These loans are available to graduate students or parents of dependent undergraduate students. They cover education expenses not met by other financial aid, with eligibility subject to credit requirements.
Direct consolidation loans: This option allows borrowers to combine all of their eligible federal student loans into a single loan with a single loan servicer. It can simplify repayment and provide access to alternative repayment plans.
You may apply for and receive different types of federal student loans throughout your academic career.
Student Loan Forgiveness in Alabama
Student loan forgiveness is a program that cancels a portion or all of a borrower's student loan debt, often in exchange for specific work commitments or meeting other qualifying criteria. These programs can be a lifeline for borrowers struggling with student loan debt and incentivize careers in high-need areas.
In Alabama, some state-specific programs aim to serve teachers, public service workers and other professionals who receive financial assistance for education. These include:
1
Alabama Math and Science Teacher Education Program (AMSTEP)
This program encourages teachers to pursue math and science careers within Alabama's public schools.
Eligibility Requirements: The Alabama Math and Science Teacher Education Program (AMSTEP) is available for certified teachers in Alabama who are teaching math or science in a public school. Teachers must commit to teaching these subjects for a specified period.
Application Process: Applicants must complete the designated application form and provide proof of employment and certification before agreeing to the terms of the program.
Benefits: Up to $5,000 per year for four years can be forgiven, encouraging teachers to pursue and continue careers in math and science within Alabama's public schools.
2
Alabama State Employment Public Service Loan Forgiveness
This program is for state employees working in public service roles within Alabama.
Eligibility Requirements: Although not a state-specific program, Alabama state employees working in public service roles may qualify for the federal Public Service Loan Forgiveness (PSLF) program.
Application Process: Enrollment in a qualifying repayment plan and submission of the PSLF application is required, along with proof of employment in a qualifying public service role.
Benefits: After 120 qualifying monthly payments, the remaining loan balance is forgiven, supporting borrowers who dedicate their careers to public service.
Alabama residents may also qualify for various federal loan forgiveness programs like Teacher Loan Forgiveness, Public Service Loan Forgiveness or Income-Driven Repayment Forgiveness, depending on their profession and circumstances.
Tips for Managing Student Loans
Effectively managing student loans is crucial for financial well-being both during your education and after graduation. We enumerated some essential tips to help you navigate this important aspect of your financial journey:
Only borrow what's necessary

Remember that you need to pay student loans back with interest. Borrowing more than necessary can lead to a larger debt burden. Evaluate your actual expenses for tuition, books and living costs to determine how much you need to borrow to cover these costs.

Understand the grace period

Many student loans offer a grace period, typically six months after graduation, during which you do not have to make payments. You can use this time to find employment and prepare financially for repayment. However, note that interest may still accrue on some loans during this period.

Consider making payments during school or grace period

Making payments on your loan during school or the grace period, even if small, can reduce the overall cost of the loan by paying down interest. Doing so can also help you establish good financial habits and smooth the transition to full repayment.

Keep track of loan documents and payment schedules

Knowing the details of your loans, including interest rates, payment schedules and terms, is essential for successful management. Keep track of your loan documents by organizing everything in a secure place, whether digitally or in a physical folder. Use calendars or financial apps to remind you of due dates for payment schedules.
Scholarships and Grants as Alternatives
When it comes to financing higher education, scholarships and grants present valuable alternatives to student loans. Understanding these options can lead to significant savings and reduce the need for borrowing.
Scholarships and grants are financial awards given to students to help pay for their education. Unlike loans, they don't need to be repaid, reducing the overall cost of education. Instead, they are a monetary reward for academic achievements, community service, specific fields of study and more.
To find and apply for scholarships or grants in Alabama, you can take the following steps:
1
Identify your eligibility criteria
Determine what makes you unique, such as your academic achievements, community service, specific talents or financial need. Understanding your eligibility criteria will help you target relevant scholarships and grants.
2
Start early
Begin your search well in advance of college application deadlines. Utilize various resources such as online databases, local community organizations, your high school guidance office and college financial aid offices to find opportunities specific to Alabama residents.
3
Organize your findings
Create a list or spreadsheet to track the scholarships and grants you find, including details like deadlines, eligibility requirements, award amounts and application instructions. Staying organized will help you manage the application process efficiently.
4
Gather necessary documents
Many scholarships and grants require similar documentation, such as transcripts, letters of recommendation, financial information or essays. Preparing these documents in advance can save time and reduce stress as deadlines approach.
5
Complete the FAFSA
The FAFSA is essential for accessing federal and state grants, including the Alabama Student Assistance Program (ASAP). Complete the FAFSA accurately and by the specified deadlines to maximize your eligibility for need-based aid.
6
Follow application guidelines
Each scholarship or grant may have unique application instructions. Carefully read and follow these guidelines, providing all requested information and adhering to any specific formatting or content requirements.
The Impact of Student Loans on Credit
Student loans play a significant role in shaping a student's credit profile, and understanding this relationship is essential for financial well-being.
When you take out a student loan, it becomes part of your credit history. Like other forms of credit, student loans can affect your credit score, which is influenced by several factors like the amount of debt you have, your payment history and the length of your credit history. For this reason, consistently making your student loan payments on time is crucial for maintaining or improving your credit standing.
If you do not manage your student loans properly, it can lead to default, which will be recorded on your credit report and can significantly lower your credit score. This negative mark can remain on your credit report for several years, making it more challenging to obtain other forms of credit, such as credit cards or a mortgage. It may also lead to higher interest rates on future loans.
Frequently Asked Questions (FAQs)
Navigating the landscape of student loans can lead to many questions, especially for students and families new to the process. We compiled a list of frequently asked questions to address common concerns and help you find the best student loans in Alabama.
About Christopher Boston
---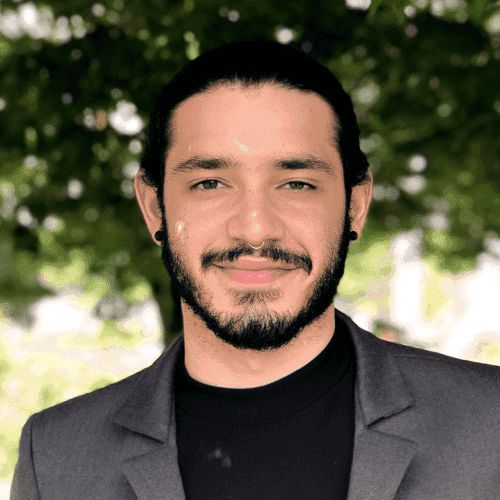 ---