Financing Your Wedding: Options and Approaches
While there are many ways to finance your wedding — loans, savings and more — what's best for your big day may depend on your budget and circumstances.
Advertising & Editorial Disclosure
Last Updated: 8/7/2023
After the initial excitement of an engagement settles, daydreams begin about the ideal venue, food options and of course, what the dress will look like. Before getting too far down the planning path, the inevitable question arises: How will we pay for this? Weddings can be expensive. In 2021, couples spent on average $28,000 on their special day. This is a significant increase from the average cost of $19,000 in 2020 — attributed to the pandemic's lessened restrictions and availability of vaccines and couples hosting smaller events for safety reasons.
Wedding costs are projected to increase in the coming years, whether from delayed weddings or official plans, so knowing your finance options is essential. Learn more about how to fund your wedding, from budgeting to personal loan options and soliciting the help of your loved ones.
Loading...
---
Budgeting for Your Wedding
Budgeting for a wedding requires consideration and planning — the destination, the number of people, the type of food you want and more can take a toll on your budget. Strategically incorporating your desired details while maintaining a budget can ensure that your finances are intact after the wedding, as you don't want to accrue debt paying for the event.
To ensure you don't go overboard financially, you'll want to create a wedding budget spreadsheet that you can use throughout the planning process to ensure you don't exceed your limits.
1
Determine your budget
Before you start planning, create your overall budget. This should include your and your fiancé/fiancée's savings, monthly financial responsibilities and how much you'd need to save for your wedding. This can help highlight what you can cover and what additional funds or contributions you may need.
2
Establish the non-negotiables
Establishing your non-negotiable details — the season, food, and venue you'd prefer, for example — before you start planning can help keep your spending on track. Aligning on your wants at the beginning can ensure you save or budget your funds properly instead of compromising on the details.
3
Create a spreadsheet
List all your expected costs in a spreadsheet, including a venue, reception, DJ and even legal costs. Fill it in with estimates and quotes from different vendors to see where you will need to adjust your spending.
4
Prepare for unexpected costs
Surprise costs and fees are bound to happen — an unexpected deposit or an unplanned required service for your big day. Set aside a small portion of your budget to help pay for unexpected expenses and ensure you stay within your limit.
5
Track your spending
Once you start booking wedding services, track your spending. This can ensure you remain within your estimated costs and quickly help determine if you're over budget. If you spend more in one category, look for costs you can reduce or eliminate to stay within your budget.
Breaking Down Your Budget
Wedding costs consist of more than your ceremony, reception and food. You'll also have to consider wedding attire, rings, decor, entertainment, transportation, photography and more.
Use the steps below as a starting point to help you get a general idea of how and where you'd allocate funds.
1
List your priorities
Every couple's dream wedding is different. Create a list of your priorities to determine how you should budget. For instance, you may want a simple ceremony but an elaborate reception. Knowing this can help you cut down costs on the ceremony.
2
Determine your guest list
How many people you want at your wedding significantly affects the costs. The more people, the more you can anticipate paying. For instance, if your guest list grows from 50 to 100 people, you'll spend more on the reception, invitations and food.
3
Consider your smaller expenses
Gifts and stationery are small expenses that should factor in. If you would prefer to give thoughtful gifts over beautiful invitations, for example, you may want to opt-out of hiring a calligrapher and using that budget to purchase better gifts.
4
Remember the ambiance and entertainment
Flowers, decor, music and entertainment all play a role in making your wedding come to life. Consider how much you want to spend on making the event something your guests can remember.
5
Don't skimp on photography
Photos and videos are the best way to capture your special day in the long term. If you value elaborate videos and photos, add more to your photography and videography budget.
The sample budget below provides an estimated allocation of funds you may want to consider for your wedding. Adjust it according to your priorities and wedding specifics.
| Wedding Expense | Allocation (%) |
| --- | --- |
| Venue and catering | 40% |
| Photography and videography | 10% |
| Attire and preparation | 8% to 10% |
| Deécor and flowers | 8% to 10% |
| Entertainment (music, hosts or bands) | 8% to 10% |
| Miscellaneous | 6% |
| Ceremony | 5% |
| Surprise costs | 5% |
| Rings | 2% to 3% |
| Parking and transportation | 2% to 3% |
| Gifts or favors | 2% to 3% |
| Cake | 2% to 3% |
| Invitations (stationary) | 2% |
Taking Out a Personal Loan
If you don't have enough funds for the wedding you like to have, you may consider getting a wedding loan. A wedding loan is a personal loan used to help finance your wedding. These are typically unsecured and have short repayment terms where you can choose a variable or fixed interest rate.
Wedding loans are typically a last resort. After all, you do not want to start your married life in debt. While they can be advantageous, knowing what you can afford is the key to keeping your long-term financial plans on track.
Should You Finance Your Wedding With Loans?
Financing your wedding depends on your personal preferences and circumstances. In general, wedding loans are convenient because they let you pay for the cost of your wedding over time. It also can help you afford the wedding you want without the stress and limitations of a tighter budget.
While borrowing funds can make wedding planning easier, it may not be the best option for everyone. Review the pros and cons of financing a wedding with loans below.
Wedding Loan Pros
Plan your wedding without budget constraints.
Flexible terms compared to credit cards.
Eliminates or reduces needing funds from family members or loved ones.
Keeps your savings intact for other expenses.
Wedding Loan Cons
Debt accrual or adding on additional debt to your finances.
Potential higher interest if you have bad credit.
Potentially increases unnecessary spending.
It doesn't include payment protection — if your wedding doesn't go as planned, you still have to repay the loan.
How to Pay Back Your Personal Loan
After the hustle and bustle of a wedding is over, having to repay a wedding loan can be stressful and overwhelming. However, if you prepare a plan in advance, you can navigate and pay off your loan sooner — especially with the help of your new spouse.
1
Make bi-weekly payments
Instead of paying off your debt monthly, switch your contributions to half payments every two weeks. You'll end up with 26 half-payments each year, which translates to 13 total payments — one extra month.
2
Pay more than the minimum
Always try to pay more than the minimum. This way, less interest accrues and you can tackle your debt faster.
3
Refinance if you have multiple loans
If you have multiple loans, consider refinancing or consolidating them. You can focus on one payment and can get a lower interest rate.
4
Pay on time
Always pay your dues on time. Doing so prevents late fees and other penalties that can add up.
5
Make an extra payment when you can
If you or your new spouse encounters extra cash, be it a bonus or a windfall, try to apply extra funds toward your debt.
What Happens if You Can't Pay It Back
If something happens and you can't repay your wedding loan, it's best to understand the repercussions. This can help you act quickly to minimize the damage that late or missed payments can bring to your finances and credit score.
You will face late fees and penalties

Missing a payment or paying late can lead to late fees and penalties. However, most lenders offer a grace period and can "forgive" the late payment if you let them know in advance or ask for an extension. By law, late fees can be no higher than $29.

Your credit score will take a hit

A missed or late payment can result in your credit score suffering, which can take years to rebound from. Late payments can cause as much as an 83-point drop in your credit score.

You may be taken to court

If you can no longer meet the minimum required payments, your lender can take you to court and demand wage garnishment. Your credit card accounts may also be closed.
Alternatives to Fund Your Wedding
If you'd prefer not to take out a loan for your wedding, know that there are other alternative ways to help you pay for your wedding. For instance, you can crowdfund your wedding or ask loved ones to help with certain costs. Explore the alternatives below.
Use Your Saving Plan
Instead of taking on debt, use what you have saved. While this may mean your budget is limited, your wedding will be less of a financial burden. If your savings are not enough, consider cutting down on wedding costs or waiting a few years for your special day. This way, you can comfortably afford non-negotiables such as your venue or reception.
Take Out a Home Equity Loan
If you own the home you live in, you may be able to take out a home equity loan. This is a mortgage against your home, where lenders give you a lump sum equivalent to your home's equity. However, this means that if you cannot repay your loan, the lender forecloses on your house.
This option is best if you are confident that you can repay your loan and only borrow a small amount, as the risk of losing your home may not be worth it.
Ask Family and Loved Ones
You can ask family and friends to help pay for the cost of your wedding. This can include smaller costs, such as the cake, flowers or transportation. You can also ask for favors, such as asking your friends to be ushers or getting a discount from a photographer friend. Know, however, that mismanagement of these favors can come with risks that can hurt your relationships. Be prepared also to accept rejection.
FAQs on Financing Weddings
Paying for a wedding can be equally as stressful as planning for it. To avoid being overwhelmed, review some of the most frequently asked questions (FAQs) about how to pay for a wedding below.
Expert Insight on Financing Your Wedding
Having to deal with the financial aspect of a wedding can be stressful and overwhelming. To help you better understand what option may be right for you, MoneyGeek reached out to several experts in the field for their insights.
How can a couple determine if a wedding loan is right for them? And how can they maximize it if they get one?

What are some uncommon ways to finance a wedding?
Theresa Russo
Professor Human Development and Family Studies at SUNY Oneonta
Maggie Daniels, Ph.D
Professor of Tourism and Events Management
Hallie Kraus
Financial Planner at The Humphreys Group
Carma Peters
President & CEO of Michigan Legacy Credit Union
Lorrie Delk Walker
Financial Advisor at Allen & Company
Resources for Financing Your Wedding
Many resources are available to help you tackle your wedding finances and plans. Learn more through the links below.
About Nathan Paulus
---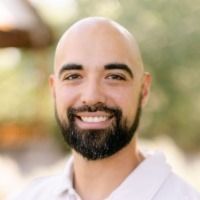 ---