The FHA makes homeownership attainable to people with less-than-perfect credit scores, while taking precautions to prevent losses resulting from foreclosures. FHA lenders are required to provide evidence that mortgage applicants have the means to make their monthly payments consistently, which means your loan officer will ask you to produce many documents when you apply for an FHA loan.
Get your paperwork ready if you're serious about qualifying for an FHA loan. Your chances for a fast loan approval improve dramatically if you answer your lender's requests for documents quickly and completely.
Step 1

Gather Your Documents
The FHA wants to see that you have a steady income and can afford your mortgage payments. It also wants to know you are buying a safe home that meets FHA standards and building and health codes.
Proving Steady Income for FHA Loans
A mortgage is a longtime commitment to make regular payments. The FHA wants to see evidence of a steady income. If you are an employee, you need to submit a file with recent pay stubs (at least two, preferably with year-to-date earnings), and a letter or form from your employer confirming you worked at the company for the past two years.
If you have not worked for the same employer for the past two years, you need statements from each employer to show you have worked in a similar type of job during that period.
FHA Income Documents: Current Employment
Lenders need to show the FHA that you actually earn what you claimed on your application. If you can't show your lender income documents, don't expect the lender to approve your loan. Here are three documents lenders look for.
Original Pay Stubs
Not photocopies. The lender can make a photocopy and return the original to you. The pay stub must also show year-to-date earnings.
Original W-2s
The lender may also ask for IRS W-2 forms for the past two years, especially if you have had more than one employer in that period. Submit one of your original W-2 forms, and not a photocopy.
Form 1055: Written Verification of Employment (VOE)
Your employer completes a Form 1055 with dates of employment, positions held and compensation earned. If you worked at more than one employer in the past two years, each will need to fill out and return a 1055.
Your lender will compare the information on the VOE to the pay stubs and W-2s you submitted to ensure the amounts match.
Note: The FHA accepts electronic verification documents such as PDFs and scans.
Direct verification of employment is not required if you meet the following three conditions:
Your lender will contact your employer a second time to make sure you are still employed after you sign your mortgage documents.
Other Income
When documenting income, your lender customarily assesses your salary or wages. However, other forms of income can qualify if properly documented.
FHA Requirements for the Self-Employed
Proof of steady income for the self-employed can be more complicated, but you can still qualify if you provide the right documentation. Be prepared: Your loan officer will be much more thorough in examining your documentation.
The FHA does not require professionally prepared business reports. However, having a pro look at your income and profit and loss (P/L) statement is money well spent. If you use a certified public accountant (CPA), the CPA can strengthen your application by providing a letter stating he has first-hand knowledge that you have been employed for two years in the same or a similar enterprise.
Make sure you address any outstanding credit issues, disputes with vendors or tax problems before submitting an FHA loan application. Bottom line for the self-employed: Make your paperwork rock-solid.
As a small-business person or independent contractor, you will need to show not only that you have had steady employment, but also that you have sufficient net income after expenses. Submissions for the self-employed include:
Business income statements for the previous two years.
Profit and loss statements for the past two years.
IRS Form 1040 including Schedule C (business income and loss) and, if they apply, Schedules B (interest and dividend income), D (capital gain and loss), E (rents, royalties, partnerships), F (farm income and loss).
If you are incorporated, submit IRS Form 1120.
If you use a CPA, ask for a verification of employment letter stating that the CPA has first-hand knowledge that you been employed for two years in the same or a similar enterprise.
Military Income
If you are currently employed by a branch of the U.S. military, submit the following:
Pay stubs showing your base pay.
If all or a portion of your pay is tax-exempt, submit documents that validate your tax-exempt status.
Alimony or Child Support
If alimony or child support are part of your regular income, your lender wants to be sure the income's source is consistent and verifiable. If you have documentation stating one party is legally obligated to pay the other party, such as a divorce decree, formal separation agreement or court order, submit that document as evidence.
The lender wants to know how much of your income is based on alimony or child support. While standards vary from lender to lender, generally, if alimony or child support is less than or equal to 30 percent of your income, then you must submit documents that show:
A minimum of three years' commitment to continue payments.
A record of regular, on-time payments at least six months before the loan date, which can be shown through your bank statements or canceled checks.
Written evidence showing that the other party is obligated to pay.
If alimony or child support is more than 30 percent of your income, then you must submit documents that show:
A record of regular, on-time payments at least one year before the loan date, which can be shown through your bank statements or canceled checks
A minimum of three years' commitment to continue payments
The FHA does not enforce guidelines on alimony and child support income — your lender does. Since policies can vary, contact your lender to learn its policies before you prepare and submit your alimony and child support documents.
Overtime and Bonus Income
The lender can include overtime and bonuses as part of your qualifying income if you can show two facts:
Overtime or Bonuses
You need to document two years of overtime or bonus income. The lender will develop an average of overtime or bonus income over this period to come up with an amount that contributes to your qualifying income.
Employer Verification
Verification from your employer that overtime and bonus income will continue
Part-Time and Seasonal Income
The lender can include part-time or seasonal income if you can show:
Two Years
Two years of uninterrupted, part-time or seasonal work.
Employer Verification
Verification from your employer that part-time or seasonal work will continue.
Commission Income
The lender will average your commission income over the previous two years. If you have commission income for more than one year but less than two, the lender may contact your employer to assess if your commission income is likely to continue. The lender can include commission income if you can show:
Pay Stubs
Your most recent pay stubs showing commission income.
Tax Returns
Signed tax returns from the previous two years or a tax transcript directly from the IRS.
Interest Income
The lender will average your interest income over the previous two years and assess the potential of your assets to continue to retain value and produce interest income. The lender can include interest income from investments if you can show:
Bank Statements
Your most recent statements from your bank or asset manager showing interest payments.
Tax Returns
Signed tax returns from the previous two years or a tax transcript directly from the IRS.
Rental Income
The lender can include income from rents on property you own if you can show that the income is stable. Example documentation includes:
Current leases and Rental History
Bank statements and canceled checks from the previous two years, with explanations for any gaps of more than three months, and IRS Form 1040, Schedule E. Roommate income does not qualify, unless the boarder is related by blood or marriage.
Other Rental Documentation
The lender may require additional documentation to determine the net income from rentals, such as evidence of HOA and other charges that may offset a portion of the rental income.
Mortgage Credit Certificates
If a federal, state or municipal entity subsidizes your mortgage through direct payments or tax rebates, submit documentation from the appropriate agency.
Qualifying Earnings
Showing earnings for a mortgage subsidy or tax rebate payments.
Lender Treatment
The lender can add these payments to your gross income to figure qualifying income or subtract the amounts from the mortgage payment you will need to pay to assess your qualifying ratios.
Retirement Income
The lender will consider retirement income as a contribution to your qualifying income only if the income is expected to continue for more than three years from the date of the mortgage application. The lender can include retirement income if you can show:
Private Sources
Retirement income, such as a 401(k), from your federal tax returns.
Public Sources
Social Security income from your federal tax returns or a statement from the Social Security Administration, such as a current award letter.
Federal Benefits Income
The lender can include federal benefits income, such as Supplemental Security Income (SSI) and Social Security Disability Insurance (SSDI), if you can show:
Social Security
SSI or SSDI income from your federal tax returns, a budget Letter or 1099/1042S benefit statement from the Social Security Administration, and recent bank statements showing regular deposits.
Other Federal Benefits
The lender will consider federal benefits income as a contribution to your qualifying income only if it will continue for more than three years from the date of the mortgage application.
US Military Benefits Income
In addition to base pay, military personnel sometimes earn additional forms of income and benefits.
All Military Income
If this applies to you, provide documentation to show earnings for housing and clothing allowances, flight or hazard pay, rations, proficiency pay, and Veterans Administration (VA) benefits.
Additional Pay Continuation Statement
The lender will consider these military payments as part of your qualifying income if there is a high likelihood that they will continue. Submit a letter from an authorized military official verifying that likelihood.
Step 2

Make Sure You Have the
Necessary Asset Information
Lenders base their FHA loan approval primarily on your salary and your ability to make your monthly mortgage payments. But the FHA and your lender will also look at your assets to determine if you have the money for a down payment and to weather normal life emergencies, as well as longer-term needs such as college or retirement fund.
The FHA policy requires you to put down 3.5 percent or more for a home loan purchase. Your lender will need to determine that your down payment is available from an "approved source," which does not include a credit card cash advance or other noncollateralized source.
Your asset information documentation will include one or more of the following:
Depository Accounts
Depository accounts are your checking and savings account balances.
6-Month Average For Checking
Checking account funds are based on a six-month average — collect and submit statements going back six months.
Savings Are Current
Savings are based on the current balance — submit the most recent statement.
Earnest Money
Earnest money is the money you paid as a deposit on your future home, as a way to show the seller you intend to purchase. That amount — typically 1 to 2 percent of the purchase price — is shown on the purchase contract along with a copy of your check. Ultimately it will go toward your down payment and closing costs.
Source of Funds
The FHA and your lender want to know how you came up with the money. Submit documentation that shows the funds came from your savings or other depository account
Approved Source
If the earnest money is a gift from a third party and not directly from your account, submit documentation that verifies that the gift was from an approved source such as a relative, employer, bona fide friend or a charitable or government organization. Documents can include a copy of a voided check or a copy of the gift-giver's bank statement with notation of the withdrawal.
Gift Funds
Gift funds are defined as money supplied to you with no expected or implied repayment to the party that is donating the funds.
Acceptable Gift Sources
Acceptable sources include:
A relative by blood or marriage
A close friend with a clear and documented interest in you, such as a domestic partner, a common-law spouse, or someone else with whom you share a household and your finances.
Your employer or labor union
A charitable, government or public organization that provides home ownership assistance
Nonacceptable Sources
Some potential sources of gift funds are not-acceptable, including funds from the party that is selling the house or one of the parties involved in the transaction such as a real estate or broker, the home builder or other associated party. From the FHA's point of view, funds from these sources are "inducements to purchase," and are subtracted from the sales price of the home, rather than listed as an asset.
Investments
Each of these assets is based on their liquidity and cash value — submit documents showing you are the owner of the asset and a current statement of its value.
List of Investments
Investments include stocks, bonds, Treasury bills, certificates of deposit, and money market funds.
Nonstandard Investments
Investments can be intellectual property you own that has documentable value, such as ownership of a patent.
Sale of Home or Real Estate Property
The net amount you will receive on the sale of a currently owned property is a qualifying asset for your purchase of a new home. Provide documentation that shows:
Settlement Statement
A settlement statement showing that the cash proceeds accrue to you.
Conditional Approval
If your current property has not cleared escrow by the time of your loan, your lender will condition your loan on verifying the sale of your previous property and whether you have received funds.
Traded Equity
You may agree to trade your property to the seller as part of your investment. Submit documentation to show:
Deed of Current Property
Your deed of ownership of your current property and any liens and amounts due to third parties on your current property.
Value Calculation
Your lender will subtract a percentage of your current property's value to accommodate any applicable real estate commissions.
Trust Funds
Trust funds are the cash value available to you in a revocable trust.
Beneficiary Proof
Submit a deed or ownership document that shows you are the beneficiary.
Terms of Liquidation
You must include the terms of liquidation.
Life Insurance Policies
Some life insurance policies have a surrender value. Include the value of these in your list of assets.
Whole Life
Whole Life and Universal Life policies may include a surrender value — cash you will receive if you close the policy before your death. Submit your deed and any documentation that shows the surrender value.
Term Life
Term life insurance policies have no cash value and do not qualify as an asset.
Personal Property
Assets such as gems, stamp collections, antique cars, gold coins and the like can be submitted as assets, based on their cash market value.
Proof of Ownership
Submit documentation that shows you are the owner and show a professional third-party appraisal of the market value
Other Qualifying Property
Other personal property such as home furnishings and your daily-driver vehicles, is considered necessary to your daily life and does not qualify.
Rental Properties
You can include the value of rental properties you own.
FHA-Approved Properties
The FHA-acceptable value of a rental property or other capital investment is the estimated current market value of the asset, less the unpaid balance on all loans secured to the asset and the costs of broker fees and other charges typically associated with the sale of the property.
Profit & Loss Statement
Include your income or loss from your rental properties elsewhere in your disclosure.
Retirement Accounts
Your lender will likely include only 60 percent of the value of your retirement accounts, as a way to anticipate penalties for early withdrawal and other costs associated with liquidating an account.
Pension Statements
Submit current statements of pension funds and retirement accounts.
Other Retirement Statements
Individual retirement accounts (IRAs), 401(k) Keogh and thrift savings plan accounts are FHA-approved assets — submit current account balances.
Lump Sum and One-Time Receipts
Include assets that are unusual, too.
Other Acceptable Assets
Some FHA-acceptable assets are typically one-time funding events, such as inheritances, lottery winnings, gambling winnings, capital gains, insurance settlements, victim's restitution and other sources.
Documentation
Expect your lender to ask for documentation to explain the sources of your lump-sum and one-time receipts.
Cash Reserves
The FHA does not generally require cash reserves for the period after your closing, but your lender uses your cash reserves to determine your risk classification.
1- and 2-Unit Reserves
Cash reserves for the purchase of a single-family home or a one- or two-unit building can include:
Depository accounts: Submit your current checking and savings account statements
Retirement accounts: Include only 60 percent of the value, to accommodate early withdrawal penalties. Submit your current retirement account statements
Gift Funds: Includes funds from authorized sources that have not already been used for down payment and closing costs
3- and 4-Unit Reserves
The FHA guidelines for three- or four-unit homes do require cash reserves.
Provide documentation of cash reserves of liquid funds for three months
Gift funds cannot be used as the source for cash reserves for a three- or four-unit property.
By the Numbers: US Household Assets
Since the 1930s, home equity has been the biggest part of US household wealth. However, in recent years, more consumers have devoted their savings to mutual funds and self-funded retirement plans.
U.S. median household net worth (excluding home equity) $16,942
U.S. median household net worth (including home equity) $68,828
Distribution of US
Household Wealth
Source: 2011 US Census
Step 3

Understand Your Debt Information

The FHA and your lender want to make sure you have enough money to make your mortgage payments. Your lender's underwriting department looks at your income, your projected mortgage expense, and any other debt you have. Your lender uses these figures to determine debt-to-income ratios (DTI) and if they meet FHA guidelines.
See this FHA Loan Requirements page to learn more about DTI calculations.
Debt-to-Income Ratio Calculator
A debt-to-income ratio tells lenders how much of a borrower's income goes toward paying debts. Find out yours with MoneyGeek's DTI calculator.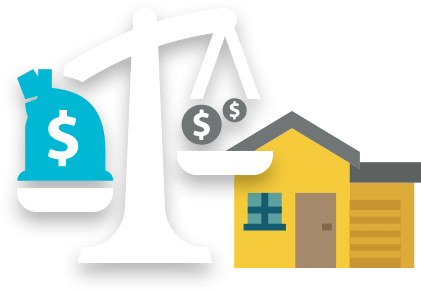 CALCULATE
Step 4

Check Your Credit Information

Your lender will use your credit history to evaluate if you are a good risk for a mortgage loan.
You do not need a perfect credit score to qualify for an FHA loan. However, some entries on a credit report are "red flags" for your lender. You may need to explain these issues on your credit history:
Collection accounts
Derogatory or delinquent credit
Derogatory credit information and judgments
Consumer credit counseling service (CCCS)
Late mortgage payments
Late mortgage payments for cash-out refinance transactions
Contingent liability on mortgage debt
Late rental payments or other rental references
Significant inaccuracy or undisclosed debt
Tax liens
Credit report inquiries
Credit issue documentation
How to Work Around Bad Marks on Your Credit History
To ensure smooth sailing for your loan application, you'll need more than an excuse for a bad mark on your credit history. Prepare solid documentation that the credit report entry is in error or that you are working in a positive manner to resolve the issue.
Examples of documentation can include:
Original copies of your transactions and billing.
Correspondence you had with the creditor to resolve the issue.
Bank statements or canceled checks showing payments to date.
A summary statement or letter that you create describing the issue and your actions to resolve it.
Some conditions require more than documentation before you can qualify.
Court-Ordered Judgments
You must pay off judgments in full or have an agreed-upon payment plan, and submit a letter explaining the judgment and your collections history.
Bankruptcy
You must reestablish credit, at least one year for Chapter 13 and two years for Chapter 7.
Foreclosure
Any would-be borrower who lost a home to foreclosure or who has given a deed-in-lieu is not eligible for an FHA-insured loan until three years after the foreclosure. The exceptions to this rule are few: death or disability of a principal wage earner may suffice, but not a job transfer or change in real estate market conditions.
You Do Not Need a Credit History to Qualify for an FHA Loan
Although it helps to have a good credit score, you can qualify for an FHA loan without a credit history or score. If this is your situation, submit documentation that shows your credit-worthiness.
A letter from your landlord describing your payment history.
Documentation of your timely payments with revolving and installment debt.
Correspondence with creditors where you have a dispute or have agreed on a settlement.
Lenders are free to use underwriting standards higher than the FHA specifies. Find a new lender if your loan application is denied because you don't have a credit history.
Step 5

Choose a Property that Meets FHA's
Minimum Property Standards
The FHA approves loans for homes that meet basic safety and habitability standards. For example, the home must be constructed soundly, have a functioning kitchen and be situated a safe distance away from obvious hazards. If the property is a condominium, the home must be included on the FHA's list of approved condos.
An inspector licensed by the FHA will inspect the home and you will pay for it. This inspection is for compliance with FHA guidelines and is separate from a real estate home appraisal. The inspection will include: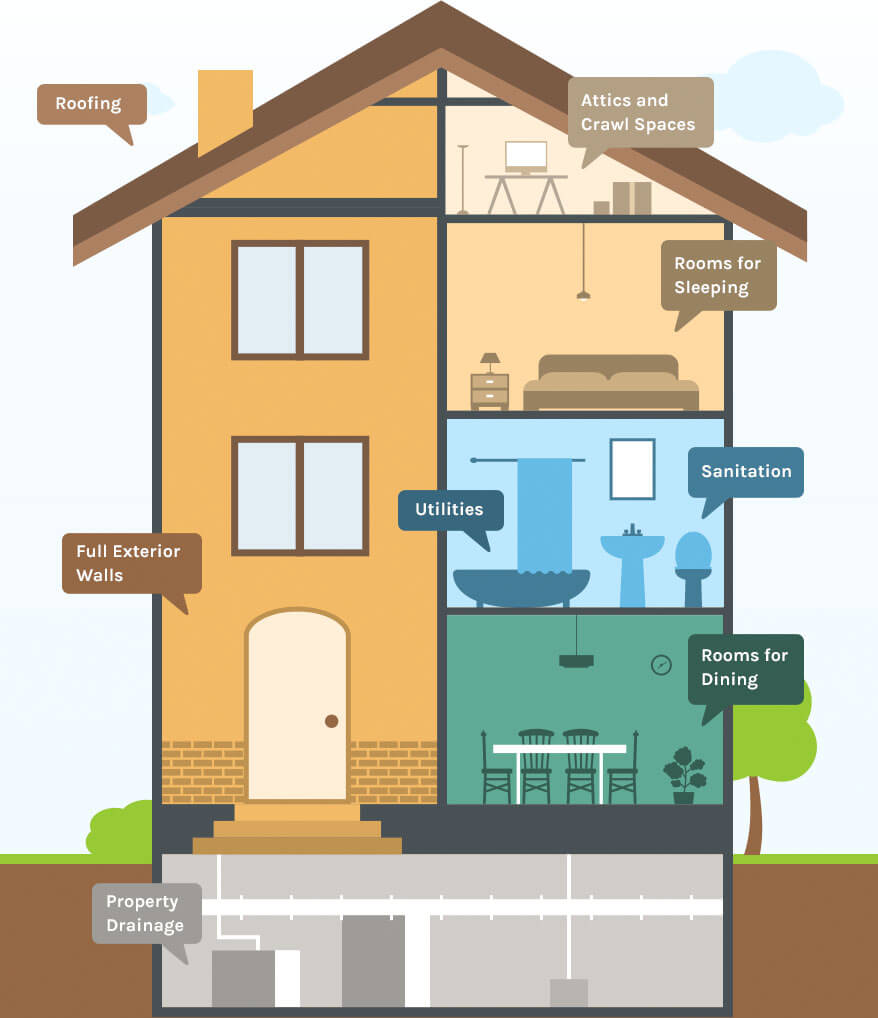 The FHA-licensed inspector is looking for problems in three areas:
Structural Problems
Major cracks or holes in walls, ceilings and floors
Water damage
Damage to the home's foundation or framing
Missing or damaged roof shingles and evidence of leaks
Proper drainage, so water doesn't collect around the house
Defective painted surfaces
Crawl spaces that do not provide sufficient clearance for entry
Any structural components that do not meet state and local building code standards
Mechanical Problems
Defective or inoperable electrical issues: Wires that are frayed, loose or exposed
Defective or inoperable heating issues: The heat must go on and be in working condition (a functioning air conditioning system is not required)
Defective or inoperable plumbing issues: There must be toilets, sinks and bathtubs or showers and running hot water, sufficient water pressure and no significant leaks
Any mechanical elements that do not meet state and local building code standards
Other Property-Related Problems
Rodent or insect infestation
Doors, stairs and windows are intact and functioning
Septic tank is in working condition (if applicable)
Swimming pool pump and drains are in working condition (if applicable)
Any house or yard elements that do not meet state and local building code standards
Required Repairs
The FHA requires repairs to any structural or drainage issue as well as any mechanical issue or defective paint surface before the lender may approve the loan. Repairs must be made by a licensed or registered tradesman, and the repairs must be verified and documented by an appraiser or other licensed person.