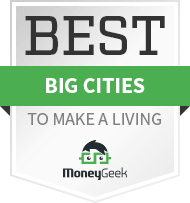 Looking for a big city where you can afford to live without eating instant ramen and cramming into a tiny apartment? You'll find plenty of places that combine vibrant job markets and a reasonable cost of living, according to MoneyGeek.com's list of affordable big cities. Among U.S. cities with populations over 500,000, we've ranked the most affordable by comparing incomes to cost of living. Not surprisingly, the best big cities to make a living are concentrated in the Midwest and the Sunbelt, particularly Texas. Spoiler alert: New York City and San Francisco aren't on this list. There is one surprise in the Top 10: a California city where high wages trump steep living costs.
Population

Compares median salary in a city against the cost to live there.

Income/Cost Ratio

Compares cost of living from one city to another - a value of 100 reflects the national median.

Cost of living Index Ranking

Major Employers
1Detroit

Michigan

680,250

116.0%

95.1

Detroit Medical Center, city of Detroit, Henry Ford Health System, Detroit Public Schools, U.S. government.

Down on its luck for decades, Detroit habitually grabs headlines for all the wrong reasons - a weak economy, an exodus of residents, shoddy schools, the struggles of the Big Three automakers and the bankruptcy of the city government. But for bargain hunters, Detroit's struggles have created opportunities. Home prices and rents are cheap, and even a modest paycheck goes further than in most major cities. Urban pioneers can grab some eye-popping bargains. A 2,000-square-foot brick house will set you back as little as $30,000, says Detroit Realtor Embry Webb. "In the job market, things are getting a lot better, and home prices are still depressed," Webb says. "Detroit is really unrivaled in terms of the value we offer." Job growth from mid-2014 to mid-2015 was 1.2 percent for Wayne County, below the national average of 2 percent, according to the U.S. Labor Department. In the boom days of Motown, getting a job meant going to work for an automaker. These days, however, hospitals and the public sector are the city's biggest employers. At 10th and 11th respectively, Chrysler and General Motors have fallen a few rungs on the major employers list.
2Columbus

Ohio

835,957

112.9%

89.7

JPMorgan Chase & Co., Nationwide Mutual Insurance Co., Honda of America Manufacturing, L Brand, Huntington Bancshares.

Long known as the home of Ohio State University and the seat of state government, Columbus has emerged as a diverse and healthy economic hub. Several Fortune 500 companies - including Nationwide Mutual Insurance, American Electric Power and L Brands, the parent of Victoria's Secret - call Columbus home, while retailers Big Lots and DSW have also set up headquarters. "Columbus has always been an affordable town and a nice place to raise a family," says John Royer, president of the Columbus Association of Realtors. "We've been blessed with some entrepreneurs who have started major companies here." Job growth from mid-2014 to mid-2015 was 2.8 percent for Franklin County, above the national average of 2 percent, according to the U.S. Labor Department. Pay isn't great - the median weekly wage of $977 is a notch above the national average - but you can stretch your dollar in this inexpensive city.
3Austin

Texas

912,791

108.5%

95.0

Dell, Seton Family Healthcare, St. David's HealthCare.

Austin is the state capital, home to the University of Texas and a cultural mecca known for the South by Southwest Festival (SXSW).The city pulsates with live music virtually every night of the week, but even more notable to job seekers is its emergence as a tech-industry center in the last decade or so. The technology industry in Austin experienced more than 40 percent growth between 2001 and 2013 and has turned the city into a tech frontier. Computer giant Dell is based there, while IBM also has a large presence. As for Fortune 500 companies, two well-known names - Whole Foods Market and Hormel Foods - have headquarters in the region. Job growth from mid-2014 to mid-2015 was 4.2 percent for Travis County, well above the national average of 2 percent. Unlike other regions of Texas, Austin isn't especially reliant on energy, which has sheltered its job market from the oil price crash.
4Indianapolis

Indiana

848,788

108.2%

91.9

St. Vincent Hospital & Health Services, Indiana University Health, Eli Lilly, Community Health Network, Bank of America.

With rock-bottom home prices and a robust business climate, Indianapolis long has been a bargain. The metro area's median home price was $136,000 in the third quarter of 2015, according to the National Association of Home Builders. The Indianapolis 500 hogs the headlines in a city known as the Racing Capital of the World, but healthcare is king. Indianapolis is home to two Fortune 500 company headquarters, health insurer Anthem and pharmaceutical giant Eli Lilly. Job growth from mid-2014 to mid-2015 was 1.9 percent for Marion County, slightly below the national average of 2 percent. The median wage of $956 is below the national average. On a positive note, the city's unemployment rate was 4.2 percent in November 2015, well below the national average.
5San Jose

California

1,015,785

107.6%

150.2

Santa Clara County, Cisco Systems, city of San Jose, eBay, IBM.

This high-cost, high-wage city stands out as the wild card on MoneyGeek.com's list. San Jose is the heart of Silicon Valley, an area where the median home price will put you out of pocket by nearly $1 million. Occasionally, an engineer at Google will become an Internet sensation by sleeping in a trailer in the company parking lot rather than paying the valley's astronomical rents. But here's why San Jose makes sense for bargain hunters: The median weekly wage as of mid-2015 was $2,109, more than twice the national average. And job growth from mid-2014 to mid-2015 was 4 percent for Santa Clara County, double the national average of 2 percent. "San Jose, like the rest of the greater Silicon Valley, is a high-cost area to live in, but most major employers have recognized the need to pay significantly higher wages to both attract and retain the extremely talented and skilled workforce they require," says Matthew Mahood, president and chief executive officer of the San Jose Silicon Valley Chamber of Commerce.
6Dallas

Texas

1,281,047

107.2%

95.9

Bank of America, Dallas Independent School District, Baylor Health Care System, AT&T, JP Morgan Chase.

The Big D ߞ the city with the seventh largest population increase in the country, according to recent Census data ߞ is a capital of the energy industry, but it's also a business hub that offers plentiful positions in finance, healthcare and technology. Among the Fortune 500 headquarters in Dallas are AT&T, Southwest Airlines, Tenet Healthcare, Texas Instruments and Dean Foods. And don't discount the added value of nearby Fort Worth, approximately 30 miles away, which is home to American Airlines and Lockheed Martin. The median home price in Dallas was $248,000 in the third quarter of 2015. That's high for cities in MoneyGeek.com's top 10 list, but don't forget that Dallas workers pull in above-average wages. The median weekly wage as of mid-2015 was $1,154. Job growth from mid-2014 to mid-2015 was 4.2 percent for Dallas County, more than double the national average of 2 percent.
7Charlotte

North Carolina

809,958

106.1%

95.7

Carolinas HealthCare System, Wells Fargo, Charlotte-Mecklenburg Schools, Wal-Mart, Bank of America, American Airlines, Novant Health.

Charlotte is best known as a primary center of the banking industry, second only to New York City. It's home to Bank of America, and Wells Fargo employs more than 20,000 workers in the city. But Charlotte's economy doesn't begin and end with finance. It's also home to Duke Energy and Fortune 1,000 retailer Belk, while retailer Lowe's is headquartered in nearby Mooresville. The median home price was $198,000 in the third quarter of 2015. That's a high price tag for cities in our top 10 list, but area workers make up for it by taking in above-average wages. The median weekly wage as of mid-2015 was $1,082. Job growth from mid-2014 to mid-2015 soared 4.7 percent for Mecklenburg County, more than double the national average of 2 percent.
8Houston

Texas

2,239,558

105.4%

98.5

University of Texas M.D. Anderson Cancer Center, Memorial Hermann Health System, Houston Methodist, United Airlines, ExxonMobil.

For better or worse, Houston is an oil town. Defined by its long-standing history in energy, Houston plays host to a long list of Fortune 500 companies routed in the industry. Of the 25 companies headquartered in the city, all but three - Sysco, Waste Management and Group 1 Automotive - are energy companies. Still, Houston has some notable diversification on the healthcare front. Its top two major employers are health care organizations and the city is home to the well-regarded MD Anderson Cancer Center. Plummeting oil prices mean Houston's once-hot job market has cooled considerably. The median weekly wage as of mid-2015 was flat. Job growth from mid-2014 to mid-2015 soared 1.7 percent for Harris County, trailing the national average of 2 percent.
9Denver

Colorado

663,862

104.9%

108.3

University of Colorado Hospital, Children's Hospital Colorado, United Parcel Service, Sturgeon Electric, Centura: St. Anthony's North Hospital.

The Mile High City's job market is on fire. Employment soared 4.6 percent from mid-2014 to mid-2015, outpacing the national average of 2 percent, and wages jumped 4.8 percent. With paychecks on the rise, Denver has emerged as one of the nation's hottest housing markets. The median home price was up to $310,000 as of the third quarter of 2015. Denver is home to Fortune 1,000 companies DaVita HealthCare Partners, Molson Coors Brewing and Chipotle Mexican Grill. Nearby Aurora is home to a medical complex that includes University of Colorado Health and Children's Hospital Colorado, both major employers of the region. The legalized marijuana industry is also thriving. According to the state, nearly 16,000 people were licensed to work in the industry at the end of 2014. As this industry develops, it may positively contribute to Denver's job growth. What adds to Denver's attraction is the natural beauty and outdoor recreation of the locale, including ski slopes that are a short drive away.
10Memphis

Tennessee

656,861

104.3%

85.7

FedEx, St. Jude Children's Research Hospital, ServiceMaster, International Paper, AutoZone.

A music hotbed, Memphis sits on the banks of the Mississippi River and is famous for Beale Street and Graceland. On the job and affordable-living front, Memphis has muscled its way into the top 10 list largely based on its low cost of living. Wages in this city aren't especially generous - Shelby County's median wage was $956 a week as of mid-2015 - but the median home price was only $167,000 in the third quarter of 2015. Employment rose 1.7 percent from mid-2014 to mid-2015, below the national average of 2 percent, and wages rose just 0.6 percent. Memphis is home to Fortune 500 companies FedEx, International Paper and AutoZone. FedEx is the biggest employer by far, with some 32,000 employees in the city.
Full Dataset
 

City

State

Population

Cost of Living
Index

Compares cost of living from one city to another - a value of 100 reflects the national median.

Median Income

Income/Cost
Ratio

Compares median salary in a city against the cost to live there.

1
Detroit
MI
680,250
95.1
$39,190
116.0%
2
Columbus
OH
835,957
89.7
$35,980
112.9%
3
Austin
TX
912,791
95.0
$36,640
108.5%
4
Indianapolis
IN
848,788
91.9
$35,330
108.2%
5
San Jose
CA
1,015,785
150.2
$57,430
107.6%
6
Dallas
TX
1,281,047
95.9
$36,530
107.2%
7
Charlotte
NC
809,958
95.7
$36,090
106.1%
8
Houston
TX
2,239,558
98.5
$36,880
105.4%
9
Denver
CO
663,862
108.3
$40,370
104.9%
10
Memphis
TN
656,861
85.7
$31,770
104.3%
11
Oklahoma City
OK
620,602
89.6
$33,130
104.0%
12
Nashville
TN
644,014
92.7
$34,250
104.0%
13
Phoenix
AZ
1,537,058
95.3
$35,150
103.8%
14
Baltimore
MD
622,793
110.6
$40,430
102.9%
15
Louisville
KY
612,780
92.4
$33,720
102.7%
16
Milwaukee
WI
599,642
101.1
$36,510
101.6%
17
Albuquerque
NM
557,169
91.9
$33,110
101.4%
18
Sacramento
CA
485,199
113.5
$40,770
101.1%
19
Washington
DC
658,893
143.2
$51,120
100.4%
20
Boston
MA
655,884
140.3
$49,850
100.0%
21
Seattle
WA
668,342
133.5
$46,350
97.7%
22
San Antonio
TX
1,436,697
89.7
$31,120
97.6%
23
Tucson
AZ
527,972
94.2
$32,510
97.1%
24
Philadelphia
PA
1,560,297
119.6
$39,890
93.8%
25
Jacksonville
FL
853,382
98.8
$32,940
93.8%
26
Fort Worth
TX
812,238
101.0
$33,420
93.1%
27
Chicago
IL
2,722,389
115.5
$37,950
92.5%
28
Las Vegas
NV
613,599
107.4
$33,160
86.9%
29
San Francisco
CA
852,469
170.8
$52,560
86.6%
30
Portland
OR
619,360
127.7
$39,270
86.5%
31
Fresno
CA
515,986
106.3
$31,230
82.7%
32
El Paso
TX
679,036
92.5
$25,970
79.0%
33
San Diego
CA
1,381,069
139.4
$39,040
78.8%
34
Los Angeles
CA
3,928,864
136.7
$38,100
78.4%
35
New York
NY
8,491,079
221.4
$45,200
57.4%