Trade School vs. 4-Year College: Which Is Right for You?
Advertising & Editorial Disclosure
Last Updated: 8/22/2021
Victoria Knight was a year and a half into nursing school when she started stressing out about math. Not her coursework but her student loans. By the time she finished her four-year degree, she would be $80,000 in debt. "I was not a fan," says Knight. "My grandpa taught me better than that."
She's not alone. According to the U.S. Census Bureau, a third of American adults now have a bachelor's degree and the debt that comes with it.
Knight still felt the pressure to get a bachelor's degree and transferred to a community college closer to home. Besides being a less expensive education, it also gave her a chance to help her dad remodel his house. "I love hands-on work, and found it way more appealing."
When a friend spotted a construction class at Southwestern Michigan College, she shared it with Knight, saying, "Dude, this is totally you!" And she was right.
Knight enrolled for a degree in construction trades. Three years later, she owns and operates her own business, Hard Hats & Heels.
Cost comparison
There are two main differences between trade schools and colleges: time and money. Trade school programs are usually two years long and cost an average of $21,000, according to the National Center for Education Statistics.
That's compared with four-year colleges where it will cost you anywhere from $78,000 at public institutions to $166,000 at private universities. There is also a high likelihood that it will cost more because it will take longer than four years to graduate. The National Student Clearinghouse found only 42 percent of students finish their degree in four years, and for 63 percent of students, it takes six years.
The cost of college, including fees and books, jumped 63 percent from 2006 to 2016. That dramatically increased the average American's student debt. New graduates now average more than $30,000 in student loan debt before the added cost of interest. Before you take out a student loan, understand the different types and learn which one is the right one for you.
"Despite rising student debt levels," an NCES report determined, "the average increase in lifetime earnings from a bachelor's degree relative to a high school diploma still exceeds average student loan debt."
Earning potential
Education pays, according to the U.S. Bureau of Labor Statistics. Its data show that the higher education level you achieve, the more you earn. For an associate's degree, the median wage is $44,824 compared with the $62,296 for a bachelor's degree.
Trade school students can make up for some of that with a two-year jump, or longer, into the workplace. However, over a lifetime of earnings, a bachelor's degree will likely pay more.
These statistics are medians, which does not account for the wide range of incomes based on occupation. Knight's construction degree supports several jobs, from construction laborer for $35,000 a year to a construction manager for $93,000.
SAMPLE BACHELOR'S OCCUPATIONS
| Occupation | Salary | Growth |
| --- | --- | --- |
| Nurse | $71,730 | 12% |
| Software Developer | $105,590 | 21% |
| Information Security Analyst | $98,350 | 32% |
| Marking Specialist | $63,230 | 20% |
| Operation Research Analyst | $83,390 | 26% |
SAMPLE ASSOCIATE OR CERTIFICATE OCCUPATIONS
| Occupation | Salary | Growth |
| --- | --- | --- |
| Personal Care Aide | $24,060 | 36% |
| Cook | $25,000 | 11% |
| Construction Laborer | $34,800 | 11% |
| Truck Driver | $43,680 | 5% |
| Solar Installer | $42,680 | 63% |
Addressing a Skills Gap
It's estimated there are more than 7 million jobs available in the U.S., the majority of which don't require a four-year degree. Similarly, the Association of General Contractors found that 70 percent of contractors have a hard time finding qualified workers.
High schools have noticed, and many are changing their approach to education after high school. "We weren't very cool for a while, but that's changed in the last five years," says Brian Noller, director of the Northland Career Center (NCC) in Platte City, Mo.
The center offers half-day programs for junior and senior high school students. Enrollment set a new record with 428 students in 2019. That's up 100 students from only five years ago. Why the change? Noller says there's an increased need for the skills they teach.
The Bureau of Labor Statistics regularly publishes the Occupational Outlook Handbook for American workers. It reveals the occupations expected to add the most new jobs, including personal care aids, food prep workers, nurses, and software developers. It also looks at the fastest-growing occupations, including solar power installers, wind turbine technicians, and home health aides.
With 12 programs, including skilled trades, health sciences, and information technology, the NCC provides real-life educational experience. There is a skills gap in these fields because of the high number of skilled trade workers retiring and a change to the workforce.
"For every engineer, there are seven people who support the process. But we're preparing too many people for four-year degrees," says Noller. "At NCC, we introduce opportunities for people to create wealth without debt."
Noller says more than 60 percent of graduating students get paid jobs or internships. That's thanks to a partnership with 600 local businesses looking for skilled workers. Others go forward and pursue a community college degree or a trade school certificate.
Hard Hats & Heels
For Victoria Knight, she's following her passion, and it's working out well. After college, she got a job with Habitat for Humanity as a construction assistant and volunteer coordinator. She also started pursuing her own construction business, and in March 2019, she went all-in on Hard Hats & Heels.
"I thought it would take years, but it's really taken off," says Knight. She says in the nine months since she started her business, she's made four times as much as she did working a year a Habitat of Humanity.
She's earned enough to pay down all of her medical debt and cut her nursing school debt in half. She bought her own home, picked up 70 clients, and even got the attention of "Dirty Jobs" host Mike Rowe.
Rowe started his own initiative to promote trade jobs called MikeRoweWorks.org. Knight and another classmate received a scholarship from the initiative for her last two semesters at school. She also got a surprise visit from Rowe in September while the classmates were overhauling a late 1800s home.
"We are motivated and determined to provide not only great craftsman in the homes we remodel, but to make a difference in the trades and motivate women in this field," says Knight.
Knight is now teaching about trades at her former high school and hopes to set up a scholarship to encourage other high schoolers to go into the trades. "College is shoved down your throat the whole time, but trades are 100 percent worth it."
About Danielle Kiser
---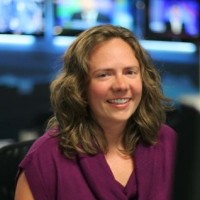 ---