6 Black Financial Influencers Who Will Help You Make Smarter Money Moves
Advertising & Editorial Disclosure
Last Updated: 5/2/2023
Financial influencers can inspire, educate and motivate. It is empowering to find someone who provides insights and tips relevant to your personal financial journey and how it impacts you from a cultural perspective — or expands your cultural viewpoint of finances.
We're highlighting Black personal finance influencers who use their expertise, unique perspectives and diverse experiences to empower others in conversations, habits and decisions around money.
Whether you're looking for guidance and/or inspiration on saving more, building wealth, or trading and investing, there's a money guru in the list below waiting to inspire you.
Nadia C. Vanderhall of The Brands + Band$ Strategy Group
"Don't skip your financial objectives — they are clutch!"
Nadia C. Vanderhall is the founder of The Brands + Band$ Strategy Group, specializing in personal finance and brand strategy services. She enjoys talking about personal finance, ranging from stocks to crypto.
Her relatable content comes from her unique perspective of previously being unemployed and once not understanding personal finance. She gets it — and she knows the art of using a meme that is fun, on topic and within context.
She motives her followers to know their financial objectives and think of savings as building liquidity and a cushion for when the unexpected happens. She's encouraging people to budget for inflation. "With all that's going on with inflation and tapering, the budget that people had in 2019 might fare well today (even if the pay is the same)," Nadia says.
Follow Nadia
Rianka R. Dorsainvil, 2050 Wealth Partners
"I love to say, always be ready so you don't have to get ready."
Rianka R. Dorsainvil is a certified financial planner for the digital banking platform, Greenwood. She loves to help first-generation wealth builders, entrepreneurs and professionals pursue their dreams.
She's the co-founder and co-CEO of 2050 Wealth Partners, an organization that focuses on empowering first-generation wealth builders.
On Instagram, she tackles setting boundaries with your budget and with friends and saving for retirement (when you don't have a corporate job), as well as a few other financial topics.
"I am a forever student and always learning, and when I learn, I share. I feel lucky to have blended my passion for helping people into my career," Rianka says.
She noted that the last few years had taught many of us about breaking points and our mental health. "For Black first-generation wealth builders who are often called upon by family members to help support their family and friends: Put your financial oxygen mask on first. The more you say 'yes' financially to other people, the more you are saying 'no' to your financial goals."
Follow Rianka
Francis Kway and Jehu Graham of Cheat Code
"Invest in yourself!"
As co-founders of Cheat Code, an investment and trading company that started in 2020, Francis Kway and Jehu Graham are on a mission to empower others to be financially literate. They're committed to sharing their knowledge on social media in a way that inspires — and educates people.
"I create and provide as many resources as I can to help people along their wealth-building journey — whether that be through stock market investing or trading, starting a business or just overall, financial literacy," Francis says.
For Jehu, providing optimistic content is key. "I make sure to post positive information that will make them — and keep them — motivated and inspired to keep pushing forward."
Topics like providing inspirational messages, trading checklists, teaching lessons on cryptocurrency, earning passive income and giving expert insights on the benefits of investing vs. savings only scratch the surface of their valuable content.
Follow Francis and Jehu
Trae Bodge of TrueTrae.com
"Make a commitment to save money, even if your finances are tight."
Trae Bodge is a savvy saver who knows how to make money stretch and grow. The journalist and TV commentator offers tons of insights on TrueTrae.com and has even been featured on Marketwatch, Kiplinger and the Today Show, among others.
She's all about helping consumers save money for a rainy day while getting the best value from their purchases. She discusses ways to have multiple income streams, gives guidance on converting from a "shopaholic" to a "saveaholic," offers tips to avoid overshopping online and using money-saving platforms like Cently — and those are just a few topics.
This year, she's encouraging people to dedicate themselves to saving more. "Start with dropping spare change in a jar by the door or using a round-up app to save money in small increments. Increase from there as your budget allows by setting up automatic withdrawals into an account that you don't touch," Trae says.
Follow Trae
Anjie and RJ Muhammad of Rich by Intention
"Before you pay any bill, make sure you pay yourself first."
Anjie and RJ Muhammad are a married couple who host the Rich by Intention podcast. They want to help couples eliminate debt, save money and invest for their future. It's a path they traveled themselves, having paid off $123K of student loan debt in less than 15 months.
The pair combines inspiration and education in their podcasts that feature entrepreneurs, professionals, and other couples' successful financial stories. Topics have included overcoming imposter syndrome, getting on the same page about money with your partner and preparing and saving on your taxes.
The duo recommends that it's never too late to start saving for holiday purchases. "Since it is the beginning of the year, it is a great time to start saving for Christmas," they say. "For example, if you're buying gifts for 10 people at an average cost of $50. You would need to save $500. There are about 10 months until the holidays, so start saving $50 a month now."
Follow Anjie and RJ
Cinneah El-Amin, Flynanced
"Achieve multiple goals at once."
Cinneah El-Amin is a personal finance and travel influencer who created Flynanced, a platform to teach young 9–5 working women how to pivot into well-paid jobs to earn more and increase retirement savings.
She provides courses, individual consultations and insightful blog posts on travel hacking with credit cards, paying down student loan debt and building a financial plan.
"I create for millennial and Gen-Z working women who want to earn more money in their 9–5's, build wealth with ease and do more of what they love, like travel. We don't want personal finance advice that shames us for what brings us joy!" Cinneah says.
She recommends aiming for multiple financial goals at once, like paying off debt while investing. "Write out your income and expenses. What's leftover is your 'glorious gap,' a term I've coined. Let's use this to put towards the things that matter to you, like savings, investing or travel."
Follow Cinneah
About Erin C. Perkins
---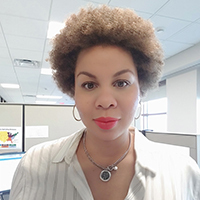 ---