Credit management is a crucial aspect of financial planning. Aside from helping establish your borrowing power, it also ensures financial health. Your credit score is highly relevant, no matter what phase of life you're in. It determines many financial opportunities, rates and lending options.
Generally, retirement doesn't directly affect your credit score, as credit reports don't factor in your current employment information. However, changing your lifestyle and adopting new spending habits in retirement may impact your financial profile. As you transition into your golden years, knowing how to maintain a good credit score and what mistakes to avoid can help you attain a stable and secure financial future.
How Does Retirement Affect Credit Scores?
Retirement doesn't directly affect credit scores. Credit reports don't include current employment information, such as employment status and income level, when determining credit scores. Instead, they focus more on tracking and monitoring an individual's borrowing and repayment history.
That said, your financial decisions and how you manage your money during retirement can indirectly affect your credit score. As you leave the workforce, you may have a change in lifestyle and spending habits.
The importance of credit scores doesn't end with retirement. Your credit score can still determine your borrowing power, even as a retiree.
How Retirement May Impact Your Borrowing Power
Although retirement doesn't directly impact your credit score, it affects your ability to borrow money. The potential decrease in income as you change your employment status can reduce your borrowing power.
When evaluating loan applications, lenders factor in various factors, including credit score and debt-to-income (DTI) ratio. A smaller income can lead to a higher DTI, which may lower your chances of qualifying for loans.
HOW TO CALCULATE YOUR DEBT-TO-INCOME RATIO
Debt-to-Income (DTI) ratio refers to the percentage of income that goes to debt payments. Calculating your DTI ratio requires two pieces of information: your monthly income before taxes and recurring monthly debts. To calculate your DTI, first, divide your total monthly debt by your income. Then, multiply the answer by 100. A DTI ratio of 43% or less is considered good, but the definition of the ideal DTI ratio may vary widely per lender.
Why Your Credit Score Still Matters During Retirement
Contrary to what some people may think, it's still crucial to maintain a good credit score in retirement. This three-digit number represents your creditworthiness and determines what financial opportunities you're qualified to access. This is especially true if you plan to take out a loan or sign up for a new credit card.
Fortunately, there are ways to maintain a good credit score during retirement, like ensuring on-time bill payments, checking for credit report errors, avoiding huge credit balances and practicing good spending habits.
A good credit score provides financial flexibility during retirement and enables retirees to manage their finances better and make well-informed financial decisions to help achieve stability.
Understanding how low credit scores impact retirees can help you better maintain good credit. Below are some of them:
Access to credit may be limited

Retirement may mean a change in lifestyle or living arrangement, which can come with huge expenses. One way of managing the costs is to borrow money from lenders. Low credit scores may limit retirees' access to credit or cause less favorable terms.

Credit score is one of the most crucial factors lenders and credit card issuers consider when evaluating applications. Although you may get approval, a low credit score typically results in higher interest rates. It may also lead to lower borrowing or credit card limits.

A credit check may sometimes be necessary, such as when renting a house or obtaining specific equipment and services. Although having a low credit score may not prevent you from renting or getting services, you may have to put down higher security deposits.

Insurers may charge higher premiums

Insurance providers may also consider credit scores when calculating premiums. Retirees with low credit scores tend to get higher rates, which can increase their monthly payments.
Essential Tips for Maintaining a Healthy Credit Score as a Retiree
Leaving the workforce doesn't remove your financial obligations. You still have to deal with various expenses, even as a retiree. Some, such as healthcare costs, may even require financing. Maintaining a good credit score can help you access loan offers and credit cards with favorable terms, enabling you to manage your finances better.
Taking the proper steps not only helps you maintain your credit score in retirement but can also prevent you from hurting your creditworthiness.
1
Keep credit card balances low
Pay your monthly credit card balance in full whenever possible. If you can't afford to make full payments, try to keep your balances low. High credit utilization can negatively affect your credit score.
2
Keep your credit accounts active
Even if you no longer use them regularly, it would be best not to close them. Having active longstanding accounts can help demonstrate responsible credit management.
3
Never miss a payment
Make sure you pay your bills on time every month, which could positively impact your credit. Choosing automatic payments can also prevent missed payments.
4
Review your credit report regularly
Regular credit report reviews can help you identify issues and errors that may impact your credit score. Watch out for unauthorized activities or wrong information.
Mistakes to Avoid When Managing Your Credit Score in Your Retirement Years
A solid financial and credit management plan is necessary during retirement. Taking the extra effort to manage your credit score can help you better enjoy the fruits of your labors. Additionally, you should take precautions to prevent certain mistakes that could harm your credit and overall financial well-being.
Assuming credit scores are no longer significant

One of the biggest mistakes retirees make is assuming that the significance of credit scores is only up to a certain age. The truth is, your credit score remains relevant no matter your age, especially when it comes to loans and insurance.

Some retirees may think that their credit card accounts are no longer necessary since they don't plan to use them regularly. However, closing accounts without considering the potential impact on your credit score can be a mistake. The length of credit history represents a certain percentage of your score.

Failing to monitor credit reports regularly

With the increase of scams, fraudulent activities and cybercrimes, it's crucial to monitor your credit report. This allows you to see whether you've been a victim of identity theft or financial crimes. Monitoring your credit reports can also help you recognize possible errors that negatively affect your credit score.

Co-signing without thoroughly assessing potential risks

Some family members or friends may ask you to help them secure loans or credit accounts by becoming their co-signer. Before agreeing, make sure you understand the risks and responsibilities. Co-signing makes you financially liable for any debt they incur under the related account. If they fail to pay or decide to request refinancing, your credit score may take a hit.
Securing Strong Credit Scores in Retirement
Generally, a good credit score is 670–739. This means that a person with a score in this range has demonstrated that they can pay off their debts but have a blemish or two in their record. There are many benefits to having good credit. As a retiree, this may help you access more loan offers, sign up for credit accounts and get favorable terms.
In some cases, a retiree may not have an ideal credit score. Although this may be bad news, there are steps to help improve your score.
OPENING A SECURED CREDIT CARD
One effective way of building credit is getting a secured credit card. As the name suggests, this credit card type requires collateral as a cash deposit. Secured credit cards are typically easier to get.
The cardholder can use this credit card the same way they use a regular credit card. It allows you to make purchases up to the predetermined credit limit and you need to pay at least the minimum payment required every month. Responsible and effective use of a secured credit card could significantly improve your credit score.
Expert Insight on Credit Scores in Retirement
Financial management during retirement can be a bit overwhelming, especially if there's a change in income and spending. Understanding the role of your credit score can help. MoneyGeek interviewed an industry expert to provide insight you may find helpful.
What advice can you share to help retirees improve their financial and credit management?

How can one best prepare their finances and credit score for retirement?

What resources and tools can you share with retirees to help them improve their finances and credit?
Dennis Shirshikov
Strategist at Awning.com
Additional Resources
Retirement can be an exciting and challenging time. Fortunately, many resources are available to help you better navigate this change in your life.
About Nathan Paulus
---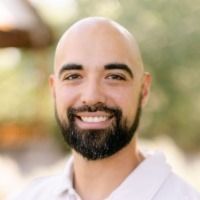 ---