While the 2021 holidays may feel like a distant memory, many Americans still feel their after-effects: namely, lingering credit card debt and spending regrets.
In February 2022, MoneyGeek surveyed a nationally representative sample of U.S. adults to understand how much Americans spent over the holidays, how they financed that spending, and how they feel about it now. Respondents had to have at least one credit card and have made purchases during the holidays to be included in the survey.
Key Survey Findings:
In 2021, the average holiday spending per person was $1,131.
More than one-quarter of Americans regret their level of holiday spending; most wished they'd spent less, but some regret not spending more.
Credit cards were the payment method of choice, with 65% of holiday spending paid for with credit cards. The more credit cards someone had, the more of their spending they financed with credit.
By February 11, 2022, 40% of Americans had not paid off their 2021 holiday debt.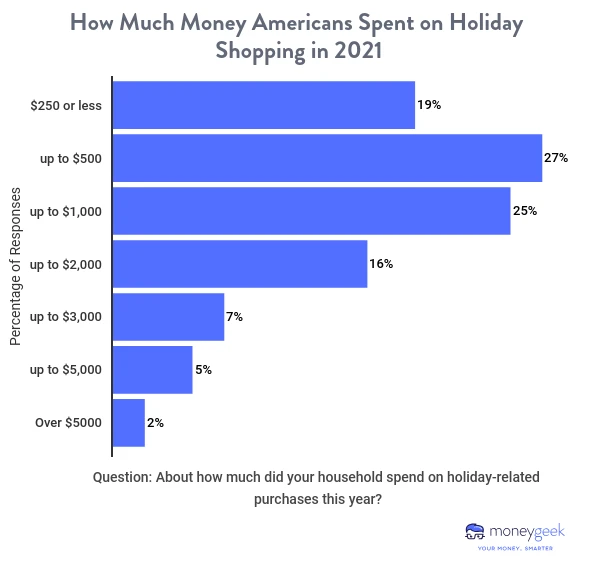 Average Holiday Spending for 2021
Overall, the average survey respondent spent $1,131 on the holidays this past year, though just over 13% spent $3,000 or more.
On average, Americans put 65% of that spending on credit cards. Some people used their credit cards more than others. Of those surveyed, 41% put more than 90% of their holiday expenses on their credit cards, and one-third used credit cards for all their holiday expenses.
People with exceptional credit (indicated by an 800–850 credit score) put the largest percentage of their spending on credit cards. Similarly, the more credit cards respondents had, the greater the portion of their holiday spending they paid for with cards.
Percent of Debt Outstanding
Perhaps more important than the absolute dollars spent during the holidays is how much holiday debt people are still paying off. As of February 11, 40% of Americans had not paid off their 2021 holiday debts. Those between the ages of 35 and 54 had the highest level of unpaid debt (48%).
Respondents with exceptional credit were more likely to have paid off their debts; just 17% of those respondents had not paid off their holiday debts. In general, people with very good credit (740–799) were twice as likely as people with exceptional credit to carry a credit card balance month to month.
The average respondent carried a credit card balance for four months out of the year. That figure includes 40% of respondents who didn't carry any balance. Excluding people who paid off their credit cards every month, respondents typically carried a balance for seven months out of the year.
One-fifth of respondents carried a balance every month of the year. The more credit cards a respondent had, the more often they carried a balance in the last 12 months.
Holiday Hangover: 25% of Americans Regret Their Holiday Spending
Going into debt for Christmas may not have been the best choice for many survey respondents.
Nearly one in five (19%) said they regretted how much they had spent over the holiday season. On the other hand, 7% reported regretting not spending more.
Women were 35% more likely to regret spending too much than men, and people aged 25–44 had the most holiday spending regret in general.
The higher a respondent's credit score, the less regret they expressed over holiday spending.
Additionally, people with fewer credit cards had less regret over holiday spending. Compared to people with one or two credit cards, people with more than two cards were 35% more likely to regret what they had spent during the holidays.
Seasonal Trends
MoneyGeek's results echo broader seasonal spending trends.
Generally, consumer spending tends to peak in November and December during the holiday shopping season. As such, credit card debt typically rises steadily at the end of the year, then gradually decreases through March as consumers pay off holiday debt.
Overall, total household debt increased 2.2% or $15.58 trillion from Q3 to Q4 2021, according to the Federal Reserve Bank of New York.
Zeroing in on credit card balances, credit card debt increased by $52 billion from the third quarter to the fourth quarter of 2021. That's the most significant quarterly increase recorded in the 22 years such data has been collected.
How to Manage Holiday Debt and Avoid Regrets in 2022
MoneyGeek consulted a range of financial experts about strategies to manage holiday debts and prevent future spending regrets. Here's what they suggest:
1
Pay down the debt as fast as you can.
The key for people with holiday debt, experts say, is to pay it off as quickly as possible.
"The 'Ghosts of Christmas Past' can end up haunting you for the rest of the year if you don't get them paid off quickly," said Jamie A. Bosse, CFP, RFC, CCFC, lead financial planner at Aspyre Wealth Partners.
Bosse suggests determining how much debt you have left and setting a deadline to pay it off, ideally in two to four months. She also suggests finding ways to make extra cash to help pay down your debts faster, such as selling clothing, gear, or kitchenware or picking up side work, for example, by driving for Uber or a delivery service.
2
Make a plan and a budget.
Corey Noyes, a financial advisor and owner of Balanced Capital, advises consumers who overspent last holiday season to come up with a plan to pay off their debts.
"The people I have seen be successful with paying off debt are those who come up with a plan to dramatically cut their lifestyle for a short amount of time to pay off the debt as quickly as possible," Noyes said.
Planning can also help you avoid future debts.
"Christmas isn't the kind of thing that sneaks up on you," Noyes said. "Start setting money aside early so that you can buy gifts with cash, rather than a credit card."
Bosse agrees: "The key is to plan for Christmas spending all year round."
To effectively budget for the next holiday season, Bosse suggests making a list of all the people you want to buy gifts for, including teachers, dog walkers, daycare providers, neighbors, doctors, hairstylists, cleaners, mail carriers, and anyone else you tend to buy gifts for at the last minute. Set an amount you want to spend per person and start saving now.
3
Separate your savings.
Once you set your budget, experts suggest starting a separate savings account just for holiday spending.
Bosse suggests estimating your total holiday spending and dividing the total amount by 12 (or by the number of months left until the holidays). If you can set up direct deposit to put that monthly amount away directly, it will be "out of sight, out of mind," she says. And it will be waiting for you when you need it later in the year.
4
Be smart about credit.
While some experts encourage people to use cash as much as possible or even to toss out all credit cards, credit cards can be critical financial tools — as long as you understand how to use them wisely. Pay off the balances with the highest interest rates first; they're costing you the most.
Andrea Woroch, a consumer and money-saving expert, recommends transferring your balance to a card offering 0% interest on balance transfers to save money. Woroch says these promotional offers can give you between 12 and 21 months to pay off the debt without incurring interest charges. This approach will help you pay your balance down faster and save you money on interest.
Expert Insights
MoneyGeek asked experts to weigh in on why Americans tend to overspend during the holidays, how that overspending affects individuals and the broader economy and what measures people can take to avoid overspending in the future.
What factors lead consumers to consistently overspend during the holidays?

What impact does debt resulting from overspending have on consumers' financial health and the broader economy?

What advice do you have for people who are still paying off credit cards or other forms of debt from their holiday spending?

What can people do to prevent spending regrets in the future?
Priya Raghubir
Professor of Marketing at New York University Stern School of Business
Lambrianos Nikiforidis, Ph.D.
Assistant Professor of Marketing at SUNY Oneonta
Thomas Kopelman
Co-Founder and Financial Partner at AllStreet Wealth
May Jiang
CPA, CFP®, Founder of Beyond Profit and Wealth Consulting
Sung Ham, Ph.D.
Assistant Professor, Broad College of Business, Michigan State University
Trae Bodge
Smart Shopping Expert and Founder of TrueTrae.com
Chuck Czajka
CEO of Macro Money Concepts
Adrienne Taylor-Wells
Accredited Financial Counselor at Tailored WealthSaver
Kasey Ring
President and Founder at Upward Personal Finance
Lyle David Solomon
Principal Attorney at the Oak View Law Group
Andrea Woroch
Money-Saving and Finance Expert, Writer and TV Contributor
Methodology
Using SurveyMonkey, MoneyGeek surveyed 1,027 individuals in a nationally representative population who indicated that they had spent any amount to celebrate the holidays. The survey was fielded on February 11, 2022.
About Deb Gordon
---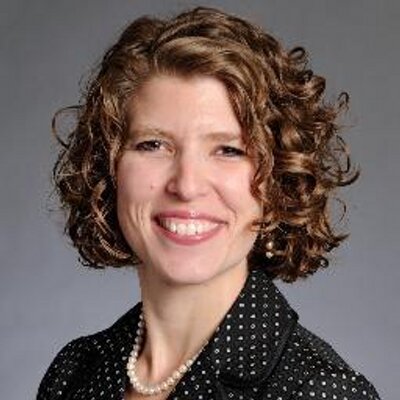 ---